Tragically Awful: How the Nets Could End Up With the NBA's Worst Record...Ever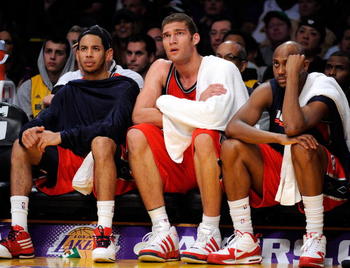 In the 1972-73 season, the Philadelphia 76ers finished the season with a 9-73 record, setting one of the most ignominious records in NBA history.
Forty-eight games into the season, the New Jersey Nets have won four times. Those old Sixers are getting the champagne ready.
The 72-73 Sixers opened the season 0-15; coupled with a four-game losing streak at the end of the Sixers' previous season, their 0-19 losing streak is tied for the ninth worst in NBA history. Not to worry—their 20-game losing streak later that season set the record for fifth worst in NBA history.
The 2009-10 Nets started this season with an NBA record 18-game losing streak. They've had two other 10-game or more losing streaks this season, and they still have 30-some games to play.
When ESPN's John Hollinger writes that the Nets might break the Sixers' all-time losing record, you pay attention.
With that said, here's a look at how the Nets fell so far so fast, what brought them this far down, and whether or not they'll replace the 1972-73 Sixers by owning the worst single-season record in NBA history.
How Did They Get To This Point?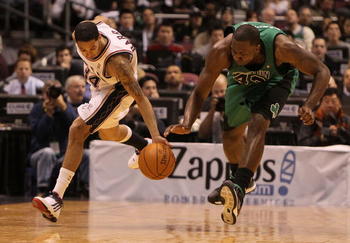 After starting the season an NBA historically-worst 0-18, the Nets scored their first win of the season at home against Charlotte on Dec. 4, 37 days after starting their season.
Their head coach at the beginning of the season, Lawrence Frank, couldn't avoid the axe after starting 0-16. The Nets moved GM Kiki Vandeweghe to the head coaching position for the rest of the season, bringing in Del Harris as an assistant.
They beat the Chicago Bulls on the road four days later, stirring hope that their tragically awful start would not set a precedent of losing for the entire season.
Then they went out and lost 10 straight games. They did not win again until a home tilt against the New York Knicks on December 30th.
It took the Nets nearly another month to scrape together their fourth win, as they caught the Los Angeles Clippers sleepwalking back on January 27th. In between those Knicks and Clippers games? You guessed it. Another double-digit losing streak. (This time, it was 11 games!)
ESPN's John Hollinger went to the statistics to explain New Jersey's historical amount of trouble:
New Jersey's Power Ranking is an abysmal 87.1, suggesting the Nets would be a 13-point underdog against an average team on a neutral floor. Not only is the Nets' record impossibly bad, its average margin of victory, minus-11.7, has actually worsened to minus-12.9 in the most recent quarter of the schedule.
While the Nets can point to a few close games that got away from them, in reality, they have the point differential of a nine-win team. In other words, they're getting what they've earned. Ready for the punch line? They've played the league's eighth-easiest schedule thus far, an amazing feat when one considers they're the only team that doesn't get to play the Nets.
To make matters worse, earlier this week, assistant coach Del Harris announced that he was stepping down from his position. Harris, who was brought in to work with Yi Jianlian (Harris coached China's 2004 Olympic team, on which Yi was a starter), looks like he won't have a chance to finish what he started with the Nets.
So, what's gone wrong with this year's Nets? How have they fallen so far? Let's take a closer look at three key reasons for this epic downfall...
Reaping Few Rewards From the Vince Carter Trade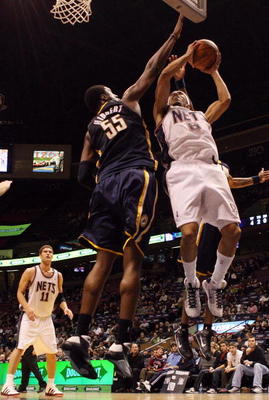 Remember, the Nets traded their best player, Vince Carter, and Ryan Anderson to the Magic before the season for the combination of Rafer Alston, Courtney Lee, and Tony Battie's expiring contract. Alston has since been released by the Nets and recently signed with the Miami Heat for their playoff charge.
It's hard to imagine that the Nets expected much out of Battie besides cap relief at the end of this season, which brings us to second-year guard Courtney Lee.
Lee made a name for himself last season as the starting shooting guard for the Magic when they charged their way to the NBA Finals. New Jersey figured he would be a serviceable replacement for Carter in the short-term and had the potential to grow into the long-term backcourt mate for PG Devin Harris.
Seeing as they have all of four wins this year, naturally, all hasn't gone quite according to plan. Harris strained his groin in the Nets' second game of the season and missed the next 10 games. Meanwhile, Lee injured his groin in the Nets' sixth game of the season and missed the next seven games.
His departure from the starting lineup gave second-year Chris Douglas-Roberts a chance to shine as a starter, and CDR remained one of the only bright spots for the Nets in November and December.
Meanwhile, as Hollinger observed, Lee hasn't dramatically increased his productivity despite receiving a surge in minutes, and his true shooting percentage has dropped by more than five percent.
Lee started blowing up in December, averaging 13.1 points, 4.2 rebounds, and 2.1 assists in 36.5 minutes per game. But in January, his averages dropped off to just over 10 points a game in slightly over 31 minutes per game.
Clearly, the Nets weren't going to replace all of V.C.'s productivity with the Lee-and-change that they received from the Magic in return. But they were likely expecting more than they've gotten so far.
Devin Harris' Regression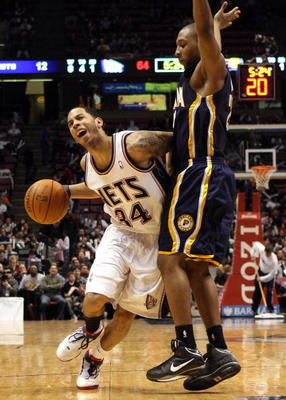 (How great is that picture? A+ face, Devin.)
When the Nets traded Jason Kidd to the Dallas Mavericks for Devin Harris back in 2007, it appeared that the Mavs had traded a franchise cornerstone point guard for the chance to compete immediately in the next few years, while Dirk Nowitzki remained in his prime.
That feeling was likely exacerbated last year, when Harris earned his first All-Star berth as a reserve for the Eastern Conference, putting his name in the conversation with Chris Paul, Deron Williams, and Derrick Rose as the best young point guards in the NBA.
Two years later, Jason Kidd remains a night-in, night-out triple-double threat, and Devin Harris has been struggling to stay on the court for this four-win Nets squad.
Harris battled a groin injury that knocked him out for 10 games early in the season, and more recently, a wrist injury kept him out for five games in January.
When he's been on the court, his production hasn't been noticeably worse—at least on the surface. But basketball-reference.com reveals some pretty terrifying statistics for Harris-lovers and Nets fans alike.
On the year, Harris is shooting at a 37.7 percent rate.
He's never had a true shooting percentage below .530 in any season of his career, but he is currently sporting a 49 percent true shooting percentage. Likewise, while he's never averaged an effective field goal percentage below .470 before this year, he's working on a .400 as of tonight.
This sudden drop in production explains why Harris' name has been floated in trade rumors, as the Nets creep closer to the NBA's Feb. 18 trade deadline. Reportedly, the Nets aren't interested in moving Harris until after the NBA Draft lottery, when they find out if they win the No. 1 overall pick (and the right to draft phenom point guard John Wall).
Regardless, if a team comes calling in the next two weeks with a knock-your-socks-off offer, the previously-untouchable Harris will be packing his bags without a second thought.
(What about some kind of Harris-for-Iguodala swap with Philly? Which team says no?)
Chris Douglas-Roberts Falling Out Of Favor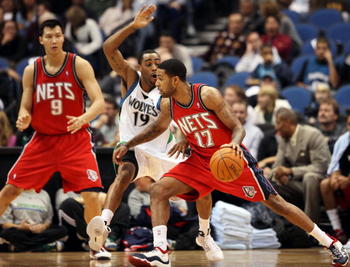 After starting 35 games this season, second-year guard Chris Douglas-Roberts from Memphis found himself relegated to the bench earlier this week.
"We're struggling so you have to shake things up a little bit around here, and I was the first one," he said. "We'll see. If it helps this team win, then it really doesn't matter to me."
CDR had stepped up when Devin Harris and Courtney Lee were knocked out early in the season with injuries and hasn't given up his starting role since. As a veteran of John Calipari's dribble-drive offense, CDR has the innate ability to create his own shot by driving hard at the bucket—something this Nets team desperately needed with Harris sidelined.
In turn, CDR posted a .512 true shooting percentage and a .466 effective field goal percentage this season, yet his 12.7 PER falls short of the league average of 15.
The Memphis Commercial-Appeal has noted the Grizzlies' interest in acquiring CDR before the trade deadline, given his long, productive history in Memphis.
If the Nets do end up trading CDR away, they'd be trading away one of their best young pieces that could be built around in the long-run. With Devin Harris, second-year center Brook Lopez, Courtney Lee, and CDR, the Nets have a core of extremely young, talented players to build around.
It's just...a four-win season doesn't give people much hope for the future.
Best Chances of Winning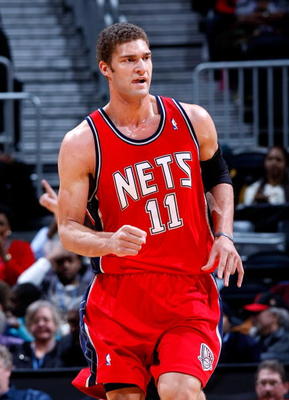 So what are the Nets' best hopes for the rest of the season?
One: this guy, Brook Lopez. He's been playing at an All-Star caliber level all season (and anchoring my fantasy basketball team alongside Dwight Howard). Had the Nets been playing anywhere near .500 basketball, Lopez would have been a shoe-in behind Howard as the East's second All-Star center.
Besides the strategy of "pound the ball to Brook," the Nets can find solace in some portions of their schedule.
The Nets actually just missed one of their best weekends schedule-wise last weekend, as bottom-feeders Washington and Philadelphia came to Jersey and left with squeaker wins.
This upcoming stretch for the Nets doesn't lend itself to many easy wins. After a road loss to the Celtics tonight (where the Nets actually led after three quarters), they head on the road to Detroit and Cleveland.
But from March 20-26, they have a home stand of games against Toronto, Miami, Sacramento, and Detroit. Only Toronto appears to be a legitimate day-in, day-out competitor out of those four squads. An opportunistic Nets team could pick up two of those four games relatively easily.
The Nets also finish out their schedule in April with a string of winnable games against sub-.500 or .500 teams: New Orleans, @Washington, @Milwaukee, Chicago, @Indiana, Charlotte, and @Miami. It's conceivable that the Nets could steal anywhere from two to four of those games, especially if any of those teams have gone into total tank mode (and the Nets haven't, as they still try to avoid the Sixers' dubious record).
The opportunities are still there for the Nets in 33 more games to pick up at least five wins and tie the Sixers' record. But as Hollinger so succinctly stated...while it once seemed definite that the Nets would break this season-long slump and record double-digit wins, there's a 50-50 shot they set a new record for mediocrity this season.
Will They End Up Worse Than 9-73?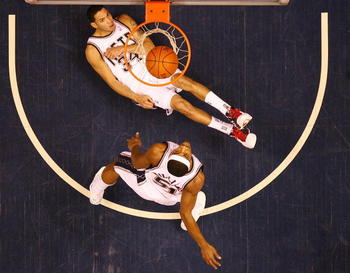 This is the question on everyone's mind going forward: will the Nets match, or worse yet, break the 1972-73 Sixers' 9-73 record?
Hollinger wrote, The Playoff Odds also showed hope that it wouldn't get this bad for the Nets. Even during New Jersey's record-setting 0-18 start, the algorithm figured the team would get its act together and finish with a win total in the teens. Slowly, however, a projection of 16 wins became 14, then 12, then 10. As of Thursday, that prediction is down to nine.
Logic would dictate that a team coming out with Devin Harris, CDR, Courtney Lee, Yi Jianlian, and Brook Lopez each night would be capable of winning more than four games in nearly 50 tries.
The perfect storm of injuries, roster/coaching instability, and mismanagement sent the Nets plummeting to the worst record (by far) in the NBA this year.
There's still plenty of time and a number of games against sub-.500 teams before the Nets have to really start thinking about 9-73.
But if they haven't come to terms with their historically bad pace yet, they're running out of time to do so in order to make some changes. There are only so many ways you can lose before deciding to do whatever it takes, no matter what, to pick up six more wins in 33 games.
Otherwise, those 1972-73 Sixers will be free of an ignominious burden that they've worn for nearly 40 years.
And these Nets will truly go down as the worst team the NBA has ever seen in a single season.
(This writer's prediction? Break out the champagne, Sixers. And start saying your prayers. Much like "no NFL team would ever go 16-0" [thank you, Patriots], while the Sixers' record previously looked unbreakable, these Nets have started to get the "historically awful" stink on them.)
Keep Reading

Brooklyn Nets: Like this team?