2010 Nebraska Recruits: Player Breakdown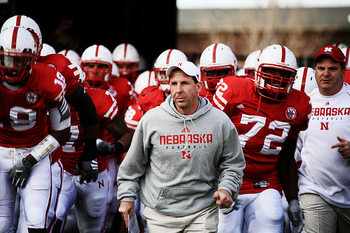 So National Signing Day has passed in all its glory, and now we wait.
We wait for the spring game, we wait for the crowds and the player development, but mostly we wait, biding our time, for the September 4th season opener against Western Kentucky.
Until then, though, we continue to look for something, anything, to fill the void of Husker football.
That's why we should look at each recruit specifically. The following slides show my break down of each player in the Nebraska 2010 recruiting class. Enjoy, and supplement the slideshow with comments of your own, because I by no means have the recruiting thing all figured out.
These are all just opinions on the supremely inexact science of recruiting, where two and three star players become icons and five star players become criminals and drop outs.
It's time anyway though to analyze Bo Pelini's third class. (All rankings according to Rivals.com)
Bronson Marsh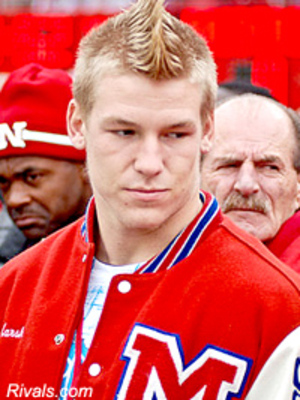 School: Millard South High School
State: Omaha, NE
Position: ATH (QB/S)
Measurables: 6'0" 200 lbs
Forty: 4.5
Stars: Two
Breakdown: Unless you live in the state of Nebraska, you have probably never heard of the Millard North standout named Bronson Marsh. Marsh is a winner in more ways than one. He's competitive and athletic, something that the Pelini brothers love in their players.
However, even though Nebraska people might think that Marsh is supremely underrated, I have to think that he isn't. Marsh has good speed, but he is not great. If he had garnered most of his attention on the defensive side of the ball, the story might be different.
Upside:
- Marsh has good speed but doesn't change direction with regularity. If he can get his angles down, he could become another Matt O'Hanlon by the end of his career, but better.
- Bronson is a smart player with winning intangibles. Sometimes that's what makes the difference when the going gets tough.
- He has good strength and has put on a bit of weight, which makes him a viable option for the safety position, but he needs about a year of redshirting and strength work if he is going to get to the muscle-mass size that the Pelini brothers like out of their safeties.
Downside:
- The question will be how well Bronson can transition from High School to college. Similar athletes haven't always done well right off the bat.
- He's more of an unknown, even to Nebraska people. He does several things well but nothing great, which can be an asset, especially on special teams.
Final Analysis:
Marsh has an uphill road to climb in order to contribute on the field, but you better believe he will compete day in and day out on the practice field. People familiar with his work in high school will find it very difficult to root against the kid. And you really shouldn't. It wouldn't be a stretch to say that Marsh could be a player who works his way into the Pelini's good graces with his speed and athleticism but mostly his hard work.
He may be technically the lowest rated player in this year's class, but that shouldn't count him out. Remember, O'Hanlon was a walk on, so anything could happen.
Tyler Evans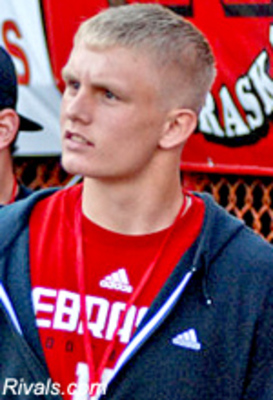 School: Waverly High School
State: Waverly, NE
Position: ATH (WR/S)
Measurables: 6'2" 180 lbs
Forty: 4.48
Stars: Two
Breakdown:
Tyler Evans is one of the most athletic players from Nebraska in this class. He has FBS speed with a 4.48 40 and height at 6'2". Evans would most likely translate to either a wide receiver or a safety, and it seems like the Husker coaches are looking more towards the safety end of the spectrum.
Upside:
- Evans is fast but unafraid to take a hit or give a hit.
- Evans will work harder than anyone on the team to become better. He has a motor that keeps on keeping on, and he is a very smart player. If we know anything about the Pelini brothers, it's that they value brain more than brawn at the safety position.
Downside:
- Like Marsh Evans, he doesn't fit perfectly into any position. While his height is ideal for the safety position, his body mass is too small. If he wants to contribute, he will need to put muscle on without losing any speed.
- Because of his relatively thin frame, durability might be an issue for Evans, but that should work itself out on the practice field when he is trying to put hits on the likes of Brandon Kinnie, Cody Green, and Roy Helu.
Final Analysis:
Tyler Evans is a smart gamble for the Husker coaching staff. He is athletic, smart, and confident coming into Lincoln. He's also the hometown kid since Waverly is only a few miles outside of Lincoln.
Although Evans doesn't fit the Big 12 profile for a great safety, he does have the ideal toughness that the Pelini brothers want. He will be a valuable part of the team, but unless he puts some weight on and adjusts to game speed quickly, Evans won't see the field for quite some time.
Kenny Bell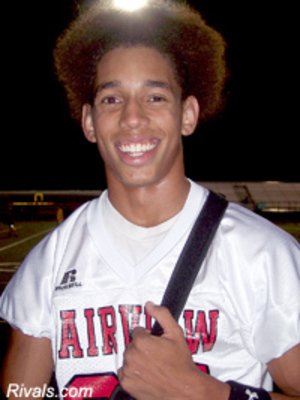 School: Fairview High School
State: Boulder, CO
Position: ATH (WR/S)
Measurables: 6'2" 173 lbs
Forty: 4.45
Stars: Three
Breakdown:
Kenny Bell was a steal out of Boulder, Colorado, right from underneath the Buffaloes' noses. Bell is a speedster and a playmaker who will just make things happen with his legs. For a while it looked like Nebraska wouldn't nab Bell, but credit the Husker recruiters, as they kept on him and got him to sign come February. Bell will either be a safety or a wide receiver at the next level, and given Nebraska's recruiting class, the coaches will most likely move him to the receiver position.
Upside:
- Kenny has a nose for the big play on offense and doesn't stop moving his feet even when it looks like there is no place to go.
- Bell has great hands on both offense and defense
- He also is not afraid to run routes over the middle of the field, another asset that might be well used for the Huskers in the coming season.
- Bell was rarely tackled by the first player around the ball, which is something Nebraska hasn't had for the past few years.
- Bell can block, which seems to be a necessity in Nebraska's new offensive attack.
Downside:
- For his height Bell is fairly skinny, weighing only 175, so he will need to bulk up if he wants to enter the starting rotation.
- His route running consisted of drag routes, flies, and posts in high school. It is yet to be seen whether or not Bell can pull an adequate double move. And in a running offense double moves are imperative.
- Bell can catch like fly-paper catches flies, but his ball security after the catch is a bit of a concern.
Final Analysis:
Bell may be one of the most underrated players of this class (other than Quincy Enunwa). He has big play ability and could contribute in kick-off returns early in his career. But Bell has a a lot ground to make up offensively. His route running must get better, and he must bulk up.
Andrew Rodrigeuz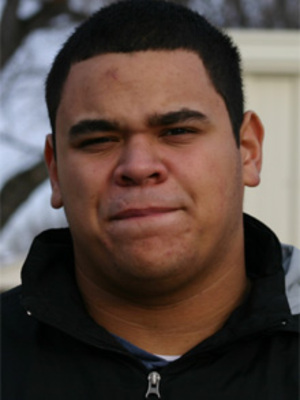 School: Aurora High School
State: Aurora, NE
Position: OL
Measurables: 6'6" 298 lbs
Stars: Four
Breakdown:
Andrew Rodriguez comes into this class as the number one ranked prospect out of Nebraska. He was one of the only recruits for Nebraska who participated in the Army All-American game in January, and unfortunately he didn't have the type of impact he was hoping to have. Rodriguez has all the measurables and physical ability to be a good lineman at the next level but must adjust from small-town football to the big time stage quickly if he wants to make an impact.
Upside:
- Rodriguez is big and strong and uses leverage well, at least in high school.
- Surprisingly nimble feet for how big he is.
- He finishes blocks in running plays and gets to the next level well.
- He has a tremendous amount of untapped talent that can only be brought out through a couple years of college experience.
Downside:
- Not much of a downside, but his foot speed could be better on pulling plays.
- His pass blocking needs some work. He engages too aggressively at times and as a result gets beat on the outside occasionally.
Final Analysis:
Rodriguez has so much potential it's going to be hard to find a down side. While he may not contribute right away, he should make large strides throughout the season and should work his way up the depth chart by his sophomore (or Redshirt Freshman) year. Rodriguez is a kid who can go either way, which will mostly rely on coaching the young man up. Say what you want about Barney Cotton, but he has to get his act together to develop this recruiting class, or he could be on the street looking for a job sometime soon.
Mike Moudy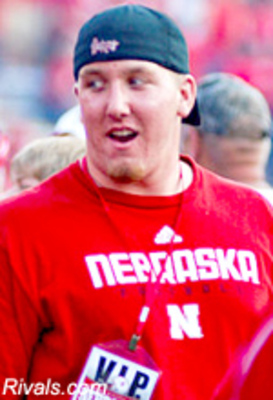 School: Douglas County High School
State: Castle Rock, CO
Position: OL
Measurables: 6'7" 291 lbs
Stars: Three
Breakdown:
Mike Moudy is another outstanding prospect from Colorado that Nebraska was able to grab away from the Buffaloes of Boulder. Moudy brings a hard-nosed attitude toward his approach to blocking on the offensive line. While he may weigh a little less than the normal offensive line star, he has the body frame of a giant. He plays mean and nasty up front and engages in the running game very aggressively.
Upside:
- Moudy seems very tough and tumble but humble...he is very coach-able at his position.
- He finishes plays hard and with tenacity.
- He knows what leverage means in blocking.
Downside:
- Sometimes too aggressive.
- His foot-work definitely needs to be cleaned up.
Final Analysis:
Mike Moudy is a hard-nosed player who brings attitude and tenacity to the offensive line right away. While he will most likely not contribute right away, look for Moudy to red shirt and become a starter on the interior line by his red shirt sophomore year. However, Moudy will need to step it up because this could be the youngest and most talented offensive line in the next couple years.
Jermarcus Hardrick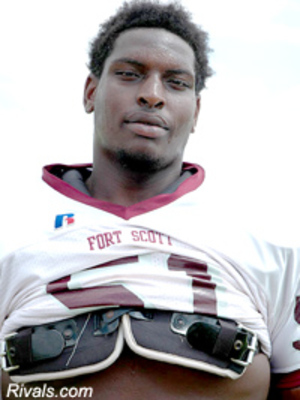 School: Fort Scott Junior College
State: Fort Scott, KS
Position: OL
Measurables: 6'7" 315 lbs
Stars: Four
Breakdown:
Jermarcus Hardrick is probably the biggest sure bet in this year's recruiting class and should immediately bring up the talent level on the offensive line and improve the running game in a dramatic way. You know what you get with Hardrick, and that is consistent NFL caliber talent.
Upside:
- Strong, big-bodied talent.
- Uses his leverage very well and can blow up defensive lineman and linebackers at the point of attack.
- Finishes blocks all the way to the ground and gets to the next level.
- Surprisingly quick feet for such a large-bodied man.
Downside:
- Pass Blocking could use a little work.
Final Analysis:
Hardrick is the most surefire bet to come in and contribute right away for this recruiting class. He already has a head start since he is enrolled in the 2010 spring semester, so those of you who want to see the big man in action should purchase a scarce ticket to the Red-White game.
Chase Harper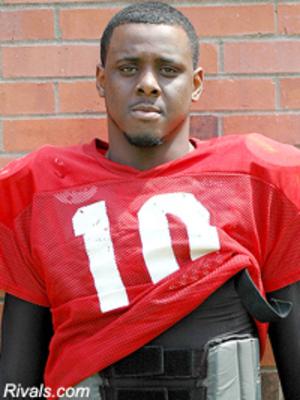 School: Navarro Junior College
State: Corsicana, TX
Position: TE
Measurables: 6'5" 251 lbs
Stars: Four
Breakdown:
Harper brings blocking ability to a much maligned offensive line and tight end unit. He has solid height and good weight with pretty decent speed. Harper brings even more competition to the tight end level but may only contribute during obvious running downs.
Upside:
- Solid blocking ability.
- Releases well off of blocks into the flat to help out the quarterback.
- A mismatch for any safety or linebacker who might take him on.
Downside:
- Only around for a few years.
- Fighting an uphill battle for playing time in a very deep position on the field.
- Not a huge receiving threat on passing downs.
Final Analysis:
While Chase Harper is a big catch for Nebraska in the recruiting rankings, I don't think he brings too much to the table on the receiving side of the ball. However, since the Pelinis look to bring a more aggressive running attack to the table this season, Harper may be an extension of the tackle position on the offensive side of the ball. He could play early but won't be a big asset in the passing game like some hope.
Quincy Enunwa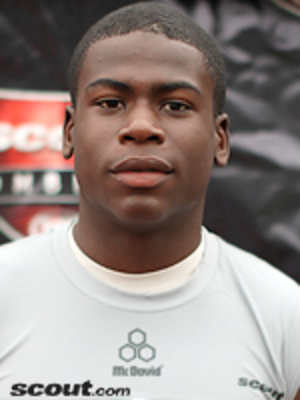 School: Rancho Verde High School
State: Moreno Valley, CA
Position: WR
Measurables: 6'2" 200 lbs
Forty: 4.5
Stars: Three
Breakdown:
Being the only pure receiver of this class, Quincy Enunwa was an early steal for the Husker coaches. Enunwa ballooned into an all around athlete with great hands in his senior year of high school. He will bring strength and ability to the table at the wide receiver position and should make news earlier than most expect.
Upside:
- Tremendous untapped ability.
- Big play ability.
- Deceptive speed and elusiveness.
- First defender rarely brings him down.
- Not afraid to go over the middle of the field.
Downsides:
- Route running could get better.
- Blocking will need to improve if he wants to make an early impact.
Final Analysis:
Quincy is the steal of this class. He is a big receiver with tremendous upside. He can move in space and blows by defenders when they attempt to jam him. His double moves could use a bit of work, but his hands are fantastic, and his gameplay ability is clutch. He is always on the same page with his quarterback and always comes back to the ball. Enunwa is going to impact on the field, but you might forget about him before he does.
Brion Carnes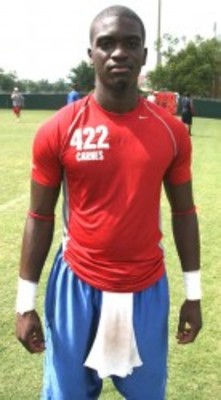 School: Manatee High School
State: Bradenton, FL
Position: QB
Measurables: 6'0" 181 lbs
Forty: 4.64
Stars: Four
Breakdown:
Carnes was committed to USF before Jim Leavitt got fired. Nebraska had the commit of one Tyler Gabbert before December. Come January the Huskers looked like they would be scrambling for any type of quarterback for this class. Instead, Nebraska hit a home run with a kid who has a better skill set and a better upside than Gabbert.
Upside:
- Carnes is a playmaker and a leader.
- A very confident quarterback with the ability to make all the throws.
- Footwork is good on the run.
- Very strong arm and accuracy on the run.
Downside:
- Seems impatient in the pocket at times.
- Some times looks to run quicker than pass.
- Learning the play book.
- Competing with the likes of Zac Lee, Cody Green, Taylor Martinez, Kody Spano, and next year, Jamal Turner.
Final Analysis:
While Carnes has all the ability in the world, it's tough to say whether or not he is going to start at Nebraska in his tenure, but he could. Tommy Frazier's cousin will add yet another dimension to the quarterback race this offseason but will not be able to start with perpetration until the summer. If he doesn't do anything at Nebraska, he at least brought some much needed competition to the quarterback position.
Joshua Mitchell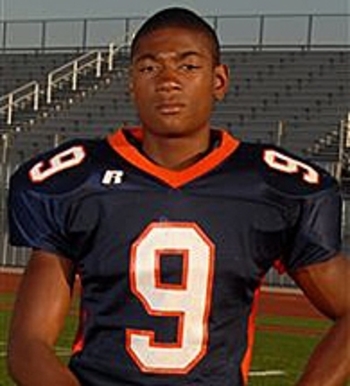 School: Eleanor Roosevelt School
State: Corona, CA
Position: DB
Measurables: 5'11" 165 lbs
Forty: 4.4
Stars: Three
Breakdown:
Joshua Mitchell was an early commit to the Huskers' 2010 class, but he isn't any less important. Mitchell will be over looked because of his star rating and because of his early commitment, but he shouldn't be.
Upside:
- Great speed. He's a burner of a lockdown corner.
- Good return ability, maybe something that attracted Nebraska to him.
- Ball-hawk (five interceptions senior season).
- Good coverage ability both in man and in zone.
Downside:
- Small.
- Man to Man is his weakness, but it's not much of one.
- Route recognition.
Final Analysis:
Joshua Mitchell is good talent that needs developing to become a star. He plays a lot like Prince Amukamara, with speed and tenacity. Mitchell will most likely red shirt this season but will be asked to step up in a big way next season when Nebraska loses a lot of play-makers in the secondary.
Harvey Jackson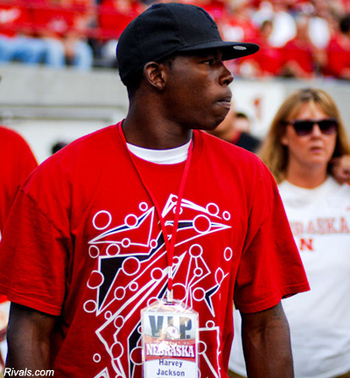 School: Hightower High School
State: Missouri City, TX
Position: S/DB
Measurables: 6'2" 185 lbs
Forty: 4.6
Stars: Three
Breakdown:
Harvey Jackson brings big hitting ability to this class. He recognizes plays well and plays hard every down. He seems like he will be an asset in the secondary, a good second-teamer at best. If he gets his speed up, he could even make it into the starting lineups later in his career.
Upside:
- Seems very coachable.
- Always around the ball making plays.
- Recognizes plays well.
- Takes good tackling angles to make up for speed.
Downside:
- Lack of speed.
- Better safety than corner.
- Sometimes he tackles too high.
Final Analysis:
While there is up side to Jackson's ability, the addition of Cooper dampens his chances at being effective early on. He may contribute at some time and may become a play maker, even. With his nose for the ball, anything is possible.
Ciante Evans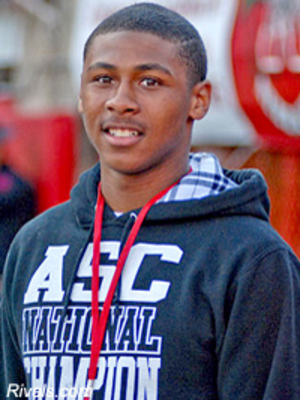 School: Juan Seguin High School
State: Arlington, TX
Position: DB
Measurables: 5'11" 170 lbs
Forty: 4.5
Stars: Three
Breakdown:
Ciante was a pretty big catch for the Huskers early on, a proven playmaker with a great upside and even better speed. It remains to be seen how his size will translate to the next level, but he could contribute within a few years.
Upside:
- Good cover-corner with good hands and good speed.
- Good jumping ability and timing.
- Good route recognition.
Downside:
- Size.
- Caught a bit on pump fakes.
- Odd tackling angles occasionally.
Final Analysis:
While Ciante is a good addition to this class, he is not a make or break player. He will be a decent asset with good hands and speed but will be fighting an uphill battle most of his career. If he matures quickly in the weight training program, then he might explode onto the scene later in his career. But he is not an early contributor. Ciante was a pretty big catch for Nebraska.
Lavonte David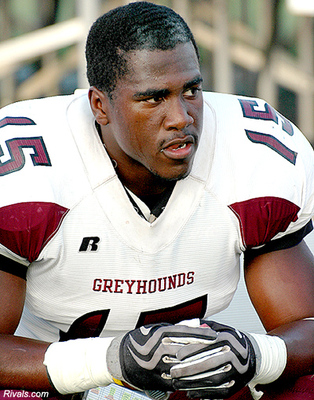 School: Fort Scott Community College
State: Fort Scott, KS
Position: LB
Measurables: 6'1" 214 lbs
Stars: Four
Breakdown:
Another Fort Scott alum: first Brandon Kinnie, then Jermarcus Hardrick, and now Lavonte David. David was huge get for the Pelinis in this class with the departure of Phillip Dillard weighing heavy on the defense.
Upside:
- Great play recognition.
- Ready to play immediately.
- Hard-hitting blitzer who can play zone great in coverage.
- Superior at reading the quarterback's eyes.
Downside:
- Man-to-Man coverage.
- Only a few years to work with.
- Sometimes plays too fast.
Final Analysis:
Lavonte David is the second sure bet in this year's recruiting class. He will most likely take Phillip Dillard's starting spot from last year and contribute both years he will be at Nebraska. Look for David to make a big name for himself before his time is done in Lincoln.
Jay Guy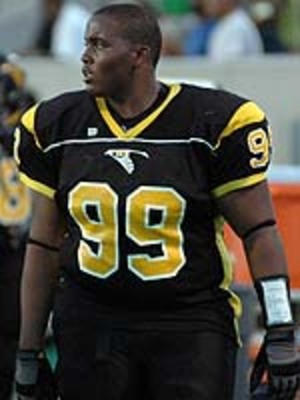 School: Eisenhower High School
State: Aldine, TX
Position: DT
Measurables: 6'1" 301 lbs
Stars: Three
Breakdown:
Jay Guy at the outset looked to some like a poor man's Ndamukong Suh. But if we know anything about Pelini, it's that he makes his living by developing great NFL talented defensive tackles. And Jay Guy could be that next talent.
Upside:
- Jay is extremely strong, with the ability to penetrate on both pass and run plays.
- He tackles with authority.
- Because of his height he uses great leverage.
Downside:
- Takes some plays off.
- Doesn't use hands too well at the point of attack.
Final Analysis:
Jay Guy has the ability to be a great player, but he needs to buckle down and work hard, and if the Pelini's have anything to say about it, he won't have a choice. Guy will be a welcomes surprise in the coming years, I believe, and may even contribute as soon as next season, spelling Jared Crick and Baker Steinkuhler.
Chase Rome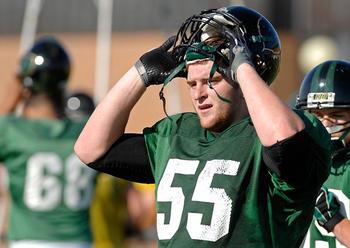 School: Rock Bridge School
State: Columbia, MO
Position: DT
Measurables: 6'3" 290 lbs
Forty: 4.7
Stars: Four
Breakdown:
Chase Rome was chased right out of Stillwater, Oklahoma and into Lincoln, Nebraska by one of the best recruiters in the nation, John Papuchis. Papuchis worked his magic with the young man on his official visit, and Rome was able to go watch Nebraska's come-from-behind win in his hometown of Columbia over the Missouri Tigers in a monsoon. When asked what his friends said about him going to Nebraska instead of Missouri, Rome laughed and replied, "I tell them... Scoreboard."
Upside:
- Dominant up front with good inside moves.
- Fast for a defensive tackle, which makes him way too quick for most guards to handle alone.
- Breaks down tackles very well.
- Makes getting off blocks look easy and handles the wide open splits of many spread offenses in a mature and dominant way.
Downside:
- Mostly played DE in High School, but Nebraska is moving him to DT.
- Sometimes he tackles high, but his strength helped him at the High School level.
- Peels back off on double teams and reads the offense well.
Final Anlaysis:
Chase Rome can go one of two ways in my book. He can be a bust, or he can flourish. Remember, Jared Crick came in also playing mostly defensive end in high school, and he made the transition to defensive tackle easy enough. Rome is built to contribute right away, although he may need to pack on a few pounds to handle some of the interior lineman in the Big 12, but if there is any place to learn how to be a better lineman, it has to be Nebraska.
Donovan Vestal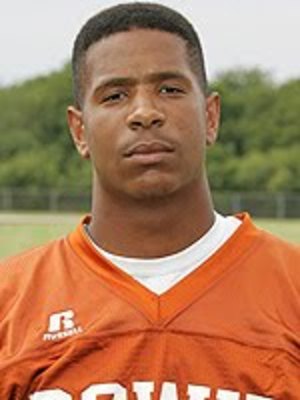 School: Bowie High School
State: Arlington, TX
Position: DE
Measurables: 6'5" 240 lbs
Forty: 4.7
Stars: Three
Breakdown:
Vestal, again, is one of Nebraska's earlier commits, and he never wavered. He says that he is excited to get to work in Nebraska, and wants to impact on the field right away. There are some other defensive ends who might have something to say about that, but since Nebraska lost out on Owamagbe Odighizuwa, Vestal might have more of a shot than most of us realized.
Upside:
- Nice speed rush to the outside shoulder, turns the corner very quickly.
- Reads his keys well and keeps contain in most situations.
- Reads the quarterback well, and as a result he has the ability to drop back into coverage.
- Always works hard and rarely ever takes plays off.
Downside:
- Slow off the ball at times.
- Tackles high occasionally (due to 6'5" frame).
- Doesn't have a great inside move, so he can get ridden into the ground at times inside.
Final Analysis:
Vestal is my sleeper in this class. He has the speed to be a formidable pass rusher and has the discipline and speed to drop into coverage. Ability like this can be overshadowed in the state of Texas, and I think that's a case in point here. Don't be surprised if Vestal becomes a marquee player in future years.
Braylon Heard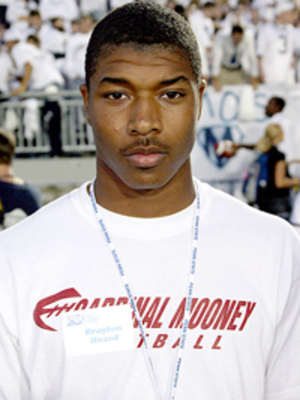 School: Cardinal Mooney High School
State: Youngstown, OH
Position: RB
Measurables: 5'11" 180 lbs
Forty: 4.4
Stars: Four
Breakdown:
Sometimes it may not be what you know or who you know, but where you come from. Heard was a West Virginia Mountaineer commit until hometown heroes Bo and Carl Pelini came knocking on his door. The speedster from Cardinal Mooney High School (same school the Pelinis graduated from) took a surprise visit to Nebraska in December and committed soon thereafter.
Upside:
- Break away speed with big play ability.
- Usually makes the first and second man miss.
- Has good hands out of the backfield.
- Very good improvisation when things break down at the beginning of the play. He can make something out of nothing if he finds something just big enough for his body to fit through.
Downside:
- Durability seems to be an issue.
- Blitz pick-up and blocking.
Final Analysis:
Braylon Heard may be the player with the most offensive play-making ability in this class. He runs hard and aggressive and can go from zero to 60 in no time flat. He picks his holes carefully and with precision and hits the gaps at a hundred miles an hour. Each time he touches the ball you hold your breath. With players like Helu and Burkhead in the way for now it looks like he will be playing third or fourth fiddle, but who knows with Pelini? It will be exciting to see what he can do on the field. He is not an every down back, but he can be an explosive change of pace, especially in that Wild-Rex formation that Nebraska ran against Arizona.
Tobi Okuyemi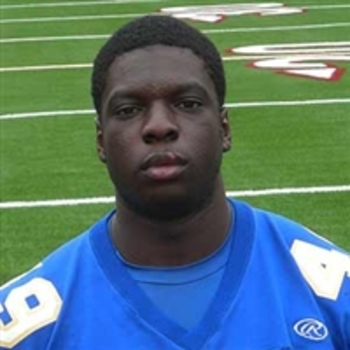 School: Wayzata High School
State: Plymouth, MN
Position: DE
Measurables: 6'5" 250 lbs
Forty: 4.7
Stars: Three
Breakdown:
Tobi Okuyemi is a unique case coming out of Minnesota. He played in a 3-4 system, which means he learned his defensive end technique differently than Pelini would coach it. Obviously this isn't a huge deterrent because the Pelinis still recruited the guy, and if anything it may have made Okuyemi more versatile.
Upside:
- Plays with a great burst and good first step.
- Great inside move to jam the run and confuse the blockers.
- Can analyze block schemes and know where the play is going.
- Very strong on the inside, could be transferred to DT.
Downside:
- Not too fast off the edge in pass rushing.
- Played in 3-4 system instead of 4-3 base.
- Cannot change direction as easy as some of the other players at his position.
Final Analysis:
Okuyemi has what it takes to be successful at the next level, but he must learn a whole new system and new scheme quickly before he can. I'm assuming that Okuyemi red shirts his freshman year in order to get a hold of the new defensive scheme. I think he will be a good but not great player in his time. However, I am no NFL scout, so he could surprise everyone and be the next Suh. His name is cool enough.
Walker Ashburn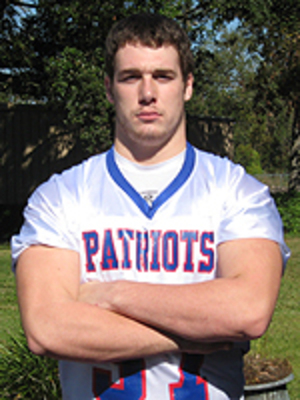 School: John Curtis High School
State: River Ridge, LA
Position: DE
Measurables: 6'3" 245 lbs
Forty: 4.73
Stars: Three
Breakdown:
Walker Ashburn played inside at the High School level but with his size would most likely transition to the defensive end position. However, he has significant skills on the inside and knows how to play the run well.
Upside:
- Quick off the ball.
- Constant motor, never quits until the whistle blows.
- Knows where the ball is going even during misdirection plays, which transitions to a good football IQ.
Downside:
- Didn't play in a tradition 4-3 defense.
- Seems limited on pass rush but could change once he moves to the outside.
- Needs to learn the defensive end position.
Final Analysis:
Walker has a tremendous upside with a lot to prove. He has a constant motor, and from his film it looks like he will work hard every play and never let down. He may have the most to prove in this defensive class besides Jake Cotton, and I think he will be competing with both Vestal and Okuyemi at a very high level this season for next season.
Jake Cotton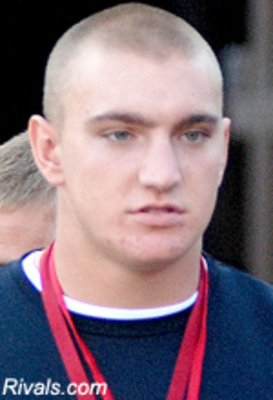 School: Lincoln Southeast High School
State: Lincoln NE
Position: DE
Measurables: 6'7" 265 lbs
Stars: Two
Breakdown:
There's no secret here. Cotton got an offer because he's tall and athletic...and he's Barney Cotton's son. That being said, Jake, like Ben, must earn his place on the team like any other player. Bo, Carl, and Barney aren't one's to play favorites so he knows that he must prove himself on the field.
Upside:
- Tall frame with adequate size.
- Good strength on the inside pad-level.
Downside:
- Not much speed.
- Not too fast off the ball.
- Not great at pass rushing.
- Run support from the outside in is unproven.
Final Analysis:
Jake is a good athlete, tall and able to contribute in his own way, but he unfortunately is coming into a position that is already too deep to contribute. If he wants to see the field during his tenure at Nebraska, he will probably have to change positions. At best, I see him as being a good special teams player.
Corey Cooper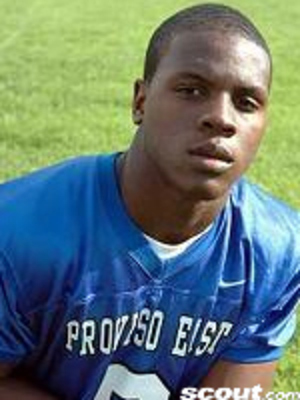 School: Proviso East High School
State: Maywoord, IL
Position: S
Measurables: 6'2" 203 lbs
Forty: 4.5
Stars: Four
Breakdown:
Corey Cooper was a Husker target from the outset, but it didn't look like anything could pull the Proviso East standout away from the fighting Illini's grasp. That is until Ron Zook's staff had a retooling job and the Pelinis hit the recruiting trail harder than ever. It paid off, and Cooper became one of two stellar signing day commits.
Upside:
- Hard hitter.
- Great Speed and route recognition.
- Superior returning ability.
- Good at reading the quarterback's eyes without biting on the fake.
- Great in run support.
- Plays bigger than his weight and has good size to play tight ends and other big receivers.
Downside:
- Not much of one, mostly on the unrefined aspect of things. Cooper is a fairly raw talent that the Pelini's will need to shape.
Final Analysis:
Cooper plays a lot like Senior safety Larry Asante. He comes up well in run support and forces fumbles by hitting hard. However, Cooper has better hands than Asante, and with four years of the Pelini brothers' coaching, there is not telling what this guy can do. He has the best potential of the bunch, I believe, and I wouldn't be surprised if he put in significant time in his freshman year and become an All-American by his Junior season. With Asante and O'Hanlon gone, it makes the safety position at Nebraska prime real estate, and Cooper may just be on the inside track to some early playing time. He must beat out the likes of PJ Smith, Austin Cassidy, and maybe even Ricky Thenarse if wants to start, but either way I think you see him on the field in the 2010 season.
Keep Reading

Nebraska Huskers Football: Like this team?