NASCAR Daytona 500 Preview: Day Two News, Notes and Pictures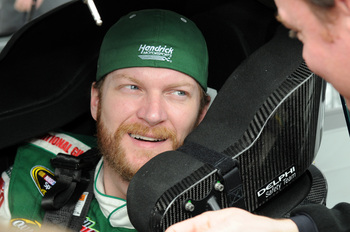 Day two of cars on the track at Daytona was filled with qualifying for the ARCA series, pre-qualifying Sprint Cup practice for Daytona 500 hopefuls, and rain.
Once ARCA qualifying was over, and the track cleaned, Aerosmith's hit song Sweet Emotion began playing on the massive Daytona sound system and then a parade of fifty plus Sprint Cup cars snaked their way from the garage to the staging area on pit road.
This picture: A smiling Dale Earnhardt Jr. reacts to a comment from his crew chief Lance Mcgrew.
Earnhardt had the fastest lap times in during the rain shortened practice.
Photo Credits: David L. Yeazell
All photos copyright David L. Yeazell
Eyes of the Tiger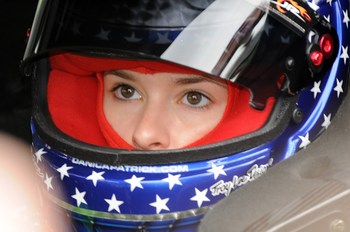 Danica Patrick was the 10th ARCA car to make a qualifying run.
Taking the checkered flag, Patrick immediately put the No. 7 GoDaddy sponsored Chevrolet on the provisional pole. When the dust settled, so had Patrick's qualifying position.
Eleven other drivers had bested Patrick's lap speed of 179 miles per hour, moving her to the outside of row six.
Mr. Danica Patrick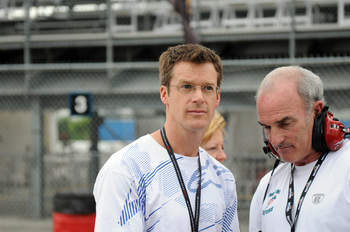 Yes, Danica Patrick is married and her husband, Paul Hospenthal is at the track in Daytona.
Hospenthal, a personal trainer, on pit road today before Patrick's qualifying run, stayed clear of the media frenzy surrounding his wife.
At one point a track security guard asked Hospenthal to leave the area because he did not have the proper credentials. After assuring the guard he was married to Danica Patrick, and with help from a few bystanders, Hospenthal was allowed to stay.
Hospenthal, seen here with an unidentified friend, opted to leave the crowded area and seek refuge behind the pit wall area.
Oddly, instead of a NASCAR hard card or a team hard card issued by JR Motorsports, the only credential Hospenthal had was a low level paper credential issued by the speedway.
Are you going to hire one of my drivers?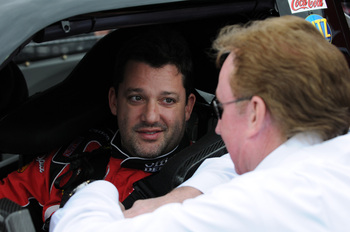 Before Sprint Cup practice gets under way, Richard Childress stops by for a chat with Tony Stewart.
RCR driver Kevin Harvick will leave Childress racing after this year is over. Rumors have Harvick moving to his own team, or to Stewart-Haas Racing.
I don't feel well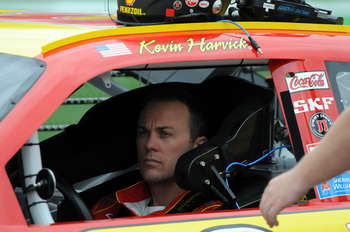 Not sure if Kevin Harvick is unhappy or if he is still feeling bad from the flu like symptoms that kept him from practicing the day before.
Harvick , who will compete in Saturday's Bud Shootout, did a few laps of practice before the rain's came today.
Going Green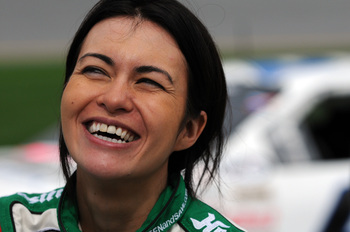 Leilani Munter, one of six women getting a starting spot in Saturday's ARCA race, is a huge environmentalist.
Her website, www.carbonfreegirl.com, gives information about her sponsors, all green minded corporations, and also what you can do to reduce your carbon footprint.
Munter said because of her strong support of green ideas, she had a tough time getting sponsors at first.
Now that she is becoming more visible through racing, green minded sponsors come to her with support and ideas.
I asked Munter about the conflict of being green and using fossil fuels for racing. She said that racing has made it possible for her to bring visibility to more green companies, and for every race she enters, Munter offsets the fossil fuel usage by donating support to a rain forest.
Hands at 11 and Five
Kasey Kahne appears to be giving instructions about the basic hand positions for driving.
Wearing all white and driving an all white car, Kahne had the fastest lap times during Bud Shootout practice.
Gimme Sheltra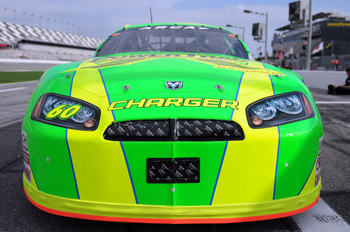 Patrick Sheltra's neon green and yellow Dodge Charger sits ready and waiting for ARCA qualifying.
Sheltra, a native of Florida, is a full time ARCA driver, but on occasion does make an appearance in the Nationwide series.
Jennifer Jo Cobb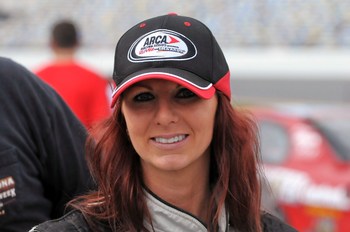 Jennifer, one of six women qualified for Saturdays ARCA race, said she tried to stay a way from the distractions of Danica Patrick.
"I need to focus on me and my goal of making to the Sprint Cup level," said Cobb.
Cobb, a Kansas City, Kansas native, will use a provisional and roll off 42nd on Saturday.
Need for speed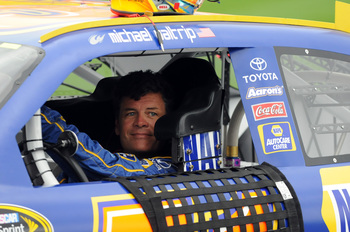 Michael Waltrip flashes a smile as he waits his turn for Daytona 500 practice.
Waltrip will have two chances to make this year's race. First chance will be on speed during qualifying Saturday, or, his second chance is to use the Gatorade Duel next Thursday and race his way in.
Waltrip has no provisional for this years' race, so he must qualify or race his way in.
Looking for more?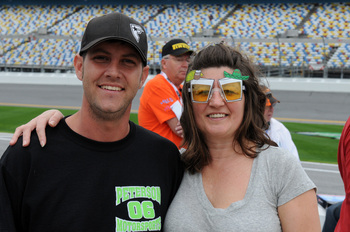 Looking for more Daytona stuff? Check out other slideshows and articles from this same author. Copy and paste the links below for more.
http://bleacherreport.com/articles/339913-danica-patrick-i-am-here-to-drive-a-sprint-cup-car-in-the-sprint-cup-series
http://bleacherreport.com/articles/339504-jimmie-johnson-mark-martin-danica-patrick-and-a-host-of-others-kick-off-media-day-at-daytona-international-speedway
Keep Reading