NBA Trade Deadline: Five Trades That Should Happen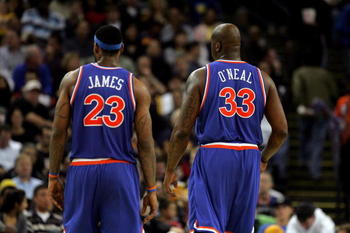 With the NBA trade deadline just 13 days away and the free agent circus set to begin once the season ends, only one thing has remained consistent throughout never-ending whispers and swirls of rumors floating around each team:
Nothing's happened.
Not to say that nothing will happen. Several of the game's premier players, including Amar'e Stoudemire, Andre Iguodala, and Chris Bosh, could be moved before Feb. 18.
Virtually every team, including some of the top title contenders (Lakers, Cavs, Celtics), have been involved in trade rumors, as some teams look to make a run at the 2010 NBA Championship while others look to free cap space for the offseason bonanza.
GM's around the league continue to listen to offers in an effort to make a run at this year's title while not locking themselves into any long-term commitments.
But today, general managers across the league can take the day off. Thanks to the magic of ESPN's NBA Trade Machine, anyone with the most basic knowledge of the salary cap (including yours truly) can pull off blockbuster deals and salary dumps.
Four hours and 27 potential trades later, I've settled on five trades that should go down before the Feb. 18 deadline.
Without further ado...
(Note: the years and money in parenthesis next to each player is the remaining years and salary on that player's contract)
L.A. Lakers-Chicago: Kirk Hinrich for Derek Fisher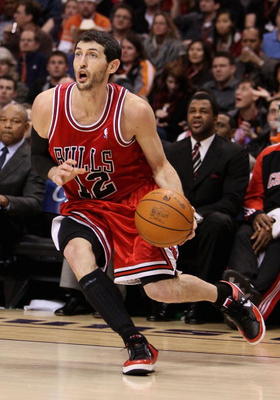 Lakers acquire: Kirk Hinrich (three years, $26.5 million), Jannero Pargo (one year, $2 million)
Bulls acquire: Derek Fisher (one year, $5 million), Adam Morrison (one year, $5.3 million)
Lakers Take
Without moving Andrew Bynum, the Lakers don't have enough assets to lure in a quicker, more explosive point guard like Devin Harris, and they aren't going to lure Chris Bosh out of Toronto.
Hinrich is the next best fit for L.A. Despite generally playing off the ball for the last two years, Hinrich can play point guard. He ran the position masterfully at Kansas, and though he has been anything but elite while playing PG in the NBA, having a guy like Kobe Bryant starting next to him takes a lot of the pressure of his ball-handling responsibilities.
In the Lakers offense, they don't need a point guard who dominates the ball or needs the ball in his hands to create opportunities for others. Hinrich can spread the floor offensively and, while not being a premier defender, is athletic enough to keep up with some of the West's elite point guards, like Chauncey Billups, Tony Parker, Steve Nash, and Chris Paul.
Fisher is shooting less than 40 percent from the field in the last month, while Hinrich is connecting on over two three-point attempts a game since being inserted into Chicago's starting lineup a little over a month ago. With Kobe Bryant and Pau Gasol demanding double-teams, Hinrich will get his share of open looks in L.A.
The only potential hiccup in this would be L.A.'s willingness to take on Hinrich's contract for another two years after this season. But with Gasol and Bynum under contract for another two years as well (and it's not like Kobe is signing somewhere else), this team is solid enough to compete for NBA championships until 2012...at least.
Bulls Take
The Bulls are looking to move any contracts they can, whether it's Hinrich, Luol Deng, or John Salmons, in an attempt to make a free agent run at the end of the season.
While Chicago has some nice pieces, this team isn't anywhere near good enough to consistently compete with Cleveland, Boston, and Orlando in the East.
In Fisher, the Bulls get a veteran, backup point guard that can mentor Derrick Rose for the rest of the year. This trade doesn't drop them out of playoff contention by any means, so Fisher will have a chance to make an impact in the playoffs off the bench.
Chicago also pulls in Adam Morrison, giving them over $10 million in expiring contracts.
The Bulls probably would rather move Salmons than Hinrich, but the Lakers won't bite. Hinrich is the logical move.
Dallas-Indiana-L.A. Clippers: Marcus Camby to the Mavs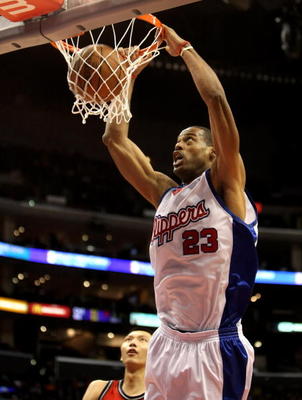 Mavericks acquire: Marcus Camby (one year, $9.1 million), Troy Murphy (two years, $23 million), Al Thornton (one year, $1.9 million), Luther Head (one year, $.8 million)
Pacers acquire: Tim Thomas (one year, $1.3 million), Drew Gooden (one year, $4.5 million), Ricky Davis (one year, $2.4 million), Rodrique Beaubois (two years, $2.2 million, player option after), 2011 First Round Pick (from Dallas)
Clippers acquire: Roy Hibbert (two years, $3.1 million), Josh Howard (one year, $10.9 million), James Singleton (one year, $1.0 million)
Mavericks Take
Mark Cuban has hinted in the last week that he wouldn't mind making a move before the deadline.
Ideally, the Mavs would want to add another two-guard to bolster their outside shooting. Unfortunately, there aren't a lot of shooters that are on the market (aside from Boston's Ray Allen and Sacramento's Kevin Martin, who both could be on the move somewhere else).
Instead, the Mavs can turn Josh Howard's expiring contract into some beef inside. The Clips are refusing to part with Camby (we'll get to that in a second), but from a basketball standpoint, it doesn't make much sense.
Camby is a lanky defender inside and a rebounding machine. While not much of a threat offensively, he can still spread the floor relatively well, capable of hitting 10-15 foot jump shots. He's a better fit in the starting lineup than Erick Dampier (unfortunately for Dallas, Dampier's move to the bench would make him the most overpaid bench player in NBA history).
The Mavs will have to take on Murphy's contract, but Cuban has shown in the past he's not worried about spending if it brings results. Murphy is a good outside shooter that, again, can spread the floor for Dirk Nowitzki in the middle.
Al Thornton is the X-factor in this deal. He's an attacking small forward that doesn't mind banging bodies down low, which complements Nowitzki's game.
Dallas can trot out a starting five of Jason Kidd, Jason Terry, Shawn Marion, Nowitzki, and Camby, while bringing J.J. Berea, Murphy, Thornton, and Dampier off the bench. That's a nine-man rotation that can play multiple styles, whether it's banging bodies down low with the Lakers or playing up-and-down against the Suns.
Pacers Take
Indiana ships out Murphy's contract, helping them get below the luxury tax line. The Pacers aren't going to the playoffs, so bringing in expiring contracts is their next best option.
For their troubles, Indiana acquires Rodrique Beaubois, the promising young guard from Dallas. The Pacers can keep him under contract until 2013, so if he pans out, he could be a great snag for the future.
The only question on Indiana's end is will they be willing to part with Roy Hibbert? Hibbert was played well in spurts this year, but his minutes (and production) have been up-and-down.
Is getting rid of Murphy's contract and acquiring a future draft pick enough for the Pacers to part with Hibbert?
Clippers Take
Let's face it, Clipperland: This team isn't making the playoffs this year.
Why they are so unwilling to part with Camby's contract, we'll never know. But in this deal they bring in Hibbert, a solid young center that's under contract for two more years and is a much cheaper replacement for Camby.
By getting Camby out of the lineup, they free up more playing time for Craig Smith and DeAndre Jordan, who are both free agents after this year. The Clips can get a good look at who they want to re-sign for the future.
They rent Josh Howard for the rest of the year and can choose to not pick up his option for 2011. With only Baron Davis, Eric Gordon, Chris Kaman, Blake Griffin, Sebastian Telfair (player option) and Hibbert under contract for next year, L.A. has plenty of options in the free agent market.
Cleveland-Washington: Antawn Jamison for Zydrunas Ilgauskas
Cavs acquire: Antawn Jamison (three years, $40 million)
Wizards acquire: Zydrunas Ilgauskas (one year, $11.5 million), J.J. Hickson (two years, $2.9 million), 2011 First Round Pick
Cavs Take
The Cavs finally get the stretch power forward they've coveted for years.
Jamison fits the Cavs mold perfectly. He's a good outside shooter than can spread the floor for Shaq inside and create open passing lanes for LeBron James when he attacks the hoop.
While not a great defender, Jamison's deficiencies can be made up by having O'Neal in the middle. Against players like Rashard Lewis, Jamison can play him for the three-point shot and not really worry about being beat off the dribble too much.
The Cavs have been involved in several trade rumors, with Z and Hickson's names frequently mentioned.
Cleveland is willing to trade Ilgauskas, but probably only if the other side agrees to buy out Z so he can return to the Cavs after 30 days. However, the Cavs can't force another team to buy out Z's contract, nor can they discuss it with Ilgauskas.
Hickson has played well in spurts this year, but like Jamison, he's not a great defender. He's starting to play well off the ball offensively and, given a couple of years, could easily turn into a 15 point, 10 rebound player.
But the Cavs window is now. They've shown with the moves they've made that they are not worried about future ramifications, but instead are doing they're best to appease LeBron by winning now.
Jamison is a better fit for this year. Given the opportunity, the Cavs have to make this move.
Wizards Take
Washington can use extra money thrown in by the Cavs to buy out Ilgauskas instead of paying him his owed salary for the rest of the year.
The Wizards say they aren't moving Jamison, but to me it doesn't make much sense.
Jamison has been a loyal member of the Washington family for years. He's a favorite of the organization and was well-respected by the late owner, Abe Pollin.
But the Wizards won't be contending anytime soon, even with three years left on Jamison's deal. They owe it to him to try and move him to a championship contender.
By the time Jamison's deal expires, Hickson very easily could be a suitable replacement: An athletic, strong power forward that relentlessly attacks the hoop.
Phoenix-Houston-Sacramento: Amar'e Stoudemire to the Rockets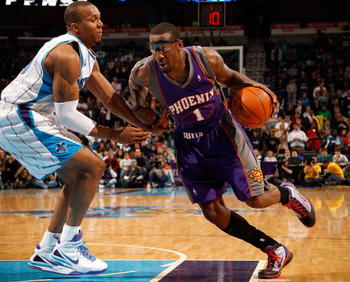 Suns acquire: Kevin Martin (four years, $46.1 million), Luis Scola (one year, $3.3 million), Donte Greene (two years, $1.8 million)
Rockets acquire: Amar'e Stoudemire (one year, $16.3 million, player option for 2011), Andres Nocioni (three years, $21 million), Hilton Armstrong (one year, $2.8 million)
Kings acquire: Tracy McGrady (one year, $23.2 million), Chuck Hayes (one year, $2.1 million)
Suns Take
Phoenix gets to move Amar'e and brings in more than just expiring contracts.
Jason Richardson has struggled as of late as the shooting guard. Kevin Martin can score off the dribble, off a catch-and-shoot, or by getting to the free throw line. You can expect Martin's production to remain relatively the same, as he plays a similar style of offense in Sacramento.
Luis Scola is an interesting fit in Phoenix. While not a polished low-post scorer, he does have a decent shot and can make a living off of the pick-and-roll with Steve Nash.
There are risks here for Phoenix. They'll be right at the salary cap line for next year, with only 11 players under contract. Add in Robert Sarver's tendency to cut costs and this could be a potential snag for the Suns.
But a starting lineup of Nash, Martin, Grant Hill, Scola, and Robin Lopez, with Leandro Barbosa, Donte Greene, Channing Frye, and Jared Dudley coming off the bench, is good enough to make a playoff run for the next two years.
Rockets take
The Rockets essentially turn T-Mac's expiring contract into a one-year rental of Amar'e. If Stoudemire doesn't pick up his player option for next year, it doesn't hurt the Rockets much, other than losing out on Scola and Chuck Hayes (who are both free agents at the end of the year).
Stoudemire gives the Rockets a legitimate low-post presence and elevates them to Dallas and San Antonio's level.
Picture this: If Amar'e decides to sign a long-term deal with the Rockets, Houston will be trotting out a starting five of Aaron Brooks, Trevor Ariza, Shane Battier, Amar'e Stoudemire, and Yao Ming in 2011 and 2012 (not to mention Carl Landry, Kyle Lowry, Nocioni, and Jermaine Taylor on the bench). That's a very young lineup with size, shooting, athleticism, and strong defensive prowess.
A scary thought for the rest of the West.
Kings Take
I know Sacramento is excited about a Kevin Martin-Tyreke Evans backcourt, but there's just one problem:
They play the same position.
Evans is not a point guard. He's a big, physical shooting guard, who is much better at creating opportunities for himself. Now I'm definitely not saying that he can't create for others (he can, and does a pretty impressive job doing so for a rookie); I just don't think it's a proper utilization of his talents.
In trading Martin, the Kings free up loads of cap space for the free agent push this summer. Dropping Nocioni's three year deal on Houston only sweetens the deal.
Sacto still has a solid nucleus of Evans, Jason Thompson, Omri Casspi, and Spencer Hawes. Add in a probable top 10 pick in next year's draft and nearly $25 million in cap space, and I think things are still on the rise for the Kings.
Boston-Philadelphia-Chicago: Andre Iguodala to the Celtics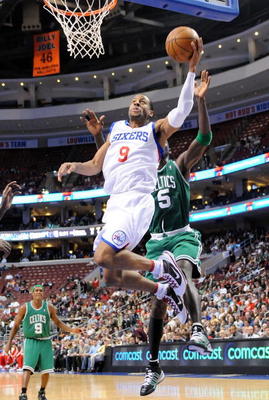 Celtics acquire: Andre Iguodala (four years, $53.2 million), Jerome James (one year, $6.6 million)
76ers acquire: Brad Miller (one year, $12.2 million), Tyrus Thomas (one year, $4.7 million), 2011 Second Round Pick (from Boston)
Bulls acquire: Ray Allen (one year, $19.8 million), Marreese Speights (two years, $3.4 million)
Celtics Take
Ray Allen's name has been floating around in trade rumors in the Boston area. If the Celts are serious about dealing Allen, then this is their best bet.
While nowhere near as a good of an outside shooter as Allen, Andre Iguodala is a young, versatile player that can fit right into Boston's system.
He is grossly overpaid at over $12 million a year for the next four years, but he'll probably be the third offensive option on the Celts. Any team with Iggy as their third option on the offensive end is probably pretty stacked.
He's athletic enough to guard players like LeBron James, Vince Carter, and Joe Johnson. Offensively, he can take pressure off of Paul Pierce and Kevin Garnett, allowing them to be fresh and rested down the stretch.
And (I can't stress this enough) don't forget about the defensive aspect of this trade. The Celtics have struggled when allowing more than 90 points in a game this year, but with Iguodala on board, could anybody crack 90 against them?
The potential snag: Would the Celtics be willing to take on Iguodala's contract for another four years?
But a starting five of Rajon Rondo, Iguodala, Paul Pierce, Kevin Garnett, and Kendrick Perkins is frightening for Cavs and Magic fans.
76ers Take
The Sixers don't get much in terms of talent in return for Iguodala, but they get the next best thing: expiring contracts. (Notice a trend yet?)
They bolster the front line, with Elton Brand, Samuel Dalembert, Brad Miller, and Tyrus Thomas as the interior players. It might not make much sense on paper, but Philly is just renting Miller and Thomas for the rest of the year. Getting rid of Iguodala's contract and clearing nearly $17 million in cap space should be reason enough for the Sixers to pull the trigger (no pun intended) on this deal.
Like the Suns, Philadelphia will be right at the salary cap line for 2011. But it's better than having Iggy's $12.2 million bringing on the luxury tax.
And since the Sixers are a rebuilding project for the next few years, it's a pill they'll have to swallow.
Bulls Take
Chicago gets the sharpshooter they've secretly pined for years (Ray Allen) while still clearing enough cap space to make a run at somebody like Dwyane Wade or Chris Bosh next year.
By moving Tyrus Thomas, the Bulls don't have to worry about his qualifying offer for 2011, freeing up another six million.
The Bulls lose some serious depth inside by trading Miller and Thomas, but with Taj Gibson being moved into the starting lineup and Joakim Noah on the verge of being an All-Star, the Bulls are definitely planning for the future.
And it's not like a starting lineup of Derrick Rose, Ray Allen, Luol Deng, Taj Gibson, and Joakim Noah is anything to sneeze at. They're definitely a playoff contending team in the East, with room for improvement in the future.
Keep Reading