Referees "Helping" FC Barcelona: Favoritism or Honest Mistakes?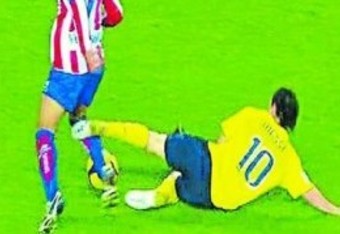 After a long hard discussion with World Football community's team leader Alex Dimond on the recent article in the Catalan daily—El Mundo Deportivo about how Real Madrid have been benifited by the referees, then only have I decided to publish this article. This is just a shout out to Alex as he has been very helpful to me since the beginning and I have learned a lot from reading his articles.
Real Madrid and FC Barcelona are the biggest teams of the world let alone Spain, so it is obvious that the "mistakes" made in these matches will come under a lot of scrutiny and will be referred to as favoritism by many.
But is it really correct to term these "mistakes" under favoritism? I guess it is, because it has happened one too many times to be classified as "honest mistakes."
Both the teams have had decisions going in their favor, but Barcelona have had a little more help from the referees than Real Madrid have.
The Match Changing Decisions:
In this section, I'll list the decisions going towards Real Madrid and Barcelona or against them, and will also be giving the number of points they benefited or lost from those "mistakes."
In the favor of FC Barcelona:
» FC Barcelona Vs Espanyol (Camp Nou): 1-0

The only goal of the game came through the penalty earned by the blatant dive from Xavi Hernandez, the video is so clear that no one who has the brains would argue or say that it was not a dive.
Result: Barcelona gain two points.
» FC Barcelona Vs Real Madrid (Camp Nou): 1-0

Zlatan Ibrahimovic decides the El Classico with an offside goal.
Result: Barcelona gain two points and Real Madrid lose one.
» FC Barcelona Vs Villarreal (Camp Nou): 1-1

There should have been two clear penalties to Villareal, one on Marcano by Dani Alves and the other on Nilmar by Carles Puyol, even the Villarreal president showed his displeasure on that one.
Result: Barcelona gain one point.
» Sporting Gijon Vs Barcelona (El Molinon): 0-1

Pedro scores the only goal of the game from an offside position.
Result: Barcelona gain two points (although Barcelona did dominate the game they didn't take their chances just like Real Madrid didn't in El Classico this season).
In the favor of Real Madrid:
» Real Madrid Vs Racing Santander (Santiago Bernabeu): 1-0

Sergio Canales wasn't offside when he scored his first goal in the Liga BBVA, but the goal was ruled offside.
Result: Real Madrid gain two points.
Against FC Barcelona:
There hasn't been a single decision that has disturbed the outcome of a game for FC Barcelona.
Against Real Madrid:
» Sporting Gijon Vs Real Madrid (El Molinon): 0-0

Raul slots in the ball in the back of the net after a pass from Kaka but the goal is disallowed because Kaka "handled" the ball, apparently he didn't.
Result: Real Madrid lose two points.
(There is also the El Classico "mistake" but it would be just repeating stuff, so it has been left out from this subheading.)
Now as you can see from the cases above that these "mistakes" have been very costly for Real Madrid as FC Barcelona have gained a whopping seven points from the "mistakes" of the referees and Real Madrid have lost one point.
After some simple mathematics, FC Barcelona would drop down to 45 points and Real Madrid's points would increase to 48, which means that the five-point lead of FC Barcelona would become a three point lead for Real Madrid, had it not been for the help from the referees and the officials.
The reason for me saying that the referees have favored FC Barcelona more is the picture I used for this article.
The picture is a freeze frame of a tackle from Lionel Messi (video proof, time: 5:12) on a Sporting Gijon player named Diego Castro.
This tackle from Messi was wrong in more ways than one, firstly it was from behind, secondly he had his studs up high and he has no intention to win the ball. Diego Castro was lucky to not have a broken knee, because that tackle had the force to take him out for weeks if not months.
But Lionel Messi with his apparent "saint"-like image gets away with a yellow where it should have easily been a red while the referees and the FA handed out a two-match suspension and red card to Cristiano Ronaldo for something which shouldn't even have been a yellow (even according to the referee before the protests from players).
How is that fair treatment and justice? How can one not believe that the referees are indeed favoring FC Barcelona?
The point is: Barcelona's advantage when it comes to refereeing is due to unconcious sympathy thanks to their very sucessfull marketing image.
PS: I haven't mentioned the incidents like a Benzema's goal against Almeria after Cristiano's missed penalty and a penalty that wasn't given to a Valladolid player when Carles Puyol brought him down in the box (he wasn't even offside before that), because those decisions didn't change the outcome of the games.
This article is
What is the duplicate article?
Why is this article offensive?
Where is this article plagiarized from?
Why is this article poorly edited?

Real Madrid: Like this team?