Top 10 Game-Winning Goals in San Jose Sharks Playoff History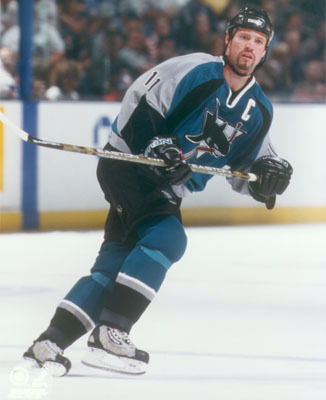 With the Stanley Cup Playoffs just over two months away, the San Jose Sharks will once again be faced with enormous expectations.
If not for a steep slide in the standings, the Sharks will finish no worse than second in the conference and the spotlight will be turned up a notch come mid-April.
But this year's playoffs are only speculation at this point, as San Jose could finally get over the hump or continue in the line of early exits.
Before fans get a chance to analyze what went wrong and what went right when the playoffs roll around, why not take a look back at the positive moments from Sharks playoffs past.
For all the early exits and lack of a championship, there have still been plenty of moments that made fans erupt in chaos during the playoffs.
Here are the top-10 Game-Winners in postseason franchise history.
No. 10: Andrei Zyuzin OT Winner in Game 4 of 1997-98 WCQF Series vs Dallas Stars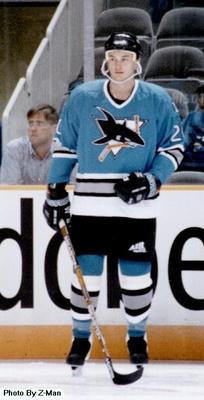 After dropping the first two games on the road against the No. 1 seeded Dallas Stars, the Sharks were an OT goal away from tying the series in Game 4 and defenseman Andrei Zyuzin delivered on a shot from the point.
http://www.youtube.com/watch?v=Ea3oVhfQrP4
No. 9: Niko Dimitrakos OT Winner in Game 1 of 2003-04 WCQF Series vs St. Louis Blues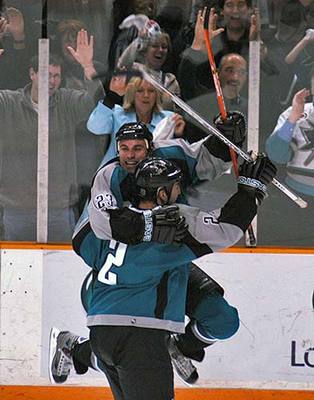 It was the magical season for San Jose, their best regular season campaign led to their deepest playoff run in the 2003-04 playoffs.
The Sharks were a No. 2 seed with Stanley Cup aspirations and had a tense 0-0 game gone the other way, who knows how the first round series plays out.
But not to worry because Niko Dimitrakos will always be remembered for one thing and one thing only: his game winner in OT.
http://www.youtube.com/watch?v=1pKdMTd6wdI
Good thing he scored because as you can understand, the 12-year-old kid who was at his first ever playoff game was yelling at him to pass the puck to Marleau.
No. 8: Patrick Marleau Completes the Hat-Trick in Game 4 of 2005-06 WCQF vs Nashville Predators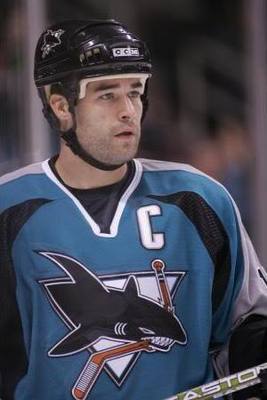 While this goal wasn't your prototypical game-winner, as it gave San Jose a three goal lead, it ended up as the deciding goal and capped the hat-trick.
Marleau has to switch his hands to the appropriate shooting position while driving to the net on a 2-on-1 rush and then slams home the centering pass from Steve Bernier.
http://sharks.nhl.tv/team/console.jsp?hlg=20052006,3,184&fr=false
No. 7: Joe Pavelski OT Winner in Game 5 of 2007-08 WCSF Series vs Dallas Stars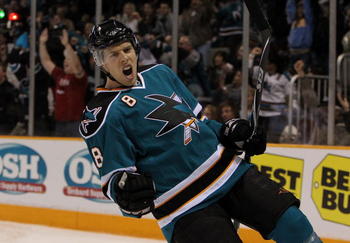 Joe Pavelski has spent just four years with the San Jose Sharks, playing in his first regular season game back in 2006. Since his call-up, Pavelski has been nothing but money game in and game out.
Pavelski's points per game average has increased each year he has been in the league and is quickly becoming known for one of the most accurate and hardest wrist shots in the NHL.
Seemingly every goal No. 8 scores is a rocket of a shot that beats the goaltender before he can even see the puck. Sharks fans can be heard yelling "what a snipe!!!" more often than not when Pavelski lights the lamp.
But of all the pretty goals, none was bigger than his OT winner in the Western Conference Semi-finals back in 2007-08. Facing elimination in Game 5 at home, the Sharks were heading to overtime after regulation ended in a 2-2 tie.
Less than two minutes into the first overtime Pavelski took a pass along the boards, skated through the middle of the zone and at the top of the faceoff circle fired a shot that beat Marty Turco top-shelf and sent HP Pavilion into a frenzy.
http://www.youtube.com/watch?v=u_QKdpN9xeA OR
http://www.youtube.com/watch?v=sQ828uJF_4Y (4:25) (sharper video and Dan Rusanowsky's call)
No. 6: Patrick Rissmiller 2OT Winner Game 1 of 2006-07 WCQF Series vs Nashville Predators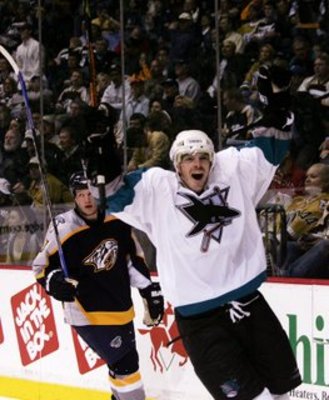 It may have only been the first game of round one, but any time you come up with a goal in double overtime to give your team the win, your without a doubt become superstar for a day.
After more than 88 minutes of hockey, Rissmiller sneaks in behind the defense and receives a pass from Marleau and then quickly snaps a game winner through the 7-hole.
http://www.youtube.com/watch?v=GCyhAi_E2Zk
No. 5: Owen Nolan Center Ice Shot Game 7 of 1999-2000 WCQF Series vs St. Louis Blues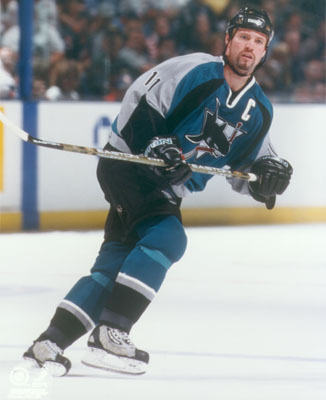 The score was 1-0 Sharks, the first period was coming to an end, all Owen Nolan needed to do was dump the puck for a line change. But instead of a soft chip into the corner, Nolan wired a powerful slap shot from just inside the red-line. The puck hits goaltender Roman Turek in the armpit and sneaks through into the lower corner of the net to give San Jose a 2-0 lead.
San Jose would go onto win by a 3-1 final and move onto the next round but it was Nolan's goal that shocked the entire building and created a momentum that the Sharks wouldn't give up.
http://www.youtube.com/watch?v=0-c10i6bw48
No. 4: Joe Thornton's Last Minute Heroics in Game 4 of 2007-08 WCQF Series vs Calgary Flames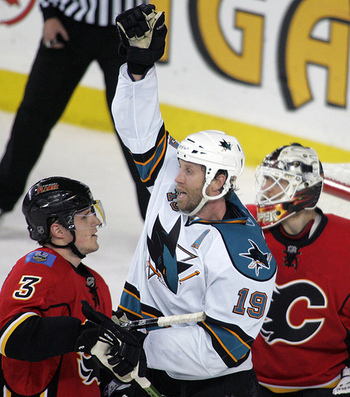 Game Four of the WCQF series against the Calgary Flames was a must-win for the San Jose Sharks. They weren't facing elimination but a loss would have all but knocked them out of the playoffs.
They had just lost Game Three after going up by a 3-0 score, only to lose 4-3. But fear not, as the Sharks would comeback to tie game four 2-2 with a few minutes left and then win it in regulation in the final moments.
Ryane Clowe would find Douglas Murray open at the point with a perfect pass and the Swede would crank a wrister through traffic where Joe Thornton was able to deflect it into the net for a 3-2 lead with just seconds 7.2 seconds left.
HE SCORES!!! HE SCORES!!!! HE SCORES!!!!
http://www.youtube.com/watch?v=g0P3ju6YZlw&feature=related
No. 3 :Ray Whitney 2 OT Winner in Game 7 of 1994-95 WCQF Series vs Calgary Flames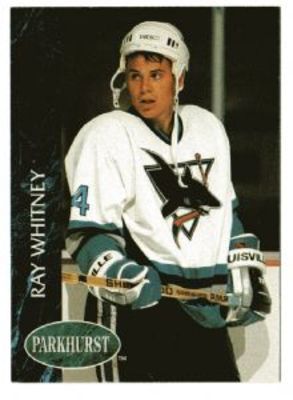 Scoring in double OT in game one of a series is nice, scoring in double OT of a game seven? That is just called C...L...U...T...C...H...CLUTCH!
In game seven against Calgary during the 1994-95 WCQF, Ray Whitney perfectly redirects a simple shot into the corner of the net to send the Sharks to the second round of the playoffs.
1:55 mark of this video: http://www.youtube.com/watch?v=DWaviZ62DWI&feature=related
No. 2: Marcel Goc's Deflection Goal in Game 6 of the WCSF Series vs Colorado Avalanche Sends Sharks to the WCF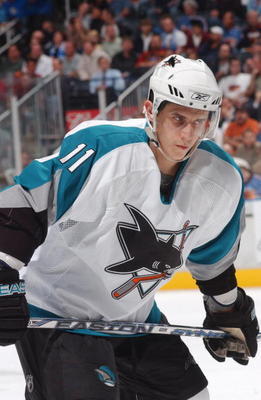 The San Jose Sharks' deepest post-season run in their history was still the 2003-04 WCF run. But who sent them there? Well of all the Sharks to score the WCSF series winning goal, it ended up being the much maligned Marcel Goc.
Goc may have never lived up to his first round expectations in San Jose but we will always have his deflection goal that gave the Sharks a 2-0 lead in the second period of Game Six in Colorado.
The Sharks would go on to win by a 3-1 final and move on to their first ever WCF appearance.
http://www.youtube.com/watch?v=QqvSzIyhApk
No. 1: Jamie Baker Game Winning Goal in Game 7 of 1993-94 WCQF Series vs Detroit Red Wings
The first ever playoff series in franchise history came against the No. 1 seed Detroit Red Wings. Game Seven was played in Detroit, the most hostile environment in the entire NHL. And the Sharks pulled off a dramatic 3-2 win to take the series.
Jamie Baker's game winning goal in that game seven back in 1994 is still the biggest goal in franchise history until somebody either sends the Sharks to the Cup Finals or wins the Cup Finals.
http://www.youtube.com/watch?v=5vxkKiy65iU
Keep Reading

San Jose Sharks: Like this team?