UFC 109: Couture and Coleman Helped Make All This Possible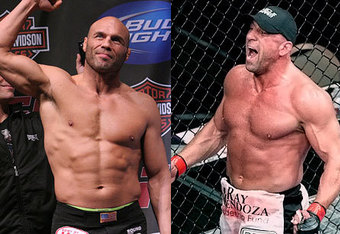 Randy Couture and Mark Coleman deserve your thanks.
While some sit and lament the combined age of the two warriors meeting in the main event of UFC 109 this weekend or sarcastically offer a year from decades past when they would have had interest in such a battle, those same people need to realize something, and fast:
Without pioneers like Randy Couture and Mark Coleman , there may not be any UFC to complain about.
Swirl that one around in your head for a minute. Let it marinate.
The first and third heavyweight champions in the history of the UFC, Coleman and Couture were scheduled to meet at UFC 17 in Mobile, Ala. nearly 12 years ago.
Couture was the reigning heavyweight champion, having won the belt with a majority decision over Maurice Smith at UFC Ultimate Japan five months earlier. This was Coleman's chance to reclaim what was once his, but it wasn't to be.
Couture got injured and pulled out of the fight.
Instead of battling for the title, Coleman took on Pete Williams . Though a relative unknown at the time, Williams cemented his place in UFC history with a brutal head kick in extra time to end his encounter with Coleman in what would become the middle loss in the three-fight losing streak that eventually led to Coleman's departure from the company.
As for the man who would become "The Natural/Captain America," Couture decided to drop the belt and head for Japan, where he suffered the first two losses of his career (Enson Inoue and Mikhail Illoukhine ) before eventually returning to the UFC to reclaim the title at UFC 28 by defeating Kevin Randleman .
Everyone pretty much knows the story from that point forward.
While Couture's place in the history books is universally accepted, Jonathan Snowden reminded us of just one of Coleman's contributions to the sport last week:
In October of 1997, after watching Coleman beat the crap out of seven opponents (and feeling political pressure from John McCain and others who called the new sport "human cockfighting") the UFC banned the headbutt, a rule change that seemed targeted towards Coleman and Coleman alone.
Though some might see it as a little tweak and a necessary adjustment, the fact remains that that one little tweak was brought on by Coleman and helped begin the process of "cleaning up" the sport and the eventual adoption of the Unified Rules.
As the saying goes, "You can't know where you're going until you know where you've been."
While the UFC and the sport of mixed martial arts have taken off in recent years and built a strong following around the globe, fighters like Randy Couture and Mark Coleman helped lay the foundation for what the sport has become.
Regardless of whether you started following the sport 10 years or 10 minutes ago, remember that before many of the fighters who rank as your favorites today set foot in the cage, these two "old men" were winning titles and shaping the sport that you pledge your allegiance to.
Their meeting at UFC 109 may be coming nearly 100 events after originally scheduled, and they might both be creeping up on "The Big 5-0," but remember this: Without the efforts of these two pioneers in the days before being a fan of mixed martial arts was cool, we might not have a sport to be fans of in the first place.
You may not care who wins, and you may not want to watch the fight; that's up to you.
Randy Couture and Mark Coleman helped put this sport on the map, and for that, as fight fans, each and every one of us should be thankful and show these two warriors the respect they've earned.
Originally posted at FiveKnuckles.com
This article is
What is the duplicate article?
Why is this article offensive?
Where is this article plagiarized from?
Why is this article poorly edited?