Forcing the Issue: Green Bay Packers' Pass Defense and the NFC North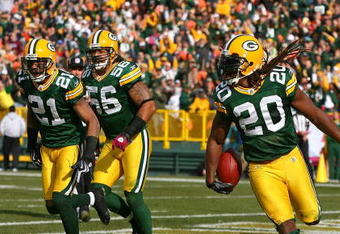 Jonathan Daniel/Getty Images
If the Green Bay Packers wish to be competitive within the NFC North next season, one thing is for sure: they will need to improve their pass defense.
In the first year of their new 3-4 scheme under defensive coordinator Dom Capers, the Packers experienced their share of successes and failures in a very bipolar manner.
On the one hand, they finished the regular season as the second-best team in yards allowed per game (284.4) and one of the league's best run-stoppers.
On the other hand, losses to teams like the Pittsburgh Steelers and Arizona Cardinals revealed Green Bay's vulnerability to a strong passing game.
The hiring of Mike Martz by the Chicago Bears should be seen as a red flag for the Packers to deal with their Achilles' heel as soon as possible.
It is no secret that the NFL has become a "pass first, ask questions later" league. Almost every team to make it into the postseason boasted a talented quarterback under center, from young guns like Aaron Rodgers to old soldiers like Brett Favre and Kurt Warner, with guys like Tom Brady and Philip Rivers filling the gaps.
Even the Super Bowl seems destined to be a shoot-out, with Peyton Manning and Drew Brees facing, at best, average defenses.
And the NFC North has completed its transition just in time.
Not only does the addition of Mike Martz potentially make Jay Cutler a bigger threat on the field, but the Minnesota Vikings could easily see Brett Favre back in uniform next year, and the up-and-coming Matthew Stafford will go into next season with some actual experience under his belt.
So what does this mean for the Packers?
Simple: improve the pass defense, or else struggle yet again to take the division title.
There should be no doubt that Aaron Rodgers and the Packers offensive unit can put points on the board. Green Bay ranked third in points per game (28.8) during the regular season, and they were part of the highest scoring postseason game in NFL history.
But a high-octane offense means nothing if you can't keep the other team from scoring more points.
Since Green Bay faces each of their division opponents twice in the season, it means that they will play six games against teams whose offenses are becoming more focused on passing than running. Add the NFC East to this list of teams, and you have ten games that will test the mettle of the Packers defensive unit.
And far be it for me to go without mentioning their meeting with the New England Patriots next fall.
A few things, then, need to happen this offseason to get the Packers pass defense up to speed.
First, the defensive line and outside linebackers need to get more pressure on the quarterback. Blitzing can accomplish a lot when it comes to disrupting a quarterback's rhythm; however, the best quarterbacks in the league will still be able to dissect the blitz and make a play. This will require the Packers to get more sufficient pressure off of just three- and four-man rushes.
Next, the secondary needs more quality depth added to its roster. Green Bay lost CB Will Blackmon and CB Al Harris to injuries this season, while SS Atari Bigby was plagued with a knee injury since the Week One opener against the Chicago Bears. The Packers were forced to use subpar replacements (e.g., Jarrett Bush and Josh Bell), which had a significant impact on the effectiveness of the pass defense.
Finally, the defensive unit as a whole will need to continue to learn Capers' 3-4 system and become more comfortable with their duties and assignments. Quality training during the offseason will be vital to improving the cohesiveness of the unit, so coaches and players alike will need to put forth their best effort into making the necessary corrections.
Ted Thompson will also, therefore, need to make upgrading this defensive unit a priority in contract negotiations, free agency, and the draft.
If Mike Martz can break Jay Cutler's bad habits, if Brett Favre returns for another season, and if Matthew Stafford and Calvin Johnson can play healthy, then the Green Bay Packers will most certainly have a full plate in 2010.
However, if the Packers can address their defensive deficiencies this offseason, then they will remain highly competitive for the NFC North division title.
This article is
What is the duplicate article?
Why is this article offensive?
Where is this article plagiarized from?
Why is this article poorly edited?

Green Bay Packers: Like this team?