How Will Bad Officiating Ruin Super Bowl XLIV?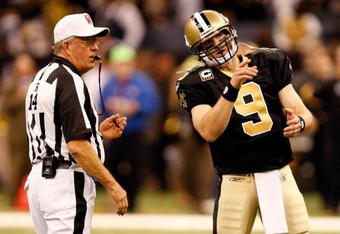 Ronald Martinez/Getty Images
NFL referees are not infallible. They are human, same as you and me. So the fact that mistakes may happen is far from surprising.
Where the problems arise comes from the fact that referees are more than paid observers. Their jobs are predicated on watching, interpreting, judging, and ruling on the game occurring around them.
For anyone who has attempted to do this, it is no small task. Yet to attempt to rule over a game seen by not just 100,000 in attendance, but perhaps 100 million people or more worldwide raises the stakes immensely.
This is a pressure cooker of the highest magnitude. The Super Bowl is not just the most watched sporting event. It is the most analyzed game each and every year. Even the most minor of mistake is going to be amplified perhaps more than it needs to be.
It is unavoidable. And for the officiating crew charged with ruling over Super Bowl XLIV, it is truly a no win situation.
Fans, however, are not sympathetic to this situation. They expect the rules they believe the game is supposed to adhere to will be enforced, and enforced objectively and unflinchingly.
Sadly, this is never the case. NFL rules seem to be enforced sporadically and not uniformly.
Some would argue this point. They would claim deeper knowledge of the NFL rule book than others or would say that such-and-such a play did not fit into this or that situation due to...well, you get the point.
Yet rules that seem fairly clear are often ignored. The 2009 playoffs have revealed this truth.
On the final play of the Packers-Cardinals Wildcard Game, Packers' quarterback Aaron Rodgers was clearly the victim of a facemask which occurred as he was being sacked and fumbling.
The officials did not call the penalty.
The result: the Cardinals' defensive touchdown won the game for them.
In the NFC Championship Game, Vikings' quarterback Brett Favre was hit below the knee after releasing a pass, which since Tom Brady's 2008 season-ending injury has been a major NFL no-no.
Favre was injured on the play, his pass intercepted, and yet no personal foul penalty was assessed (as should have been) to negate the turnover. That single play may well have been the momentum swing that led the Saints to the Super Bowl.
The biggest problem with these two plays was that on closer inspection, it was clear that the referees were not just on the spot, but watching the infractions as they occurred.
In each case, they refused to throw a flag.
The question remains, why?
Was it because the refs were "letting them play"? (This is a ridiculous stance to take by any fan because then you're willing to admit penalties can be called at will and the rule book is effectively null and void).
Was it because neither play actually was in fact a penalty?
Then why did the NFL fine Saints DE Bobby McCray this past Friday for his "illegal" hit on Favre?
Or was it because NFL officiating is terrible?
Is it imperfect and overseen by fallible people who attempt to do their best but often fail due to a variety of factors?
Most fans, thinking objectively, would see that the last sentence is the truth. Officiating, while put on a pedestal, is a hodgepodge in which a mental coin-flip often results in whether the flag is thrown or not.
Super Bowl XLIV is likely to be determined not by the players and coaches as nearly all football fans and pundits are currently debating. It is going to come down to the men in the black-and-white uniforms.
Because of this, controversy is likely to ensue as soon as the final gun is sounded. Super Bowl XLIII between the Steelers and Cardinals played last year was an exact case in point.
Eighteen penalties were called in the game (a Super Bowl record), 11 on the Cardinals alone, and yet it was perhaps the one penalty not assessed—on Steelers WR Santonio Holmes for using the ball as a prop in celebration of his game-winning touchdown—that may have altered the game's final seconds.
If the 15-yard penalty had been assessed on Holmes (as it was strictly enforced all season long), the Cardinals may have gotten better starting field position on their final drive and perhaps won the game as a result. (Holmes was in fact later fined for his non-penalty well after the Super Bowl ended).
On top of that, had the instant replay officials actually reviewed Kurt Warner's last second disputed fumble (which they never truly did), perhaps the Cardinals would've had another shot to heave a hail mary pass to win the game as opposed to watching the Steelers kneel down for the victory.
These two non-actions by the officiating crew improperly changed the outcome of Super Bowl XLIII. Mistakes?
Clearly. But now they are part of NFL lore, much to the Cardinals' and their fans' chagrin.
These are but a few examples in recent NFL history to make this point. The officials may determine the game more than any single play or player on the field.
So what is it going to be on Sunday? What call—or non-call—will really determine which team is crowned as the NFL's champions?
Will it be the proper call being made?
Or will it once again stir up the controversy and conspiracy theories all over again?
This article is
What is the duplicate article?
Why is this article offensive?
Where is this article plagiarized from?
Why is this article poorly edited?

New Orleans Saints: Like this team?