NBA Trade Rumors: Where Will Amar'e Stoudemire End Up?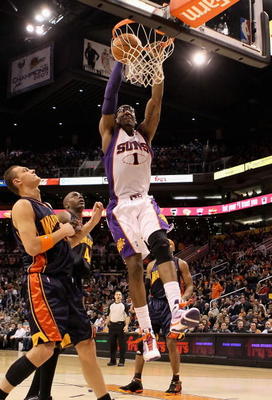 With the NBA trade deadline a little over two weeks away, there's much speculation as to which superstars will be traded and where they'll end up.
Adrian Vicente takes a closer look at the Phoenix Suns' Amar'e Stoudemire to see on which of the NBA's 30 teams the mercurial forward-center could land.
Cleveland Cavaliers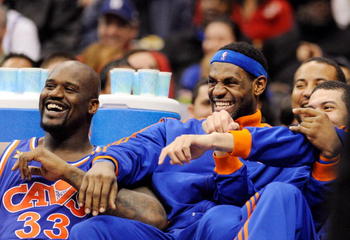 Currently holders of the best record and player (LeBron James) in the league, the Cavs would certainly take a good, hard look at the possibility of landing Stoudemire.
A move of this caliber would certainly push them over the top and make them the runaway favorites to win the title.
In addition, Shaquille O'Neal and his $21 million price tag will disappear at year's end, opening up room for the addition of Stoudemire's contract (whatever it may be) should the Cavs wish to retain him.
The Cavs would certainly lose Zydrunas Ilgauskas (expiring), Delonte West (one year, $4.7 million) and a number one pick just to rent him. But is that enough of an offer for the Suns to pull the trigger? Maybe.
Add the Cavaliers to your list.
Los Angeles Lakers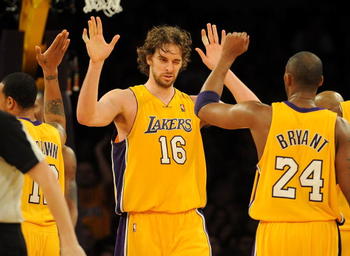 The returning champion Lakers have the second-best record in the league and need nothing except for guard depth.
Financially, they're so far over the cap that unless they're willing to part with Andrew Bynum (two years, $29 million), landing Stoudemire is impossible.
Bynum for Stoudemire does not make any sense on any level.
Cross the Lakers off your list.
Orlando Magic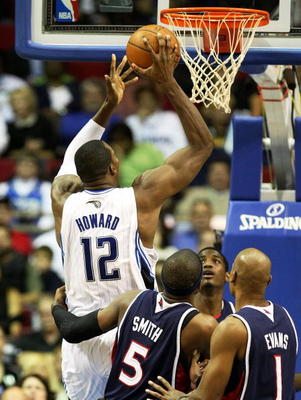 Isn't the idea of playing of Stoudemire next to Dwight Howard, and telling them, "you [pointing at Amar'e] play offense and don't worry about defense, and you [pointing at Dwight] play defense and don't worry about offense," ridiculously scary to think about? What a tandem they'd form.
Unfortunately, the Magic don't have the cap space or personnel to make the deal happen. They would have to deal either Vince Carter (one year, $17.3 million) or Rashard Lewis (three years, $66.5 million) to make it work. The Suns would want no part of either.
Cross the Magic off your list.
Denver Nuggets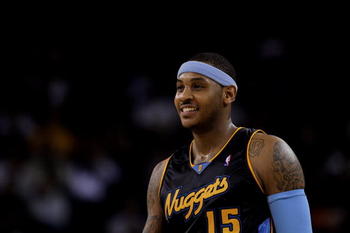 The Suns would have to take on Kenyon Martin (one year, $16.5 million). If Denver had a valuable pick (they don't have any this year) or player (Ty Lawson isn't that much of an upgrade over Goran Dragic) things could be different.
Cross the Nuggets off your list.
Atlanta Hawks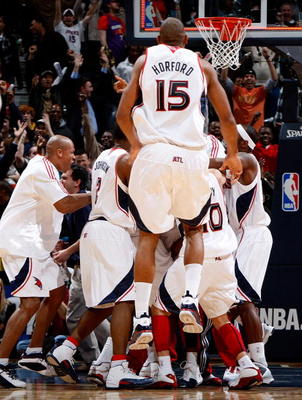 The Hawks are playing great basketball, and chemistry has been a huge part of it. Al Horford, Josh Smith, and Marvin Williams make up one of the more talented, young frontlines in the league.
Re-signing Joe Johnson is their biggest concern.
Cross the Hawks off your list.
Dallas Mavericks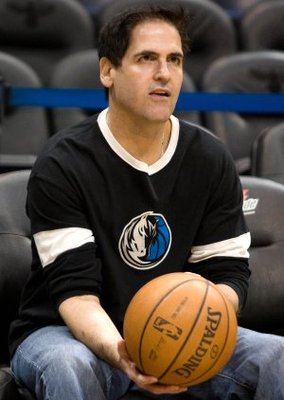 Mark Cuban might be crazy, but he's not stupid. He knows what the Mavericks need is not a scoring big man but rather a banger who can rebound and/or defend on a high level.
Carlos Boozer makes sense. Marcus Camby makes sense. Chris Bosh makes sense. Stoudemire, an atrocious rebounder and defender, does not make sense.
Cross the Mavericks off your list.
Boston Celtics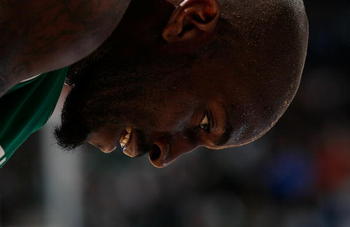 Kevin Garnett is at the end of his career, but what he no longer gives on the court is made up by what he brings to the locker room. He's not going anywhere.
As long as Garnett and could-be-stud Kendrick Perkins are in Beantown, the Celtics' identity will center on toughness and defensive effort. Stoudemire lacks both qualities.
Cross the Celtics off your list.
Utah Jazz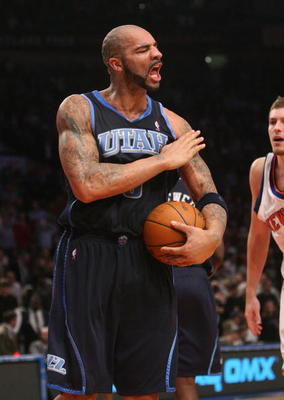 The Jazz present an interesting scenario. They would love to unload Andrei Kirilenko's contract (one year, $17.8 million), and you can't help but think AK-47 would flourish in the Suns' run-and-gun style in the same manner Shawn Marion once did.
Would the Suns deal Stoudemire to a conference foe for one year of Kirilenko, Ronnie Brewer, and a late first-round pick?
Would the Jazz give up Brewer and a late first-round pick to rid themselves of Kirilenko and to get the first shot at re-signing Stoudemire? What if Leandro Barbosa (two years, $14.7 million) were included?
I don't think it's likely to happen.
Cross the Jazz off your list.
San Antonio Spurs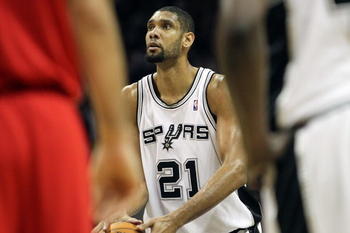 Decisions, decisions. The Spurs have many big decisions to make regarding their future.
They're already over the cap for next season and eight contracts are set to expire, including Manu Ginobili.
Tim Duncan turns 34 in a few months, which means two things--win now at all costs and start thinking about who's going to replace him.
Either way, I don't think GM R.C. Buford believes Stoudemire is their guy. The Spurs will most likely re-sign Ginobili, give Tony Parker an extension, and see what they can get in return for Richard Jefferson and a late first-round pick.
Scratch the Spurs off your list.
Portland Trail Blazers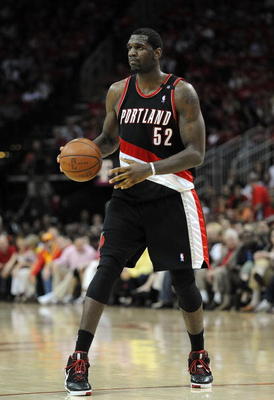 While I'm sure the Blazers are interested in Stoudemire, I don't see any way they can land him without a third team getting involved. I think such a deal would be too complicated to pull off at the deadline.
GM Kevin Pritchard will probably inquire but ultimately pass. Joel Przybilla (one year, $7.4 million) becomes a valuable trade piece next season.
Greg Oden will get one last chance to show he's worth keeping. It's smarter for the Blazers to wait and see what's out there on the market this summer.
Take the Blazers off your list.
Phoenix Suns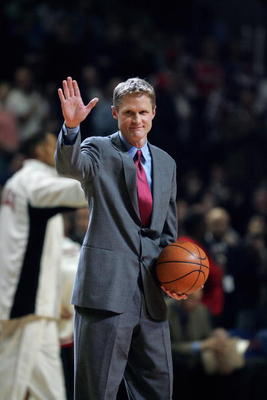 There are so many rumors about Stoudemire leaving that people seem to have completely discarded the possibility of him staying put. Remember that much is said publicly when a player and his team are negotiating; most of it is usually just posturing.
Steve Nash's clock is winding down and unless the Suns want to start rebuilding, it doesn't make much sense to let Stoudemire walk.
Ask yourself this: who are they going to replace him with?
The Suns are currently a seventh seed in the playoffs and just 1.5 games behind having home court advantage for the first round.
GM Steve Kerr has to realize how difficult it's going to be to deal Stoudemire and get equal value in return, let alone enough to keep the team as competitively as it currently is.
Keep the Suns on your list.
Memphis Grizzlies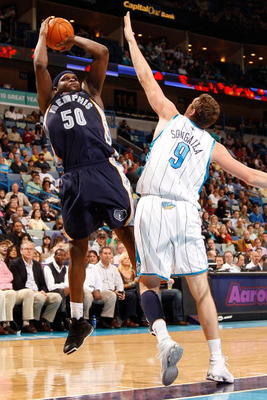 The Grizzlies already have Zach Randolph (one year, $17.3 million) signed for next season and Marc Gasol (one year, $3.5 million) extension talks are just around the corner.
Re-signing Rudy Gay (expiring) is priority No. 1 right now.
If Randolph weren't having an All-Star-caliber season, and the Grizzlies weren't in the playoff hunt, I'd say maybe there's something here. But trading for Stoudemire just doesn't make sense right now.
Take the Grizzlies off your list.
Oklahoma City Thunder
Quick: name me the big men on the Thunder? Having trouble? Don't worry, you're not alone.
Nick Collison (one year, $6.8 million), Nenad Krstic (one year, $5.8 million), BJ Mullens (one year, $1.2 million), Serge Ibaka (one year, $1.2 million), DJ White (one year, $1.1 million), and Etan Thomas (expiring).
Wow.
The Thunder are about $14 million under next year's anticipated cap, which means they will definitely be players in the big-man market.
I think someone like David Lee is a better fit than Stoudemire; he's [Lee] younger, significantly cheaper and comes without the ego, but OKC will definitely consider the latter.
Keep the Thunder on your list.
Toronto Raptors
Toronto presents a very interesting dilemma because they're in the same exact boat Phoenix is in, except with Chris Bosh. Would the two teams swap superstars if it meant unloading undesirables in the process?
Consider this deal: Raptors send Chris Bosh (expiring), Hedo Turkoglu (four years, $44 million left) and Amir Johnson (expiring) for Stoudemire (expiring) and Jason Richardson (one year, $14.4 million).
The Suns would do it to land the jack-of-all-trades Turkoglu and have first crack at re-signing Bosh. The Raptors would do it to save $30 million and have first crack at signing Stoudemire.
Put the Raptors on your list.
New Orleans Hornets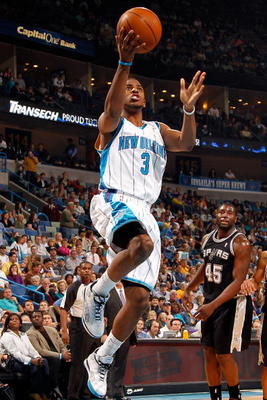 A Stoudemire-Chris Paul combo would be so incredibly lethal.
Unfortunately, the Hornets are so financially screwed (losing money, $20 million over the cap) that working out a deal would be difficult.
Sure, the Suns would gladly take on David West (one year, $8.3 million), but would the Hornets trade him just for a chance to re-sign Stoudemire? No way.
Unless a sign-and-trade is done, or the contract of either Peja Stojakovic or Emeka Okafor is included, it will be tough for these two teams to work out a deal. It's not impossible, but I don't see it happening.
Take the Hornets off your list.
Houston Rockets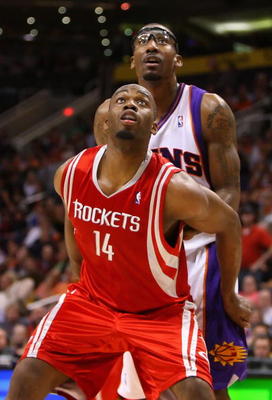 Houston will be in great shape cap-wise heading into the off-season. Figuring out what to do with Yao Ming will be tops on the agenda, followed by signing stud-to-be Carl Landry to an extension.
In the meantime, it's all about seeing if they can deal Tracy McGrady (expiring) to add a piece that can help them make the playoffs. Easier said than done.
With Ming, Landry, Luis Scola, and Chuck Hayes in the mix, the Rockets don't really need Stoudemire nearly as much as they need, say, Joe Johnson.
Scratch the Rockets off your list.
Charlotte Bobcats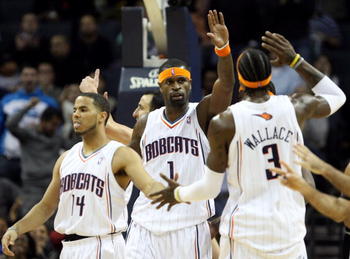 Stoudemire on a Larry Brown team? Forget it.
Brown is all about defensive intensity, and the only time Stoudemire shows that is when he's being criticized in the press.
Take the Bobcats off your list.
Miami Heat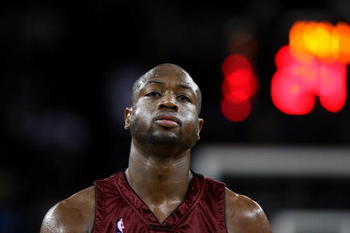 Miami is a situation that makes a great deal of sense on many levels.
1. $30 million under the cap heading into the off-season.
2. In desperate need of a big man who can score.
3. 10 expiring contracts (not including Dwyane Wade, who will re-sign).
4. Two first round draft picks (one could be in the lottery if the Heat have a poor second half).
5. Plays in the Eastern Conference.
Out of all the teams we've looked at thus far, Miami is the best place for Stoudemire to go, and the best trade partner for the Suns.
Trading Stoudemire and Richardson (one year, $14.4 million) for Jermaine O'Neal (expiring), Dorell Wright (expiring), Daequan Cook (one year, $2.2 million) and a first-round pick would likely do the trick.
The Suns would remain competitive for the rest of the year, add a first-round pick and shed $12+ million in cap space for next season. This move would allow them to become players in this summer's free agent market.
The Heat would become a serious playoff threat, gain first crack at re-signing Stoudemire, show Wade the organization is serious about winning, and lose nothing except one of two first-round picks.
Add the Heat to your list.
Chicago Bulls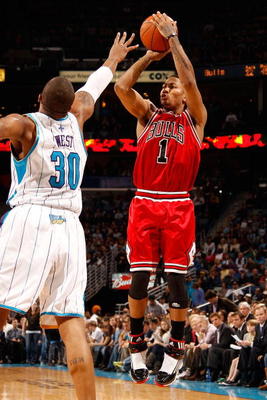 I don't know that any team in the league has been as poorly run as the Bulls have over the past 12 seasons. We're talking two seasons over .500 during that span.
No front office is worse in the league when it comes to evaluating talent. Go dig up all of the post-Michael Jordan lottery picks this franchise has squandered. You'll get sick.
I apologize for not having more faith in a Jerry Reinsdorf, Gar Forman and Vinny Del Negro-led organization. My gut tells me the Bulls front office is excitedly thinking right now, "gee golly, we can't wait to sign Dwyane Wade in the summer." Meanwhile, the rest of the world already knows it won't happen.
With all this said, the Bulls have the money (nearly $20 million under the cap), the trade chips (six expiring contracts, including Brad Miller's $12.3 million tag and the uber-athletic Tyrus Thomas), and desire/need to land a scoring big man like Stoudemire.
Would a Miller and Thomas offer be enough to land him? No. The only way the Suns work out a deal with the Bulls is if they can shed Jason Richardson (one year, $14.4 million) and/or Leandro Barbosa (two years, $14.7 million), or receive a first rounder in the process.
I don't see it, but given this organization's tendency to screw up, I'm not ignoring the possibility of a trade between these two clubs.
Keep the Bulls on your list.
Milwaukee Bucks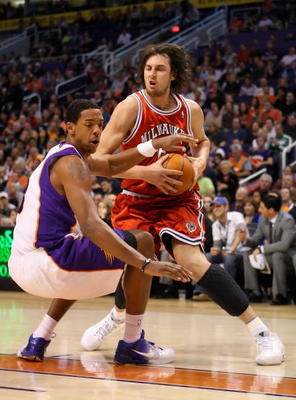 Andrew Bogut can really play.
Does that mean the Bucks aren't interested in Stoudemire? I'm not sure.
For as good as Bogut is, it seems as if he's at his best when the attention is on someone else. Thus, putting Stoudemire alongside Bogut would work out well for both players.
Still, the Bucks need to figure out what's to come of the Michael Redd situation. Should Redd miss 41 straight games, the NBA insurance policy will pick up 80 percent of the $18.3 he'll be owed next season.
Redd has already missed 13 straight and there are 35 games left on the Bucks' schedule.
With Redd's situation, a rookie point guard in Brandon Jennings, and a likely lottery pick in this year's draft, it's safe to assume the Bucks are still in rebuilding mode.
Take the Bucks off your list.
Los Angeles Clippers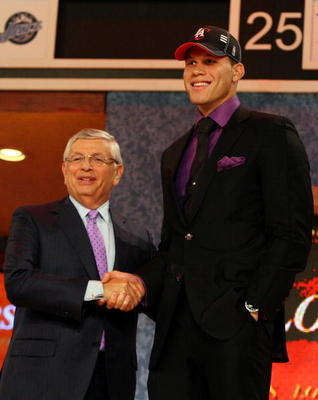 This is another organization that continues to be absolutely clueless.
Chris Kaman (two years, $23.5 million) is the best player on the roster, which says a lot.
Marcus Camby (expiring) turns 36 years old in two months. Eric Gordon is coming along nicely but isn't going to be a franchise player.
The team's "leader," Baron Davis (three years, $42 million), seems more interested in grooming his beard these days.
The Clips have the money, expiring contracts, young talent and a lottery pick, to attract the Suns, but nothing to entice Stoudemire to re-sign in the off-season.
Take the Clippers off your list.
New York Knicks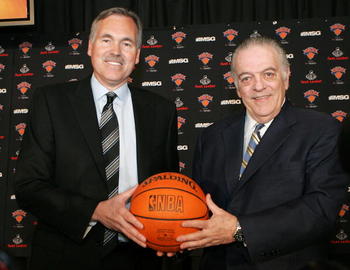 Ah, would you just look at those two faces! Don't they look they're ready to offer you an incredible deal you just can't refuse?
Like a used Pontiac Bonneville with ONLY 165,000 miles on it?
As a New Yorker who reads the daily papers religiously, I can tell you the Knicks don't have a plan.
They keep talking about LeBron James and all the money they're going to have to spend, but meanwhile GM Donnie Walsh keeps saying one thing and Coach Mike D'Antoni another.
On the plus side, the Knicks have nine expiring contracts. The problem, of course, the players coming back are: Eddy Curry, Jared Jeffries, Danilo Gallinari, Jordan Hill, Wilson Chandler and Toney Douglas.
But somehow Knicks' br(ass) believe free agents want to go play in New York.
Stoudemire wasn't very fond of D'Antoni as a coach. So even though the Knicks can give him the world, they surely have their sights elsewhere... as does he.
Cross the Knicks off your list.
Indiana Pacers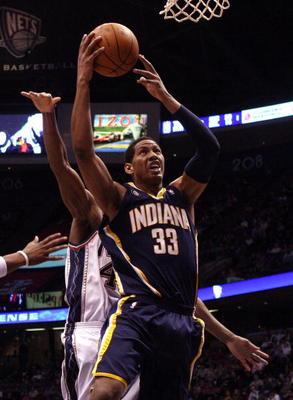 The bad: The Pacers have a handful of crappy contracts.
The good: The contracts are short and the players are useful.
The best: Every player not named Danny Granger is available.
The Cavaliers want Troy Murphy (one year, $12 million) pretty badly, but the Pacers aren't going to give him up for scrubs, especially to a division rival.
What about Phoenix?
Murphy's inside-outside capabilities and tenacious rebounding make him perfect for the Suns. And Stoudemire's inside scoring punch perfectly complements Granger and fits nicely alongside Roy Hibbert's shot-blocking.
What could the Suns add to a Murphy-for-Stoudemire offer to make the Pacers pull the trigger? The pieces are there.
Add the Pacers to your list.
Detroit Pistons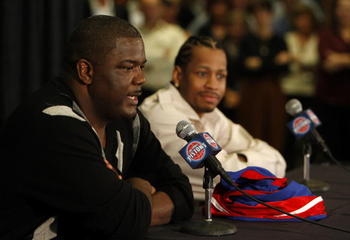 Detroit is rumored to be interested in Stoudemire and it's not hard to see why.
The Pistons have trouble scoring points in the paint and desperately need a big who can draw double-teams and open up their perimeter play, which is their strength.
What do the Pistons really have to offer the Suns? Tayshaun Prince (one year, $11.1 million), a few expiring contracts and a lottery pick in this summer's draft.
The Pistons won't do Prince and a pick. Is Prince and, say, Will Bynum or Kwame Brown enough? I doubt it. Prince and Charlie Villanueva? Sure. But the Pistons wouldn't do that.
GM Joe Dumars has a better chance of working something out for Carlos Boozer or Chris Bosh.
Cross the Pistons off your list.
Sacramento Kings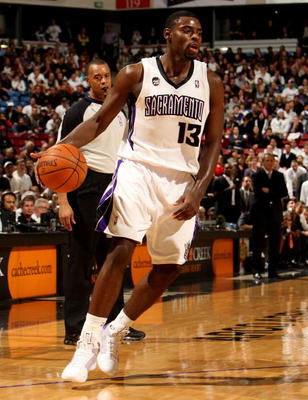 Sacramento has a lot of young talent, some cap money and a lottery pick.
The key for them is to unload the talented, but often-injured Kevin Martin, who's owed $36 million over the next three seasons. One potential destination is Houston.
The Kings want Stoudemire, but I don't think they can pull off a trade for him unless a third team gets involved or they move Martin first.
The Suns wouldn't be interested in Martin unless they moved Jason Richardson (one year, $14.4 million) or Leandro Barbosa (two years, $14.7 million) in the deal.
It's possible these two teams can work out a deal, but I don't think it will happen.
Scratch the Kings off your list.
Washington Wizards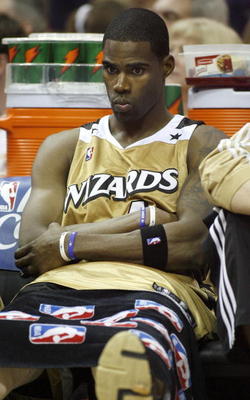 What a mess the Wizards are right now.
They say they're keeping Antawn Jamison (two years, $28.4 million) but looking to deal Caron Butler (one year, $10.5 million). Brendan Haywood (expiring) seems like a lock to leave, and who knows what's to come of Gilbert Arenas?
If you ask me, this team just needs to be blown up.
Any offer not including either Jamison or the lottery pick probably won't be enough to get the Suns interested.
Scratch the Wizards off your list.
Philadelphia 76ers
The Sixers are in a real jam. They're already $11 million over next year's cap and that's not taking into account the four roster spots they'll have to fill.
Elton Brand (three years, $51 million) is immovable. Sam Dalembert still has another year under contract ($12.2 million) before he expires. Their best player, Andre Iguodala, is owed $56 million over the next four seasons.
They're probably trying to kill two birds with one stone by packaging Dalembert with Iguodala, but with or without the combination, that's a big commitment to take on.
The only possible way the Suns work out a deal with Philly is if the Sixers part with their lottery pick and take on some undesirable contracts. At the end of the day, it would just be too complicated.
Take the Sixers off your list.
Golden State Warriors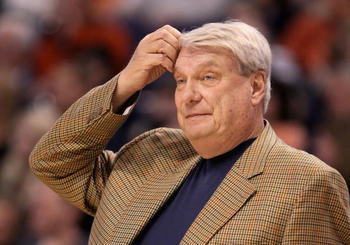 Even Coach Don Nelson can't read his own mind.
Even though he's no Stoudemire, 23-year-old Andris Biedrins is one of the league's best bargains (four years, $36 million) considering his 12 points, 12 rebounds and 2 blocks per game potential.
Should the Warriors wish to move him (they reportedly offered him and Anthony Randolph for Chris Bosh last winter) you would have to believe many teams would be interested. The Suns would be one of them.
Would a Biedrins and, say, Speedy Claxton (expiring) package suffice? Possibly. But there are certainly stronger offers out there that don't involve moving Stoudemire within the conference.
Can you picture Stoudemire in a Warriors uniform? Neither can I.
Scratch the Warriors off your list.
Minnesota Timberwolves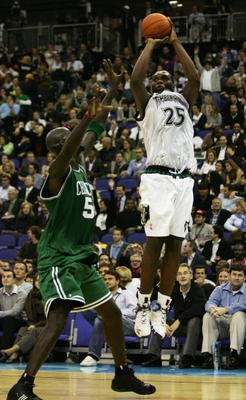 The Wolves have a lot of cap space ($20 million) heading into next season, young talent all over the roster, a few expiring contracts, two first round picks (one likely to be in the top three), and a legit building block in Al Jefferson.
Yeah, I've heard the trade rumors about Jefferson (three years, $42 million) too but don't believe any of it. There are roughly seven big men in the league capable of posting 20-and-10 night in and night out, and Jefferson is one of them. He's not going anywhere.
With Jefferson and Kevin Love (three years, $14.3 million) down low, you can be sure GM David Kahn's focus will be on acquiring a veteran perimeter player like Joe Johnson, Rudy Gay, Raymond Felton, or even Tracy McGrady.
This team is fine upfront and doesn't need Stoudemire.
Take the Wolves off your list.
New Jersey Nets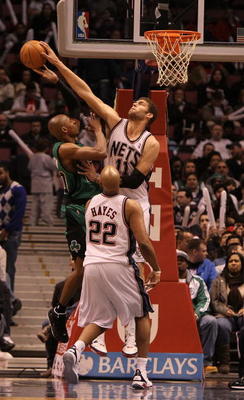 GM Rod Thorn wants next-big-thing, Kentucky freshman John Wall and he'll do anything to get him.
Even throw the season.
Make no mistake, this is the true "situation" out in Jersey. Hey, it worked for the Cleveland Cavaliers back in 2003 when they landed the top pick and drafted LeBron James. Thorn is no dummy.
Along with the best chance of landing Wall, the Nets have more cash to spend this summer than any other team in the league.
Furthermore, they have a franchise center in Brook Lopez and a collection of valuable youngsters under contract.
The team was also recently bought by Russia's richest man, Mikhail Prokhorov, who will continue to push for the team's move to Brooklyn, NY.
No question Prokhorov would love to make a splash by bringing in a high-profile player like Stoudemire. And the Nets have the pieces (ten draft picks in the next three years) to make it happen.
And you just know Stoudemire would welcome the opportunity to be the star basketball attraction in the country's biggest media market.
Add the Nets to your list.
The Verdict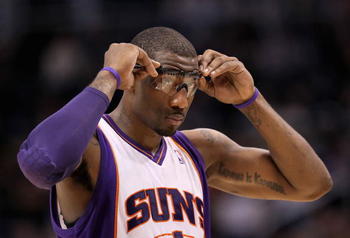 Now that you've gotten a snapshot of each team's situation, where do you think Amar'e Stoudemire will end up?
My gut tells me he'll stay in Phoenix, but if he is traded, it will be to Miami or New Jersey.
Keep Reading

Phoenix Suns: Like this team?