Grading the 2010 Kansas Jayhawks Football Recruiting Class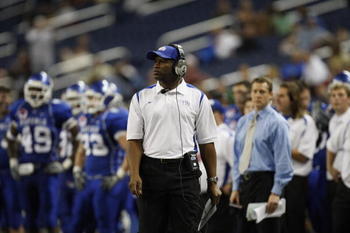 Turner Gill and his new coaching staff at Kansas have been scrambling like mad in the last few weeks to build a solid recruiting class for the Jayhawks.
Gill and the Jayhawks have been operating with a full staff for only about three weeks. This fact has seriously handicapped their ability to develop relationships with players and has made securing a quality class an uphill battle.
This may make it seem unfair to "grade" Gill's efforts this recruiting season, but I say it's fair game because this is exactly what he makes the big bucks—two million a year—to do.
Added to this is the fact that after the controversial firing of Mark Mangino, Gill was brought to KU to win and recruit better than his predecessor. Gill was advertised and sold to the KU fanbase in this way, so naturally, they will be looking for results in this class and next fall.
Interestingly enough, three of Rival's top 10 recruiting classes this year were put together by first-year head coaches, a couple of whom had even less time than Gill to recruit before signing day.
In the following slideshow I am going to take a gander at "grading" this year's recruiting class on the offensive and defensive sides of the ball, and then lastly as a whole group.
A word about how I have approached assigning a grade to this year's class. Grading, like any assessment of value, can have meaning if it is done in context of something else. Basically, you need something to measure it against.
As I consider the successes and disappointments of Gill's first recruiting class, I have in mind other national programs, but more specifically the recruiting classes of other teams in the Big 12, especially the Big 12 North Division.
I know grading on a curve is largely unpopular in the classroom and life, but really folks, that is the way life works. Right?
2010 Kansas Jayhawks' Offensive Recruits: C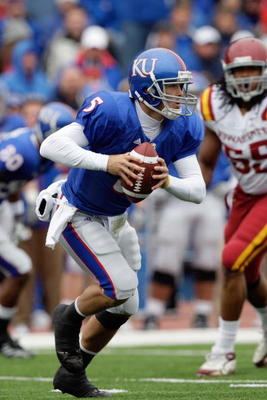 When football season rolls around in approximately seven months in Lawrence, things aren't going to be the same as they have been in the last few years on the offensive side of the ball.
Not only will Mark Mangino and Ed Warriner be absent from the sideline, but some of the most prolific offensive football players in Jayhawk history will be gone as well, including most notably quarterback Todd Reesing and wide receivers Dezmon Briscoe and Kerry Meier.
Fittingly for the Jayhawks' 2010 recruiting class, its best offensive players coming to play for the Jayhawks are at the skill positions. The gems of this class offensively are Rivals four-star recruits running back Brandon Bourbon and wide receiver Keeston Terry.
While Bourbon may see some action in the fall, it is likely that Terry and fellow wide receiver recruit Ricky Herod Jr. will see significant amounts of playing time in the fall, as the holes left by Briscoe and Meier will need to be filled.
Kansas' successful recruiting of wide receivers in 2010 is probably its single most impressive accomplishment. Overall, the Jayhawks' wide receiver recruits are No. 14 in the country. That is pretty impressive.
Now for the bad news on the offensive side of the ball. Despite the fact that Kansas has some major talent deficiencies with the offensive line on their roster, little was done to remedy this with this year's recruiting class.
This does not bode well for the future, in my opinion. You can have all the talent in the world at the skill positions, but if your offensive line is shaky, bad things are almost certain to follow. Does this sound familiar anyone to the 2009 Jayhawks' campaign?
It will be interesting to watch how Chuck Long develops Bourbon, Terry, and other running backs and receivers in this class, but what is going to be even more interesting to see next year is if Long can find players to patch together a good enough line to protect a first-year quarterback.
Overall Offensive Grade: C
2010 Kansas Jayhawks' Defensive Recruits: D+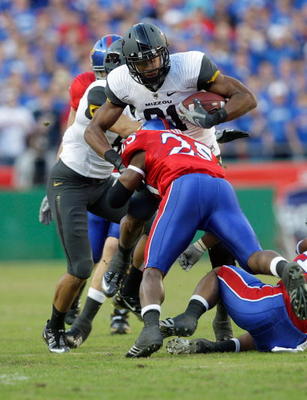 The Jayhawks' defense last year was arguably the Achilles' heel of that team that ultimately led to its undoing and late-season collapse.
Knowing this, many Jayhawks fans were looking forward to this recruiting class to see if Gill and his staff could bring in any players that might have an immediate impact and serve as a foundation for a solid and consistent defense in the future.
Unfortunately, this class does not seem to really merit any overly positive thoughts about the future of KU's defense in the near future.
The firing of Mark Mangino led to the decommitment of four-star talent and sensation Geneo Grissom from Hutchinson, Kansas. Grissom later signed a letter of intent with the University of Oklahoma, which made losing him twice as bad.
It's impossible to say now, but it's likely that Jayhawk fans maybe cursing that recruiting loss for years to come. Grissom had incredible upside.
That said, the defensive staff at Kansas was able to steal a three star cornerback away from hated Missouri. That has to count for something.
All together, the Jayhawks' defensive recruits consist of eight three- and two-star players who look like with good coaching may be able to be developed into solid players a couple of years down the line from now.
Most interestingly, the Jayhawks have three solid defensive end recruits—Kebo Agostinho, Jaqwaylin Arps, and Pat Lewandowski—who along with their interesting names should be fun to watch how they progress in the program.
If they are able to put on pounds and learn the system, they all have the potential to be solid contributors in the future.
Overall though, this is not a group of defensive recruits that is terribly flashy or impressive. To put it more harshly, it is arguable if whether or not these kinds of classes on defense year in and year out will ever be enough to cut it in the Big 12 at a high level.
Overall Defensive Grade: D+
Final Analysis: C-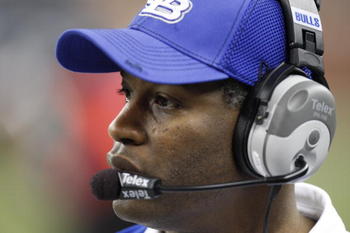 Can Turner Gill succeed at Kansas? It's a question many people are wondering about in Lawrence. Gill's success or failure is one of the more fascinating stories to watch as it unfolds over the next few years in the Big 12, I think.
Normally, it would be fair to say that no great expectations should be put upon a new staff and their first recruiting class. That said, Gill is not entering a normal situation.
Say what you will, but the Jayhawk Nation is still largely divided over whether or not it was a wise decision on the part of athletic director Lew Perkins to dump an Orange Bowl-winning coach in Mark Mangino and hire the University of Buffalo's head coach Turner Gill.
If things go badly for Gill and the Jayhawks in their first year, and then worse yet, continue for two years or so, the heat will be intense on Gill and Perkins, and they may find it ever harder than ever to attract quality recruits to Lawrence.
As likable of a guy as Turner Gill is (and he really is that likable), winning is winning and losing is losing. Only Gill's winning at Kansas will likely bring a happy resolution to Mangino's tumultuous end.
While it may not necessarily be seen in this year's recruiting class, Gill has a staff that looks on paper like it can have recruiting success in the future.
Kansas' new recruiting coordinator, who bailed ship on Ron Zook's fading star in Illinois after five years of working for him, has the potential and connections to really score Kansas some future recruiting victories in the Midwest and California. Arguably, his ability has already been seen in the way in which the Jayhawks lured away a quality defensive back from the Missouri Tigers.
Furthermore, Kansas' coordinators and assistant coaches all have impressive recruiting résumés. One even notched Adrian Peterson for Oklahoma in the past.
Carl Torbush and Chuck Long are also tested names in college football who have had their share of impressive recruiting victories in the past at other schools. It is possible that they could all replicate their past successes at Kansas in coming years.
The future, you could say, notwithstanding this 2010 recruiting class, still looks bright. In any case, next year's class will be a much better product to judge this staff's worth than this year's.
That said, I promised to "grade" Kansas overall, and I will do exactly that.
Simply put, while this class has some interesting recruits and some potential future stars in it, it is nowhere near what is needed if the Jayhawks are going to compete with the top of the Big 12 and conceivably win the North Division in the near future.
Nebraska is on the rise, ranked in many early preseason polls in the top 10. Missouri appears to be a legitimate contender again next year and years after for the Big 12 North under Gary Pinkel.
Kansas State and Iowa State are potentially on the edge of exiting the conference cellar and becoming year in and year out bowl teams too. Only Colorado, under the likely doomed leadership of Dan Hawkins, seems to have a dimmer future than KU.
All of this makes it ever tougher for Gill to win at Kansas and recruiting successes that much more important.
Kansas' 2010 recruiting class is ranked by most services in the mid 50s in the country. In the Big 12, that makes you are a bottom third or fourth program. In the Big 12 North, both Missouri and Nebraska have top 25 classes. This year's Kansas class is nowhere close to those in quality.
Many fans will wonder after seeing that whether or not Gill was actually an improvement over Mangino. Then again, many fans will probably argue, and possibly rightfully so, that Mangino had a better class put together before Gill came on board.
Now, I am not one to place lots of value in star ratings and hype, but you have to admit that is is no coincidence that the top three teams in the country this year—Texas, Florida, and Alabama—also happen to be the top three teams in recruiting in 2010.
Kansas and Turner Gill have some serious recruiting hurdles to jump in the coming years. They are going to have to do better than they did this year. It's still possible, I think, but we will have to wait and see.
Overall 2010 Recruiting Class Grade: C-
Keep Reading

Kansas Jayhawks Football: Like this team?