National Signing Day 2010: Introducing Wisconsin's Newest Badgers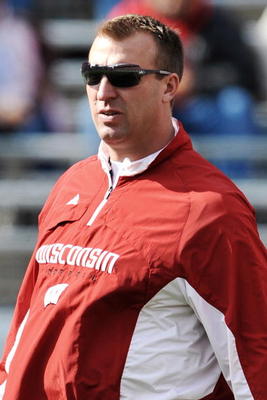 As Wisconsin prepares for the 2010 season, they'll have 24 new scholarship players and six preferred walk-ons joining the team.
Ranked as the No. 33 recruiting class in the nation by Scout.com (fifth in the Big Ten behind Penn State, Michigan, Ohio State, and Michigan State), the Badgers are bringing in a number of quality players; some who may contribute as early as next year and others that may have to some patience.
Let's get to it: Here is the 2010 recruiting class for the University of Wisconsin football team.
Quarterback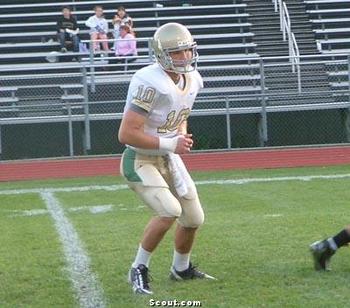 Joe Brennan
High School: Camden Catholic (Cherry Hill, NJ)
Joe Brennan, a talented three-star recruit, may have to wait a while to get playing time. Scott Tolzien and Curt Phillips will stand ahead of him on the depth chart next year, so it could be maybe two or three years before he steps on the field. Nice addition for the Badgers though.
Photo courtesy of Scout.com.
Running Backs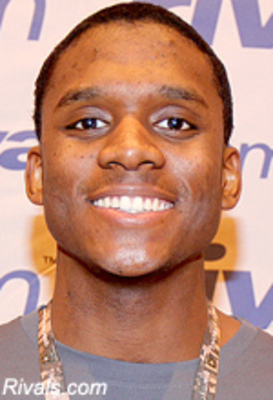 Jeff Lewis
HS: Central HS (Brookfield, WI)
A three-star recruit out Brookfield, Lewis is a slasher who reminds many of current Badger Montee Ball. With Wisconsin's running backs, it may take a while for any of the new recruits to see playing time.
James White
HS: St. Thomas Aquinas HS (Fort Lauderdale, FL)
A short running back, White has the ability to run with power between the tackles with his 5'10", 200 pound frame. Again, it could be a while before he sees the field.
Pictured is Lewis (Photo courtesy of Rivals.com)
Wide Receivers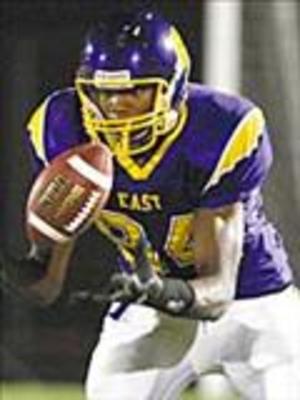 Chase Hammond
HS: Boardman HS (Youngstown, OH)
At 6'4", Hammond is a tall, physical receiver who will be an excellent weapon for Wisconsin in the red zone. Although Wisconsin is pretty solid when it comes to their two starting wideouts, their reserve positions are a little more up-for-grabs and if he performs well in practice, Hammond could see a little playing time in 2010.
Marquis Mason
HS: East HS (Madison, WI)
At 6'5", 215 pounds, Mason is a huge target. He would also make for a big red zone target, and with his blocking ability, he could make the transition from receiver to tight end. As of now, he's listed as a receiver, but will undoubtedly make an impact somewhere on the field in the upcoming years.
Isaiah Williams
HS: Monsignor Pace HS (Miami, FL)
An unheralded wideout from Miami, Williams really came on his senior year in high school, garnering attention from both Wisconsin and Purdue. At 6'1", he doesn't have the size of the previous two recruits, but is still a big target. It may be a little while before he sees playing time.
Pictured is Mason (Photo courtesy of Scout.com)
Tight Ends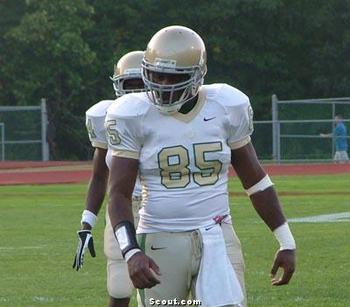 Sherard Cadogan
HS: Camden Catholic (Cherry Hill, NJ)
A teammate of quarterback Joe Brennan's in high school, Cadogan may see a little time next year, but probably not much. At 6'3", 230 pounds, Wisconsin coaches are looking into Cadogan playing defensive end as well, but it seems as though Cadogan wants to play tight end. After all, it was Wisconsin's use of the tight end in the Champs Sports Bowl that led Cadogan to decide on Wisconsin.
Manasseh Garner
HS: Brashear HS (Pittsburgh, PA)
Although Garner excelled as an outside linebacker and receiver in high school, it looks as though Wisconsin may want him to play tight end in college. Regardless of what position he plays, at only 201 pounds, he'll have to put on some weight to be able to compete with the big boys in college. If he does end up playing tight end, he could be an excellent downfield threat in a couple of years.
Offensive Linemen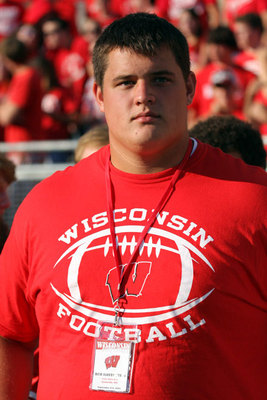 Robby Havenstein (T)
HS: Linganore HS (Frederick, MD)
At 6'8", 340 pounds, Havenstein is huge. There's no other way to phrase it. However, Wisconsin's entire offensive line is returning next year, so unless there's an injury, it could be awhile before he takes the field. However, he does need to work on his pass protection skills, as Wisconsin is becoming more and more adept at passing the ball.
Kyle Costigan (G)
HS: Muskego HS (Muskego, WI)
Costigan was a star on the defensive line in high school, but many think he may play guard at Wisconsin. Either way, at only 265 pounds, he's going to have to bulk up.
Dallas Lewallen (G)
HS: Berlin HS (Berlin, WI)
Lewallen is another beast coming in for the 2010 season. at 6'6", 295 pounds, he would immediately fit in at guard for Wisconsin, but will probably have to wait a year or two.
Pictured is Havenstein (Photo courtesy of Scout.com)
Defensive Tackles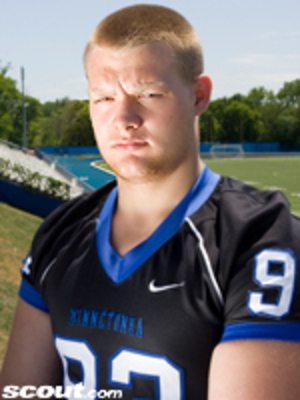 Beau Allen
Minnetonka Sr. (Minnetonka, MN)
Wisconsin's only four-star recruit, Allen could have an immediate impact on the defensive line next year. Although the line only lost O'Brien Schofield, Allen may be just too talented to keep out of the lineup. He should provide great pressure up the middle, which could lead to pocket pressure and run stuffage.
Bryce Gilbert
HS: Cenral HS (Brookfield, WI)
At 6'2", 277 pounds, Gilbert also has the chance to see some playing time next year. He will definitely make an impact in the upcoming years.
Joe McNamara
HS: Cypress Bay HS (Cypress Bay, FL)
Although in a recent article, I pegged McNamara as an offensive lineman, it appears as though Wisconsin may try him out at defense. He was a two-way star in high school, so either way should be a good fit for him.
Pictured is Allen (Photo courtesy of Scout.com)
Defensive Ends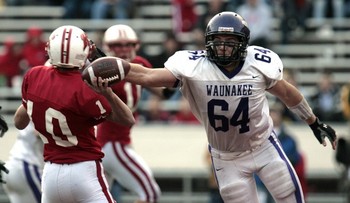 Jake Irwin
HS: Waunakee HS (Waunakee, WI)
A three-star recruit, Irwin could make an impact down the road. At 6'5", 255 pounds, he will need to put on a bit of weight if he wants to play defensive end. Unless a DE has great speed off the edge—which Irwin doesn't—255 pounds is simply too light.
Konrad Zagzebski
HS: DC Everest HS (Schofield, WI)
Despite his small stature (only 225 pounds), Zagzebski is Wisconsin's highest-rated defensive end in the 2010 class. He's known for his athleticism and could even be used as outside linebacker if defensive end doesn't pan out at the college level. He is, however. coming off an ACL injury.
Warren Herring
HS: Belleville East (Belleville, IL)
Initially projected as a tight end, it now appears as though Herring may start next year at defensive end. In high school, he excelled at the tight end position, but since Wisconsin has multiple tight ends ahead of him on the depth chart, it appears as though the coaches may try him on defense. Again, as with the previous two recruits, Herring would have to gain weight (currently 230 pounds) to play defensive end.
Pictured is Irwin (photo courtesy of madison.com)
Linebackers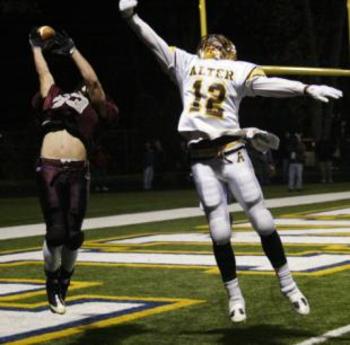 Cody Byers (OLB)
HS: Archbishop Alter HS (Kettering, OH)
Although Byers played safety in high school, it looks as though Wisconsin may try to get him to bulk up and move to outside 'backer. With his athleticism one scout compared him with Chris Borland), he will be a great addition to Wisconsin's linebackers corps. If that Borland comparison is accurate, the Badgers could have a future star on their hands.
Josh Harrison (MLB)
HS: Wayne HS (Huber Heights, OH)
Rated as the No. 44 middle linebacker in his class, Harrison could make a push for playing time this year. With the loss of Jaevery McFadden, the middle linebacker slot is open and Harrison may be just the guy to fill it. Not to say that he'll win the spot, but he will definitely have the opportunity to compete for it.
Cameron Ontko (OLB)
HS: Walsh Jesuit HS (Cuyahoga Falls, OH)
Ontko comes into Wisconsin as an unheralded outside linebacker from Ohio. Rated as the No. 131 'backer in his class, he'll need to really impress coaches if he wants playing time in the near future.
Pictured is Byers (Photo courtesy of RecruitingPlanet.com)
Defensive Backs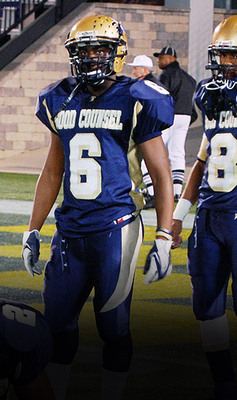 Peniel Jean (CB)
HS: Palm Beach Central HS (Palm Beach, FL)
The only cornerback recruit for Wisconsin, Jean will have his work cut out for him because of his lack of speed and quickness. His physicality is what won him a scholarship from Wisconsin. Physical secondary play isn't typically what the Badgers are known for, but maybe Jean can change that.
Frank Tamakloe (S)
HS: Our Lady Good Counsel HS (Olney, MD)
Tamakloe, a three-star recruit, is the highest-rated defensive back in Wisconsin's 2010 class. He should immediately compete for a starting spot in the secondary with Chris Maragos leaving. The only concern is his size. Hard-hitting in high school is different than hard-hitting in college, and at only 190 pounds, Tamakloe will have to bulk up if he wants to maintain that reputation.
Michael Trotter (S)
HS: Marquette University HS (Milwaukee, WI)
Trotter is the No. 86 safety in his class and, along with Tamakloe, should compete for the open safety position. At 6'0", 200 pounds, he's a little more built than Tamakloe, but will he be able to keep up with Tamakloe's speed?
Jameson Wright (S)
HS: Fort Pierce Westwood HS (Fort Pierce, FL)
Wright is the third safety in Wisconsin's 2010 class and it appears as though he'll have the highest hill to climb. At only 175 pounds, there are questions about his size, tackling ability, and hands.
Pictured is Tamakloe (Photo courtesy of ESPN)
Walk-Ons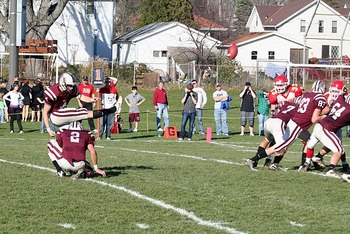 Kyle French (Kicker)
French will compete with Phillip Welch at kicker, but unless he wins the job, will grayshirt.
Marcus Trotter (Linebacker/Fullback)
Trotter signed a preferred walk-on offer, but will have a guaranteed three years on scholarship
Other walk-ons include Riki Kodanko, Drew McAdams, Jake Ninneman, and Kyle Ruechel.
Pictured is French (Photo courtesy of 123people.com)
Keep Reading

Wisconsin Badgers Football: Like this team?