Five Reasons the Atlanta Braves Can Win NL East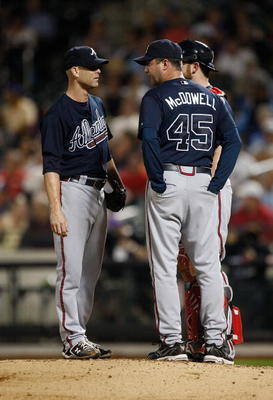 Time flies, and very quickly, there are less than 30 days to the first spring training game. My dear favorite team, the Atlanta Braves, made a few interesting deals to fill up holes and increase the chance of getting in the postseason for the first time in four years.
I was not thrilled with some of the winter moves, but giving the players available in the market, I say Frank Wren did his job in achieving his objectives and the Braves fans can only wait and see the result.
Just like I mentioned before the winter meetings started, there is nothing Frank can do to mess the team up. He might not improve the team after four months but he certainly kept the team at the same standard as their amazing run during the second half of the 2009 season.
In this slide show, I would like to show our fellow fans why I think the Braves can win NL East.
Bobby Cox says so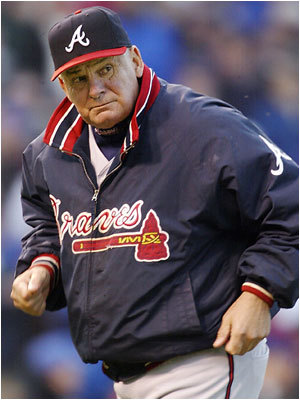 Like all managers, they would like to encourage his players to compete in the highest level of professional baseball.
However, Bobby Cox is one of the managers that are not so cocky as to declare their victory even before the season starts. He knows where the team's strength is and he will make comments based on what he thinks of the team.
He always thinks the team can be competitive but he never said that the team will contend since year 2005. I think Bobby actually thought his team was lucky to be in the playoffs in 2005.
Last week, for the first time, he told media and everyone in the business that he thinks his team can contend in 2010 and I believe him because of his experience and his great vision of the game.
Please see the whole Bobby's comments here: http://atlanta.braves.mlb.com/news/article.jsp?ymd=20100201&content_id=8004594&vkey=news_atl&fext=.jsp&c_id=atl
Pitching depth wins championship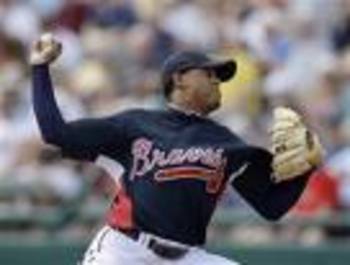 Please note that I said "pitching depth," so don't throw Roy Halladay, Johan Santana, and Tim Lincecum at me. I watch enough games to know their name and their crazy WAR stats. The fact is that the teams who own them tend to rely on them so much, they become irreplaceable.
Take the Giants' rotation for example, if Tim Licencum's 8.6 WAR is removed, Giants' rotation has nothing left to compete. The fact that Tim only won 15 games despite the ridiculous WAR stats, shows he does not really present the value to help the Giants to win Championship.
Now, the highest WAR in the Braves' rotation is Jair Jurrijens' 3.9 and the worst is Kawakami's 1.7 (discount Vazquez since he left). It means any member of the rotation is removed, it does not really matter to the WAR contribution too much because any three of the starters will provide a WAR similar to Lincecum.
I expect Tim Hudson's WAR around 3.5 as well and Kawakami should improve his WAR close to three. It will prove that even after losing Vazquez, the Braves will still have a rotation with a similar WAR distribution to last year, even though Vazquez had the highest WAR on the team.
That is how pitching depth will help your team and I can promise you that you can hardly find a rotation to contribute to WAR like the Braves' rotation.
Tommy Hanson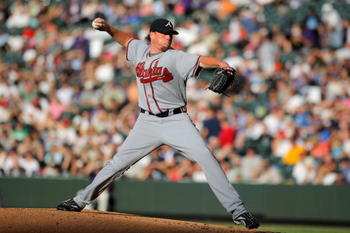 Tommy's last year stats:
W: 11, L: 4, ERA: 2.89, IP: 127.2, SO:116, BB: 46, WHIP: 1.18, WAR: 2.6
I don't quite know why his WAR is only 2.6 because his winning percentage is so high that I thought it can make up his inning pitched.
He did give up quite a few home runs. In fact, the most of the runs he gave up are home runs. However, I saw his two seam fastball is improving and his HR total decreased toward the end of the season.
I would like to assume his number will still improve in 2010 because his improvement did not stop towards the end of 2009 season. We are talking about a guy can have 70 percent of winning percentage, ERA around 2.5, SO more than 200 times and pitches for 200 innings with WHIP under 1.
To be a nerd again, I believe he can provide a WAR of at least six if he pitches for the Braves for a full season. That is what Cliff Lee meant to the Phillies in 2009.
No underperformers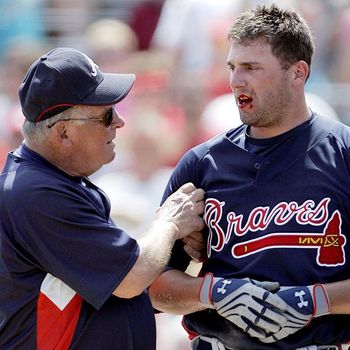 Well, I hope Lowe can bounce back but even if he did, the only stats he can improve is probably ERA. So I am going to say he had a good season because I am going to focus on wins this time.
There were players who did not help the team win last year. To name a few, James Parr, JoJo Reyes, Jeff Bennett, Jeff Francoeur, Kelly Johnson, and several others.
In the beginning of the 2009, the Braves did not form a complete team, the first baseman were powerless. The only value of the right fielder and center fielder were their defense and the left fielder seemed too lazy to get to anything.
They had a decent starting rotation but they basically went through the first two months without the fifth starter and guaranteed an L every fifth day. In addition, our all-star catcher could only see blurry image during the game.
Things changed in the second half. They hit about 10 times more home runs from the positions I mentioned. The second baseman has about 100 point improvement in BA and the fifth starter replacement won 11 games. Even though there are several replacements on the team, I can see the high standard team is formed and ready to start 2010 season.
Jason Heyward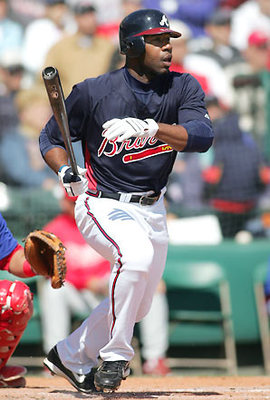 Just for Comparison. Here were the stats of Evan Longoria's 2007 minor league numbers:
At AA level,
BA: .307, Game played: 105, HR: 21, RBI: 76, SO: 81, SB:4, OBP: .403, SLG:528
At AAA Level,
In 31 games, BA: .269, HR: 5, RBI: 19, SO: 29, SB: 0, OBP: .398, SLG: .490.
Here is Heyward's 2009 season:
At A level,
In 49 games, BA: .296, HR: 10, RBI: 31, SO: 21, SB: 4, OBP: .369, SLG: .519.
At AA level,
In 47 games, BA: .352, HR: 7, RBI: 30, SO: 28, SB: 5, OBP: .446, SLG: .611.
At AAA level,
In three games, BA: .352, HR: 0, RBI: 2, SO: 2, SB: 1, OBP: .462, SLG: .364.
At 2008, Evan helped the Rays to get in the World Series, here are his 2008 stats:
In 122 games, BA: .272, HR: 27, RBI: 85, SO: 122, SB: 7, OBP: 343, SLG: .531.
Now, Evan's performance for the Rays is about par with his minor league performance and that was impressive. The stats show that he is a powerful hitter with below average speed, not really an on base guy but above average slugger.
Power and slugging percentage, Heyward is at par or better than Evan at AA level. He has 50 points higher OBP though and more stolen bases.
So Heyward is a superior player in most of the categories. If Heyward plays for the Braves in 2010 for a full season or at least 120 games, I think his number will be just as impressive as Longoria's with much higher BA.
The thing about a rookie performing for the team is that those stats are pure improvement. In fact, I think the key of Braves' season will be Jason Heyward's performance and he will be the main reason why Braves can win NL East.
Conclusion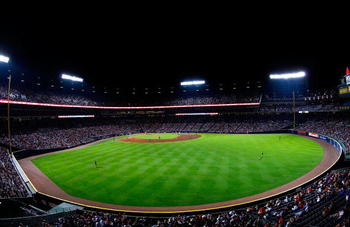 There are question marks about the Braves as well and those can have a negative impact. For example, Wagner's arm breaks down, Saito's numbers are far from expectation, Troy Glaus cannot stay healthy and messes up Bobby's lineup.
However, they are all pretty minor in my opinion because both Saito and Wagner can be replaced by Peter Moylan or young arms from the minors.
Prado can play first and Infante can play second, Melky or Matt can replace any surprises in the outfield. The Braves have one of the best benches in the league and I am not worried about any injuries that might happen.
I think the Braves are going to have a great year. The only team that can post a threat to the Braves is the Phillies and they have bigger problems than the Braves, especially with Cole Hamels and JA Happ.
If Cole cannot come back from his disappointing season and JA cannot improve on his stuff, the Phillies will need to rely on their offense most of the season and we all know that it is not the way to win baseball.
Keep Reading

Atlanta Braves: Like this team?