One Broncos Receiving Answer May Be Right Under Their Nose
With a strong possibility that Brandon Marshall may be leaving, a No. 1 Wide Receiver is still a requirement. This issue will have to be addressed in the draft, a trade, or with a Free Agent signing.
Marshall leaving would put a huge hole in the Denver offense but can be fixed. Gafney proved he can be a great back-up but will not be that go-to guy in every game. He doesn't have Brandon's size, speed or ability to make the YAC.
Royal has also been mentioned as the next #1 if Marshall leaves, but maybe there is another spot for him.
How all this shakes down is yet to be determined. The Receiving situation (other than Marshall's situation) is one of the biggest issues for the Broncos, but hasn't really been discussed much either in the local media or on this site.
Slot and the Other Brandon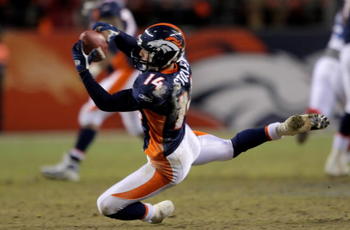 Brandon Stokley has had a great career so far, probably a lot better than most people would ever have imagined for him.
But he is getting older, has had injury issues and seems absent from McDaniel's list of first responders. I see him leaving the team, through a cut, a low level trade or retirement.
I would hate to see him go, but it would open up the option to make Eddie Royal a true slot receiver, which would allow him to get off the line easier and also to bring speed to a position not normally known for that trait.
If that happened, Royal would set some serious YAC records from the slot and would change the concept of it being primarily a "possession receiver" position.
Moving Royal into that role would allow Stokley (either as a backup or as an Ass't coach if he retires) to work with him on how to get open, how to read the blitzes, and how to be where the QB can find him.
Eddie would fill a great role at No. 2 on the roster next year.
#2 Wide Receiver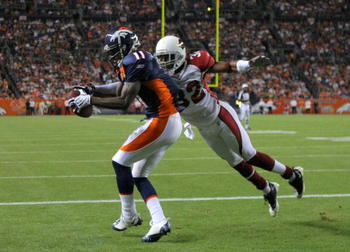 With Royal moving to the slot or No. 3 position, that opens up this position to a number of interesting options.
First, might be to see what Kenny McKinley has to offer. He had a few moments in his rookie season, some as a WR and some as a KR.
He has decent speed and above average size to fit this position. But, he will have to learn how to get off the line quickly to allow Marshall (or whoever is the No. 1) the opportunity to get open.
If he heals properly from his injury and works hard in the off-season, McKinley might just be that No. 2 WR.
Tight End Circa 2009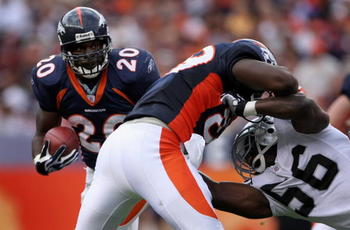 Sorry for putting a shot of "Baby Daddy" Travis Henry in here but it shows what Daniel Graham can do, in large doses...
BLOCK!
Graham plays like a Tackle or Guard in the way he blows defensive players up. He may be one of the better blocking TEs in the game today.
He also has decent hands. Not known as a great possession Tight End either here or in New England, his blocking skills were what earned him his paycheck.
Tight End Circa 2009 #2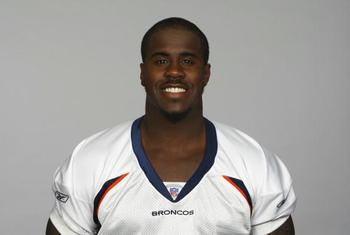 This is a head shot of Richard Quinn.
It is about as exciting of a picture of him as there is because he didn't play on the field much except on Special Teams.
Was that his fault? Not really. He was a rookie and needed to learn the ropes.
But McDaniels traded up for him, believing he was a great blocking TE even though he had only 12 catches for 124 Yards and 2 TDs in his 3 years at North Carolina. The common thought is that he will be a mini-me of Daniel Graham, which is not all that bad, but does not answer the question of:
Who will be a go-to, check-down TE next year?
Tight End Circa 2009 #3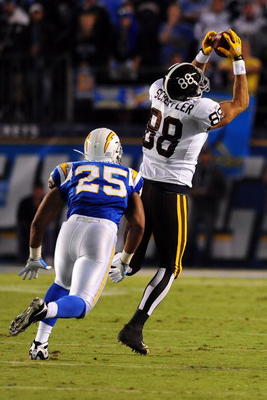 This was a sight as rare as the ugly uni's worn this past year...
Tony playing AND catching a pass. The vertical socks and weird colors we can do without, the pass catching by a TE, not so much.
His playing time in 2009 dropped off the cliff compared to the past two years.
His ability to get open and and his speed and size caused major headaches for Linebackers and Safeties assigned to cover him when he played.
But, for whatever reason, Scheffler was in Josh's doghouse and never really factored in the second half of this season. With his benching and seemingly mutual dissatisfaction of the situation, it is almost a forgone conclusion that he will be dealt in the off-season.
With Scheffler leaving, there will be no true receiving TE left on the roster.
The Answer!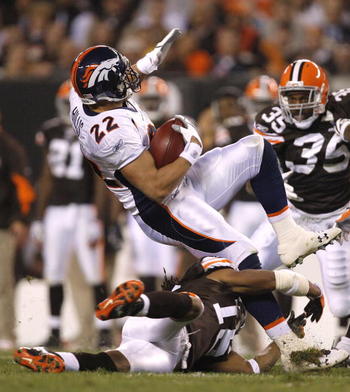 Peyton Hillis is currently listed as a 3rd or 4th team RB and 2nd team FB. He is also most likely to be traded or cut because he doesn't fit whatever McDaniels' perceives to be the mold for RBs on this team.
HIllis has shown an ability to step in where needed, as in the 2008 season when RBs were going down like cord wood and he ended up being the leading rusher on the team even though he only started 6 games.
He had 343 yards rushing and a 5 Yd per Carry average and 5 TDs. Not bad stats but he also had 14 Recs for 179 Yds for a 12.8 Avg and 1 TD.
He made some very athletic catches and showed good moves to get open against Linebackers and Safeties. In fact, he hurt his hamstring making a great catch out of the backfield on a bad throw by Cutler and most likely cost Denver a shot at the Playoffs.
So .........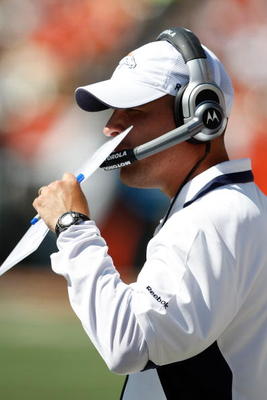 Why not play Hillis as a Dallas Clark-type TE, where he can use his blocking skills when needed (He was a great blocking FB at Arkansas)? His speed, strength, good hands as a receiver and bruising running style after the catch are also weapons.
He could truly be just what McDaniel's is looking for in a combo TE with dual capabilities.
This would give Orton a great check-down option as well as an under pattern in the red zone, which might actually improve the scoring opportunities and win the Broncos' a few more games.
And keep Orton out of the doghouse.
Will this happen?
Only McDaniels can answer that question and the obvious answer being just under his nose might be too close for comfort.
But in my humble opinion, it is nothing to sneeze at.
Keep Reading

Denver Broncos: Like this team?