Seattle Seahawks' All-Decade Team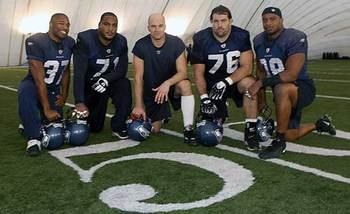 The Pro Football Hall of Fame announced its ninth NFL all-decade team Sunday, a roster that included four past or present Seahawks.
Walter Jones, a certain future Hall of Famer, is still on Seattle's roster, although he might have already played his final game.
Also making the team were All-Pro guard Steve Hutchinson and former MVP running back Shaun Alexander, in addition to veteran center Kevin Mawae, who started his career with the Seahawks in the 1990s but spent the 2000s with the New York Jets and Tennessee Titans.
With Alexander, Hutch, and Jones on the team, it seems a logical time to present the Seahawks' all-decade team for the 2000s.
Some positions, especially on offense, were simple to choose. Others, particularly on defense, were not so easy. In fact, there were no players at tight end, defensive end, or safety who deserved to be on the team. But you can't have a team without guys at those positions, so check out who made the list.
QB Matt Hasselbeck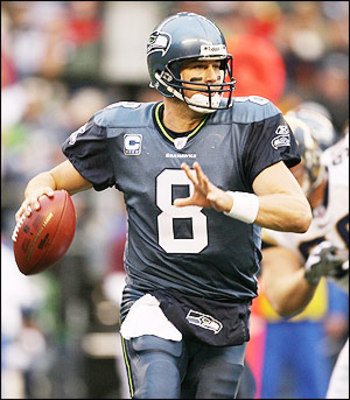 He's a no-brainer, considering he has started 117 of Seattle's 144 games since arriving in 2001. He has surpassed Dave Krieg as the franchise leader in career completions, attempts, and yards—among other records. The only major team record he does not hold is for passing touchdowns (Krieg had 195, Hasselbeck has 164). Hasselbeck's career best is only 28 touchdowns, so it will take him two years to get that record—if he gets to stick around that long.
RB Shaun Alexander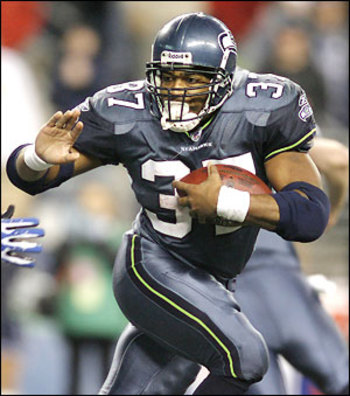 Love him or hate him, he was a touchdown machine for five straight years, setting an NFL record from 2001-05 by scoring at least 15 times each season. It culminated in an NFL-record 28 touchdowns in 2005, when he was named the NFL MVP. During his eight-year run in Seattle, the former first-round pick rushed for 9,429 yards and 100 touchdowns—both team records. Some people didn't like his style, but it was hard to argue with the production. That's why he made the NFL's all-decade team.
FB Mack Strong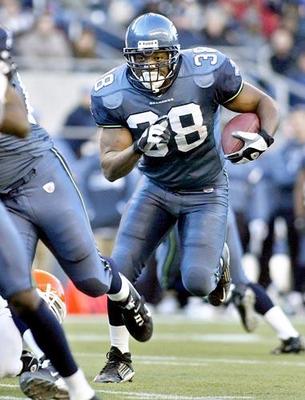 After toiling through the 1990s as a part-time starter, the former undrafted free agent secured his place in team history in the 2000s. He started 79 games in the decade before retiring Oct. 8, 2007, because of a herniated disk in his neck. He was a big part of Alexander's rushing success and eventually was rewarded for it with Pro Bowl berths in 2005 and 2006 (he should have gone as early as 2002). John L. Williams is the best fullback in team history—mainly because he was a three-tool back. But Strong is right behind him.
WR Darrell Jackson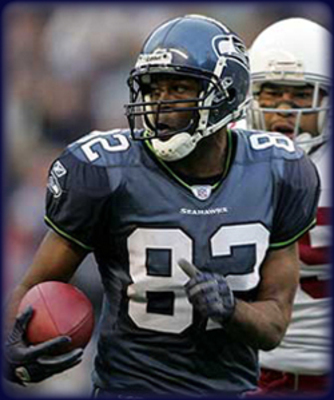 The Seahawks were pretty weak at receiver last decade, but Jackson was the best they had. He dropped way too many passes and had average speed and stature, but he still had a knack for getting open and making big plays. A third-round draft pick in 2000, Jackson played seven seasons in Seattle and finished with 441 receptions (fourth in team history) for 6,445 yards (third) and 47 touchdowns (second).
WR Bobby Engram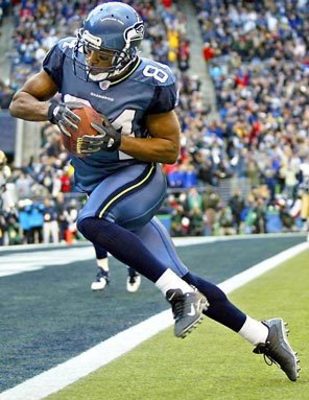 The Seahawks signed Engram in 2001 after the Chicago Bears released him, and he went on to catch 399 passes in eight seasons. He set a team record with 94 catches in 2007 after he missed nine games in 2006 because of a thyroid condition. The 2007 season was the only 1,000-yard performance of his career, and he matched his personal best with six touchdowns. It was the closest he came to making the Pro Bowl in a career that was known for consistency and reliability. Engram is the Seahawks' No. 5 receiver all-time, and he owns the team record for catches in the postseason (35).
TE John Carlson
For yet another decade, the Seahawks were weak at tight end. Jerramy Stevens was in Seattle for five years, but he was such a chump on and off the field that he does not merit consideration for this honor —especially with the four drops that cost the Seahawks the Super Bowl. As a rookie, Carlson quickly proved to be the best tight end the Seahawks have ever had—setting a team record for tight ends with 55 catches. Despite what most considered a disappointing 2009 season, Carlson still ended up with 51 catches, which is more than Stevens ever had. In fact, in two years, Carlson already is just 24 catches behind the total Stevens tallied in five years.
LT Walter Jones
The Seahawks were fortunate enough to have perhaps the best left tackle in NFL history on their team in the 2000s. His awesome career looks to be over after he missed all of 2009 with a knee injury, but Jones was as dominant as they come for almost all of his previous 12 years. He's a nine-time Pro Bowl tackle who was voted the best left tackle in the NFL in 2001, 2004, 2005, and 2007 (he was second in 2002, 2006, and 2008). Until missing the season finale in 2008, he had never missed a game because of injury. He should be the second career Seahawk (behind Steve Largent) to be inducted into the Hall of Fame in his first year of eligibility.
LG Steve Hutchinson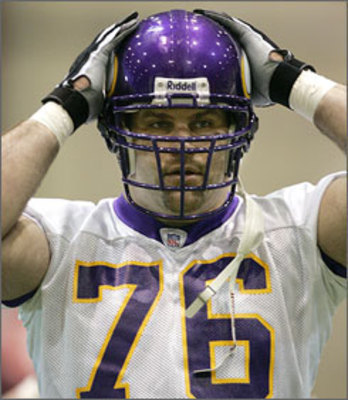 It's bittersweet to consider that the Seahawks had the best blocking tandem in the NFL for five years— and then let Hutch go for nothing. Hutch had just reached his peak in 2005, when he was named to his third-straight Pro Bowl and second All-Pro selection. Then he signed with Minnesota, where he has been an All-Pro the last four years. Letting Hutch leave was the defining mistake of the Tim Ruskell era—and a major reason the Seattle line has crumbled to pieces since 2005. Hutch, 32, sure looks like he'll join Jones in the Hall of Fame.
C RobbieTobeck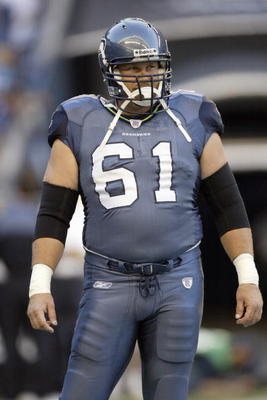 By the time Tobeck arrived in Seattle, he was a battle-hardened vet who had already played in a Super Bowl with the Atlanta Falcons. From 2000-06, he anchored the middle of Seattle's strong line, joining Jones, Hutch, and Chris Gray to form what by 2005 became the best line in the NFL. Tobeck was a savvy overachiever who used technique, experience, and nastiness to beat opponents. Mawae was more talented, but because the Hawks let him go after just four years, Tobeck is the most accomplished center in Seattle history.
RG Chris Gray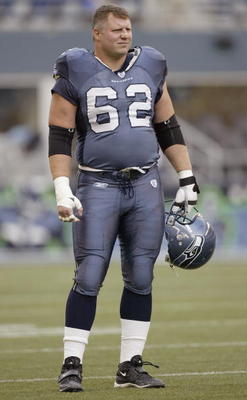 Gray was the unknown soldier in the trenches, but he was so steady and dependable that he broke Cortez Kennedy's team record for consecutive games started (Gray finished at 121 to Kennedy's 100). An undervalued signing from Chicago in 1998, Gray played in Seattle for 10 seasons, helping block for a 1,000-yard rusher every year.
RT Sean Locklear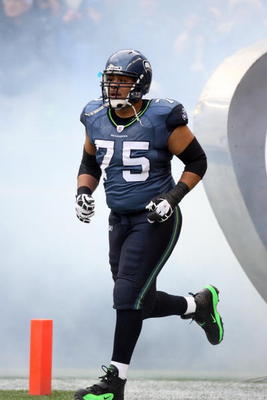 Right tackle was easily the Seahawks' worst line position in the 2000s, but it was easy to make up for it with Jones, Hutch, Tobeck, Gray, and Strong helping out. Locklear held the spot the longest. The former third-round pick stepped in at right tackle in 2005 and held his own until a key holding penalty against him in the Super Bowl. He has remained the right-side starter since then, although injuries and moves to left tackle have disrupted his time at right tackle.
DE Patrick Kerney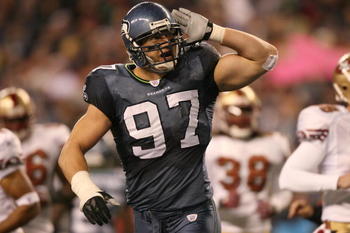 This has been a barren position for most of the last decade. Kerney makes it only because he had 14.5 sacks and went to the Pro Bowl in his first year in Seattle, 2007. He otherwise has done nothing and, at age 33, looks to be done.
DE Michael Sinclair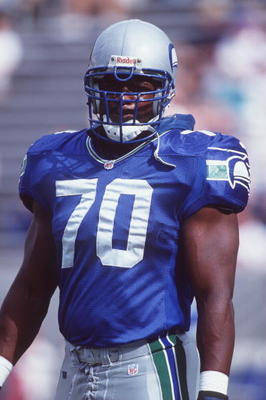 Yeah, he played only two years with the Hawks in the 2000s. But that was about as many seasons as any end started for them during the last decade. With no real good candidates at end (Grant Wistrom? Puh-lease), Sinclair gets the nod because he was once an excellent player for Seattle, with 41.5 sacks and three-straight Pro Bowls from 1996-98. He had 3.5 sacks each in 2000 and 2001 to cap an 11-year career with the Seahawks.
DT John Randle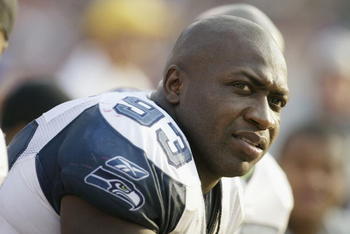 Coming over from Minnesota in 2001, Randle was as good as ever at age 33. He recorded 11 sacks and went to the Pro Bowl for the seventh time. He added 12 more sacks during the next two years, and even though he played in Seattle for only three years, he's as good as it got at tackle for the Hawks in the 2000s. Randle and Kennedy are both finalists for the Hall of Fame this year, and it will be interesting to see whether Randle's high sack numbers get him into the Hall before Kennedy makes it.
DT Rocky Bernard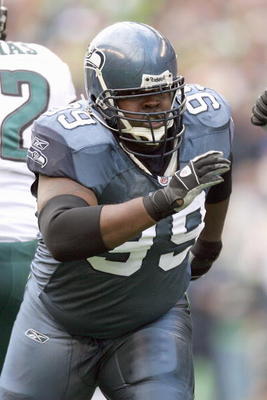 It's a testament to the total mediocrity of Seattle's D-tackles in the 2000s that Bernard is on the all-decade team. It's mainly because of longevity; he played for Seattle from 2003-08. He became a starter in 2005, and he responded with his best season: 8.5 sacks and 42 tackles. He was a quick, one-gap player with good pass-rush ability, but like most of Seattle's tackles, he had trouble against the run.
OLB Chad Brown
Brown was an excellent player for Seattle for seven seasons, but the team let him go in 2004. Before that, though, he was good for six to eight sacks per season. It seemed like the Seahawks never quite figured out how best to use him, but he is easily one of the best 'backers they ever had.
MLB Lofa Tatupu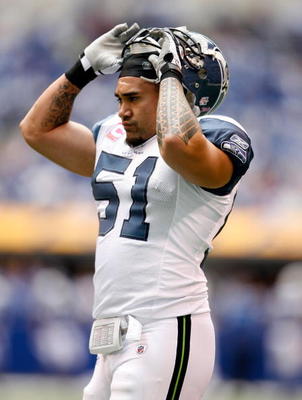 Three-straight Pro Bowls are not a bad way to start a career. Tatupu is the best middle linebacker the Seahawks have had since they moved to a 4-3 defense in 1990. He can play the run and the pass equally well and is simply a very intuitive and savvy linebacker. He was a big reason the Seahawks were in the playoffs from 2005-07, and if he can get healthy again, he'll remain a big part of their success.
OLB Julian Peterson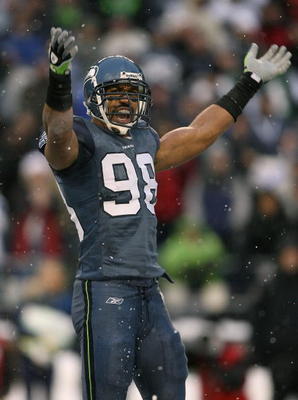 Three years in Seattle, three Pro Bowls—although he probably didn't deserve the last one. He tallied 19.5 sacks in his first two years, though, and forced eight turnovers. Not bad for the guy who was the consolation prize after the Seahawks stupidly lost Hutchinson in 2006. Plus, Peterson would make anyone's all-muscles team.
CB Marcus Trufant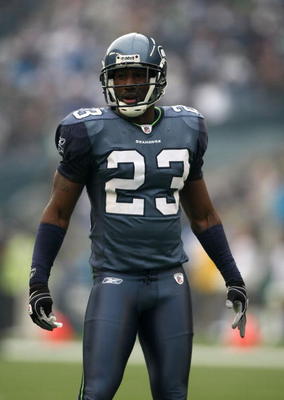 Injuries marred his first few seasons in the league, but Trufant still played well despite defending the right side of the field to protect a bad shoulder. He returned to his natural left side in 2007 and put it all together, making the Pro Bowl for the first time. He regressed badly in 2008—along with the rest of the defense—and then a mysterious back ailment ruined his 2009 season, so he needs to come back strong in 2010. But he makes the all-decade team on the strength of his mostly solid play from 2003-07, including five interceptions and a career-high 96 tackles in 2004 and seven picks in his Pro Bowl year.
SS Reggie Tongue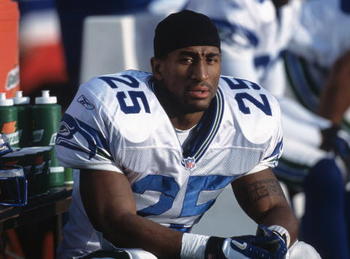 As mentioned previously, the Seahawks didn't get very good safety play in the 2000s—unlike the 1980s and 1990s, when they had Kenny Easley, John Harris, Eugene Robinson, and Darryl Williams. Tongue was not nearly as good as any of those excellent players. He got off to a slow start in 2000, but he evened out during the next three seasons, including five picks and 93 tackles in 2002.
FS Ken Hamlin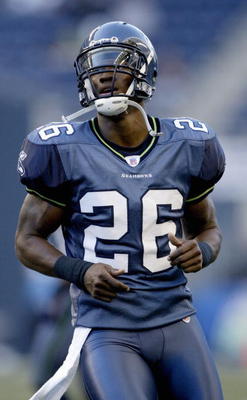 Hamlin was overrated, and one could argue that he cost the Seahawks the Super Bowl in the 2005 season because he put himself in a bad place at a bad time and got his brain bashed in. Marquand Manuel played very well in Hamlin's place all season, but Manuel got hurt in the Super Bowl and the Hawks were down to third-stringer Etric Pruitt, who got burned on the two biggest plays of the game. Hamlin makes the all-decade team, though, because he was the starting safety on the best clubs the Seahawks fielded in the 2000s. He talked too much trash and was flagged for it more than once, but he had 98 tackles as a rookie, four interceptions in his second season, and three picks and 96 tackles in his final year, 2006. He wasn't horrible, but he was no John Harris, Eugene Robinson, or Darryl Williams.
CB Shawn Springs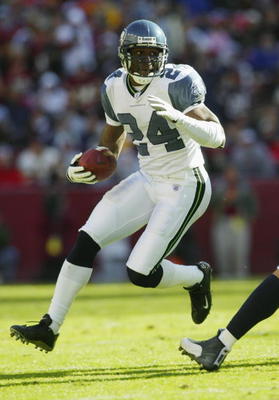 Springs came in with Jones in 1997, when they were the No. 3 and No. 6 picks in the draft. And Springs was very good—when he was healthy. He went to the Pro Bowl in his second season and should have gone in 1999, too. From 2000-03, his picks slipped and he had trouble staying healthy, which is why the Hawks let him go after 2003. But for half the 2000s, he was a solid cover man on the corner.
K Josh Brown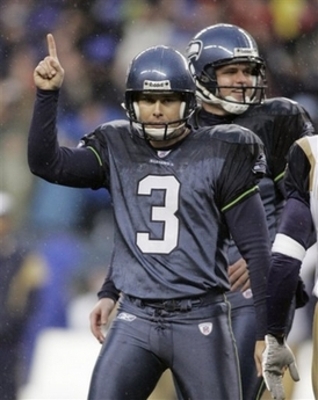 You can hate his guts for leaving in a huff over a few extra dimes, but Brown was as clutch as it got outside of Adam Vinatieri in the 2000s. In 2004, he tied the team record with 16-straight field-goal conversions. In 2006, he tied an NFL record by kicking four game-winning field goals in the final minute. In five seasons, he scored 571 points, fourth on the team's career list, and was named a Pro Bowl alternate twice. He might have been the best kicker the Hawks have had so far. And they've had some good ones (Efren Herrera, Norm Johnson, John Kasay, Todd Peterson, Rian Lindell).
P Jon Ryan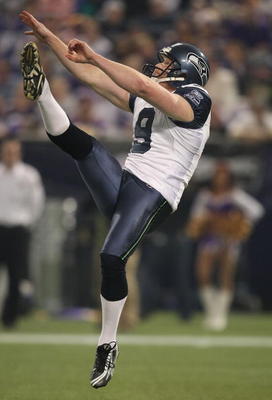 In the 2000s, the Seahawks went through punters about as often as they went through defensive ends and safeties. Jeff Feagles (2000-02), Tom Rouen (2003-05), Ryan Plackemeier (2006-07) and Ryan (2008-09). Feagles and Rouen were average, and Plackemeier was horrible. But Ryan has been awesome, averaging more than 45 yards per kick in his two seasons. And the Hawks were smart enough to lock him up long term recently. Rouen played on the best Seattle teams, but Ryan is the best punter they have had since Bootin' Rick Tuten (43.8 average from 1991-97).
KR Nate Burleson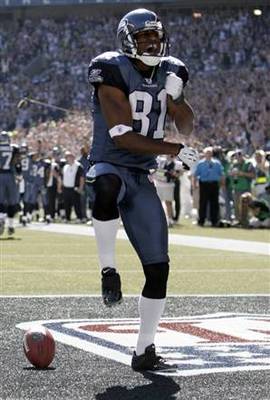 Charlie Rogers had a nice little run in the early 2000s, but Mike Holmgren got tired of his selfish and lazy ways. After Rogers was let go in the expansion draft in 2002, the Hawks had a pretty average return game until Burleson arrived to put some sass into it. Need a big play? Burleson will make your day. In his first two seasons (2006 and 2007), he scored three times on returns of 90 yards or more. He was injured in 2008 and didn't get nearly as many chances in 2009, but if he is re-signed in 2010, the Seahawks would be smart to put him back there again.
Keep Reading

Seattle Seahawks: Like this team?