The Pac-10: Each Team's Best All-Time Player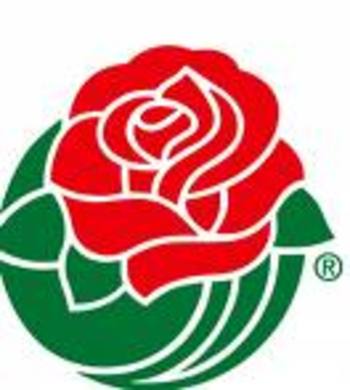 The Pac-10.
The allure of sunny California, and playing in the "Granddaddy of 'em all", the Rose Bowl.
The programs that make up the Pac-10 include some of the most storied traditions in college football: the Trojans of USC and the "gritty little" Bruins of UCLA; Stanford and Cal playing in "The Game"; the "Civil War" with Oregon and Oregon State; the Apple Cup in Washington, and the programs in Arizona, with legendary figures such as Frank Kush.
The programs have also long been known for producing prolific offenses, both in the running and passing games.
Who is the best player ever for each school? Let's take a look, starting with the desert programs of Arizona and Arizona State.
Arizona: Tedy Bruschi, DE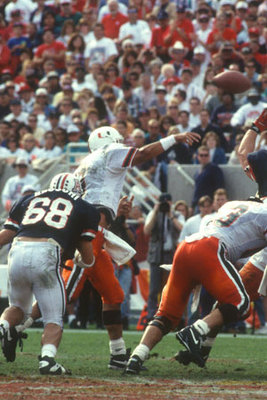 Bruschi played college football as a defensive end, where he tied the NCAA Division I-A sack record with 52 quarterback sacks.
A two-time consensus All-American in 1994 and 1995 and winner of the 1995 Morris Trophy as the Pac-10's best defensive lineman. Bruschi compiled 185 total tackles (137 solo), with 74 tackles for losses, 52 quarterback sacks and forced six fumbles and recovered five others.
In 1993 he was voted Second-Team All-American honors after setting a school record with 19 sacks as a sophomore and he also was First-team All-Pac-10 honors and was named the team's Most Valuable Player. His 27.5 tackles for losses and 19 sacks in 1993 were each career highs.
In 1994 he was a consensus All-American and was one of four finalists for the Lombardi Award and again was First-team All-Pac 10. He totaled 39 tackles, including 10 sacks for 65 yards and 15 tackles for losses.
In 1995 he was a consensus All-American and All-Pac-10 selection his senior year as he totaled 60 tackles (48 solo), including 18.5 sacks and 22.5 tackles for losses.
Bruschi went onto a 13 year career as a linebacker with the New England Patriots in the NFL, playing for three Super Bowl Championships. He won the Comeback of the Year Award in 2005 when he returned to play after a year absence due suffering a mild stroke.
Arizona State: Danny White, QB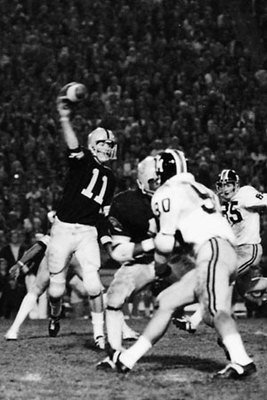 White grew up in Mesa, Arizona, and is the first native Arizonan to be elected to the College Football Hall of Fame.
From 1971-73, Danny White quarterbacked Arizona State to a 32-4 record that included three championships in the Western Athletic Conference and three victories in the Fiesta Bowl over Florida State 45-38, Missouri 49-35, and Pittsburgh 28-7.
White led the nation in pass efficiency and was named All-America in 1973. He ended the season playing in the East-West Shrine Game, the Senior Bowl, and the Hula Bowl. He also was the team's punter for three years, averaging 41.7 yards on each kick.
White set school records for most yards gained by passing in a career, 6,717, and most touchdown passes, 64. He threw six touchdown passes in a game against New Mexico in 1971.
White played professionally for 15 years, primarily with the Dallas Cowboys.
California: Rod Franz, G/DT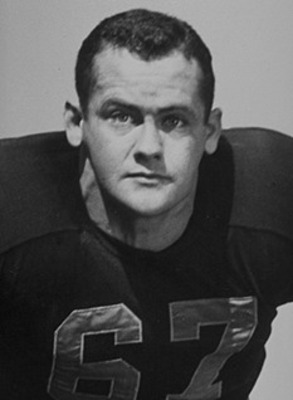 Franz played guard at the University of California from 1946 through 1949.
Starting as a freshman recently released from the Army Air Corps, he played 40 consecutive games, including two Rose Bowl games. He helped California turn around from a 2-7 season to 9-1, 10-1, 10-1 seasons, with two of those three losses coming in the Rose Bowl in close games with Northwestern and Ohio State.
After gaining some honorable mention All-America notice as a freshman, Franz became only the second Pacific Coast player to become a three-time All-America (Washington State's Ed Goddard was the first), winning All-America mention in 1947, 1948, and unanimous selection in 1949.
Franz not only opened holes on offense for backs like College Hall of Famer Jackie Jensen, he also excelled at defense. In a game against Washington, in which the Bears allowed only 61 yards of total offense. Franz admonished his teammates, "Let's tighten up, gang," he said, "they gained a yard that time."
Franz is a member of the College Football Hall of Fame.
Oregon: Norm Van Brocklin, QB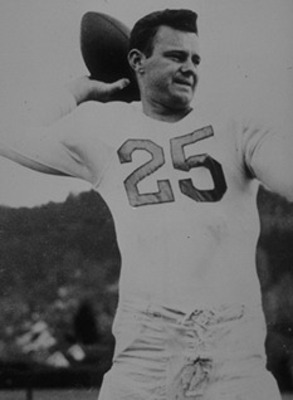 Norm Van Brocklin was calm under the pressures of a charging defense. The Oregon quarterback was cool and quick-thinking, a master at calling "automatics" when his quick mind sized up a play situation. He was fast to learn that a good quarterback watched the defense, not his receivers.
Norm was gifted with a peripheral vision that allowed him to take into view the entire panorama of play. This gift, along with a natural passing arm, made Van Brocklin the nation's premier quarterback in the post World War II era.
He led Oregon to a 9-2 record in 1948, earning All-America honors along the way. Five times Van Brocklin led the team to come from behind victories, tying for the conference championship and landing a berth in the Cotton Bowl.
From Oregon, Norm advanced to a 12-year professional career with the Los Angeles Rams and Philadelphia Eagles, leading the Rams to a championship in 1951 and the Eagles to the world championship in 1960, his final season as a player. He is a member of both the Pro and College Football Hall of Fames.
Oregon State: Terry Baker, QB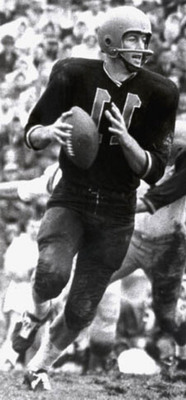 Terry Baker holds the distinction of being the only athlete to win the Heisman Trophy, Maxwell Award, and Sports Illustrated's Sportsman of the Year Award in the same year. He did this with Oregon State in 1962.
He also received a Scholar-Athlete Award from the National Football Foundation that year. Baker won 14 Player of the Year Awards in addition to being named to 12 All-America teams.
In his last game as a collegian, Baker won the Liberty Bowl's Most Valuable Player Award as his 99 yard run was the only score in a 6-0 win over Villanova. A stellar athlete, he was also a three-year starter on the Beaver basketball team and led OSU to a 1963 Final Four appearance.
After graduation, the Los Angeles Rams made Baker the first player selected in the collegiate draft. He played three seasons for the Rams and one season in the Canadian Football League.
Stanford: Ernie Nevers, FB/LB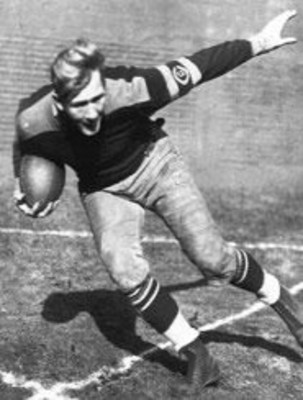 Nicknamed "The Big Dog", Nevers played for legendary coach Glenn "Pop" Warner, and was an All-American.
He gained legendary status for his performance in the 1925 Rose Bowl against the University of Notre Dame and the famous Four Horsemen backfield.
Only five days after having a cast removed from a broken ankle, and with his foot bound tightly in a brace, Nevers dominated the game, setting a Rose Bowl record with 34 carries and gaining 114 yards, only 13 less than the combined total for Notre Dame's legendary backfield. And, for good measure, Nevers averaged 42 yards punting. He played all 60 minutes and was named the player of the game in a losing effort.
Nevers was a block-busting back, spurred by a ferocity and pulsing competitive drive. Hall of Fame coach Glenn "Pop" Warner, who coached Nevers and the legendary Jim Thorpe, picked Nevers over Thorpe as his personal choice as the "greatest football player of all time."
Nevers was Stanford's captain in 1925 when he led a 24-17 upset of arch rival California. He handled the ball on all but three plays as Stanford posted its first win over Cal in eight years.
After graduation, Nevers went on to play professionally for six seasons. He was elected to the Pro Football Hall of Fame in 1963. ESPN ranked Nevers #25 on its Top 25 Players in College Football History, and is also a member of the College Football Hall of Fame. In 1969, Nevers was named to Football's All-Time Team, which was part of college football's Centennial celebration.
UCLA: Gary Beban, QB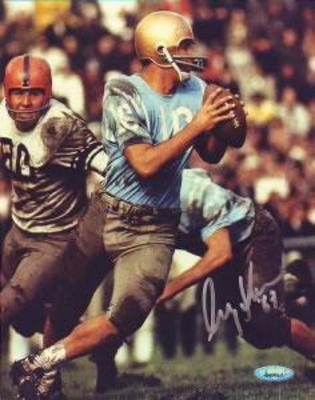 They called him "the Great One".
As UCLA quarterback, he was all-conference three times and helped his team to a 24-5-2 record. He set a school record for total offense that lasted 15 years.
As a sophomore, he threw two touchdown passes in the last four minutes to beat Southern California 20-16. In the Rose Bowl, Beban scored two touchdowns in UCLA's 14-12 victory over the No. 1 ranked Michigan State Spartans.
As a senior, he was a unanimous All-American and winner of the Heisman Trophy, Maxwell Trophy, and Washington Touchdown Club Trophy.
Beban played two years with the Washington Redskins then launched a career in business. He is a member of the College Football Hall of Fame.
USC: O.J. Simpson, RB
"In a football game, I just don't want to be touched." That's O.J. Simpson's explanation as to why he wore short-sleeved jerseys no matter how cold the playing weather might have been. "I can feel tacklers better that way."
What he could sense or feel, he could elude with blasting spurts, uncanny cuts, and escaping fleetness.
At San Francisco City College in 1965-66, Simpson established himself as the all-time junior college rushing leader with 2,552 yards and 54 touchdowns.
At Southern Cal in 1967 and 1968, his 9.3-second 100-yard speed and explosive start, harmonizing with mystifying evasive bursts, led USC to national championship honors in 1967, including a 14-3 victory over Indiana on New Year's Day, 1968, in the Rose Bowl.
The 1967 season was also the year Simpson won 22 individual citations. He led the country in rushing with 1,451 yards on 266 carries and 11 touchdowns, and also won Back of the Year honors from United Press International, as all selectors gave him first team All-America recognition.
In 1968, he carried the ball 355 times for 1,709 yards and 22 touchdowns, while leading USC to a 9-0-1 regular season record, equaling or bettering a long list of USC records. Again, he was named to scores of All-America first teams and was granted 21 awards, including Rose Bowl MVP, the Heisman Trophy, and Maxwell Award.
As a professional, Simpson spent an 11 year career primarily with the Buffalo Bills. Simpson gained 11,236 rushing yards, placing him second on the NFL's all-time rushing list when he retired. He was named NFL Player of the Year in 1973, and played in six Pro Bowls. He was the only player in NFL history to rush for over 2,000 yards in a 14 game season and he's the only player to rush for over 200 yards in six different games in his career.
Simpson was inducted into the Pro Football Hall of Fame in 1985, his first year of eligibility, and is also a member of the College Football Hall of Fame.
Despite the unfortunate circumstances that most have come to associate with him in his post football life, he remains one of the all time great football running backs at all levels of the game.
Washington: Hugh McElhenny RB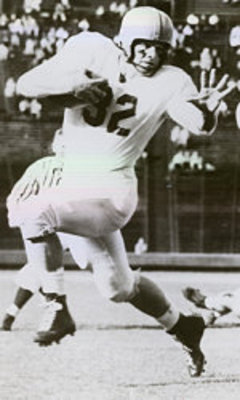 Hugh McElhenny had only one aim in life-the goal line. Like a thundering thoroughbred, this great Washington runner took to the open field with a blazing swiftness that often left opposing defenders in utter frustration.
In his wake, McElhenny left a seemingly endless trail of school rushing and scoring records. McElhenny's finest season came in 1950, his junior year, when he established single-game marks for rushing (296 yards), touchdowns (five), and total points (30), as the Huskies lashed Washington State, 52-21, in the final game of the season.
The next year, the 6'1", 197-pound senior kept right on gobbling yardage, points, and records. In a game against Southern California, McElhenny stunned the Trojans with a 100-yard punt return for a touchdown. His season statistics showed 17 touchdowns and 125 total points.
He was honored with a first team All-America selection, despite Washington's rather unspectacular 3-6-1 record. Over three varsity seasons, McElhenny logged the following statistics: 2,499 yards rushing, 122 yards passing, and 2,621 yards total offense.
McElhenny followed his college career with pro campaigns at San Francisco, Minnesota, Green Bay, Detroit, and New York. McElhenny gained 11,375 all-purpose yards in his distinguished 13 year career. He was nicknamed "The King" while with 49ers.
He is a member of both the Pro and College Football Hall of Fames.
Washington State: Mel Hein, C/LB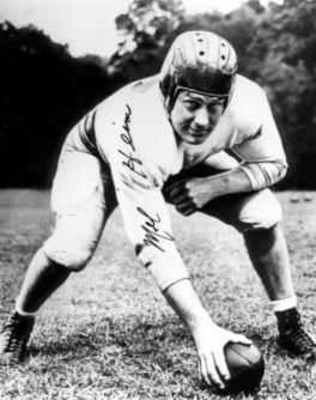 Mel Hein played center for Washington State in the one-platoon era when centers regularly played linebacker on defense.
He was an All-America in 1930. In a game against Idaho, he intercepted eight passes.
Sports writers, voting in a poll conducted by the Seattle Chapter of the National Football Foundation, named him to the all-time Northwest team in 1977. The Football Writers Association named him center on the all-time modern All-America team (50 years, 1920-69).
He played 15 years with the New York Giants from 1931-45, was all-pro eight times, and set a club record by playing 172 consecutive games, leading to his nickname of "Mr. Indestructable". In 1943, he doubled as head coach at Union College in Schenectady, NY, while playing Sundays with the Giants.
In 1961, Washington State gave him its Distinguished Alumnus Award, the first time it had been given to an athlete. He is a member of both the Pro and college football Hall of Fames.
Keep Reading

Stanford Football: Like this team?