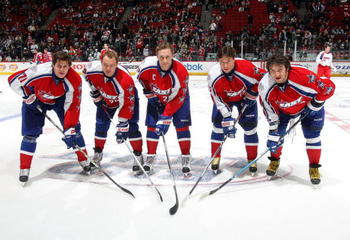 Because the Olympics are rolling into Vancouver this year, that means there will be no all star game this year for the NHL.
This, however, does not mean that we still can't come up with our own version of the teams.
The rules are the same, and every team will be represented. A rookie team and a sophomore team for the Young stars game will also be represented.
So who have been the top performers thus far in the '09/'10 season?
Let's find out.
Eastern Conference: Forwards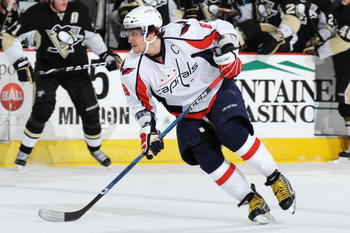 Alex Ovechkin - Sidney Crosby - Marian Gaborik
This line provides a lot of firepower. It consists of three of the leagues top five scorers, and would be an absolute force to reckon with.
Ilya Kovalchuk - Evgeni Malkin - Alexander Semin
A solid second line to say the least. These three Russian rockets have lit up the Eastern conference this year, and will light it up in Vancouver.
Zach Parise - Steven Stamkos - Daniel Alfredsson
Stamkos has been a very pleasant surprise this year after having a disappointing rookie campaign. Alfredsson is easily Ottawa's MVP and could likely have a statue erected in his name in Ottawa any day now, finally Parise has been solid as always.
Nathan Horton - Eric Staal - Tomas Plekanec
An all center third line has had their ups and downs, but have eventually pulled through for their team when needed most.
Eastern Conference: Defence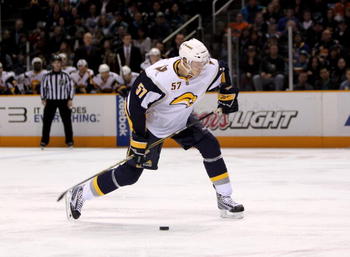 Tyler Myers - Chris Pronger
Myers, aside from Miller has been the Sabres best player. In his rookie campaign Myers has already asserted himself as one of the best defenders in the game. Pronger in his first season with the Flyers has been a rock on the back end despite the roller coaster ride that is the Flyers.
Zdeno Chara - Tomas Kaberle
Chara as always has been Boston's best players and continues that trend this year. Kaberle as a defencemen leads the Leafs in scoring and proves to be their best asset.
Mark Streit - Mike Green
What this pair might lack in defensive ability they fully compensate in offensive ability. Both Green and Streit are weapons on the back end.
Eastern Conference: Goaltenders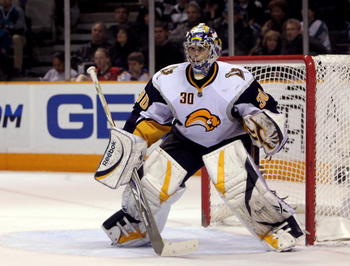 Ryan Miller
Miller is likely the leading candidate for the Hart and Vezina this year, as he has carried the Buffalo Sabres to the third spot in the Eastern conference
Martin Brodeur
How can you have an all star game without Marty. The Devils goalie is the best goalie to ever play the game and still has yet to see a decline in his game, despite being 37 years old.
Eastern Conference: Coaches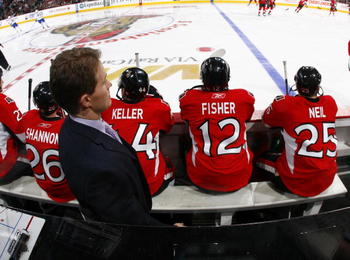 Cory Clouston (head)
This may not be a popular choice, but looking upon Clouston's accomplishments this year he finds himself in the hunt for the Jack Adams award. Clouston despite severe injuries for the Sens has coached them to an impressive fifth place spot in the East.
Bruce Boudreau - Jacques Lemaire
Boudreau and Lemaire have done an amazing job for their respective clubs, coaching them to first and second in the Eastern conference.
Western Conference: Forwards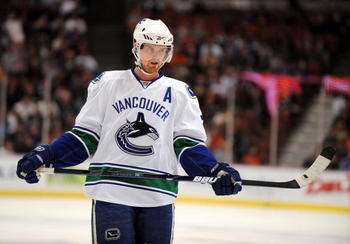 Henrik Sedin - Joe Thornton - Patrick Kane
Sedin and Thornton have been spectacular this year for the Nucks and Sharks and Patrick Kane is on pace for a career year with the Blackhawks.
Rick Nash - Ryan Getzlaf - Jarome Iginla
Nash, Getzlaf, and Iginla all have one thing in common, and that is they would likely prefer that they were doing more then they have this season. Any one of these players could easily be on the first line, but have not quite played up to snuff, but needless to say they are still all-stars.
Loui Eriksson - Mikko Koivu - Dustin Penner
All three players have really come into their own as of late, and have proven to be the best players on their teams.
Brad Boyes - Paul Stastny - Shane Doan
All three have proven to be valuable over the years, and while may not be producing up to ability (minus Stastny) they still have proven their worth.
Western Conference: Defence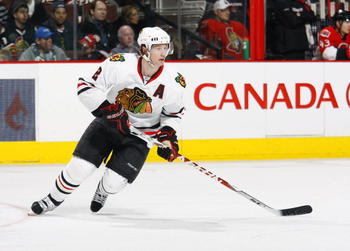 Shea Weber - Nicklas Lidstrom
Lidstrom is as steady as they come, and has been the NHL's best defencemen for the past decade. Weber is as steady as they come is only in his fourth full season with the Preds.
Duncan Keith - Brent Seabrook
Keith and Seabrook could possibly be the best tandem in the NHL today, and have been a key contributor in the Blackhawks success this season.
Drew Doughty - Dan Boyle
Doughty has been a pleasant surprise this season having possibly the best sophomore season in the NHL with the Kings. Boyle as always has been pivotal in the Sharks run this season.
Western Conference: Goaltenders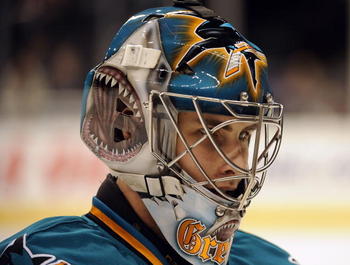 Evgeni Nabokov
Nabokov has been very steady in net for the Sharks.
Roberto Luongo
Luongo is one of the best goaltenders in the league, and after a less then stellar star to the season has been playing exceptionally well as of late.
Western Conference: Coaches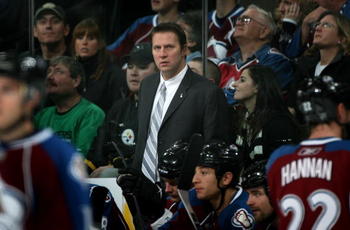 Joe Sacco (head)
another coach who may find himself as the Jack Adams winner is Joe Sacco, who has completely righted the ship, and brought the Avs into a fight for third in the conference.
Todd McLellan - Joel Quenneville
McLellan and Quenneville coach the two best teams in the NHL, and that enough is reason enough to have them on as coaches.
Young Stars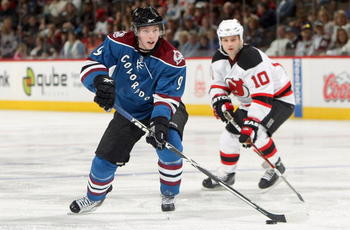 The young stars teams are comprised of nine skaters and two goals.
Rookies:
Matt Duchene - John Tavares
James Van Riemsdyk - Niclas Bergfors
Evander Kane - Ryan O'Reilly
Tyler Myers (all-star starter)
Michael Del Zotto
Cody Franson
Jimmy Howard
Tuukka Rask
Sophomores:
Bobby Ryan - Steven Stamkos (all-star starter)
Kris Versteeg - Kyle Okposo
Michael Frolik - Wayne Simmonds
Drew Doughty (all-star starter)
Zach Bogosian
Alex Goligoski
Jon Quick
Brian Elliott
Keep Reading