Introducing Your 2010 Winter Olympics Czech Republic Ice Hockey Team (Part 1)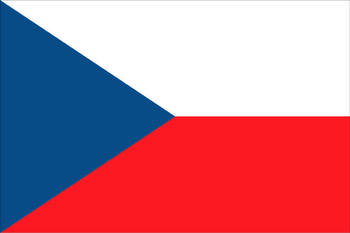 A little side story as to why I'm doing this first: I was recently appointed a Feature Columnist for the Devils earlier this week, and as a FC I (and the rest of them from the other 29 teams) were asked if we would want to cover a specific team for the upcoming Winter Olympics. I chose the Czech Republic, and my plan is to do some kind of story on them every couple of days or so. I figured the best way to start off is by introducing the roster. Part 1 will introduce the head coach, goaltenders, and defensemen.
Where Is The Czech Republic?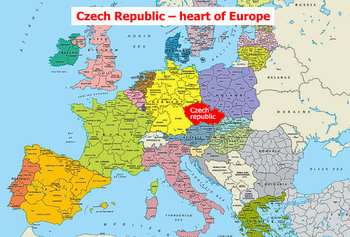 The Czech Republic is highlighted in the bright red, right in the heart of the continent of Europe. I had honestly always assumed the Czech Republic was a lot smaller than it already is, but I'm not any kind of geography or history buff. The population there exceeds 10 million, all of which I'm sure will be vigorously rooting for the Czech team in the upcoming Winter Games.
Head Coach: Vladimir Ruzicka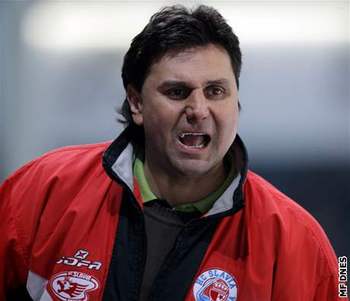 Ruzicka was on the Czech team that won the Gold at these games in 1998. When CTVOlympics.com asked Ruzicka what he thinks the Czech's strengths are, he said, "Creativeness, outsmarting (the opposition), and playmaking". You may remember Ruzicka in his short stint in the NHL as an Edmonton Oiler, Boston Bruin and an Ottawa Senator from 1989-1994, scoring 82 goals in his career including 39 in the 91-92 season for Boston. He is currently the head coach for HC Slavia Praha, a team located in Prague playing in the Czech Extraliga league.
Goalie: Ondrej Pavelec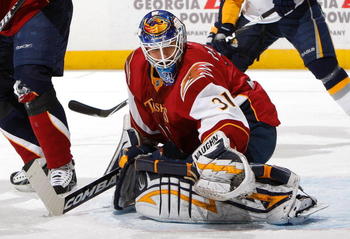 Age: 22
Current Team: Atlanta Thrashers of the NHL
Pavelec's been getting more playing time in his second full season in the NHL. He's splitting time with Johan Hedberg on an Atlanta team struggling to make the playoffs, but Pavelec has already won as many games this year (12) as he played in total last season. Pavelec is certainly the future goaltender in Atlanta and can proudly he say he is the youngest member of the Czech team this winter. With more experienced and talented goaltending in front of him on the Czech depth chart, don't expect Pavelec to be anymore than a second string.
Goalie: Jakub Stepanek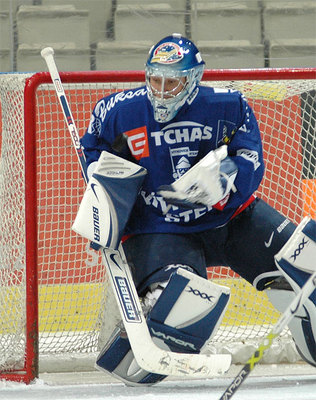 Age: 23
Current Team: HC Vitkovice of the Czech Extraliga league
Stepanek's been playing professional hockey for Vitkovice since he was 20 years old. Stepanek boasted a .928 save percentage in the 07-08 season. For team Czech in the IIHF World Championships, his goals against was only 2.12 in six games. Although he has some impressive numbers, they are in very small samples. Expect Pavelec to be slotted in front of him in the goalie depth chart.
Goalie: Tomas Vokoun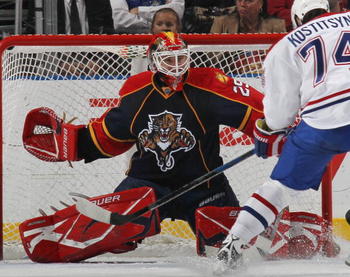 Age: 33
Current Team: Florida Panthers of the NHL
The most experienced goaltender on this squad will undoubtedly be seeing the most ice time. Vokoun, in his 11th full year in the NHL, has been a reliable netminder for Nashville and Florida. He has 235 career wins while obtaining a 2.54 GAA and 37 shutouts during his career.
Vokoun has the ability to "steal" wins for his teams, making him a perfect fit for the No. 1 goalie. An important fact to consider is Vokoun faces more shots than any goalie in the league, so it's hard to argue he won't look several times more impenetrable if there's a defense able to block shots in front of him. Less shots faced can be nothing but a good thing.
Defenseman: Miroslav Blatak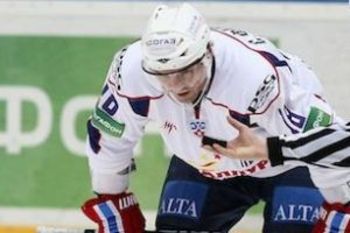 Age: 27
Current Team: Salavat Yulayev Ufa of the KHL
At one time a Detroit Red Wings prospect, Blatak is considered to be a good puck-moving defenseman. He played for the Czech team in the IIHF World Championships last year, posting three goals in just seven games while registering a plus-8. He is the only non-NHL defensemen on this roster, so it will be interesting to see how he meshes with the NHL D-men.
While many sites call him an "offensive defenseman," his numbers do not seem to be anything spectacular. However, he is said to be a very smooth skater and a good puck handler. His role on this Olympic squad will be to get the puck into the zone and set up shots for the more dangerous shooters.
Defenseman: Jan Hejda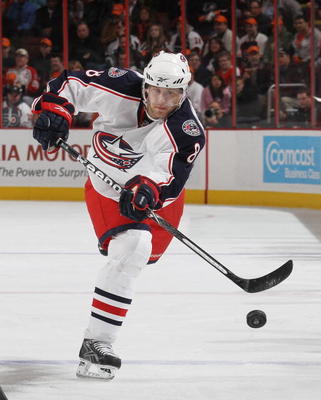 Age: 31
Current Team: Columbus Blue Jackets of the NHL
Hejda was selected to the team for one reason: defense. He's not the kind of defenseman you'd add on your fantasy team, unless "Shutting Down Opposing Forwards" was a stat category. Then he might rank up there pretty high. Although his plus/minus this year is not anything to write home about (minus-11), the last two seasons combined made him a plus-43. Hejda's not known as a big hitter, so don't expect him to go out there running people over (although he is quite big, as 6'3 and 220 lbs), but you can certainly expect him to throw a wrench in the opposition's offensive plans.
Defenseman: Tomas Kaberle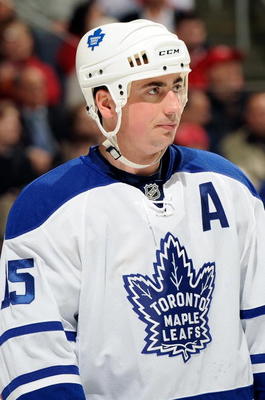 Age: 31
Current Team: Toronto Maple Leafs of the NHL
The Steve Nash of the Czech ice hockey team. One of the best passing defensemen in the world is going to be able to show off his skills on the grand stage. He leads the Maple Leafs in assists this year with 38 and usually amasses anywhere from 45-60 assists when healthy. The Czech team will be happy to have a defenseman with the vision and slick passing skills that Kaberle has, along with the ability to put the puck in the net from time to time.
Defenseman: Filip Kuba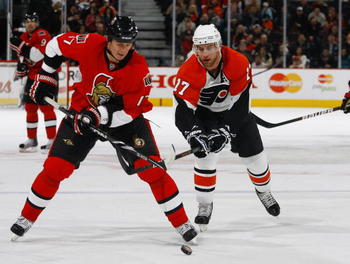 Age: 33
Current Team: Ottawa Senators of the NHL
While he's not the most talented goal-scoring defenseman in the world, Kuba has a hard, hard shot. Throw some bodies in front and hope for a deflection. Kuba has just three goals this season, but lit up the net for 15 goals as recently as 2006. Kuba also eats up a lot of minutes on the ice, averaging over 23 minutes of ice time per game. With more offensively talented defensemen on this team, Kuba's role on the offensive side will probably be to cycle the puck and take a big shot if the room is given.
Defenseman: Pavel Kubina
Age: 32
Current Team: Atlanta Thrashers of the NHL
Kubina and Kuba are pretty much the same player (and close enough to the same name!), but you can't have too many defensemen that can cycle the puck and shoot hard! I guess. But seriously, he can shoot hard and move the puck just like Kuba and doesn't put the puck in the net extremely often either. Don't expect these two on a defensive pairing at all because they bring the same thing (except Kubina averages a little under a minute less ice time than Kuba). Players like Kubina will be invaluable in Olympic play.
Defenseman: Zbynek Michalek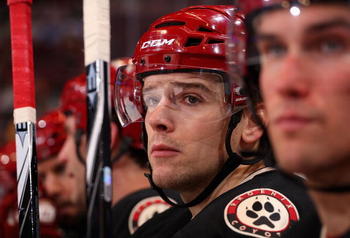 Age: 27
Current Team: Phoenix Coyotes of the NHL
Quite similar to Jan Hejda, Michalek will be used as a shutdown defenseman in the Games. Definitely not on this team for his offensive abilities (only 11 points in 45 games this season), it'll be interesting if Ruzicka puts both Hejda and Michalek on one pairing to create a No. 1 shutdown line or if he spreads the wealth and puts them on two separate pairings. Regardless, with the talent the Czech team will be facing, they were going to need at least two shutdown D-men, and they potentially have that.
Defenseman: Roman Polak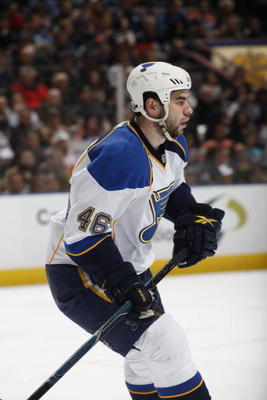 Age: 23
Current Team: St. Louis Blues of the NHL
By far the youngest and least experienced defenseman on the Czech squad. He plays a steady defensive game and is strong enough to move unwanted bodies from around the net. Polak is certainly not on the team for any offensive reasons, but if he can move the offensive threats from opposing teams into positions that they'd rather not be in, Polak will prove invaluable on this team. I've noticed this is the name on the roster that most people don't know too much about, but maybe Roman will make a name for himself.
Defenseman: Marek Zidlicky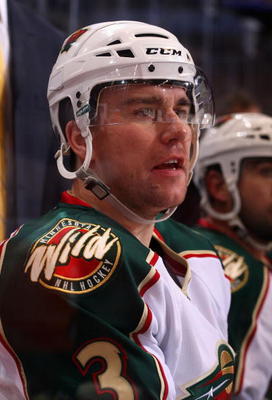 Age: 32 (33 by start of Olympics)
Current Team: Minnesota Wild of the NHL
Zidlicky will definitely be out on the ice to set up goals. For the Wild, he already has 29 assists on the season for them, and, like Kaberle, has the ability to put up more than 45 in a healthy season. He's shown some ability to nail the rubber into the nylon (12 goals last year), but that won't be his role on this team. It'll be to set up the more offensively skilled forwards on the team.
And who are those forwards? Check out Part 2 of the roster introductions on Monday to find out!
Keep Reading