2010 Senior Bowl: Tim Tebow's Report Card
Never one to assume, I feel it is my duty and obligation to mention that the 2010 Senior Bowl in Mobile, Alabama showcased the skills of one Tim Tebow.
Going in to the game, Tebow's leadership skills, motivation, and work ethic, were not in question. However, there were other skill sets that some felt would prevent him from becoming a NFL QB.
Let's focus on those controversial aspects of Tebow's game that were analyzed all week and during the game, and see how his Senior Bowl performance answered those questions.
The Infamous Elongated Delivery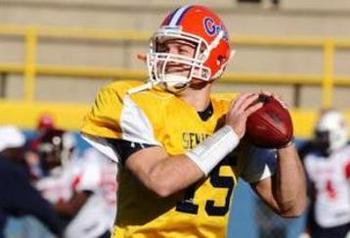 The infamous "dipping"—starting the throw from the hip—is a major concern for scouts and coaches in the NFL. Super-quick DBs do not need any extra time to time their arrival on an incoming pass, so this is something that needs to be addressed in Tebow's game.
Did we see enough to determine if Tebow improved his mechanics?
No.
There is no way he is going to change his throwing motion in a week's time. It will take a while before it, if ever, happens.
Here is a video of a practice session prior to the Senior Bowl:
Under Center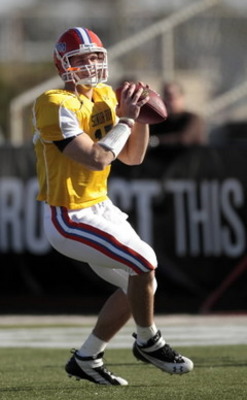 Yes, Tim Tebow is capable of taking snaps under center. He took snaps from under center and in the shotgun formation.
Ironically, Tebow's fumble loss came out of the shotgun formation.
During practices prior to the Senior Bowl, it was reported that Tebow struggled at times. That being said, we didn't hear about any embarrassing moments or broken limbs.
Footwork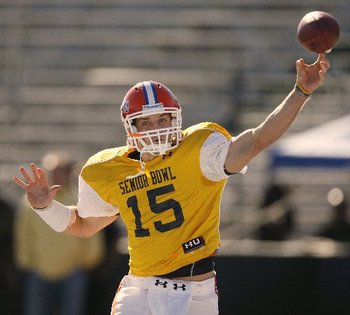 Granted, I am not a QB coach, and surely I am not one to grade a QB on his footwork. Not one comment was made during the game, and again with only 12 pass attempts I doubt that is enough to determine if Tebow's footwork sufficed.
Game Summary for Tim Tebow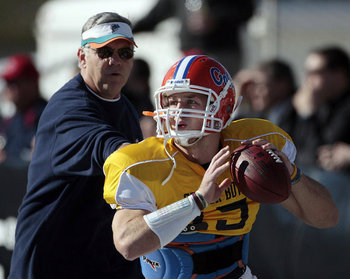 If you tuned in to the Senior Bowl to watch Tim Tebow then you were most likely disappointed. Tebow left after a few series in the first quarter and returned towards the end of the game. His performance was lackluster.
His stats at half time were three completions on six attempts for 26 yards. When he was done, he had eight completions on 12 attempts for 50 yards.
He also had two fumbles and lost one.
Tebow was given the opportunity on and off the field to impress NFL coaches and scouts, and hopefully for his sake he did it off the field.
Miami Dolphins and Senior Bowl South head coach Tony Sparano was impressed with Tebow.
When it is said and done, his play during the Senior Bowl was brief and left viewers wanting more.
I wouldn't be surprised if there are protests from Tebow fans that bought tickets to the game.
Tebow's Final Grade - Incomplete
Keep Reading