2010 NBA Mock Draft: Picks 1-10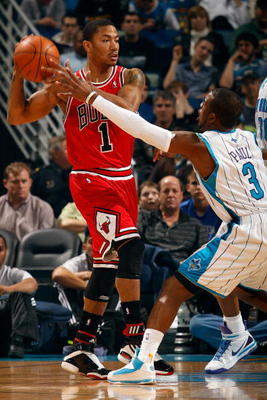 This is my first mock draft for the 2010 NBA draft. I know it's still really early and there is still some time to go in the season but if the draft started today this is what I think that the Top 10 picks would be along with the teams that would be picking them.
It's hard to say who will get the No. 1 pick this year; more than likely it will be the New Jersey Nets but we wont truly know until after the lottery. I also don't see the order changing that much.
Who will be the Derick Rose of this season? Only time will tell.
1). New Jersey Nets: John Wall, PG, Kentucky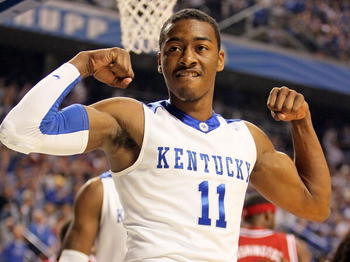 Wall is the best player in the 2010 NBA Draft. There is no question about it. Many people compare him to Chris Paul. In fact, his athleticism and size gives him an upside on Paul.
Wall does have a few minor flaws in his game. He can be turnover prone and is still working on his jump shot, but that will come with time and experience. The Nets could use any help that they can get.
Wall has great talent and floor leadership and will one day be a star in this league.
2). Minnesota Timberwolves: Evan Turner, SG, Ohio St.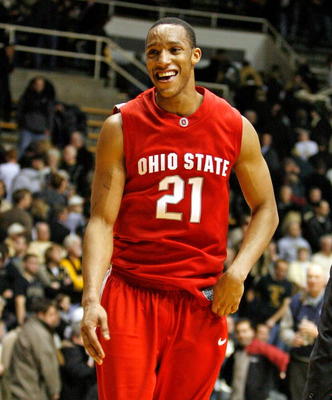 Many can argue that Wall is the best overall player in the draft this year, but Turner is probably the most complete player.
Turner can not only play three different positions, he can play them all well. The big issue surrounding Turner is the fall that he took where he broke two vertebrates in his back, but he seemed to be looking healthy and just fine in his return to the floor.
Turner needs to improve his jump shot some but he brings everything else to the table and would be a great fit in Minnesota.
3). Golden State Warriors: Derrick Favors, PF, Georgia Tech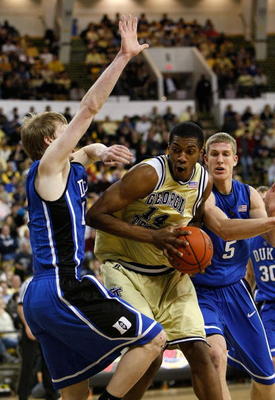 Favors athleticism and physique should allow him to be a force to be reckoned with in the post early in his career. He also has the physical tools to be a star in this league.
The one drawback for Favors is that he is still figuring out his game as a freshman at Georgia Tech. He is solid both offensively and defensively, but he's far from dominant on both ends of the court.
Favors gives the Warriors another big man inside, a good rebounder, and an okay shot blocker. The addition should help them a little to become a better defensive team.
4). Philadelphia 76ers: Ed Davis, PF, North Carolina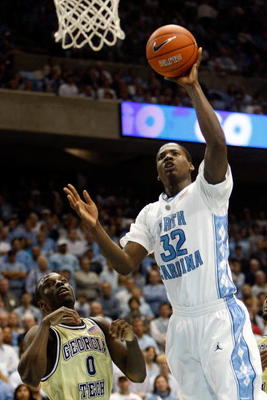 Last year Davis caught the attention of a lot of NBA scouts with his active, long, and athletic body. Even though Davis is putting up big numbers, scouts are worried about why he isn't more dominant.
The 76ers take Davis as he would be a good combo with A. I. No. 1 (Allen Iverson) and A.I. No. 2 (Andre Iguodala).
5). Detroit Pistons: Cole Aldrich, C, Kansas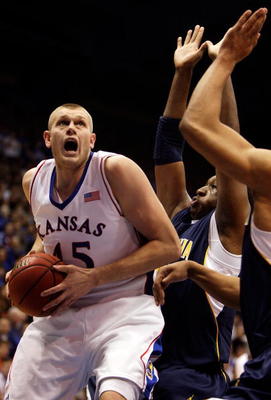 Aldrich is the best center in all of college basketball. He is a very smart player that can rebound, block shots, and score in multiple ways. He also runs the floor well for a big man.
Aldrich gets taken here by the Pistons if not earlier, and gives them the big guy in the middle of their offense and defense. He also provides them with the scoring, rebounding, and shot blocking help they need.
6). Washington Wizards: Wesley Johnson, SF, Syracuse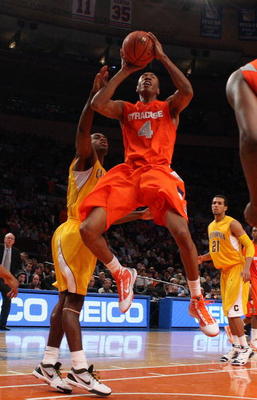 Johnson is one of those hustle players that flies up and down the floor. He can shoot with range as well. He is one of the very few basketball players in the college game averaging two blocks and two steals an outing.
He gets taken by the Wizards with this pick to give them a swing man with big play capability.
7). Indiana Pacers: Al- Farouq Aminu, SF, Wake Forest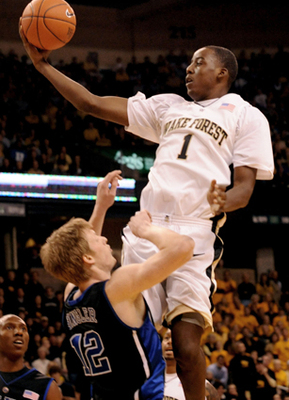 Aminu is one of the most talented, athletic, and, versatile forwards in the country. He runs the floor like a guard and crashes the boards like a post player. Aminu is also showing signs of developing a perimeter game.
Indiana takes him because it gives them a solid forward and warrior coming off the bench early in the season, with the possibly of seeing Aminu inserted into the starting lineup as he continues to improve.
8) Sacramento Kings: DeMarcus Cousins, PF, Kentucky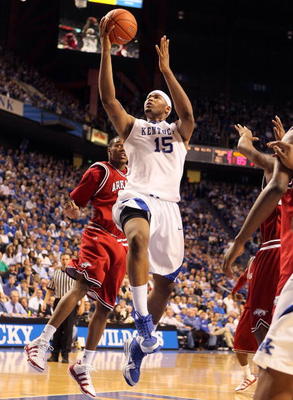 Cousins is a skilled scorer and rebounder for the Wildcats. He is only seeing about 20-22 minutes a game but has shown that he can take over and be the dominant player on the floor at times during the season.
The flaw that comes with Cousins is that he has shown signs of laziness and volatility. This attitude has brought up lots of comparisons to Derrick Coleman.
Cousins goes to the Kings because they need another forward or someone that can score on a consistent basis and rebound the basketball.
9). Utah Jazz: Xavier Henry, SG, Kansas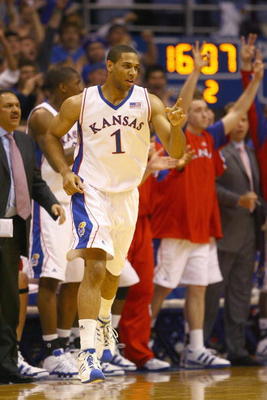 Henry is the second best freshman in the country, behind Kentucky's John Wall. He is one of the best scorers in the country, with a beautiful jump shot and deep range. He already has an NBA body and is good around the rim.
Henry needs to develop a mid range game. If he can do this he will be one of the dominant scorers in the league during his time in the NBA.
The Jazz take him to add another weapon both on offense and defense to go along with Deron Williams and his supporting cast.
10). Milwaukee Bucks: Patrick Patterson, PF, Kentucky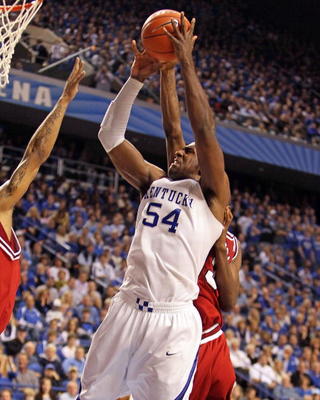 Patterson has great experience at the power forward position. He is a good athlete who can get up and down the court. Patterson has huge hands and a wingspan that allows him to play bigger than he is.
Patterson is not going to be a super star in the NBA, but he will be one of those players that will give you 110 percent every game and do the little things that help teams win.
He will be a good fit in Milwaukee with Brandon Jennings to give the Bucks a solid all around player.
Keep Reading