The All Time NBA First Team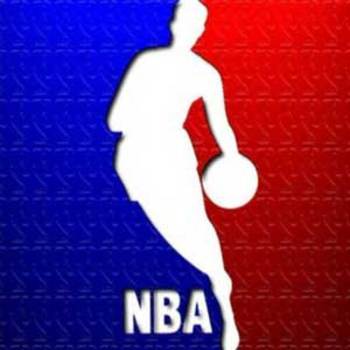 The NBA, like other sports leagues, has been shaped by its history.
In an attempt to expand and enrich its history, the NBA employs a system where it annually takes its best player at every position and elects them to the NBA First Team.
These teams always look monstrous on paper, but what if the NBA decided to look into the vast reaches of its history, instead of its previous season?
How much more formidable would that team be?
Point Guard: Magic Johnson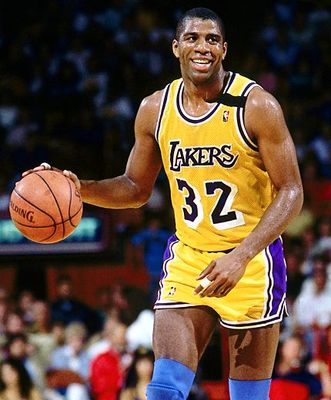 Surprise!
Yeah right. Find me another point guard who's won nine Conference Championships, five NBA titles, three regular season MVPs and three NBA Finals MVPs. Actually you'd be doing pretty well to find another point guard who has any of the above.
Easily the most unique point guard in the history of the game due to his imposing size and skill set, Magic Johnson dominated in ways that no other player has before or since.
Enter the 1980 NBA Finals where center Kareem Abdul Jabbar, who had been averaging 33 ppg in the series, sprained his ankle in game five of the series.
Though the Lakers managed to secure the game, the responsibility would fall on Magic's shoulders in game six, where he responded with 42 point, 15 rebound and 7 assist performance and became the only rookie in the history of the game to win the Finals MVP award.
During his illustrious career, Magic went on with several other greats in joining Team USA. He quickly became a focal point of the "Dream Team" where coupled with Michael Jordan, the two became hailed as the best backcourt ever created.
Though Magic's playing days are long gone, he remains the most iconic figure in Laker history.
Honorable Mention: John Stockton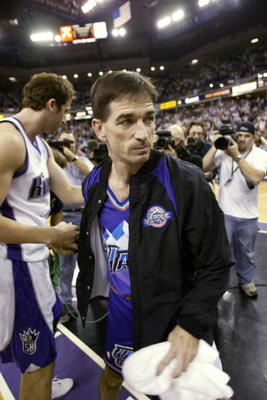 There is only one reason reason why John Stockton doesn't have a ring: #23.
During his career, Stockton was essentially the model point guard. He was a leader who played sturdy defense and could either orchestrate his team's offense like a maestro or shoulder the majority of his team's offensive needs on his own shoulders.
Though Stockton never won a championship, he and Karl Malone became one of the most iconic and productive championship-less duos ever. In the five seasons between 1993-98, the Jazz were knocked out of the playoffs by teams that went on to claim the Championship title four times.
The sole exception during that span came against a Supersonics team led by a piquing Gary Payton that was eventually pitted against Jordan's Bulls in the Finals. That Sonics team managed to give the Bulls two of their three total postseason losses.
Stockton owns the highest number of assists per 48 minutes in the history of the game with 13 and is fourth in assist-to-turnover ratio, 3.46 to 1. To cap it all off, Stockton finished with the most career assists ever (15,806).
Why he's second: As great as Stockton was, there was little doubt that Magic was the better player in their day. Magic scored more points on a higher field goal percentage, grabbed rebounds, won big games and finished with far more accolades, most of importantly of which include Championships.
While it is true that both of Stockton's trips to the Finals pitted him against Jordan's Bulls (who never lost in the finals), the Jazz had plenty of other opportunities to capture a ring. Stockton was just unable to lead his team to that point.
In the end, Magic was the only player ever who could legitimately dominate at all five positions and there's nothing in Stockton's arsenal to match that kind of versatility.
Shooting Guard: Michael Jordan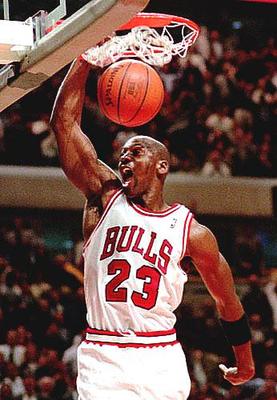 Shooting Guard: Michael Jordan
What more can be said about this guy?
Highest scoring average in the history of the game, most championship MVP titles ever, only player in the history of the game with both a Scoring Champion Award and a Defensive Player of the Year Award and that's only scratching the surface.
Nevermind his three-peat Championship run…or the second three-peat that came two seasons after. Nevermind the fact that he led the Bulls to the most regular season wins ever (72) before he fell a single game short of leading them to successive 70 win seasons, a plateau no other team has reached once.
Perhaps what's most impressive about Mister 23 is his 100 percent success rate in the Finals, especially given that every team Jordan met was spearheaded by another NBA legend.
His first Finals series pitted him against Magic Johnson, his second against Clyde Drexler, his third against Charles Barkley, his fourth against Gary Payton and his fifth and six Championships against John Stockton and Karl Malone.
But beyond all of this, the man simply redefined basketball. He combined a mastery of fundamentals, other-worldly athleticism and a Mohammed Ali-like flare that no one in the game of basketball has mirrored since.
Ask yourself this: When was the last time you stepped on a basketball court and didn't see a Jordan logo somewhere?
Honorable Mention: Kobe Bryant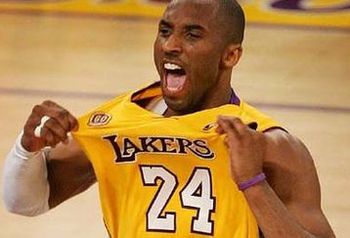 Runner Up: Kobe Bryant
Once a teenage phenom, now a bona fide legend, there's nothing in the game Kobe Bryant hasn't done.
He's won games scoring, he's won them passing, he's won them defending, he's won championships, dunk contests, every kind of MVP award in the book and he still has some left in the tank.
We've seen Kobe win scoring championships (his 35.4 ppg average in 2006 was the highest scoring average over the course of a season since Jordan's 37 ppg average in 1987) but he's finally resumed adding more of a different kind of championship to his resume–the kind that come with rings.
Last year Kobe not only redeemed his previous Finals loss to the Boston Celtics but also rid his critics of the only thing they could say against him: "Kobe can't win without Shaq."
He currently has the Lakers sitting atop the Western Conference as heavy favorites to not only win the Conference's first seed, but to advance to the Finals for the third consecutive year.
Why he's second: Kobe can score every bit as many points as Jordan ever could.
The problem?
It takes him far more shots to get there. Jordan's career field goal percentage is higher than anything Kobe has been able to reach for even a single season.
Despite the impressiveness of Kobe's 4-2 Finals record, its clearly trumped by Jordan's 6-0. Although Kobe has more seasons over the 30 ppg mark than any other active player with three, that mark is dwarfed by Jordan's eight.
It seems that the things that set Kobe above other NBA greats are the same things that set Jordan above him, at least statistically. Although Jordan beats Kobe in virtually every statistical category, the fact that the two played in entirely separate eras justifies possible arguments that Kobe may be closer to Jordan than the stats imply.
However, due to just how large the discrepancy between the two player's stats are, particularly field goal percentage, and the fact that Jordan has more rings on just as many attempts, the nod has to go to Jordan—at least for now.
Small Forward: LeBron James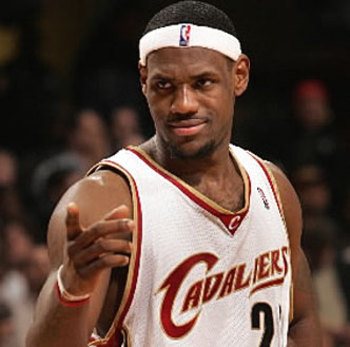 Already in his young career, LeBron has established himself as a guaranteed first-ballot hall of famer.
LeBron began to cement his place as an NBA great by earning a trip to the Finals after his offensive display against a defensively-menacing Detroit Pistons team in 2007, and since then he's only added more to his game.
Today he shoulders more responsibility for his team's success than any player since Jordan, period. Last year, he led his team in points, rebounds, assists, and steals.
Though LeBron's revival of the once-dead Cavaliers' franchise didn't come overnight, in his first six years he's brought home a trip to the Finals, an MVP award and the best regular season record in the NBA. Previous to LeBron, the Cavaliers' had none of the above.
Taking all this into consideration, one might start to understand why this year is so important for the Cavaliers. If they don't win this year, LeBron James is likely to become the most coveted free-agent in the history of sports.
Honorable Mention: Larry Bird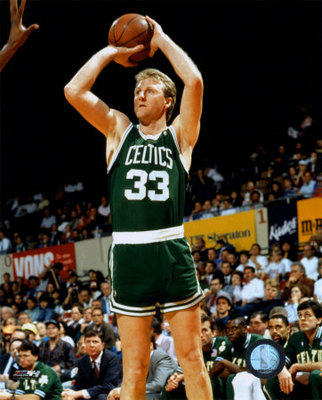 One of the best pure-shooters the game has ever seen, what Bird lacked in athleticism, he made up for in fundamentals.
Similar to LeBron in the way he could fill up a stat sheet, Bird was known the ultimate team player from day one.
In fact, Bird's balanced contributions in his rookie season including 21 points per game coupled with over 10 rebounds and 4.5 assists earned him Rookie of the Year honors, not to mention that his rookie season also saw the Celtics climb from a dismal 29-53 regular season record the year before to a stellar 60-22.
When the Celtics paired Bird with Robert Parish and Kevin McHale the following year in 1981, the Celtics went absolutely berserk, winning three of the next six NBA Championships and posting a best all time home record of 40-1 in 1986.
Why he's second: LeBron could be illegitimate the son of Michael Jordan and Larry Bird… if you ignore the biological impossibility of two men fathering a child.
Its actually somewhat creepy how much LeBron has much in common with both players. LeBron has a decent portion of Jordan's flair and has surpassed his athleticism and also has Bird's do-it-all workmanship and physicality.
But if you want to put things in perspective, consider what Bird and even Jordan had that LeBron doesn't:
Great players.
Bird spent the majority of his career surrounded by Hall of Fame talent. The closest thing LeBron has had to Kevin McHale, Robert Parish, Scottie Pippen or Dennis Rodman has been Mo Williams, who had never even seen an all-star game previous to joining LeBron in Cleveland.
While Bird does have three Championships to LeBron's zero, an examination of the teams surrounding the players certainly softens the blow for LeBron.
While Championships are sometimes used as undeniable evidence of superiority, they are best utilized when cementing a strong argument.
Cement may be strong when it dries, but it remains formless without a foundation.
Obviously, this not to say that Bird as a player was without foundation, but given all that LeBron has shown with his offensive prowess and his ability to rebound and pass the ball every bit as effectively as Bird, perhaps even more so, LeBron wins out.
Power Forward: Karl Malone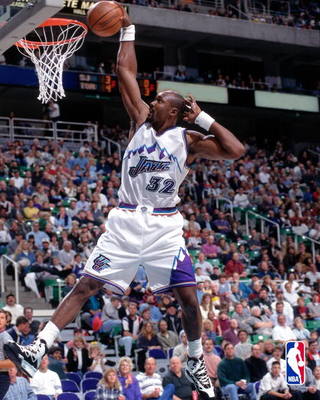 Nope, that doesn't say Tim Duncan.
And yes, you read it right.
Karl Malone is simply put the most athletic, offensively capable, balanced power forward in the history of the game. Not only is Malone the runaway highest scoring power forward the game has seen, but he's scored the second most points of any player of all time.
Malone's already dominant offensive ability was made even more problematic for his opposition because of his incredible endurance and stamina; his NBA record 11 consecutive seasons recording over 2,000 points serves as a testament.
He further earned the nickname "Mailman" by logging the second most minutes of any player and of his first thirteen seasons, Malone only missed five games.
Due to his unique combination of size, speed and agility, Malone was indefensible for the majority of the players he matched up against, resulting in him visiting the charity stripe at a particularly high rate. He quickly became the NBA all-time leader in both free throw attempts and makes.
Though his free throw shooting was a glaring weakness earlier in his career, he quickly adjusted and became a reliable 74 percent free throw shooter after averaging just over 53 percent over his first two seasons.
Honorable Mention: Tim Duncan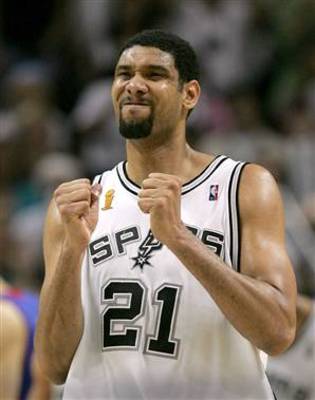 Over the course of his career, Duncan has been defined as a solid pillar of consistency.
During Duncan's rookie season when he joined up with center David Robinson, he helped the Spurs rebound from a forgettable 20-62 campaign to a respectable 56-26 season, averaging 21 points and 11 rebound per game.
His role in the Spurs' success earned Duncan rookie of the year awards, and he has never looked back since.
Duncan has never missed the playoffs, never failed to lead his team to at least 50 wins during the regular season (except for the lockout season of 1999), never logged under 10 rebounds per game, and has only failed to qualify for the second round of the playoffs twice.
Nicknamed "The Big Fundamental" Tim is essentially the model power forward: a consistent rebounder and great defender capable of getting points inside and hitting the occasional jumper.
Currently tied with Kobe Bryant, Shaquille O'Neal and Derek Fisher, Tim Duncan holds the most Championships of any active player with four.
Why he's second: Explosiveness, simple and plain.
While Duncan's championship status separates him from Karl Malone, nothing else does. Everything Duncan has done Malone has matched, and Malone's done so over a much larger period of time.
Duncan doesn't have Malone's endurance or athleticism, doesn't draw nearly as many fouls and he's played with a much wider array of talent. While Malone did have Stockton, Duncan has had greats Tony Parker, Manu Ginobili and David Robinson.
Last but not least, the fact that Duncan didn't have Jordan to contend with in the Finals certainly didn't hurt his trophy case any.
Center: Kareem Abdul Jabbar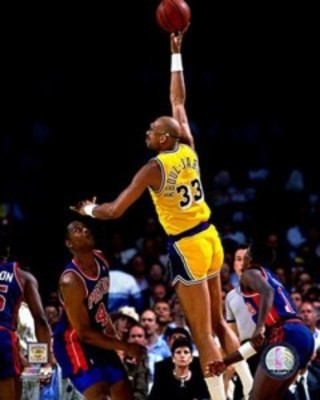 Creator of the skyhook, the most indefensible move in the history of the game, winner of six NBA Championships, two Finals MVPs and...oh yeah...scorer of the most points in NBA history, Kareem Abdul Jabbar will be remembered as long as the game of basketball is played.
Though Kareem lacked the sheer bulk of most interior-dominating big men, he combined his deceiving strength with a cat-like finesse (which he actually took Yoga lessons to improve upon).
Kareem always kept himself in the best possible physical condition and reportedly trained with martial specialist Bruce Lee. Kareem's dedication to his physical well being paid off dividends as it enabled him to log more minutes than any player before or since.
Though the last few years of Kareem's career watered down his scoring average, his north-of-55 percent career field goal percentage sets him above greats such as Hakeem Olajuwon, Wilt Chamberlain, Patrick Ewing, and Bill Russell.
Honorable Mention: Shaquille O'Neal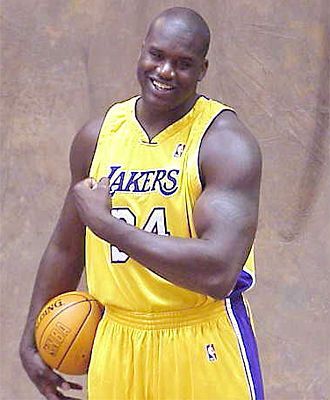 Wilt has an argument, as does Russell, but nobody dominated modern age basketball like Shaq did.
Like a bulldozer through wet toilet paper, Shaq simply tore through the opposition and overpowered his way to success throughout his career, becoming the only player other than Jordan to win three consecutive NBA Finals MVPs.
His manner of attack was simple: gain access into the paint, which no one could stop him from doing, and attack the basket as often as humanly possible.
However, Shaq shared a common weakness with many other historically great centers: free throw shooting.
In fact, Shaq is one of the only players in the history of the game to shoot a
higher percent from the field than he does the free throw line. So great was Shaq's efficiency from the floor and so poor was his free throw shooting, that other teams employed the "hack-a-Shaq" strategy, forcing Shaq to earn his points at the line.
Though Shaq has lost the lion's share of his dominance today, he has still retained his ability to shoot a remarkably high level from the field and led the NBA in field goal percentage last year. Even now as a third-fourth option in Cleveland's offense, he remains in the top 10 in that category.
Why he's second: While Shaq may have overpowered the opposition in ways that no other modern player has come close to, the fact of the matter is that Kareem produced every bit as effectively as Shaq over a much larger period of time.
Shaq's decline began around his 14th season while Kareem made it to his 18th season still producing all-star caliber numbers and he did so while logging far more minutes than Shaq.
Shaq was also infamous for reporting to training camp out of shape whereas Kareem's dedication to his physical well-being led him above and beyond the call out of duty, taking up training in yoga and martial arts.
Also, Shaq's stature in the NBA decreased at a much higher rate than Kareem's had. In what seemed like an instant, Shaq went from being an overpowering force on Championship teams to being a hot commodity in search of another Championship.
Kareem never prostituted himself on the market looking for the next running-mate to take him to glory.
Taking all of this into consideration with the fact that Kareem won more Championships on less teams, Kareem is the runaway winner.
Keep Reading