Best Player Ever: Big East & Army & Navy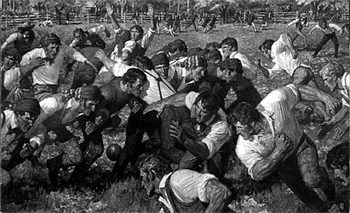 The Big East...which used to be the Eastern Independents. This is where it all started. Rutgers vs. Princeton in 69...1869.
Some of the all-time best players in college football come from these teams. Pitt, Syracuse and Army all have national championships in their past.
And Cincinnati vs. Louisville playing for the Keg of Nails is one of college football's oldest rivalries.
So let's take a look at the all time best players by team in the current Big East, with Navy and Army included.....starting with the Black Knights of the Hudson.
ARMY Pete Dawkins, WR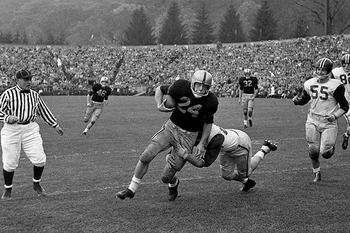 Dawkins started his junior year, after which he was elected captain of the 1958 team as a senior.
That year, Coach Red Blaik introduced the renowned "lonely end" formation that featured an unbalanced line with the end split wide on the strong side.
The team went on to an 8-0-1 record and remains Army's last unbeaten team to date.
Dawkins' stellar performance and ability to make big plays, particularly against rivals Notre Dame and Navy, earned him the Heisman Trophy as the nation's best college football player.
He was also awarded the Maxwell award that year. He was later inducted into the National Football Foundation College Hall of Fame in 1975.
Dawkins spent a 24-year career in the Army , retiring as a Brigadier General.
CINCINNATI Greg Cook, QB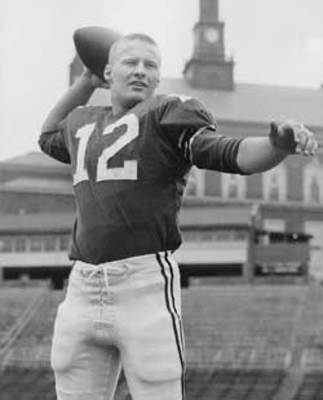 Cook set several passing records while at UC including the NCAA record for passing yards in a game (554).
Drafted by the Bengals in 1969, he led the American Football League in passing and was selected as Rookie of the Year.
Cook's true gift was the deep strike. He averaged 17.5 yards per completion in '69, a standard no professional quarterback has accomplished since.
Unfortunately, Cook suffered a shoulder injury in his rookie year that forced the phenomenal passer out of the game just four seasons later.
CONNECTICUT Donald Brown, RB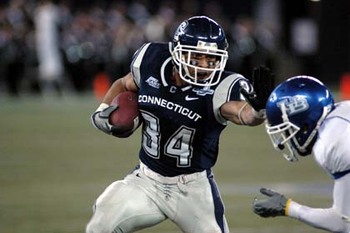 Brown would conclude his collegiate career as the all-time leading rusher for Connecticut with 3,800 yards.
He would finish the regular season in 2008 with 1,822 yards, which placed him first for rushing in the NCAA Division I FBS. His performance awarded him the Big East Offensive Player of the Year.[
On Jan. 3, 2009, Brown was named Player of the Game in UConn's 38-20 victory over the University at Buffalo in the 2009 International Bowl. He finished the game with 261 yards rushing and a touchdown.
He finished the season with 2,083 rushing yards, becoming only the 14th player in FBS history to rush for over 2,000 yards in a single season.
Brown was also named Eastern College Athletic Conference Player of the Year. He would forgo his senior year for the NFL draft.
In 2009, Brown was a first round pick for the Colts, where he currently plays.
NAVY Roger Staubach, QB/DB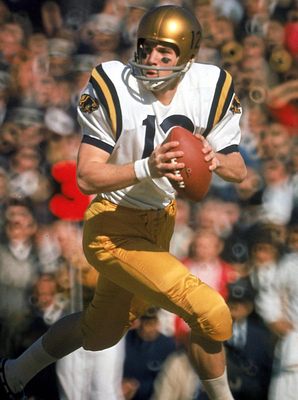 In his second class (junior) season of 1963, he won the Heisman Trophy and the Maxwell Award while leading the Midshipmen to a 9-1 record and a final ranking of No. 2 in the nation.
That year he led Navy to victory over their annual rivalry with Notre Dame. Navy did not beat Notre Dame again until 2007.
In his three seasons at Navy, he completed 292 of 463 passes, with only 19 interceptions, and gained a school record 4,253 yards of total offense.
Staubach is the last player from a military academy to win the Heisman Trophy. In 1981, Staubach was enshrined in the College Football Hall of Fame.
In 2007, Staubach was ranked No. 9 on ESPN's Top 25 Players In College Football History list.
He was a 10th round draft pick in the 1964 NFL Draft by the Dallas Cowboys, but due to his military commitment, did not begin playing until 1969 as a 27-year-old rookie.

Staubach played 11 seasons in the NFL, with 1,685 completions for 22,700 yards and 153 touchdowns, with 109 interceptions.
He also gained 2,264 rushing yards and scored 21 touchdowns on 410 carries. He led the Cowboys to four Super Bowls, winning two.
Staubach retired from football in 1980 as the then highest-rated passer of all time at 83.4, and was voted into the Pro Football Hall of Fame in 1985.
In 1999, he was ranked No. 29 on The Sporting News list of the 100 Greatest Football Players, the second-ranked Cowboy behind Bob Lilly.
LOUISVILLE Johnny Unitas QB/DB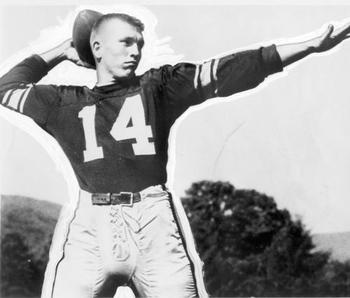 In his four-year career as a Louisville Cardinal, Unitas completed 245 passes for 3,139 yards and 27 touchdowns.
Unitas not only played safety or linebacker on defense and quarterback on offense but returned kicks and punts on special teams, and served as captain in 1954, his senior year.
One of the most memorable games of the season came in a 59-6 loss against Tennessee. Unitas completed 9 of 19 passes for 73 yards, rushed 9 times for 52 yards, returned 6 kickoffs for eighty-five yards, 1 punt for three yards, and had 86 percent of the team's tackles.
The only touchdown the team scored was in the fourth quarter when Unitas made a fake pitch to the running back and ran the ball 23 yards for a touchdown.
Unitas was hurt later in the fourth quarter while trying to run the ball, and on his way off the field received a standing ovation.
When he got to the locker room, he was so worn out that his jersey and shoulder pads had to be cut off because he could not lift his arms.
Drafted by the Pittsburgh Steelers, Unitas was cut by the team. After a season out of football, he caught on with the Baltimore Colts in 1956.
He then proceeded to have a 17-year career in which he amassed 40,239 yards and 290 touchdowns.
He was the first player to pass for 40,000 yards, led the Colts to the NFL championship twice and to a Super Bowl victory once. He is a member of the Pro Football Hall of Fame.
PITTSBURGH Tony Dorsett, RB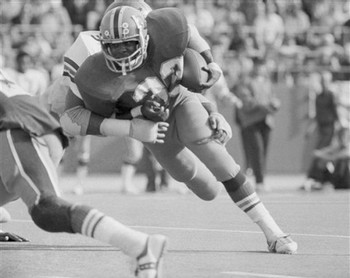 Dorsett helped lead Pitt to a national title in 1976, picking up the Heisman Trophy, the Maxwell Award, the Walter Camp Award (Player of the Year), and the UPI Player of the Year along the way as he led the nation in rushing with 1,948 yards.
He was a three-time First-team All-American (1973, 1975, 1976) and a Second-team All-American in 1974 by UPI and NEA. Dorsett finished his college career with 6,082 total rushing yards, then an NCAA record.
Dorsett is considered one of the greatest running backs in college football history. In 2007, he was ranked No. 7 on ESPN's Top 25 Players In College Football History list.
Drafted by the Cowboys, Dorsett recorded 12,733 yards and 77 touchdowns in his 12-year career. Dorsett also had 13 receiving scores and even a fumble recovery for a touchdown.
On January 3, 1983, Dorsett broke a 99-yard touchdown run against the Minnesota Vikings, which is the longest run from scrimmage in NFL history.
Dorsett was elected to both the Pro Football Hall of Fame and the College Football Hall of Fame in 1994 and was enshrined in the Texas Stadium Ring of Honor the same year.
In 1999, he was ranked No. 53 on The Sporting News' list of the 100 Greatest Football Players. He is the only player in history who has won the Heisman Trophy; won the Super Bowl; won the College National Championship; been enshrined in the College Hall of Fame, and been enshrined in the Pro Football Hall Of Fame.
RUTGERS Ray Rice, RB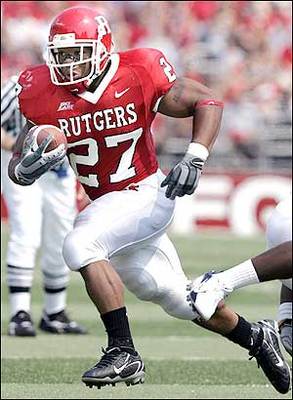 In 2005, Rice's freshman year,he led Rutgers to its first winning season in 14 years and played in only the second bowl in the football program's then 136-year history.
In 2006, he led the Scarlet Knights to a school record-tying 11 games and registered the school's highest ever season-ending national poll ranking, finishing at No. 12 in both the Associated Press and Coach's Polls.
As a true freshman, Rice rushed for 1120 yards and 5 TDs including a 217-yard performance against the University of Connecticut.
Rice gained 1,794 rushing yards in 2006 with 20 touchdowns. His total in 2006 set Rutgers' single-season rushing yardage record.
Rice was named Big East offensive player of the week a school-record three times in 2006. All three times, Rice rushed for over 200 yards, including a career-high 225 yard game against the Pittsburgh Panthers.
Rice ended his sophomore season with 170 yards on 24 carries with 1 touchdown during the inaugural Texas Bowl to give Rutgers its first bowl victory ever in a 37-10 win. He was named MVP of the game.
In 2007 against the Cincinnati Bearcats, Rice scored his 35th career rushing touchdown, setting the all time program record. On November 9, 2007 against the Army Black Knights, Rice ran for 243 yards and scored twice in the 41-6 win against Army, setting a new school record.
.
At the second annual International Bowl in Toronto, Rice ran for a new school record of 280 yards, along with 4 touchdowns as Rutgers beat Ball State University 52-30.
One of the TD runs was the longest of his career—a 90-yard scamper. Rice won the MVP award for his performance.
After his junior year Rice declared his intention to enter the 2008 NFL draft.[ He signed with the Baltimore Ravens, where he currently plays.
SOUTH FLORIDA George Selvie, DE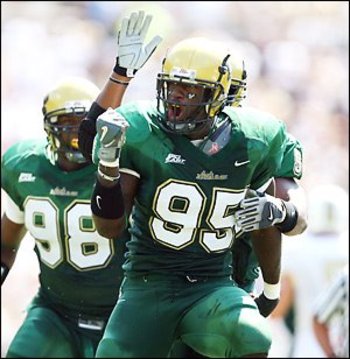 Selvie is South Floridas first consensus All-American.
He holds the Big East Conference record for tackles for a loss in a season. He also holds the USF records for career sacks, sacks in a season, and tackles for a loss in a season (set in 2007).
In 2009, his senior season, Selvie had 40 tackes (9.5 for losses) and 3.5 sacks. He forced and recovered one fumble and broke up two passes while making First-team All-Big East.
As a junior, in 2008, Selvie recorded 43 tackles (32 solo) with 13.5 of them for losses (including 5.5 sacks). He also broke up 5 passes and forced a fumble. He thus became the first two-time, first team All-American in USF history when he was selected by the American Football Coaches Association (He was also also a second-team All-American according to the Walter Camp Foundation).
In 2007, Selvie was selected as a consensus All-American and was voted the Big East Defensive Player of the Year. That season he had 14.5 sacks (2nd in NCAA) and an NCAA-leading 31.5 tackles for loss. He totaled 59 tackles, 3 forced fumbles, 13 quarterback hurries, and a blocked kick.[
In 2006 Selvie played as a freshman and totaled 64 tackles, 14.5 for a loss, including 5.5 sacks. He also forced 4 fumbles and recovered 2, had 9 hurries and batted one pass away. For his efforts, Sporting News named him to its Freshman All-America team.
SYRACUSE Jim Brown, RB/DB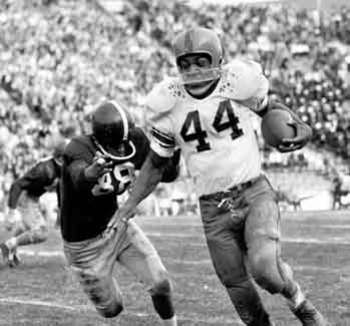 Syracuse has some great names. Ernie Davis. Floyd Little. Donavan McNabb. But none equal to the great Jim Brown.
A four-sport star at Syracuse (lacrosse, track and basketball) he is the only player in the College Football, Pro Football and Lacrosse Halls of Fame.
As a sophomore he was the second leading rusher on the team. As a junior, he rushed for 666 yards (5.2 per carry).
In his senior year, Brown was a unanimous first-team All-American. He finished 5th in the Heisman Trophy voting, and set school records for highest rush average (6.2) and most rushing touchdowns (6). He ran for 986 yards—third most in the country despite Syracuse playing only eight games—and scored 14 touchdowns.
He also led or tied the teams in interceptions as a defensive back in both his sophomore and junior seasons.
In the regular-season finale, a 61–7 rout of Colgate, he rushed for 197 yards, scored six touchdowns and kicked seven extra points for 43 points (another school record).
Then in the Cotton Bowl, he rushed for 132 yards, scored three touchdowns and kicked three extra points versus TCU.
Brown is a member of The Pigskin Club Of Washington, D.C. National Intercollegiate All-American Football Players Honor Roll.
Brown spent a nine-year career with the Cleveland Browns, leaving as the all-time rushing leader with over 12,000 yards, and holding the record for most yards in a season and several other rushing milestones. He was All-Pro his entire nine seasons in the league.
WEST VIRGINIA Sam Huff, G/T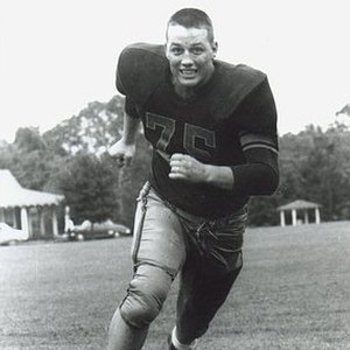 Huff started at guard as a sophomore and tackle the next two years, after winning a letter as a backup guard during his freshman season.
He was a four-year letterman and helped lead West Virginia to a combined four-year mark of 31-7 and a berth in the 1954 Sugar Bowl.
In 1955, Huff was voted an All-American and served as co-captain in both the East-West Shrine Game and the Senior Bowl.
In the NFL, Huff was switched to Middle Linebacker, and came to define the position. He played 14 seasons for the Giants and Redskins.
In 1982, Huff became just the second WVU player to be inducted into both the College and Pro football Halls of Fame.
Keep Reading

Syracuse Football: Like this team?