2010 New England Patriots 4-round Mock Draft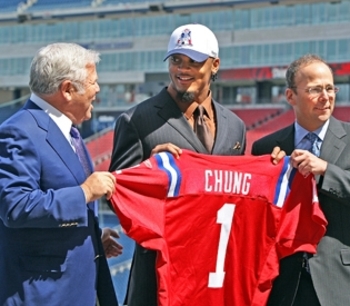 As the Indianapolis Colts and New Orleans Saints prepare for their Super Bowl clash the rest of the NFL take some time off and prepare for the upcoming 2010 season.
Over the past few years the New England Patriots have had some questionable drafts (i.e 2005-2007.) Last years draft looked promising with future starters Sebastian Vollmer, Darius Butler, and Myron Pryor showing improvement as the season progressed.
This years draft looks to be one of the deepest in years, especially considering the Patriots needs.
The Patriots most apparent need is consistent pass rusher opposite of Tully Banta-Cain who had a phenomenal season despite the little exposure he has. Banta Cain will be a free agent but for the purpose of this mock draft let's assume that the Patriots resign him ( as well as Leigh Bodden.)
The next Patriots need is a 3-4 defensive end. When Richard Seymour was traded prior to the opening game last year the Patriots struggled to find a consistent pass rusher at the DE position, look for the Patriots to fix that with the bevy of 2nd round picks they have.
Do you know who the Patriots third receiver in the 2009 NFL season was? No? I don't either. The lack of consistency at the third receiver position for the Patriots hampered the overall efficiency of their offense. Joey Galloway, Julian Edelman, Sam Aiken, Brandon Tate, Isaiah Stanback, all started for the Patriots at the third receiver position this year, if the Patriots don't fix the third receiver position via free agency this year, look for them to fix it in the draft.
Now without further ado here is my first crack at the Patriots' 2010 4-round NFL mock draft.
22nd Pick- Brandon Graham, DE/OLB, Michigan State.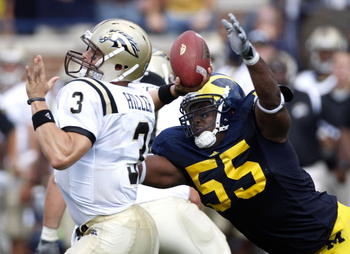 Coming into Senior Bowl practices Graham was projected as 2nd round pick, well it seems Graham took some offense to that concoction. He by far had the best Senior Bowl practice of any DE/OLB down in Mobile, Alabama. He showed a surprisingly very quick first step. Graham has great strength and is able to fight through double teams. He has a variety of pass rushing moves and uses his hands very well to disengage blockers and to get after the quarterback. Graham is very versatile and can play in almost any defensive system. He has a non-stop motor and never quits on plays. Most importantly for any OLB that plays under a Bill Belichick offensive system is that he is good both against the pass and run. Graham has great work ethic which Bill Belichick also takes in consideration when drafting a player.
Graham's stock has risen a lot and it'll continue to rise. With the combine coming up on February 25th Graham will surely impressed a lot of scouts with his strength, fluid hips, and speed. If the Patriots think they could get him with their first second round pick then they may gamble and try to pick up another player but, I don't think Graham will slip out of the first round and even if he does I don't see him sliding all the way to the Patriots 44th second round draft pick.
The Patriots have reportedly meet with Graham at the Senior Bowl.
44th pick- Jared Odrick, DE/DT, Penn State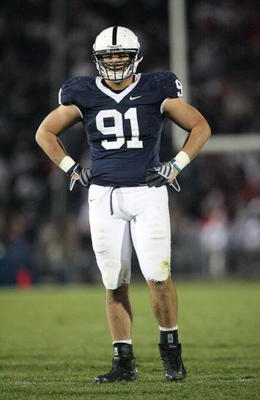 Jared Odrick could go in the 1st round but I think he'll slip into the second round due to the DT position being so deep. If teams like the Colts or Jets don't take him in the first round look for him to slip into the second round. Odrick is a very good pass rusher at the DE position and if the Patriots pick him up he'll most likely play the DE position opposite Ty Warren. Odrick is very quick and like Graham has an outstanding motor. He knows how to get up the field and get after the quarterback. Odrick is inconsistent in his run defense at times but I think the coaching staff will be able to fix that. I think the main culprit to his inconsistencies in his run defense is that he's only 308 lbs. Odrick has the frame to gain more weight ( he's 6-foot-5.) I think if Odrick bulks up the coaching staff is more than equipped to coach him up to improve his run defense.
47th pick- Eric Decker, WR, Minnesota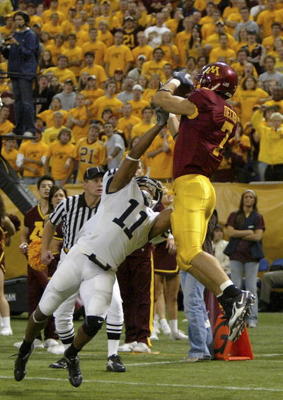 If there is one player I want the Patriots to draft this year is Eric Decker. He is one of the most ( if not the most) polished wide receivers coming out in this years draft. He has a great frame, 6-foot-3,220 lbs, which will make him a red zone nightmare for defenses. He is a excellent route runner ( which is rare for a guy with his frame) and he has exceptional hands. Decker also fights for the ball and catches the ball at it's highest point. He rakes up yards-after-catch. Decker shows the ability to get off jams at the line of scrimmage, and on top of all that he is also one of the best blocking receivers in the NFL draft. Decker has great character and work ethic. The only viable knock on Decker is that he suffered a foot injury at the end of the season and may have some injury issues. Decker is a great receiver and I hope the Patriots get him with one of the second round picks they have.
53rd pick- Eric Norwood, OLB, South Carolina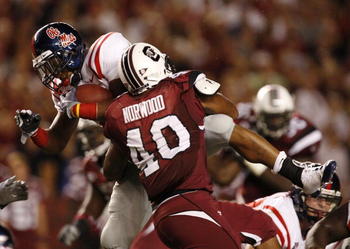 Eric Norwood is one of the best pass rusher in this years draft. He is an extremely durable player, he hasn't missed a game in his collegiate career. Norwood has exceptional speed. However, Norwood is very short for an OLB in a Bill Belichick system ( Norwood is 6-foot-1.) Norwood is also bad at dropping back into coverage. I think that Norwood should only be used in pass rushing situation until he shows he can improve his coverage skills, much like Tully Banta-Cain was used in the early stages of his Patriots career.
4th round pick, Andre Roberts, WR, Citadel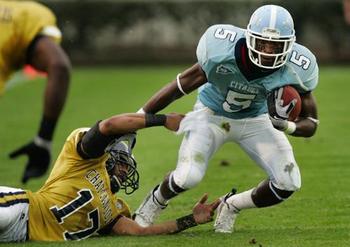 Andre Roberts is from Citadel, a division II school. If he impresses scouts at the combine then he may be drafted in the 3rd round but if he slips to the Patriots 4th round pick they should select him here. Roberts is a small receiver ( 5-foot-11, 190 lbs.) Roberts is a very smooth route runner and although he lacks the speed to be a consistent threat downfield and lacks the height to be a consistent threat in the red-zone he is quick and smart enough to gain separation on CB ( much like Wes Welker.) He has great hands which will allow him to maximize the opportunities he has.
Keep Reading

New England Patriots: Like this team?