The Philadelphia Eagles' 10 Biggest Draft Busts of the Decade
As I chronicled last week in my Best of the Decade series, Andy Reid has a knack for drafting quality system players.
Of course, there's a flip side to that as well, as Reid also has quite a history of picking guys on day one that end up selling insurance within a few seasons.
I guess that's the chance you take on a "franchise (insert position here)," even more so when the majority of your picks are in the fourth-quarter of the round.
But of all the bums, these 10 stand out for their bum-ness.
No. 10: WR Billy McMullen (Round Three, 2003)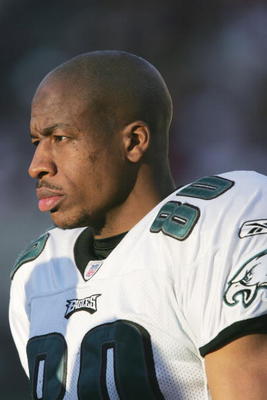 Sure, no one expected McMullen to be great.
But he left Virginia as the second-leading receiver in ACC history, and coming onto a team that counted Todd Pinkston, Freddie Mitchell, and James Thrash as its top three receivers, you figured he could contribute.
Not so much. 2003 was a pretty bad draft for the Eagles, and he was part of it.
In three seasons in Philly, he accounted for 22 catches, 294 yards and one touchdown. He was never more than a token fourth receiver, and was traded to Minnesota for Hank Baskett in 2006.
And that's why he's only No. 10—at least he fetched something useful.
No. 9: RB Tony Hunt (Round Three, 2007)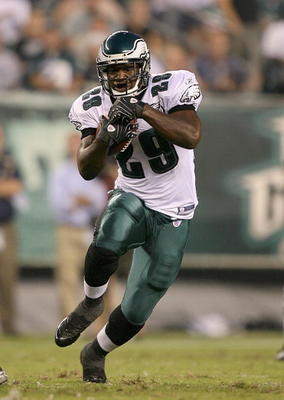 Coming out of Penn State, Hunt was a monster. He was second in Nittany Lion history in rushing (overtaking an All-Pennsylvania prodigy to get there), and at 6'2", 230 pounds, many felt he could finally be the short yardage back the Eagles had long lacked.
Instead, he was a short-term back.
Hunt got all of 10 carries his rookie season and eventually fell to fourth on the depth chart at running back.
He gained a reprieve when a strong 2008 preseason got him tabbed to replace Thomas Tapeh as the Birds' fullback...but within six weeks he was released, and hasn't played since.
Hunt never really got much of a chance behind Correll Buckhalter, instead just further solidifying the tendency of Penn State backs to perform poorly in the pros.
No. 8: LB Matt McCoy (Round Two, 2005)
If there was ever the definition of a one-year wonder, Matt McCoy was it.
To say the Eagles' linebacking corps was average at best in 2005 was an understatement. McCoy was a project that the Eagles felt they could develop, and he had an okay rookie season backing up Keith Adams at the WILL position.
But when 2006 rolled around, McCoy—who was praised for his great speed and sideline-to-sideline coverage ability—was named starting WILL.
He had a good season, recording 57 tackles, two sacks and three passes defensed to go with three forced fumbles. But a shoulder injury in the second half pretty much sent him from hero to zero, as his effectiveness slipped and he was eventually benched in favor of Omar Gaither.
He was then later released halfway through 2007 after serving as Gaither's backup.
McCoy could've been great, but instead became the template for "project draftee who does okay for a bit but then gets replaced halfway through a season"—a mantra which might as well be the theme for the Eagles' linebacking corps these days.
At least McCoy is still in the league, as he played seven games over three stints with the Bucs in 2009.
No. 7: CB Matt Ware (Round Three, 2004)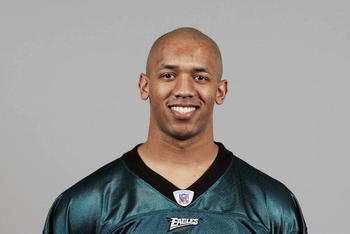 When drafted out of UCLA, the 6'2" Ware was thought to be a solid nickel-type corner that could cover the larger receivers in the NFC East.
Turns out he couldn't really cover anyone.
In two seasons as an Eagle, Ware never got above fourth corner and never did anything of note—except, that is, for get burned by every receiver in the league. Outside of returning a blocked field goal for a touchdown in 2005, you'd never have known he was on the team.
He was released in the 2006 preseason and caught on in Arizona, where he has spent the last four seasons and finally recorded his first career interception earlier this year.
No. 6: WR Todd Pinkston (Round Two, 2000)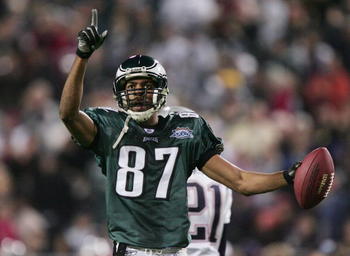 From the "those who don't learn from history" department comes Todd Pinkston, who, if I showed you only the remaining text of this entry, could be a dead ringer for Reggie Brown.
There were a lot of questions surrounding Pinkston's selection in 2000. Sure, he was 6'2", but at barely 170 pounds, he looked more like a sprinter than a wide receiver.
But in his first three seasons, he showed some potential. After a rather pedestrian but promising rookie year, Pinkston took over as a starter in 2001 and put up decent numbers in 2001 and 2002: 102 catches, 1384 yards, 11 touchdowns.
The latter performance earned him a five-year contract extension and a huge signing bonus.
But in 2003, he dropped to just 36 catches, 575 yards and two scores, all of which were career lows as a starter. He went on to exacerbate that underperformance by completely disappearing in the NFC Championship Game, where he had three less catches than Ricky Manning...aka the Panthers' DB assigned to cover him.
And then, "Alligator Arms" showed up.
2004 was another 36-catch season (this time for 676 yards and only one score, although Terrell Owens was partly to blame for that), but he might be more noteworthy for a catch he didn't make.
Early in a game against Washington, Pinkston went deep down the middle and was ready to haul in a bomb...until, that is, he saw Redskins' safety Ryan Clark bearing down on him. Instead of trying to make a tough catch, Pinkston just basically stopped.
It seemed as if avoiding contact was more important than making the play, and even ESPN announcer Joe Theismann quipped that "(the play) is a great way to lose your job as a receiver in the National Football League."
Which is exactly what Pinkston did.
Pinkston left Super Bowl XXXIX with leg cramps after making four catches, and never stepped on the field again.
A torn Achilles tendon cost him 2005, and because he was obviously still slowed by the injury, he was released at the end of the 2006 preseason. He was later signed (and cut) by both Minnesota and Washington, never again seeing an NFL snap.
Oddly enough, he was back in green in 2009 as a coaching intern at the Birds' training camp. Pinkston worked under receivers coach David Culley to get some experience so that he can break into coaching in his native Mississippi.
I wonder if he'll teach his receivers to shy away from contact.
No. 5: DE Bryan Smith (Round Three, 2008)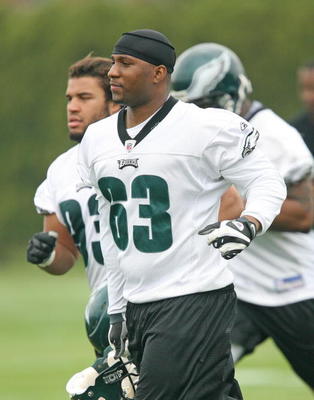 To be fair, Bryan Smith was drafted to be part of a defensive end rotation that included Trent Cole, Victor Abiamiri, Chris Clemons, Darren Howard, and Juqua Parker already, so it's not like he was expected to be a beast.
But to never even see the field?
Coming in, Smith had the cred. He was the Southland Conference Defensive Player of the Year and a Little All-American in both his junior and senior years at Division I-AA McNeese State.
And it's not as if the Eagles hadn't had success with mid-round small schoolers in the previous decade; see Brian Westbrook, Jeremiah Trotter, Todd Herremans and Chris Gocong for proof of that.
But Smith ended up being the exception.
He never really showed the intensity needed to be a force and never saw the field as an Eagle. He was released just 14 months after signing a four-year deal. He's now in Jacksonville, where he made six tackles in six games as a Jaguar in 2009.
The only reason he's this low is because of his status as both a third-rounder and a "small school risk," although in the grand scheme of things, he's just a guy who flat out didn't work out.
No. 4: WR Reggie Brown (Round Two, 2005)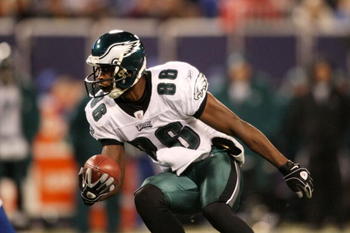 Ah, my best buddy Reggie Brown.
For two-and-a-half seasons, Brown was great.
He stepped in for Terrell Owens midway through 2005 when T.O. was suspended, and ended up racking up 43 catches for 571 yards and four touchdowns. And when he spent all of 2006 as a starter, he had a 46-816-8 line and showed signs that he really could be a top flight receiver—enough to get the Eagles to sign him to a huge contract extension.
Even in 2007, when Kevin Curtis usurped his No. 1 wideout role, he was consistent—61 catches, 780 yards, four scores.
And then, he disappeared.
When DeSean Jackson was drafted Brown quickly fell out of favor. Injury issues didn't help, and in the he fell from No. 2 at best to No. 4 (or even No. 5) on the depth chart. Playing only 10 games (and starting only three), Brown put up underwhelming 2008 numbers of 18 catches for 252 yards with one touchdown.
This year, he only wishes he could've been that good.
In 14 games, Brown only caught nine balls for 155 yards, and outside of a huge 43-yard catch in the Atlanta game, was used mostly as a decoy. For reference, he had lesser stats than Brian Westbrook, who missed half the season and then some with a concussion.
And so, here Brown sits going into 2010—too expensive to get rid of but too far down the depth chart to utilize. If 2010 ends up being an uncapped year, Brown could well be gone, but even if he isn't his best days as an Eagle are surely behind him at the crippling age of 29.
And to think, guys like Vincent Jackson, Roscoe Parrish, and Chris Henry were taken later in the same draft, while Lance Moore and Nate Washington went undrafted.
No. 3: LB Quinton Caver (Round Two, 2001)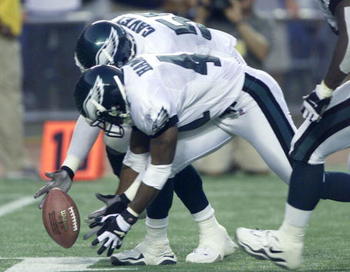 Caver, an outside linebacker drafted out of the University of Arkansas, was expected to compete for a starting job in Jim Johnston's defense.
Standing 6'4" and weighing 240 pounds, he was a fierce hitter who was projected to be the type of player Chris Gocong turned out to be—and one also expected to supplant Carlos Emmons as the starting SAM next to young Jeremiah Trotter.
Instead, he made a dozen tackles (mostly on special teams) over parts of two seasons and was released before the end of the 2002 campaign.
Caver spent the next two years with the Chiefs—even starting a handful of games in 2004—and played for the Cowboys in 2005 before calling it quits.
Not exactly great value there.
So how is Caver only No. 3? Because there are, of course, two spectacular failures worth noting—the first of which was actually taken in the same draft 30 spots ahead of Caver and was out of the league first.
No. 2: WR Freddie Mitchell (No. 25 overall in Round One, 2001)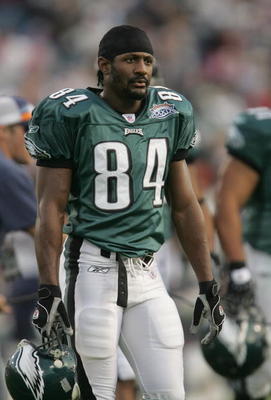 And that man mentioned at the end of the last slide is, indeed, Freddie Mitchell.
You may find it amazing that the man on the business end of the biggest play of the decade is No. 2 on any bust list.
To that, I say that Gerard Phelan works as a businessman in Boston, so one play clearly doesn't make a career.
Simply put, Fred-Ex was drafted so high because the Eagles thought he could be a franchise receiver. Unfortunately, he could barely be the franchise lunatic.
In four seasons, he accounted for 90 catches, 1,263 yards and five touchdowns—numbers that Reggie Brown even beat in his first two years in the same "difficult" offense Mitchell never grasped—and if it wasn't for 4th-and-26, he'd have nothing.
Well, except a storm of controversy he caused with his antics.
He made t-shirts that said Fred-Ex Delivers. He wore oven mitts during a press conference and thanked his hands for being great. He even bashed the New England secondary repeatedly before Super Bowl XXXIX—and then blamed Donovan McNabb for not getting him the ball when the Eagles lost.
Finally, Andy Reid had enough and delivered Fred-Ex to the unemployment line in 2005. He never played another down in the NFL.
He couldn't run NFL routes, he couldn't run a business—the Florida restaurant he bought last February is already closed—and he couldn't run from the cops, as suggested by his December arrest on a warrant for failed child support payment.
Once a failure, always a failure.
No. 1: DE Jerome McDougle (No. 15 overall in Round One, 2003)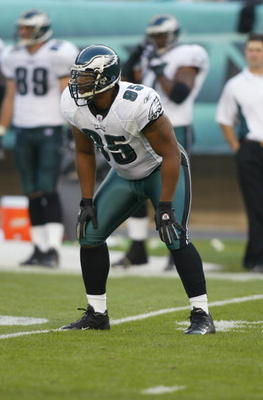 And speaking of failure, I present to you the ultimate example: Jerome McDougle.
Now, it's not 100 percent his fault that he's the biggest bust of the decade (and perhaps in the Top 10 of the entire NFL).
The Eagles thought he would be the greatest thing since sliced bread, and with Hugh Douglas getting up in years and nearing the end of his Eagles career, the Birds moved up 15 spots to get McDougle at No. 15 in the 2001 Draft.
Instead, he ended up getting sliced (by a surgeon) almost as much as your average loaf of bread.
Hype can't do it justice, so here's his career retrospective by year.
2003: Leg injuries derailed him for half the season, which he finished with nine tackles.
2004: 13 tackles, two sacks and five games missed due to either a knee sprain or an irregular heartbeat.
2005: Missed the entire season due to complications from a gunshot wound (not his fault).
2006: Had a great season as a situational rusher (stats only show 13 tackles and one sack, but he was very disruptive at times), but is best known for a double personal foul that ostensibly cost Philly a game against Tampa Bay.
2007: Tore his triceps and missed the whole year.
2008: Released by Philly during training camp and went on to play sparingly in four games as a New York Giant.
What a dazzling, brilliant career.
With 37 tackles, three sacks and not a single start in 37 games played...Jerome McDougle, you, sir, are the definition of bust.
Oh, and for reference, other defensive ends drafted after McDougle include Chris Kelsay, Osi Umenyiora, and Robert Mathis...not to mention that Troy Polamalu was picked No. 16 and other later first-rounders included Dallas Clark, Nnamdi Asomugha, and Larry Johnson.
Can't win 'em all.
Keep Reading

Philadelphia Eagles: Like this team?