Top 5 WR of the 2k Decade
This are my top five wide receivers of the decade, for me to choose this list I had to see the wide receivers that kept playing good year after year and who are good hands to really on. Though it was pretty hard choosing the players because there was a lot of talent this decade.On this decade 3 of 6 Super Bowl MVP WR that have won it on the super bowl history.WR have been key on football history from the AFL to the NFL.If you have something to say please leave a comment.
Reggie Wayne
Reggie Wayne played a key role on the Colts Super Bowl run, is still playing great without Marvin Harrison of course he still have Dallas Clark, Austin Collie and Pierre Garcon.He is also helping the team on this playoff run.
Andre Johnson
Andre Johnson is helping his team get better as he has helped Matt Schaub After finishing the 2009 season with 101 catches for 1569 yards and 9 touchdowns(a new career high), Johnson joined Jerry Rice as the only two receivers in history to lead the league in receiving yards in consecutive seasons.
Johnson is shure to be a hall of famer.
Marvin Harrison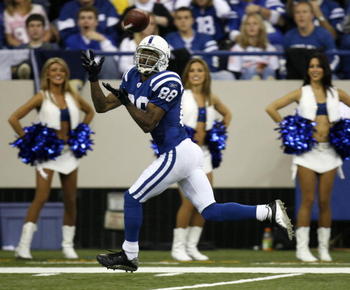 He helped the colts to get to the Super Bowl.He is among only 6 players in NFL history to have over 1000 receptions.
Terrell Owens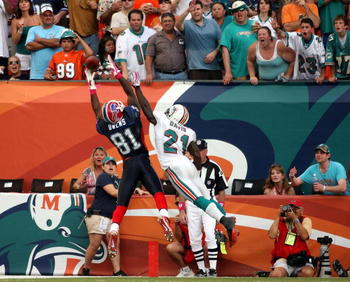 Terrell Owens keeps playing good after 14 pro years, and thats why he is such a controversial player.Currently, the only player in NFL history to score a TD against all 32 NFL teams and also currently, the only player in NFL history to score 2 TDs against 31 NFL teams, 1,000 career receptions this are just few of all of his milestones.
Randy Moss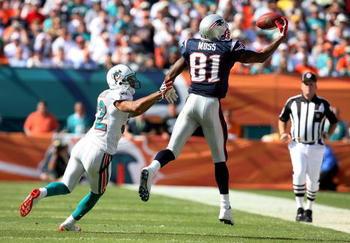 Randy Moss the greatest wide receivers of the decade he was a late first round pick, even thought he hasn't won a super bowl yet he still has 1 or 2 years left of him. These are some of Randy's records:
Most touchdown receptions in a season - 23 (2007)
Most touchdown receptions by a rookie in a season - 17 (1998)
Most seasons with 17 or more touchdown receptions - 3 (1998, 2003, 2007)
Most 1200+ yard receiving seasons to start a career - 6 (1998, 1999, 2000, 2001, 2002, 2003)
Maybe well no he does have a lack of effort but he still wins most game for his team.
Keep Reading