Georgia Bulldogs 2010 Schedule Preview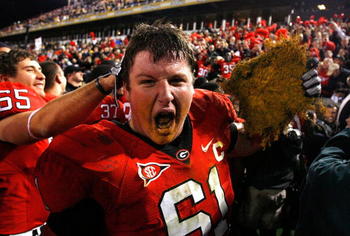 The Georgia Bulldogs are a long way from 2009. A season of inconsistency. Heartbreak. Disappointment. That season of discontent has gone away and left in it's place: possibility.
The beginning of last season saw the Dawgs breaking in a new quarterback, a new running back, and two new corners.
That said, we also faced a nasty, brutal, and uncompromising schedule that showed us no mercy at any point. This year looks to be a whole lot different and with that realization comes the question of how and why?
Well, for that, just. keep. clicking.
Sept. 4 ULL Ragin' Cajuns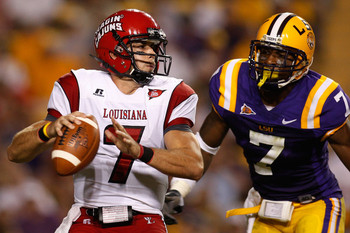 Compared to last season, this game should be a snoozer. The Dawgs opened up on the road against No. 5 Oklahoma State. A team that, coincidentally, has three potential NFL draft picks.
The Ragin' Cajuns, by contrast, were 6-6 last season and were led offensively by their quarterback, Chris Masson (No. 7, pictured). He's an accurate quarterback with a decent arm and above-average mobility but his foray into the SEC last season is responsible for a quarter of his picks (2).
The Dawgs should be able to handle the Cajuns easily as they have been less than competitive against SEC opponents in the last five seasons: going 0-4 and being outscored by a total of 136 points.
Look for Georgia to run it at will (the Cajuns gave up 181 ypg on the ground last year) and get in the end zone early and often. For once, the Dawgs look to have a tune-up game.
Don't feel too bad for the Cajuns, they will receive an $875,000 check for their services.
Sept. 11 South Carolina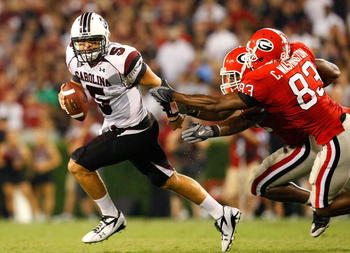 This game annually has "heart attack" written all over it. Throw out the stats, leave the record books at home, and forget the players' names on the field until the last minute or two of the game. And grab your red "I'm Georgia" towel and a rabbit's foot for luck.
Carolina-Georgia is less about skill than it is about sanity and I don't expect this year to be any different.
Last season, Stephen Garcia (No. 5, pictured), came into his own and made a huge statement against the Dawgs at Sanford Stadium. If not for Rennie Curran's last second tip of Garcia's pass on the goal line, the game would likely have ended with a Gamecock win.
Rennie is gone now and so is Eric Norwood of South Carolina: the same Eric Norwood who ran back a pick six, registered a sack, and made life an overall hell for Joe Cox in last season's game.
On the flip side, both Weslye Saunders and Tori Gurley are back—both had huge games that night.
Garcia will be the more seasoned quarterback on the field this year and he will no doubt be looking to set his season off right. This game, as always, could go either way and whoever wins will start with a big advantage in the SEC east.
Sept. 18 Arkansas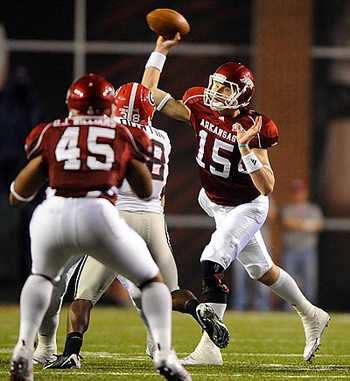 This game was the one that made many people start believing in Georgia QB, Joe Cox. He had a career night (375 yds and 5 TD's) and went on to quiet the loud chorus that had began singing: "You're not good enough" for a time.
It was also, likely, be the beginning of the end for coach Willie Martinez and his embattled staff as the Georgia secondary was torched for 408 yards and five scores by Razorbacks QB, Ryan Mallett.
Mallett is back again this season, looking to improve his draft stock a bit for 2011. Georgia had no answer for him last season and, with a year under his belt, he's liable to be even more fierce than last season.
The Razorbacks also return a talented corps of wide receivers in Jarius Wright and Greg Childs. The two combined for nine catches, 248 yards, and two scores against the Dawgs last season.
On the flip side, Michael Smith is no longer at the tail spot, so Broderick Green will shoulder the load alone but it shouldn't be too hard for him. He racked up 11 touchdowns and nearly 500 yards rushing last season.
The Dawgs will need to take these Hawgs seriously as they will be a more mature and prepared team on both offense and defense.
Sept. 25 Mississippi State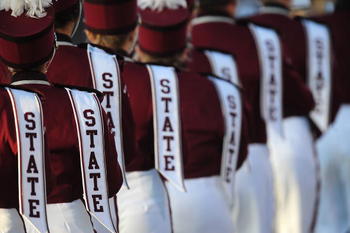 Georgia has played Mississippi State only twice in the Mark Richt era. The Dawgs have bested the Bulldogs both times.
This second season under Dan Mullen, the Bulldogs are looking to improve but will be without the majority of their offense from last season. SEC rushing leader, Anthony Dixon, has moved on to the NFL. Quarterback Tyson Lee has graduated.
The defense that was so impressive last season will also be without a couple key cogs in Marcus Washington (CB) and Jamar Chaney (LB), also both gone.
The Dawgs should be able to compete with the Bulldogs and come away with a victory, but every SEC road game deserves respect and this one will be no different.
Oct. 2 Colorado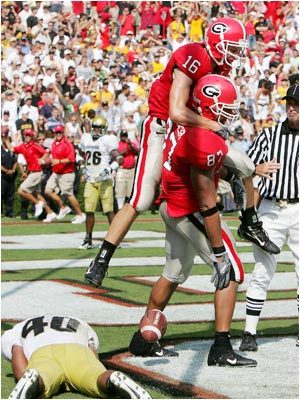 The last time the Dawgs faced Colorado, they had to come from behind to beat them—and that was a HOME game for Georgia.
Most Dawg fans remember it well because former Georgia quarterback, Matt Stafford, played second fiddle to the redheaded one from North Carolina—Joe Cox.
This game will mark the Dawgs' second straight road game in as many weeks, and it will be a little cold in Boulder, something that could work in Colorado's favor. Georgia will need to be focused and ready to take on a team that may be playing to save their head coach's job.
Talented running back, Rodney Stewart (804 yards, 9 TD's) returns to take another shot at eclipsing the 1,000 yard mark. Tyler Hansen will assume the reigns at quarterback after sharing the load with Cody Hawkins last season.
Colorado is 0-2 against SEC opponents since 2002; however, in both games, they were in it until the end—losing by a combined seven points.
Oct. 9 Tennessee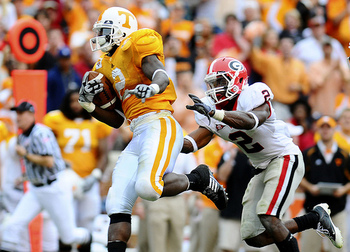 Two words describe last years game in Knoxville: utterly embarrassing.
The game was painful to watch, painful to listen to, and painful to talk about with anyone other than a priest or a nun. You needed redemption and a baptismal cleansing before facing the world again.
It was just that ugly.
Adding insult to injury were the stinging words of now former coach, Lane Kiffin, that the Vols would "never" lose to Georgia on his watch. That particular statement stuck and I can promise you that Dawg fans everywhere were waiting for their shot at redemption.
Well, Kiffin slithered out of town on a trail of slime so thick that all of Tennessee could slide to Cali and back without getting chafed backsides—leaving Georgia fans with the sad realization that Kiffin would never be able to eat those words.
Enter Derek Dooley, with his new staff, and this game has a little less flavor than it did last season.
The Vols are bruised—but not broken—and will be looking to make a statement against Georgia, giving the Dooley clan something to brag about in-house.
Tennessee will be without, DB Eric Berry, DT Dan Williams, and RB Montario Hardesty but, talented tailback, Bryce Brown does return on offense.
The game will be exciting because it's Tennessee but it won't be nearly as revenge-fueled as it might have been now that the "mouth of the south" has gone back to Cali.
Oct. 16 Vanderbilt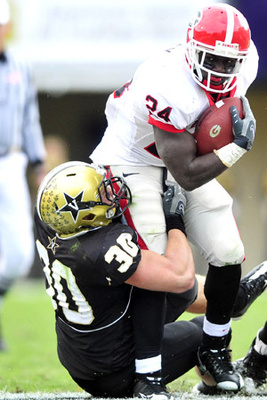 This game was the turning point for the run game last season. Washaun Ealey (No. 24, pictured) began to find his stride and ran tough the whole game. Nice contributions by A.J. Green and Caleb King helped the Dawgs to a convincing 34-10 victory.
The Commodores are 1-8 against Georgia with Mark Richt as head coach but the one win was enough to give Vandy the confidence that they can beat the Dawgs, if they can keep it close.
The win for the Dawgs was as lopsided a victory as the Dawgs have had over Vandy since 2005—proof that even though the Commodores haven't always been successful under coach Bobby Johnson, they have been competitive.
Vanderbilt will need to settle the quarterback situation next year as Larry Smith showed flashes of greatness but he isn't likely to be the long-term solution at that spot. Freshman running back sensation, Warren Norman, will return to continue his dominance on the ground.
The Dawgs know better than to overlook the Commodores at this point and they won't allow themselves to get tripped up here.
Oct. 23 Kentucky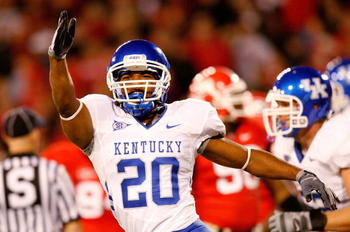 There was a time not so long ago when the Dawgs would dominate the Cats on a regular basis. The games were not even a little bit close. However, somewhere between 2005 when the Dawgs beat the Wildcats 45-13, and 2006, everything changed.
Since that time, the teams have battled each other touch and go, and as a result, have split their last four meetings (2-2) with neither team winning by a significant margin.
Last season, the Wildcats walked into Sanford and stole a victory away from the Dawgs, stunning the home faithful who thought the game was in hand early (the Dawgs led 20-6 at the half).
It was yet another example of the defense not having either the discipline or the focus it needed to sustain their success.
Kentucky freshman QB Morgan Newton turned in his best performance of the year: throwing three touchdowns and zero picks. While both Derrick Locke and Randall Cobb made fools of both the secondary and the special teams units all night long.
By the end of the night,Kentucky coach Rich Brooks was leaving the field with a big smile on his face.
That said, the Kentucky Wildcats are no longer the perennial whipping post that the Dawgs can kick around. They aren't the team we beat nine straight times between 1997-2005. They have become a legitimate thorn in Georgia's side, that when taken lightly, can bite us in the hind parts.
This game would be the Dawgs eighth straight and the Lexington crowd will be fired up again. It smells of a trap and would be an ugly defeat on the heels of the Florida game. Let's hope we are better prepared this time.
Oct. 30 Florida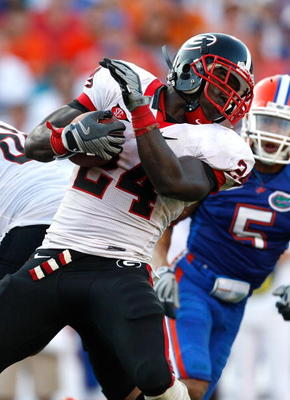 Ahhhh, Florida. Florida. Florida. The game to end all games. Every year we say "This is it"! However, most of the time, we come back on Sunday feeling like,"What was that?"
It's a disappointing feeling that Georgia fans know too well and, at some point, you have to figure that even a Dawg has its day right? That day has to be this year...right?
Tebow is gone?...Check.
Brandon Spikes has left the building?...Yup.
Joe Haden?...Adios!
Major Wright?...See ya later, Gator!
Aaron Hernandez?...ummm....buh-bye.
Urban Meyer?...Urban Meyer?...Urban?...Anyone...Buuee. Just kidding.
He's still there but his right hand man, Charlie Strong, has taken his defensive genius to the Big East. Good luck with that Cincy.
Still, the Gators have brought in another outstanding class—one that, at least defensively, is being touted as one of the best EVER and Georgia, well, we can't seem to hold on to guys because we FIRED Willie Martinez?
Go figure.
All I can say is this, Georgia has no better opportunity to wrestle and stuff a Gator than they do right now. Florida is loaded every season and will be the champagne of the east until the Dawgs can knock them off their pedestal.
The question, as always, is "Can they?"
Nov. 6 Idaho State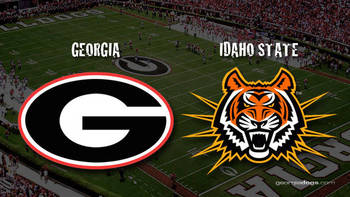 Here's what I can tell you about Idaho State: They are 2-21 in their last two seasons. This game is meant as a "bye" week for Georgia and nothing more.
The last time they played an SEC team was 2005. It was the Kentucky Wildcats and they lost by 12.
*Photo courtesy of georgiadogs.com
Nov. 13 Auburn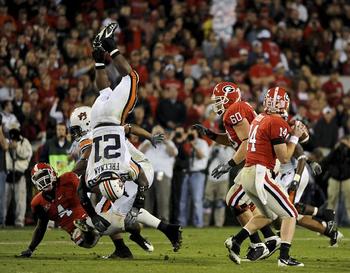 It's always fun to rumble with 'dem Tigers from the Plains. The games are always so full of excitement and never seem to do anything except go down to the wire, making fans want to head straight for a padded room.
Expect no less this year as the Tigers look to stop the bleeding. Georgia is working on a winning streak of, what seems like, epic proportions. In the meantime, the Tigers are quietly stashing away a class so sinister as to make the Dawgs look like they will have some splainin' to do come Feb.3.
After all, didn't that Chizik fellow get greeted by hecklers at the start of last season? Hecklers who— sorry to say—weren't exactly whistling Dixie at his arrival.
How did this former coach of a mediocre Iowa State team come in and outdo Georgia? You know some people are asking that question, right? I'm just putting it out there. In the meantime, the Dawgs are sweating through the decisions of Da'Rick Rogers (WR), Deon Rogers (DB),and Nickell Robey (DB).
How bout'that?
Chris Todd and Ben Tate have both exited stage left but Mario Fannin and Michael Dyer will likely be bringing the magic in 2010. Oh, and not to mention some little quarterback prospect named Cameron Newton is itching to make a name for himself too.
The Dawgs will never be slouches against the Tigers. They hunker down and sic' em like no other, but this year will likely see a much more determined and animated Plains crowd than in years past as Auburn looks to finally emerge as something they have not since 2005:the winner.
Nov. 27 Georgia Tech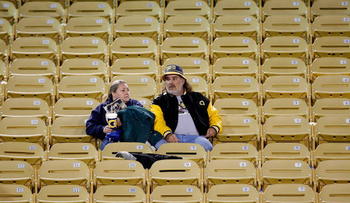 We finally get a bye week just before we host Tech in our season finale. If things go well, we will be 10-2 and awaiting a shot at the SEC Championship. If they don't, we'll be 8-4 and stuffing ourselves at the Varsity.
Tech is a Bulldog fans' version of the "Grandaddy of Them All." We don't care much for them and they definitely detest us. See that picture above? A lot of Dawg fans I know sport it as their avatar or screensaver.
Why? Because, to them, it represents the total dejection that Tech fans felt after the so-called "mediocre" Dawgs came in and beat them on their own field using their method of dominance—the run.
I don't hate the Yellow Jackets, nor do I think they are unworthy of the hype they have received; quite the contrary. I respect all of our opponents equally
but there is some kind of satisfaction that comes with knowing you own a team—it gives you a warm, fuzzy, feeling inside.
I like feeling warm and fuzzy.
Tech has lost Jonathan Dwyer, Morgan Burnett, and Demaryius Thomas—all huge keys to their success last season. That said, they still have Nesbitt and coach Johnson. Oh, and they added Al Groh too—not bad.
Tech will be good and they will be competitive. That much I know. However, if I get to see their fans walk away from this game they way they did that one...well...I can't say I'll be disappointed.
Keep Reading

Georgia Bulldogs Football: Like this team?