Wake up, World! The Denver Nuggets are the NBA's Hottest Team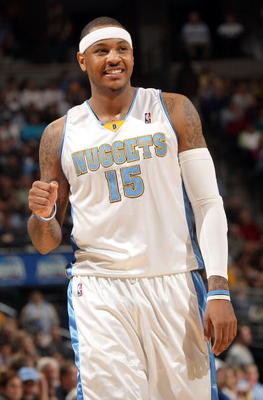 With their 97-92 win over Houston Wednesday night, the Denver Nuggets pushed their win streak to eight. And now that they have won 10-11 overall, Denver is the NBA's hottest team.
The Nuggets have scored an impressive 110.5 points per game during this dominant streak while holding their opponents to only 100.1 per, as players have been working hard on both ends of the floor.
Carmelo Anthony has been the best player during Denver's run with 28.2 points and seven rebounds per game, although many Nuggets contributed to this wonderful winning streak that has the Nuggets firmly planted in the No. 2 position in the West.
Jan. 11: Minnesota 94, Denver 105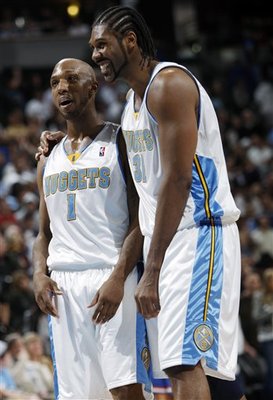 In the game to begin the streak, Denver came out with staunch defense only allowing Minnesota 15 points in the first quarter. But the Timberwolves fought back strong as both teams went on a scoring fest in the second quarter (38-35) and they were only down eight at halftime.
The Nuggets pulled away in the third quarter, extending their lead to 16 with 6:04 left in the third on Chauncey Billups' strong shooting.
It was Carmelo Anthony's reverse layup that put the game away for Denver though, as the Nuggets coasted to victory.
Jan. 13: Orlando 97, Denver 115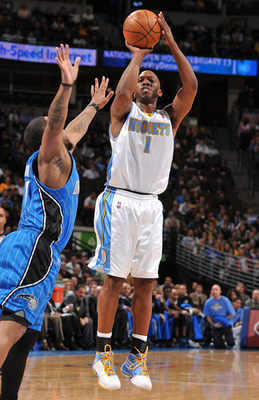 The Magic came into Denver in the top tier of NBA teams, second in the East. Their superstar Dwight Howard is now surrounded by stars Rashard Lewis and Vince Carter, not to mention the various strong role players the Magic employ.
And on this night, Orlando put up a strong fight against Denver, for the first half anyway. The Nuggets actually trailed (53-50) at halftime, but Denver went into overdrive in the second half.
Chauncey Billups absolutely took over in the third quarter, scoring 13 of the Nuggets' 35 points as Denver took a 13 point lead at the end of three.
Howard was relatively ineffective (8 pts. 13 rbs.) and Denver won convincingly as Billups and Carmelo Anthony combined for 51 points and 10 assists.
Jan. 17: Utah 112, Denver 119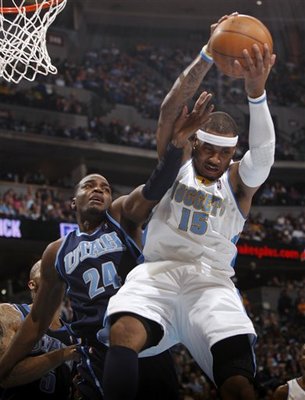 Denver and Utah are two big rivals from the Northwest division, and it showed on this night.
The game was highly physical, and the Nuggets won out by setting NBA season highs with 41 free throw makes on 49 attempts.
But the story of the night was Carmelo Anthony, as the explosive small forward drove to his left repeatedly past any would-be defender that Jazz threw his way. Anthony scored 29 of his points in the second half, including 17 in the fourth quarter to secure the Nuggets third victory in a row.
Jan. 20: Denver 123, Golden State 118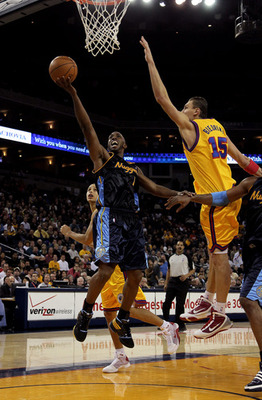 Anytime the Nuggets play Golden State, the Warriors deft ability to score gives Denver fits. This game was no different as Golden State's Monte Ellis filled up the bucket to the tune of 39 points on the night.
And, when the game went to overtime, it was the first time the Nuggets had to play an extra period all season.
Billups lived up to his Mr. Big Shot nickname in overtime for Denver though, scoring 10 of his season high 37 points as he led the Nuggets to another win.
Jan. 21: L.A. Clippers 85, Denver 105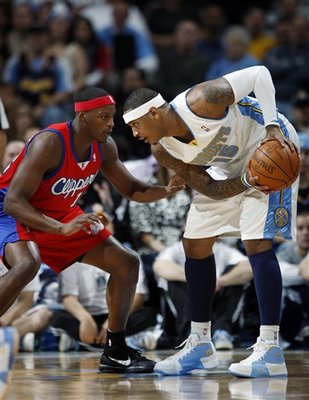 As the clippers came to town, Marcus Camby was back in the Mile High City to celebrate his birthday. And while Camby threw a huge party in LoDo, his team couldn't give him a win to celebrate.
Camby, the ex-Nugget great from 2002-08, did at least get a show, in the form of Carmelo Anthony.
Even though Melo had an off night shooting at 9-23, he made sure to drive agressively and made 12-16 free throws which brought his scoring total to a game-high 28. Plus, Anthony gave maximum effort to rebounding, snatching 10 boards.
Again, The Sporting News' mid-season MVP led his team to a 20-point victory.
Jan. 23: New Orleans 110, Denver 116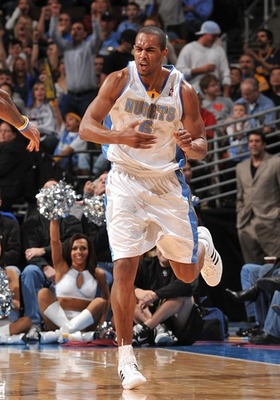 The slugfest that occured between the Hornets and Nuggets was special for a few reasons.
First, New Orleans matches up well with Denver and they likely still have a vendetta that beckons back to the memories of a 4-1 thrashing in last year's playoffs.
After J.R. Smith's notable meltdown, the game went to overtime as neither team could edge the other after 48 minutes.
But it was also special because it was the only time on this current winning streak that all five starters scored in double-digits.
Melo led the Nuggets in scoring once again with 30 and 11 rebounds, but it was quiet defensive specialist Arron Afflalo that propelled Denver's win that night.
As the Hornets decided to double team Anthony in overtime, Afflalo was the man left open and he took advantage of the opportunity by nailing two three pointers that secured the Nuggets win.
Jan. 25: Charlotte 93, Denver 104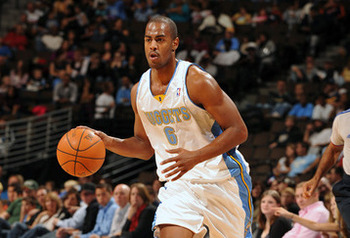 Following his clutch performance against New Orleans, Afflalo played a career game against the Charlotte Bobcats two nights later.
Nuggets MVP Carmelo Anthony couldn't go because of a tweaked ankle suffered in overtime versus the Hornets and Afflalo was right there to step up in his void. The third-year Afflalo scored a career-high 24 points on an efficient 9-11 shooting--plus he dished seven dimes.
Billups chipped in with a game-high 27, and Nene contributed 17 points as the Nuggets coasted to their seventh straight win.
Jan. 27: Denver 97, Houston 92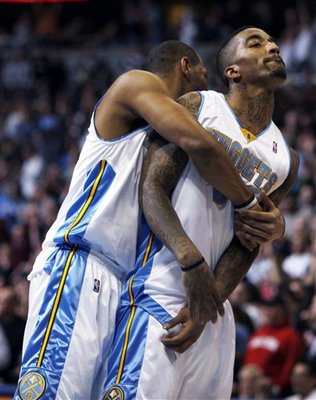 The Rockets and Nuggets played a grind-it-out game Wednesday night as both teams missed their best players.
Houston's great wall of defense in Yao Ming has been out all season after severely injuring his foot last year, and the Nuggets missed Melo, their leading scorer.
Denver's deficiency in scoring was evident early, as they only amassed 16 points in the first quarter and were down by 15. But, the Nuggets busted out of that scoring slump with 34 in the second quarter, and they only allowed 61 points in the last three quarters to Houston.
J.R. Smith finally broke out of his month-long slump, scoring 22 points, including back-to-back three pointers mid-way through the fourth quarter that secured the Nuggets' streak stretching to an elite eight straight wins.
Next Up: Oklahoma City and San Antonio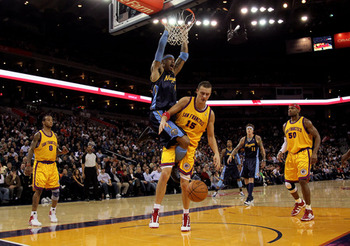 Carmelo Anthony has been the standout player during this streak, but what is encouraging for Nuggets fans is the fact that Denver is winning with multiple weapons recently.
Kenyon Martin is averaging a double-double of 11.1 points and 11.5 rebounds during this streak, and Chauncey Billups scored 20+ with 5+ assists in Denver's last four games.
Plus, Afflalo and Smith both won games, while Nene and Ty Lawson have contributed much as well.
The Nuggets concerted effort to rebound better has paid off, as their 45.4 boards during this streak is near four rebounds more per game. And when Denver dishes the ball to one another, they win. The Nuggets' assists are up to 21.8 in the last eight games, which highlights the great team play going on in the Mile High City.
The Nuggets are looking and acting like a true championship contender again, are only 3.5 games back of LA and are a full four games ahead of the Jazz in the Northwest.
Next up for Denver is the surging Oklahoma City Thunder on Friday at 6:00 p.m. Then, the Nuggets take on San Antonio in Texas on Sunday at a special 11:00 a.m. start time as part of an ABC triple-header.
Whether or not the Nuggets can push this streak to the double digits is up to them, but as long as they keep playing with this intense swagger, Denver will go deep into the playoffs once again in 2010.
Follow Rich on twitter at twitter.com/richkurt.
Denver Nuggets Featured Columnist Rich Kurtzman wants to hear from you, the fan! Rich wants to know, what developing story do you want to hear about? What player would you like to know more about? Know an aspect of the Nuggets that Rich hasn't touched on yet? Ask away! Send your questions to denver.nuggets@rocketmail.com and put "Denver Nuggets Mailbag" in the subject line. Rich will answer the questions in a weekly or bi-weekly piece. Look forward to hearing from you all!
Keep Reading

Denver Nuggets: Like this team?