Greed Has Come To Whoville and Its Initials Are NFL.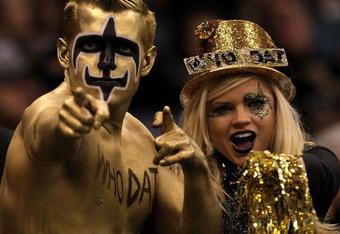 Ronald Martinez/Getty Images
Yes, its true Greed has made its way to small businesses in New Orleans . As of yesterday the NFL has issued several Cease and Desist notices to small vendors around the Crescent City selling anything with the words Who Dat on it or with the Fleur de lis in black and gold. So who does "Who Dat" belong to? Well ask anybody and you'll hear everything from it belonging to the fans,the french, vaudeville, Patterson High School, you name it but there is no one agreeing it belongs to the NFL. I wonder why all of a sudden the NFL has an interest in capitalizing on the Saints. They didn't seem to mind in 2006. Now that we have national recognition and exposure here they come with there hand out chasing the almighty dollar. Well where was the NFL when the Saints had no home? How much did they donate for the restoration of the Dome after Katrina or to the city of New Orleans for that matter? So now they are pulling out there corporate muscle to pick on small businesses and I say to the NFL anybody can kick a puppy pick on somebody your own size. They will be making over 320 billion for this Superbowl. Do they really need our pocket change in this economy? Needless to say it has made the natives restless and started somewhat of a "Who Dat " uprising. Yeah I think its safe to say that the NFL might have bit off a little more than they can chew because saints fans are none to happy with the NFL. Saints fans from all over cyberspace are facebooking, myspaceing and tweeting, voicing there opinions and creating anti NFL web pages and Who Dat forums in an attempt to rally the troops and they are succeeding. Everyone is talking about it and I have a feeling that the NFL has not heard the last of the Who Dats in WHOVILLE! (Can I say WHOVILLE or do you think I'll get a cease and desist from Dr Seuss?)
This article is
What is the duplicate article?
Why is this article offensive?
Where is this article plagiarized from?
Why is this article poorly edited?

New Orleans Saints: Like this team?