Baseball Preview: NL West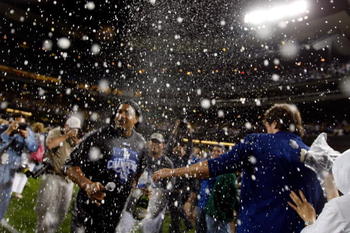 With spring training right around the corner it's time to start turning our attention to America's pastime. I will preview each division in a six part segment starting with the National League West.
The NL West hasn't changed very much since the end of last year. There have been no major free agent signings and only a few trades. The Dodgers will look to win their third consecutive division title while the other four teams continue to build towards the future.
Teams are listed in the order of where I think they will finish in the standings this season.
Los Angeles Dodgers
2009 Results: Finished 95-67, won NL West, lost NLCS to Phillies
Notable Additions: Jamey Carroll and Luis Ayala
Notable Departures: Randy Wolf, Jon Garland, Orlando Hudson, Juan Pierre, Jim Thome, Jeff Weaver, and Jason Schmidt
Prediction: The Dodgers finished 2009 with the best record in the National League. Thus far they haven't made any big splashes in free agency, but they should expect better returns from their young core of players. Andre Ethier, Matt Kemp, James Loney, and Clayton Kershaw will look to build upon the success they had last season.
I would be suprised if the Dodgers start the season without adding another starting pitcher to go with the rotation of Billingsley, Kershaw, Kuroda, and Padilla. If the Dodgers can stay healthy they will certainly be in good shape for their third straight NL West title.
San Francisco Giants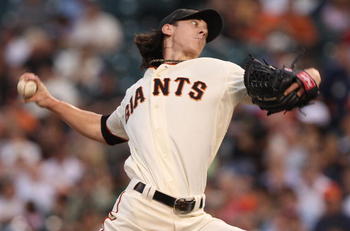 2009 Results: Finished 88-74, third in NL West
Notable Additions: Mark DeRosa and Aubrey Huff
Notable Departures: Randy Johnson, Ryan Garko, Rich Aurilia, Brad Penny, Noah Lowrey, and Randy Winn
Prediction: The Giants surpassed expectations last season to finish in third place. Led by an outstanding young pitching staff, the Giants challenged for the division all season before losing steam in September.
Starters Lincecum, Cain, Sanchez, and Zito will be joined by one of several outstanding young prospects who will compete in spring training for the final spot in the rotation.
Like the Dodgers, the Giants' lineup is a good mixture of youth and experience. Expect the Giants to give the Dodgers a run for their money this season.
Colorado Rockies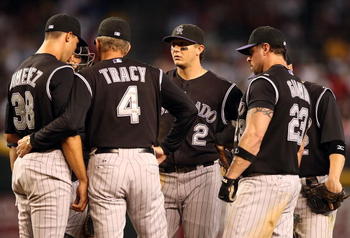 2009 Results: Finished 92-70, second in NL West, won the NL Wild Card, lost NLDS to Phillies
Notable Additions: Miguel Olivo
Notable Departures: Garrett Atkins, Jason Marquis, Yorvit Torrealba, and Jose Contreras
Prediction: The 2009 Rockies were a tale of two managers. Clint Hurdle started the season and was fired after leading the team to a 18-28 record. Hurdle was replaced by bench coach Jim Tracy who managed the team to a 74-42 finish and a wild card berth.
The Rockies offseason has been uneventful and they may be leaning to heavily on their youngsters to carry them in 2010. The Rockies always score runs but whether they contend with the Dodgers and Giants or sink to the level of the Padres and D-Backs will depend on their pitching.
San Diego Padres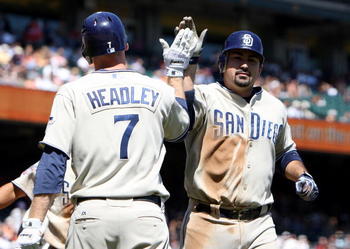 2009 Results: Finished 75-87, fourth in NL West
Notable Additions: Jon Garland, Scott Hairston, Jerry Hairston Jr., and Dusty Ryan
Notable Departures: Kevin Kouzmanoff, Henry Blanco, Brian Giles, and Edgar Gonzalez
Prediction: The Padres were predicted to lose 100 games in 2009, so I guess you could consider only losing 87 a success.
2010 will be a continuance of the youth movement and rebuilding in San Diego. Young players like Everth Cabrera, Will Venable, Chase Headley, Kyle Blanks, and Mat Latos will try to pick up where they left off in 2009.
There is promise in San Diego, but unfortunately for the Padres they are one year behind the rebuilding efforts in San Francisco and Colorado. Expect the Padres to fight off the D-Backs for last place, but that will likely be all they win in 2010.
Arizona Diamondbacks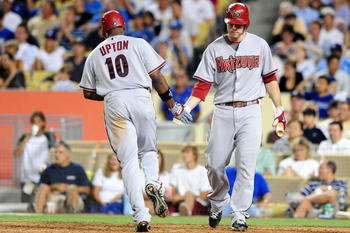 2009 Results: Finished 70-92, last place in NL West
Notable Additions: Edwin Jackson, Adam LaRoche, Kelly Johnson, Aaron Heilman, Bob Howry, and Ian Kennedy
Notable Departures: Eric Byrnes, Chad Tracy, Doug Davis, Scott Shoeneweis, Max Scherzer, and Daniel Schlereth
Prediction: 2009 was a mess of underperformance and injuries for the D-Backs.
2010 promises to be a lot better. Brandon Webb is returning from injury and the D-Backs made the most signifcant moves in the division this offseason. They added several free agents and pulled off a big three-team trade with the Tigers and Yankees.
If healthy, the top of their rotation (Brandon Webb, Dan Haren, and Edwin Jackson) would be the best in the division, but there are serious questions about the bottom of the rotation.
Stephen Drew, Chris Young, and Justin Upton are still looking to reach their full potential. Expect an up and down season from the D-Backs as they battle San Diego to stay out of the cellar.
Keep Reading