2010 Senior Bowl: Quarterbacks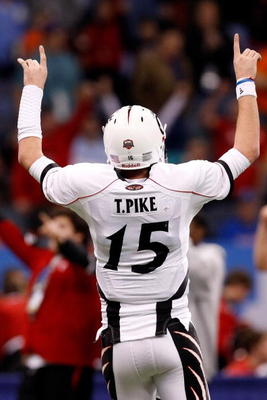 When did the Senior Bowl go from the Pro Bowl Lite to Tweet-Worthy?
This year's game will be played on Saturday, January 30, 2010.
From Mobile, Alabama's Ladd-Peebles Stadium, college football's best seniors will compete in a North versus South team format.
Unless you've been living under some self-imposed exile and or your spouse has gotten so tired of you "disappearing" to write another Bleacher Report piece; no Tim Tebow is NOT the only player invited to play this game in some sort of on-field NCAA Sports for X-Box version for others to watch.
However, love him or leave him, Tebow has generated so much publicity for the game, that the game sponsor, Under Armour, has officially decided to subtitle the game, "In the Name of Tim."
The slides that follow will highlight the quarterbacks hoping to elbow some elbow room and get a nod from from the multitude of NFL scouts assembled.
Sean Canfield, Oregon State-North Team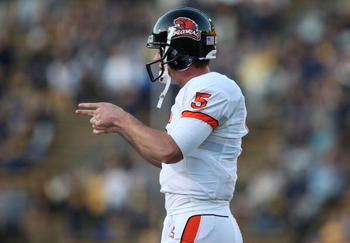 Oregon State's main Beaver, the 6'3", 221-pound Canfied, ended his career in Corvalis as the fourth all-time in passing yards (5,970) and touchdowns (38). He was the first Oregon State quarterback selected as a first team All-Pac 10 player.
Obviously he has the size tp play at the next level. He also kept good company this year, finishing six in completion percentage behind Texas QB Colt McCoy, Houston's Case Keenum, Central Michigan's Dan LeFevour, FSU's Christian Ponder, and Notre Dame's Jimmy Clausen.
Dan LeFevour, Central Michigan-North Team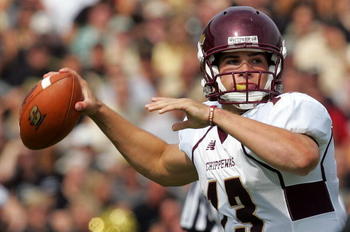 The NCAA Bowl Subdivision's all-time leader in total touchdowns with 150 (102 passing, 47 rushing, 1 receiving), LeFevour could well be this year's top NFL quarterback prospect.
The 6'3", 221-pound Central Michigan signal caller holds just about every MAC and school record.
He finished his career with a 36-15 team record as a starter while leading the Chippewas to a 29-4 conference record.
Tony Pike, Cincinnati-North Team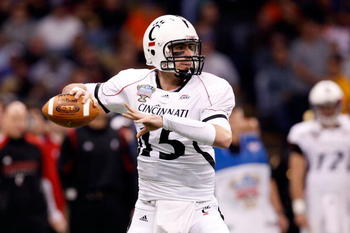 The 6'6", 212-pound Pike is a monster NFL prospect. A pure passer with great size and arm strength, Pike led the Bearcats to a 12-1 season.
Selected as a first team All-Big East player, Pike's college resume is long, accomplished, and impressive.
In twenty-seven career starts at Cincinnati, he was 421-of-682 for 5,018 yards and 49 touchdowns.
I had the chance to watch many of his games this past year and came away impressed with his pocket poise, leadership, and ability to make all the throws.
Jarrett Brown, West Virginia-South Team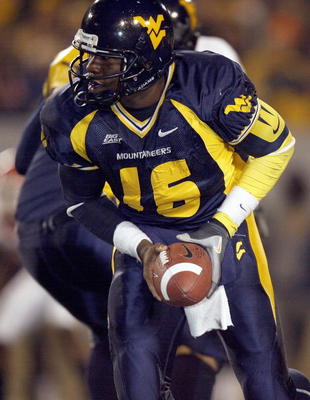 The "poor man's Pat White," patiently waited four years to get his turn to follow the former Mountaineer great.
In 2009, the 6'3" Brown completed 187-of-296 passes for 2,144 yards and 11 touchdowns. He was also the team's second leading rusher with 118 carries for 452 yards and six touchdowns.
I watched him play with poise in the freezing rain in Piscataway during WVU's impressive win at Rutgers to close out the 2009 regular season.
A multi-dimensional player, Brown has good size, is tough to tackle, and possesses solid arm strength.
He could be a sleeper pick for the right NFL team.
Zac Robinson, Oklahoma State-South Team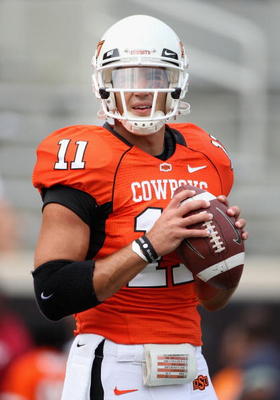 Robinson finished his stellar career at Oklahoma State with school records for total offense, passing yards, touchdown passes, and completion percentage.
Want more?
Playing in the tough Big 12, the 6'2", 210-pound senior also led the team to a 23-12 record in games in which he started.
Robinson practically carried the Cowboy offense after the team lost All-Americans Dez Bryant and Kendall Hunter.
He has the size, strength, and experience to play at the next level.
Tim Tebow, Florida-South Team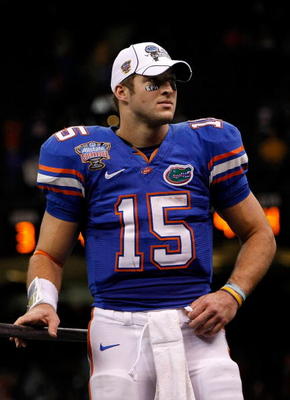 The 6'2", 236-pound Florida senior leaves college football as one of its all-time greatest players.
The arguments for and against Tebow and his future in the NFL are well documented.
He holds or shares just about every career mark for Florida and SEC offensive players.
A polarizing player and personality, many NFL scouts just don't see him making a successful jump to the next level.
Citing his quirky, southpaw throwing motion and propensity for taking hits, Tebow is a chance that most NFL teams seem reluctant to take
However, his demonstrated leadership ability coupled with the intangibles he possesses, make him the most interesting player, not only in this year's Senior Bowl, but also to come along in my lifetime.
Keep Reading