The Top 10 Washington Redskins that Need To Step Up in 2010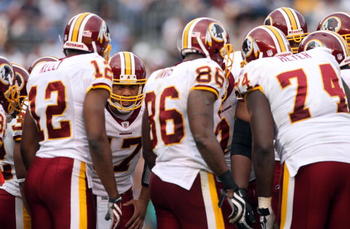 This is a list of 10 Redskins that need to step up with a hint of tough love. In order for the number in our win columns to go up we need our young talent. Its an absolute must that we start so see some pay-off from our previous regime draft picks and our veterans. THANKS FOR READING! DONT BE SHY LEAVE COMMENTS.
No. 1 Jason Campbell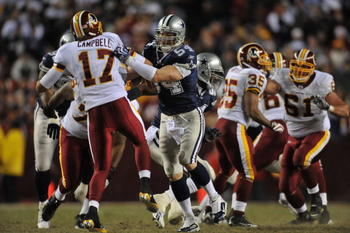 Jason Candle, I mean Campbell, you were the chosen one you donned the number 17 you were big strong armed and a all around nice guy. I was rooting for you but although you can take a hit and get back up Im not sure you have what it takes to put this team on your back and win us a game. When you got hurt we went on a playoff run one year, your delivery looks way too long. You've never beat the giants in your career a division opponent you see twice a year but you've always been a hard worker so i have faith...you've probably got one more year STEP UP!!!
#2 Randy Thomas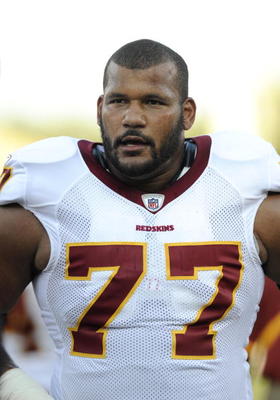 Randy Thomas you used to be looked at as one of the best free agent pick ups under the Vinny/Snyder era. A perennial Pro Bowler and always seemed to provide great and funny interview. But FOR GOD SAKES stop getting hurt as soon as you step on the field. Your getting up there in years and the press isn't quite sure if you'll be here in 2010 with your big price tag but if you are and i hope so because we need you work harder in the off season so you can STEP UP!!!
#3 Stephon Heyer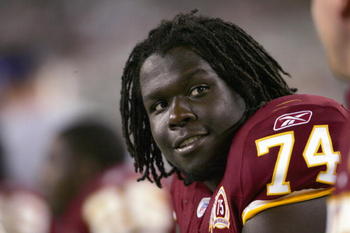 Stephon Heyer. You were a great story coming out of my favorite college Maryland as an non-drafted rookie. But now your a seasoned veteran with a lot of starting experience. Heyer you were an embarrassment out there your feet looked like they were made out of stone out there. And you held more than a mother holds her child and on top of all that you were hurt as always. If i have to watch you chase after a D linemen on his way to our QB one more time im going to off myself!!!!! STEP UP!!
#4 Clinton Portis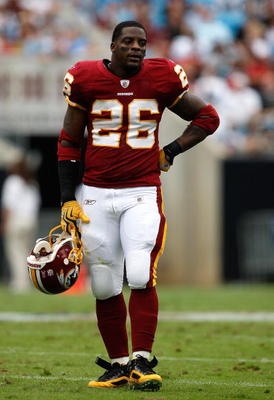 Clinton Portis you were my dog, my favorite player. But your older now and you have to realize you have to work 2x as hard as you did 3 years ago. some people think you've lost a step and you've done nothing to prove them wrong. To make matters worse you go to the press about Jason Campbell and half diss him and half complement the guy for basically being timid and Ole' timid Jason Campbell slaughters you. Can you say embarrassing you have given your best years to the Washington Redskins and you don't deserve to be released. Your one of my favorite redskins ever and now your back with Mike Shanahan whom you had your best years with STEP UP!!!!!!!!!!!!!!
#5 Carlos Rogers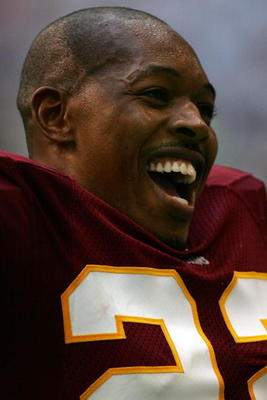 Carlos Rogers your not a bad player but your not showing me much. You know me being a hard core Redskins fan I looked up a You Tube highlight video of you and do you know what it was?? A video of you dropping interceptions it was hilarious 2 years ago it was okay because at least you was a hard hitter and a damn good cover guy but now it seems like you cant even do that buy a pair of hands and STEP UP!!!
#6 Laron Landry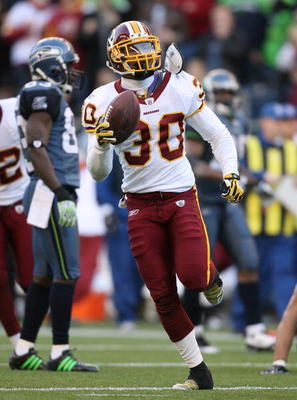 Laron Landry You was a great prospect coming out of college running a 4.33 at the combine. But now all you are is Roy Williams in a redskins uniform you cant cover you keep your eyes in the backfield way too much and your a personal foul waiting to happen. Its okay to be a pretty boy and to celebrate when you get a pick or a sack but when you make a big hit on a guy that just gained 20 yards on you? Let your play speak for you like Sean Taylor did. AND PRACTICE WITH THE TEAM IN THE OFF SEASON!!....STEP UP!!
#7 Malcom Kelly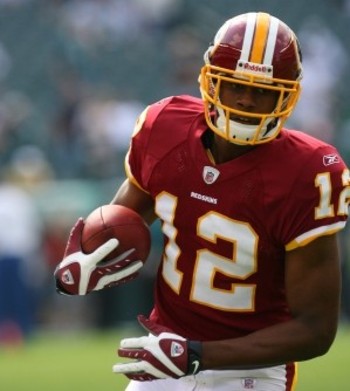 Malcom Kelly your a big receiver with great hands, and a couple knee injury's you struggle to get open at times but you might be the next Brandon Marshall in the Shanahans offense. Or just a second round bust which one will it be STEP UP!!!
#8 Devin Thomas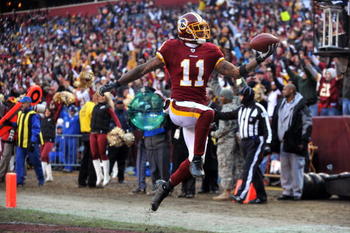 Devin Thomas like Malcom Kelly has shown some flashes but unlike Fred Davis you've yet to put it all together. I just cant figure out why they don't throw to you more often. But even if they don't throw to you, your play must dictate that you need the ball and you also struggle to get open at times your young and a good YAC receiver STEP UP!!!
#9 Fred Smoot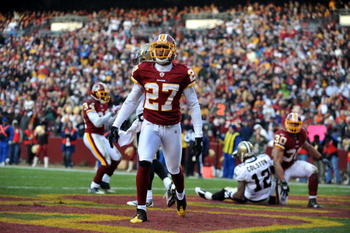 Fred Smoot your not a bad player and almost didn't make the list....ALMOST this season ive seen you give up touchdowns and your hands have caught Carlos Rogers fever. You've went from a loud mouth to great leader but your getting up in age and you have a pretty big contract im afraid leadership might not be enough STEP UP!!!!!!
#10 Jeremy Jarmon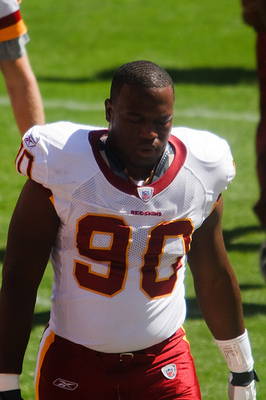 Jeremy Jarmon the redskins gave up a much needed 3rd round pick of this years draft to pick you up in the supplemental draft you haven't done anything wrong on or off the field. But you are coming off a serious knee injury so your definitely going to have to STEP UP!!!!
Keep Reading

Washington Redskins: Like this team?