Georgia Bulldog Sleepers: 2009 Signees With 2010 Impact Potential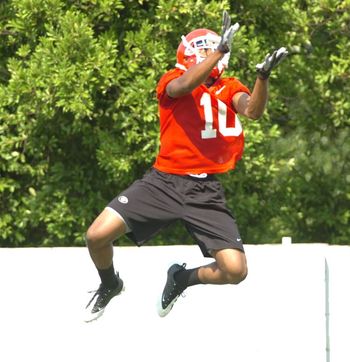 The Georgia Bulldog signees of 2010 will lay ink to their letters of intent in less than a week, but next season's roster is already a promising one—big signees or not.
Last year Mark Richt and company hauled in the No. 4 class in the nation and the No. 3 class in the conference (according to Scout.com)—that class included 5-star products Marlon Brown (WR), Orson Charles (TE), and Branden Smith (CB).
Both Charles and Smith made their presence felt last season but there were a number of others who got lost on the depth chart and never truly had the chance to make an impact. I expect that to change in the coming season as the depth chart loosens and the offense and defense open up to bigger and better things.
Guys like Jordan Love (pictured) and Abry Jones could find some room to maneuver their way up the line—while others could position themselves as key reserves with starting potential—Chase Vasser.
So, whose got the goods to start making an impact in 2010?....
*Photo courtesy of scout.com
DT—Abry Jones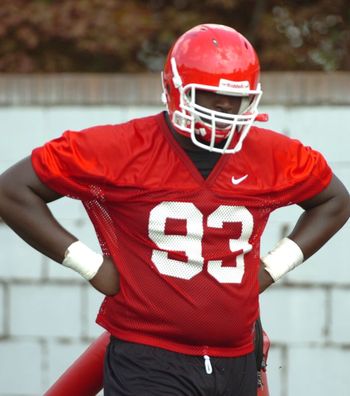 Jones played in all but one game last season but, unless you were paying close attention, you likely missed him on the d-line.
Coming out of high school in 2009, Jones was one of the better DT's—rated as a 4-star prospect by scout.com. He was a bit weak as a pass rusher when he arrived at Georgia but by the first game, he was already showing that his potential was better than advertised.
He had the ability to make big plays on the field and did when the opportunity presented itself.
One game that stood out was his performance against LSU—he recorded a sack and a tackle for loss in that game and showed what a force he can be as an interior lineman.
Once the new season arrives, there is great hope that Jones can continue to grow as a player in the new 3-4 system that coach Grantham will install. His pass-rushing prowess should continue to get better and that could translate into more minutes on the field for Jones.
*Photo courtesy of scout.com
WR—Marlon Brown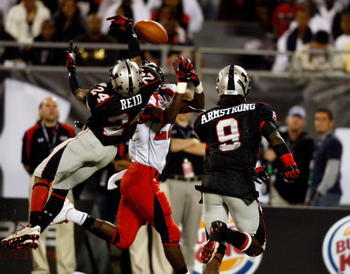 Marlon Brown was one of the biggest signees of the 2009 class but seemed to get lost once the season began.
He was very highly-touted out of Harding Academy in Memphis and put a big stamp on his skills when he showcased his ability at the Under-Armour All-Star Game (pictured).
Even still, his production paled in comparison to Orson Charles, the stud TE out of Plant High School, last season and that could have been due to the adjustments he has had to make coming from the high school level.
One of the knocks on Brown was his overall lack of good competition in high school and that might be detrimental to his ability to be a more physical wide receiver on the field.
That said, the kid is 6-5, 200 pounds, and could certainly be that elite No. 2 receiver who keeps the pressure off, rising junior, A.J. Green next year—if he chooses to become as much.
If he's going to come out and make a name for himself, this is the year (particularly with Rantavious Wooten gaining more confidence and Da'Rick Rogers possibly stealing his thunder next season) and I think with one season firmly under his belt, he is ready to start living up to his 5-star billing.
DT—Kwame Geathers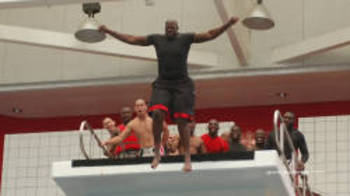 Kwame Geathers is 6-6, 326 pounds, and a monster of a player on the line—either side of the line.
Now, I don't have to say what most Dawg fans are thinking about Kwame in light of Grantham's 3-4, but nothing has been set in stone on Kwame just yet as he has needed a lot of time to get acclimated to the rigors of college conditioning and weight-training.
If he can take on the role of NT for Grantham and be successful in that spot, he will dominate—period.
Geathers is an exceptional athlete with some phenomenal tools but he needs to be more consistent on every play and not allow himself to lose defensive intensity—he has a tendency, at times, to quit on plays too early.
If the coaches can whip him and his attitude into shape, he will be a force next season. No doubt.
*Photo courtesy of georgiadogs.com
DB—Shawn Williams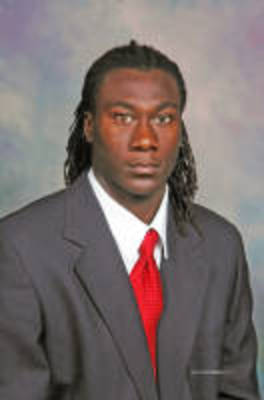 Shawn Williams was rated a 3-star prospect out of Blakely, GA last season by scout.com. He comes with all the acclaim of a big-hitting safety and has the body to boot (6-1, 195).
He played in 12 games last season and made a couple of tackles in limited action. However, the one thing that new DB coach Scott Lakatos has a reputation for doing is molding good talent into great talent.
Williams would be able to take advantage of the losses of Reshad Jones and Bryan Evans in the secondary—both have left Georgia—in making his move towards being a bigger part of the Georgia defense.
Furthermore, the different looks/packages of the 3-4 will give guys like Williams a shot at having more impact in the secondary—look for Williams to emerge as a viable starting option if he has a good spring.
DE—Montez Robinson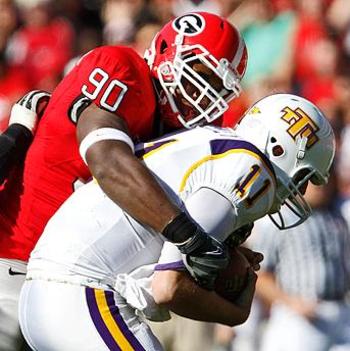 He's got the goods but does he have the proper attitude?
Robinson showed flashes of brilliance this past season, particularly in his game against Tennessee Tech. However, his off the field mishaps have overshadowed his on the field play—that needs to end if he is ever to fulfill his potential.
He's got great speed off the edge as a rusher and is a naturally gifted athlete. His size makes him a punishing tackler and his ability to get to the second-level is uncanny—he's still a bit raw but could quickly mature into a nice DE if he can straighten up his act.
Robinson has said that he is ready to get back to being a football player and if that is indeed the case, he may be one of the nicest sleepers yet.
Keep Reading

Georgia Bulldogs Football: Like this team?