Erin Andrews: Pictures She Doesn't Want You To See
We have all seen the best of Erin Andrews, the hot and sexy pictures that have helped make her the household name she is today.
However, nobody is perfect. Not even Erin Andrews. I know it's hard to believe, but not even the blond-haired beauty looks good in every photo she graces.
I give Erin credit though, she has way more good pictures than bad pictures. That is saying something considering how often she is photographed. I felt like I needed to say that. You know, give her props before I throw her under the bus.
With that said, I would like to present to you Erin Andrews: The Top 35 Pictures She Doesn't Want You To See.
Be sure to check out the two bonus videos at the end of this countdown. These are two Erin probably wishes didn't exist as well!
35.) Erin Andrews before make up?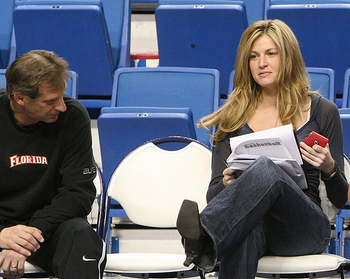 I hope she doesn't take offense, but a little make up doesn't even hurt someone like Erin Andrews!
34.) Pitino has a way with the ladies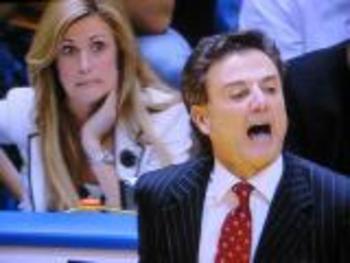 Here we have Erin either mocking Rick Pitino, or wishing she had brought ear plugs.
33.) Bucky what?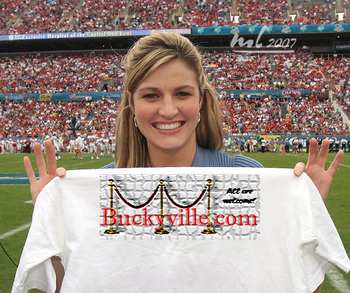 I'm not sure why Erin is promoting buckyville.com, and I honestly don't even care. I just want to know how someone was able to convince her to promote their stupid web site.
32.) Some sandwich action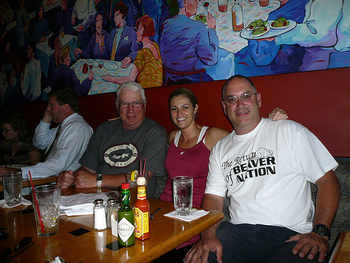 I love the fact the guy on the right is sitting with Erin, and wearing a shirt that says The Return of Beaver Nation. Who are these two anyway?
31.) Erin sounds it out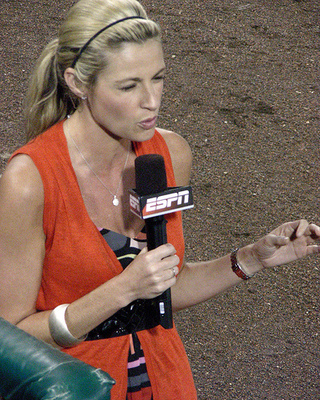 Perhaps Erin over pronunciates!
30.) Erin wants to be like Mike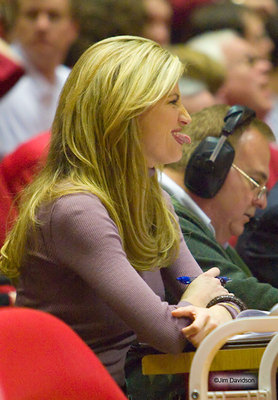 Throughout this slideshow Erin will do her best to demonstrate that she is not opposed to a little tongue action. Just trust me, you'll see!
29.) A girls gotta eat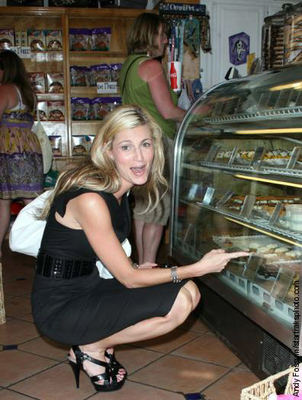 Apparently this was Erin's first time purchasing any food item of any kind ever! I'd be excited to!
28.) Nice sweats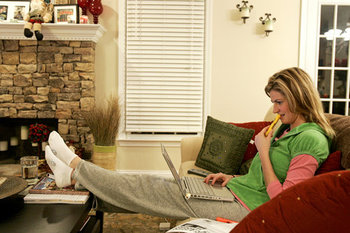 Erin fondles a highlighter, and reminds us that she too can look like an ordinary housewife in ugly clothes while lounging around the house.
27.) We have heard of the moon walk, but Erin wants the bird walk to eventually catch on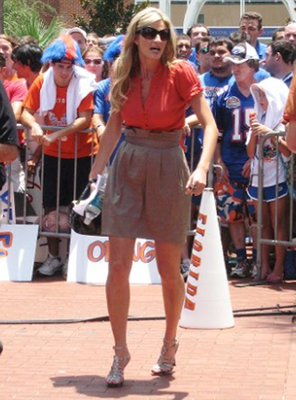 This picture is just strange to me. Something isn't right with our girl Erin. She looks down right awkward right here. Like the belt is too high, or it's her first time walking in heels. Maybe it's the sunglasses that make her look like a fly? Either way she looks bizarre!
26.) No wonder she likes Tebow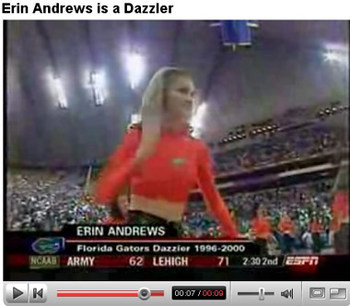 Check out Erin as a Florida Dazzler! I'm sure she doesn't have a Florida bias while covering the Gators! For more of cheerleader Erin, check out the video at the end of this countdown!
25.) When you gotta go, you gotta go.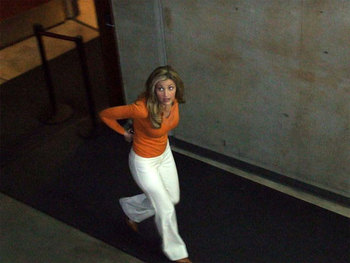 Honestly, I have no idea what she is doing or where she is going. She looks to be in quite the hurry though!
24.) Bad hair day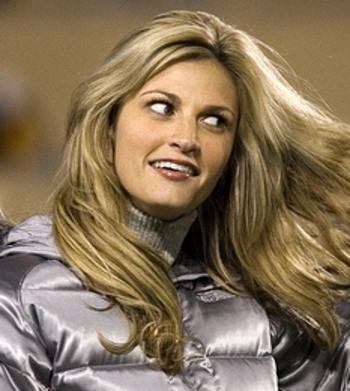 Erin works out the kinks in her hair, and in her sideline reporting. Quite the talent this one!
23.) A closet nerd?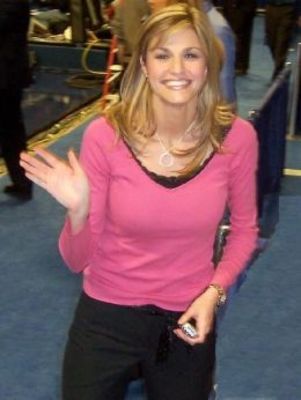 I don't know what to say. Wait, yes I do. Erin looks like a huge dork right here. Still kind of cute, but a huge dork nonetheless!
22.) Long lost twins?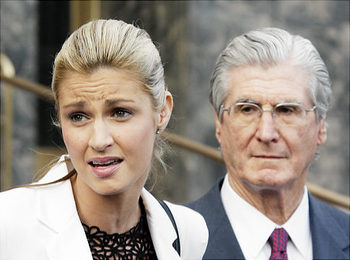 I know they say pets tend to look like their owners, but I didn't know it was also true when it came to attorneys and their clients.
21.) Ex-lax anyone
Erin looking constipated in that hideous outfit!
20.) Not a morning person?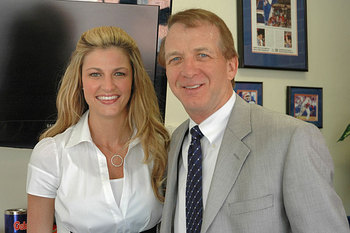 I'm just guessing here, but it looks like this was taken early in the morning. In fact, it looks like Erin caked on her make up in the car on the ride over.
19.) She can read!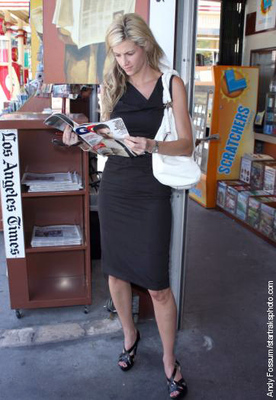 Is that GQ? Shouldn't she be reading ESPN? Maybe she got her letters mixed up!
18.) Jay Leno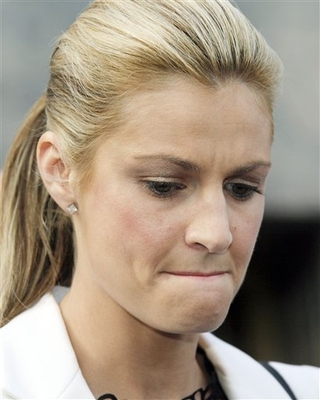 Erin goes all Jay Leno on us. Where are her lips?
17.) I'd slap myself if I went out looking like that to.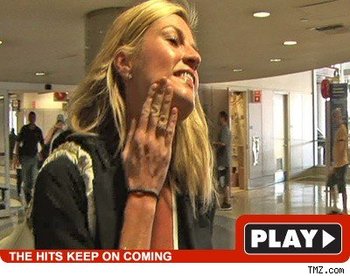 It's anyone's guess as to what Erin is doing right here. I myself think she is covering a pimple or a hickey! That's just my opinion though.
16.) Excuse you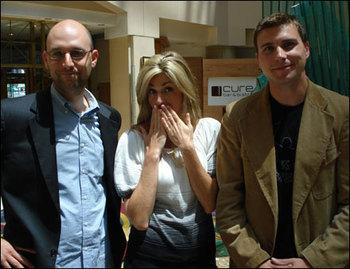 Either Erin just burped or she is really that shy. She doesn't seem shy to me so you do the math!
15.) Erin's favorite animal is the giraffe.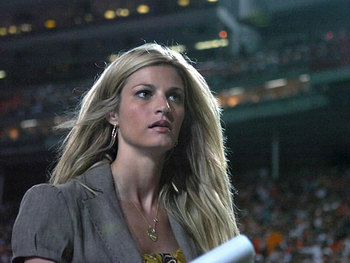 I'm going to chalk this one up to the camera angle. She does have some giraffe like features here though. Look at that neck.
14.) Bird walk part two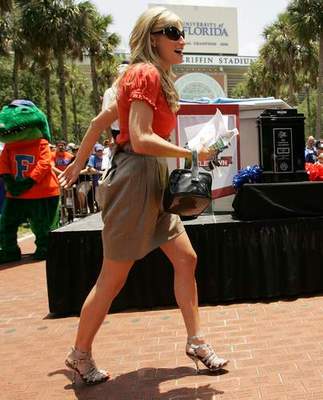 Here it is again. It was featured earlier, but I felt a need to really show you how odd she looks in this get up. Erin doing the sexy duck walk!
13.) Tonsil hockey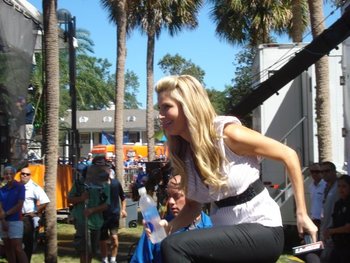 Again with the tongue. It's there, look close!
12.) Paging Erin Andrews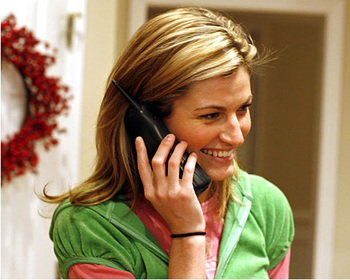 She should have used more of the phone to cover up that make up free face.
11.) Keep your chin up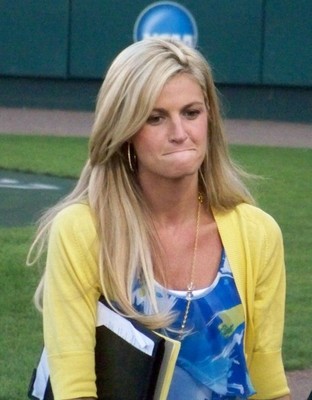 Is that Bill Cowher or Erin Andrews?
10.) Erin gets nosey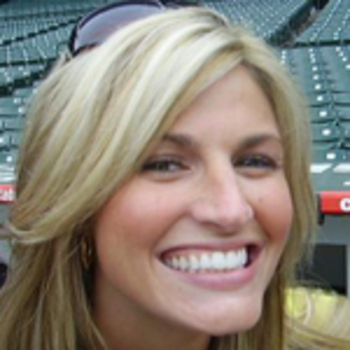 From now on Erin should refrain from taking pictures that are less then 15 feet away! It does nothing for that shnoz and Jay Leno like chin.
9.) Open wide and say Ahhh!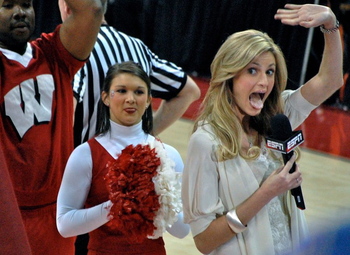 It's unclear whether Erin is mocking the cheerleader or vice versa. Either way, Erin wags the tongue once again.
8.) A blast from the past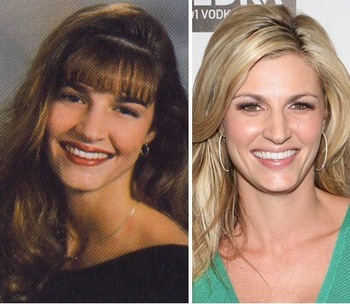 Erin has come a long way since High School. I myself like Erin with the 1980's Dallas Cowboy cheerleader bangs!
7.) It looks like strep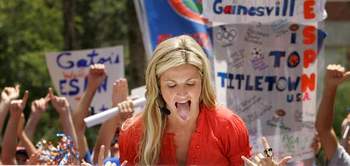 I'm no doctor but that white tongue looks like strep throat. I hope it's not mono. She could be out of action for quite sometime if that's the case.
6.) Why the long face?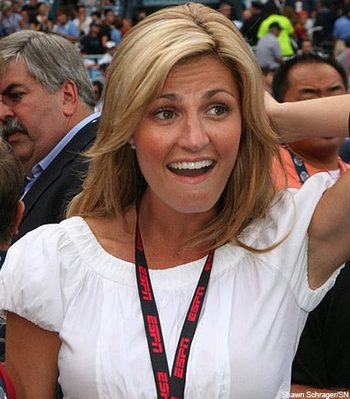 So she resembles Mr. Ed just a bit here. She still rocks that ESPN logo like no other horse in the race though.
5.) Dan I am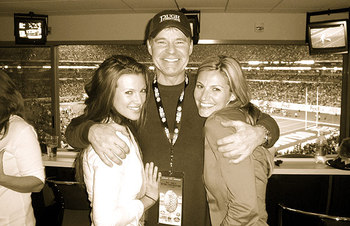 I don't know who I feel worse for. The girl on the left, or Erin on the right! One person I don't feel for is Dan Patrick! Pretty good gig if you ask me.
4.) Put your hands in the air, and wave your tongue like you just don't care.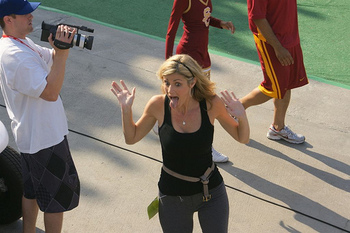 I guess even hot side line reporters get a bit slap happy.
3.) Jealous much?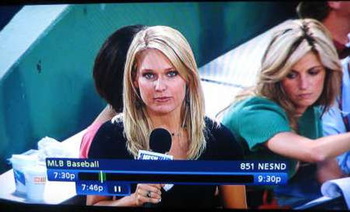 I love this picture. Two beautiful sports broadcasters in one. Check out Erin checking out Heidi Watney from NESN. Did someone say cat fight?
2.) Foot long anyone?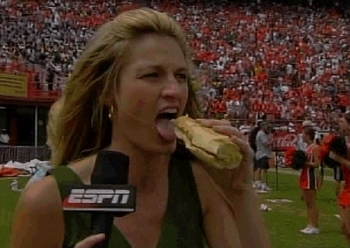 Erin goes to town on this sandwich! Now that is attractive!
1.) Victoria your secret is out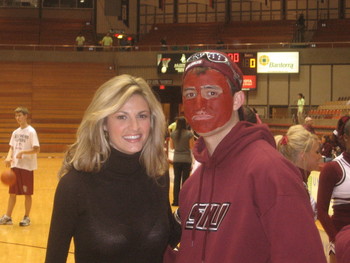 It could have been worse for Erin, she could have been wearing no bra at all. Imagine how red this dudes face would have been then!
The pictures may be over, but here are two bonus videos for you to watch. These are two I'm sure Erin wishes didn't exist, but they do so go ahead and enjoy!
Keep Reading