The Top 10 Quarterbacks of the 2009 NFL Season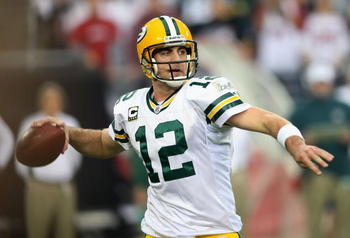 It's a quarterback run league. Sure, defense still wins championships, but it's the pigskin tossers who get all the attention and certainly all the credit.
I am making this list purely from a statistical and performance standpoint. A team's success does not guarantee a quarterback's success.
Without further delay, I give you my list of the ten best quarterbacks from this past season.
10. Kurt Warner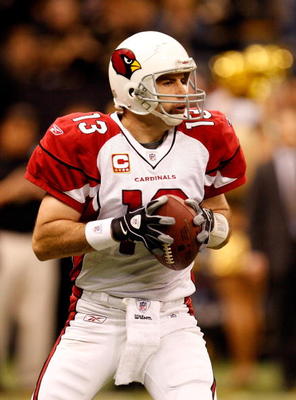 Rating: 93.2 (10th)
Touchdowns: 26 (T-10th)
Interceptions: 14 (T-11th)
Yards: 3,753 (12th)
Why No. 10?
I know you're probably asking yourself, how can a quarterback who didn't finish inside the top 10 for anything make it on my list?
Kurt Warner's playoff beatdown of the No. 2 defense in the NFL helps him into the top ten, but another stellar season from Warner, and I think Canton has to start doing their homework.
9. Tom Brady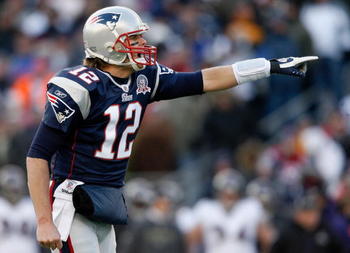 Rating: 96.2 (9th)
Touchdowns: 28 (T-6th)
Interceptions: 13 (T-15th)
Yards: 4,398 (5th)
Why No. 9?
A year removed from the greatest season a quarterback has ever had, Tom Brady comes back in vintage form. Back to his clutch winning ways, Brady put up stats that do his name justice.
Something Brady didn't do was play well in the playoffs. At all.
But, despite the loss, Tom Brady will be back here next year.
8. Ben Roethlisberger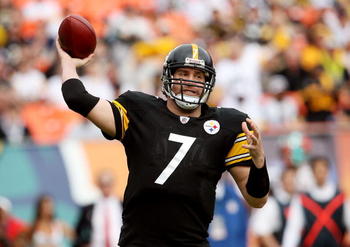 Rating: 100.5 (5th)
Touchdowns: 26 (T-10th)
Interceptions: 12 (T-17th)
Yards: 4,328 (7th)
Why No. 8?
Big Ben had a great year statistically, but a disappointing year in the win column. Something we'll attribute to the team, seeing as how Roethlisberger gave his all throughout the season. His interception count was a nice number, his touchdowns were good, and most impressive was that a 100.5 rating couldn't push his team into the playoffs.
If he had, I would be tempted to have him higher.
7. Matt Schaub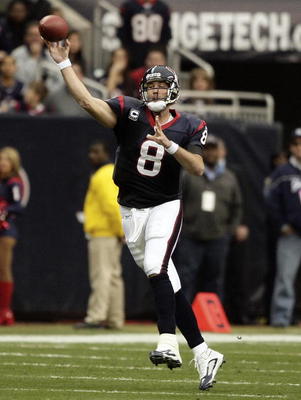 Rating: 98.6 (7th)
Touchdowns: 29 (5th)
Interceptions: 15 (T-9th)
Yards: 4,770 (1st)
Why No. 7?
A year ago, Matt Schaub was the injury-plagued quarterback who was good when he was healthy but useless because he wasn't. Well, I'd say Schaub put those critics to rest.
He lead the league in passing yards behind one of the deadliest offenses in the NFL. His inconsistency in "trap" games may have hurt him in this overall list. But, I expect him to make a strong run at the postseason next year.
6. Tony Romo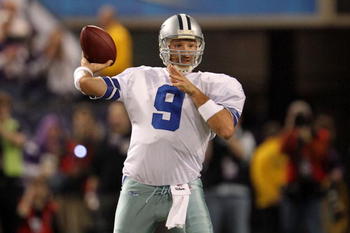 Rating: 97.6 (8th)
Touchdowns: 26 (T-10th)
Interceptions: 9 (T-26th)
Yards: 4,483 (3rd)
Why No. 6?
Tony Romo didn't have his best season, but I would say he had his most efficient. He got his big first playoff win, and swept division rival Philadelphia 3-0.
Tony wasn't just a poor man's Brett Favre this season, he was a legitimate leader who gave the Cowboys a chance to win all season.
5. Philip Rivers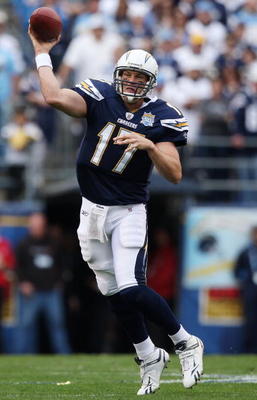 Rating: 104.4 (3rd)
Touchdowns: 28 (T-6th)
Interceptions: 9 (T-26th)
Yards: 4,254 (8th)
Why No. 5?
Philip Rivers was arguably the most efficient quarterback all year. Nothing spectacular except solid, game-winning numbers. He led a white hot Chargers team into the playoffs with an 11-game winning streak, before crashing out by the hand of the Jets.
It was that dismal performance against New York that keeps Rivers from being higher on this list.
4. Peyton Manning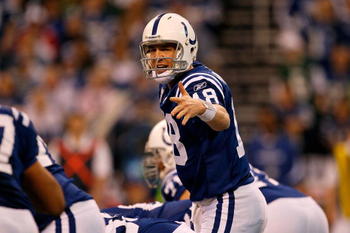 Rating: 99.9 (6th)
Touchdowns: 33 (T-2nd)
Interceptions: 16 (T-7th)
Yards: 4,500 (2nd)
Why No. 4?
Peyton always seems to find himself among the top five passers every single year. No surprise here, he is again one of the league's best.
What was different for Peyton was the 16 interceptions. Which is why the league "MVP" is only fourth on my list.
Other than that, his season was great, and he will have a chance to cap it with a Super Bowl victory.
3. Aaron Rodgers
Rating: 103.2 (4th)
Touchdowns: 30 (4th)
Interceptions: 7 (T-28th)
Yards: 4,434 (4th)
Why No. 3?
Aaron Rodgers is the next big thing. With this outstanding season he has solidified himself as a top five quarterback in the league, and with recent events in Green Bay, he could catapult himself into the same craze that surrounded the legend before him.
It isn't what Rodgers didn't do to be higher, it's what the names ahead of him did do.
2. Brett Favre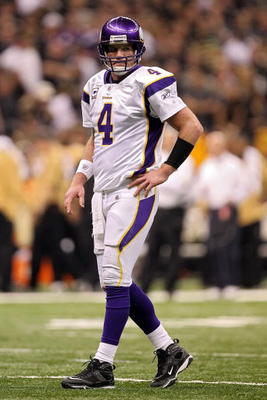 Rating: 107.2 (2nd)
Touchdowns: 33 (T-2nd)
Interceptions: 7 (T-28th)
Yards: 4,202 (9th)
Why No. 2?
Brett Favre had a phenomenal season. His numbers were statistically better than any of his previous 18 seasons (perhaps even his MVP years...). What really set Favre apart his year was his touchdown-to-interception differential. Throwing 26 more TDs than INTs.
He played well when it counted and, for the most part, carried his team to one of the best records in football.
Super Bowl or not, Brett Favre haters have taken notice.
1. Drew Brees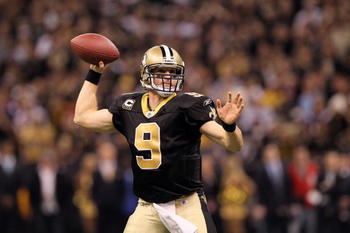 Season Stats:
Rating: 109.6 (1st)
TD Passes: 34 (1st)
Interceptions: 11 (T-21st)
Yards: 4,388 (6th)
Why No. 1?

In my eyes, it could only have been Drew Brees or Brett Favre. Both had tremendous regular seasons in which they largely carried their team. So when it came down to it, who played better in their head-to-head match up?
Yep, Drew Brees. He played better than Favre (sure he had some blockings, something I'm sure Favre's wife wishes the Vikings had given Brett), and took care of the football.
Drew Brees is now in the elite club of quarterbacks, the club that has only been Brady and Manning for the better part of the decade.
Keep Reading