10 Best Uniforms in College Basketball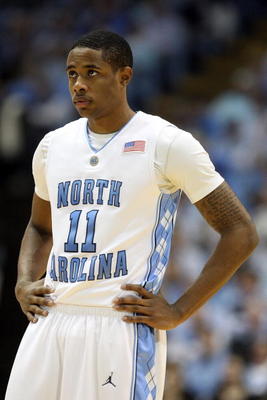 In college basketball, having an identity is a concept that exists in a far away galaxy. There limited number of ways to make a basketball uniform look like your own, thanks to regulations and the lack of moving parts.
Also the fact manufacturers love to recycle looks makes creating a uniform that screams your team is nearly impossible. To make matters worse, college basketball teams tend to change their uniforms constantly.
However a select few times have found a way to create an identity, and here are the top 10.
Georgia Bulldogs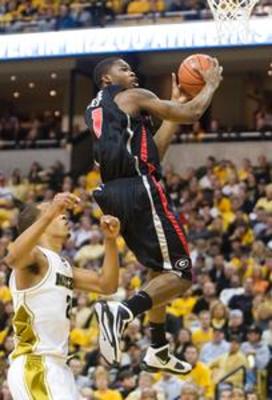 They are not a college hoops powerhouse, but the Bulldogs uniforms are as recognizable as any.
While most Nike schools are constantly tinkering with their threads, some even releasing new ones every year almost, Georgia has kept their look.
Since 2005, Georgia has kept the same jersey. Sure, that doesn't sound like a long time at all, but their uniforms might be considered a grand daddy in contrast with everyone else. For the most part, the uniform design is exclusive to Georgia, while many schools share templates with others.
The best part is the side panels, which feature an asymmetric color pattern, which are a nod to the stripes on the their infamous "silver britches." Their basketball uniforms give a modern hand shake to the classic tradition of Georgia sports.
Georgia features white, red, black, and a seldom worn silver jersey.
Maryland Terrapins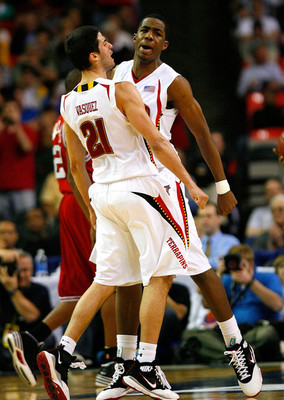 Their uniforms are really cool in that they incorporate the character of the Maryland flag, which just about every existing collegiate and professional sports team based in Maryland does.
The checkered gold, black, and red make for a cool color scheme, and the crazy design on the uniform seals it.
Just look at that collar! Nobody has a crazier uniform than Maryland, but with that said nobody has a uniform like Maryland either.
The Terps also have a jersey in each color, white, red, black, and gold. I'm a fan of teams who aren't afraid of variation and I guess with three colors, it's hard not to break out alternate jerseys every day.
Florida State Seminoles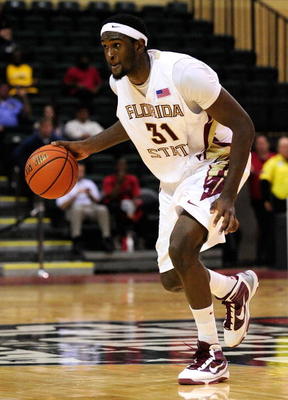 It's all about having a distinct look, and nothing is more recognizable than a giant feather running down the side of your uniform.
The Seminoles also use a very distinct script on all three jerseys, which come in white, garnet, and black.
Everything about their look is unique to Florida State. Even the fabric on their jerseys is different. Especially seen on their black uniforms.
I love the original numbers, font, and the feather, which of course goes with their logos. Again, a modern uniform with tons of character—something rare these days.
Marquette Golden Eagles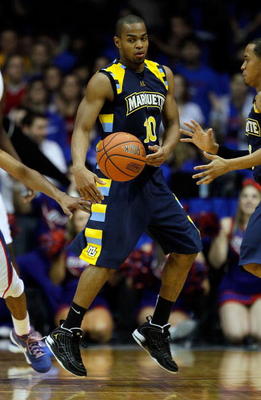 Nobody else looks like Marquette, that much we all know.
But to add on, their colors are awesome! They feature the craziest design in basketball plus a jersey in white, navy, gold, and even a special powder blue one.
Variation usually is bad (Oregon) but this is rockin! The bold type face they use is also pretty original considering what other schools use.
Gonzaga Bulldogs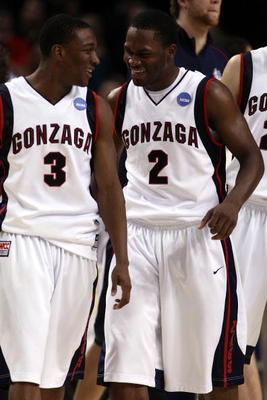 Kind of a generic color scheme here: Red and Blue.
However the Zags have kept their same look in tact for the past decade it seems, and that is worthy of a spot on the list. The fat blue side panel with the red stripe is exclusive to Gonzaga's look.
And their black "Zags" jersey is pretty snazzy as well. However I'm not really a fan of teams with black uniforms when black isn't a primary or secondary color for them.
Michigan State Spartans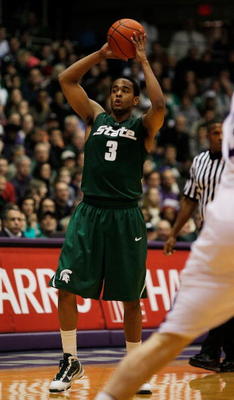 The Spartans actually wear one of the many stock templates Nike uses, but fortunately for them they were one of the first to use it.
Since then about 20 other major Nike teams have unveiled uniforms with the same side panel design as Michigan State.
But, I think the look actually fits Michigan State. Furthermore, I like the "State" script they use.
Oklahoma Sooners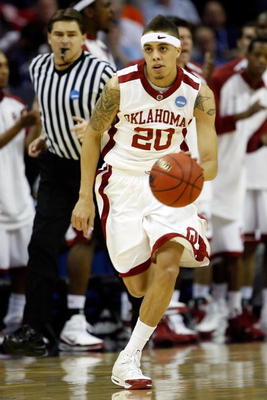 Here is another team that gives a nod to it's more popular football team. The Sooners' latest basketball uniforms feature a simple double stripe pattern, which uniquely extends to the shoulder area.
The double stripe is really the only existing part of the Oklahoma Sooners football uniforms, seen on the pants, so it is more than appropriate that it adorns the hardwood threads.
Plus I like simplicity, and Oklahoma's uniforms are a good combination of old school simplicity and new school.
Duke Blue Devils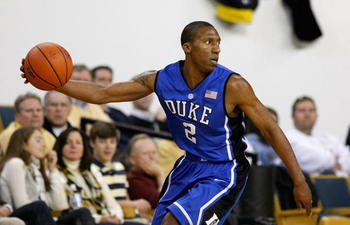 Who has a more distinct look than Duke?
The Blue Devils have managed to make a ton of changes to their uniforms while keeping their same traditional look.
Their first change was the switch to Nike SOD uniforms, which are those new super tight fit jerseys Nike teams are sporting. Before that they made the side panel on the blue jersey black instead of white, but honestly I think it looks better.
And, this season they added a sublimated pattern on the back of the jerseys which is awesome. I also am a huge fan of their black jerseys, which to be honest are just as identifiable and authentic to Duke than the blue ones are.
Villanova Wildcats
These are a lot like Georgia's in that they use an alternating color pattern. As you can see the collar area is half powder blue and half white.
Also, the side panels alternate in that same configuration.
The result is a super distinct look. You know when Nova is playing within a second of turning the channel to one of their games.
They are one of the few teams, like Duke, who managed to keep their look when they switched to Nike SOD..
North Carolina Tar Heels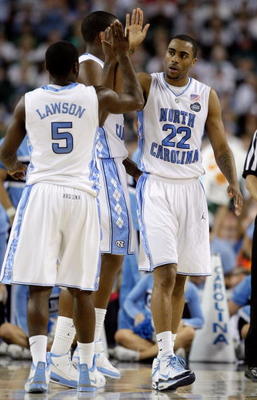 Argyle. Carolina Blue and Navy. The top and bottom word mark.
Nothing beats UNC's uniforms. Like most of the teams on this list, the Heels switched to Nike's SOD uniforms recently. However they still look like good old fashioned North Carolina.
They even improved their look last year by removing the infamous "Nike horns" from the collar.
The only thing missing from these uniforms, Navy jerseys anyone?
Keep Reading