National Signing Day 2010: Why Marcus Lattimore Will Select South Carolina Over Auburn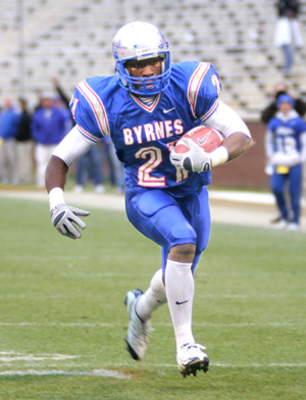 Five-star running back Marcus Lattimore's last statement on his feelings prior to demanding media silence were to say that Auburn was a "slight leader" for his services next fall.
Outside of that, however, there's almost no reason to believe he will choose the Tigers when he announces his decision on Feb. 2, a day before recruits make their commitments official on National Signing Day.
A multitude of factors instead favor the South Carolina Gamecocks, the other team in Lattimore's top two.
Here are five of the most compelling reasons to believe Marcus Lattimore will suit up as a Gamecock come September.
He Skipped His Unofficial To Auburn This Past Weekend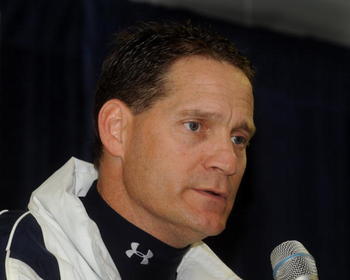 Auburn insiders mourned the recent news that Lattimore skipped his unofficial visit to Auburn this past weekend.
If the Tigers were head-to-head with South Carolina, that unofficial would seem to help Lattimore clarify his feelings and get excited about attending Auburn. Instead, his absence seems to speak volumes about his dwindling interest in the school.
Gene Chizik still has an in-home visit with Lattimore scheduled for this week, but this news suggests the writing's on the wall.
Michael Dyer's A Crowd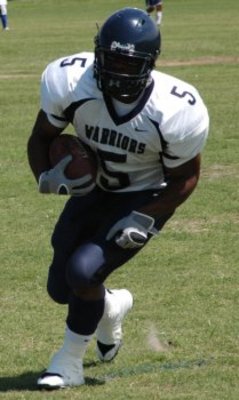 For a soon-to-be feature back like Lattimore, having to compete for carries with fellow five-star RB Michael Dyer isn't all that beneficial.
Auburn fans sure liked the idea of fielding a platoon of talented RBs, particularly since they lost senior starter and 1,300-yard rusher Ben Tate to graduation.
But realistically, Dyer's commitment lessened Auburn's chances, perhaps considerably.
As much as they could benefit from the help, star running backs go where they can stand out and are most needed. Dyer's commitment gives less urgency, and it seemed like Auburn's recruiters responded in kind.
South Carolina Has No Feature Back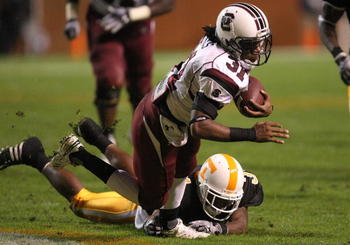 While Dyer's presence at Auburn keeps the Tigers at bay, South Carolina's lack of a feature back has to be all the more appealing to Lattimore.
Yes, Kenny Miles (pictured), Jarvis Giles, and Brian Maddox all return, but none of them rushed for more than 650 yards last year, and the leader, Miles, had barely over 100 attempts.
Lattimore has the opportunity to seize the lead tailback spot and use his consistency and durability to hold on to it for good.
South Carolina has been looking for an identity on the ground since Spurrier took over. Lattimore will provide that identity if he so desires.
Insiders Indicate It's SC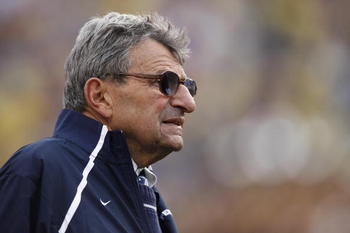 Insiders have liked South Carolina's chances since Lattimore narrowed down his choices from five schools to two.
Penn State, Georgia and Oregon seemed to be as in the mix as Auburn. Lattimore was set to visit Georgia and Oregon this month, and recruitniks liked his chances at filling in for the Ducks in the buster role vacated by LeGarrete Blount's graduation.
Lattimore also received JoePa as an in-home guest, a rare and austere circumstance for the aging Penn State legend.
All the rumors leaned toward Lattimore playing out-of-state until his announcement revealed that South Carolina's chances were far greater than expected.
The inside buzz has been down on Auburn's chances, and high on the Gamecocks', ever since.
Spurrier Has Hung His Hat on the Lattimore Commitment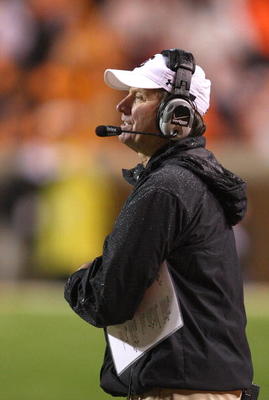 Lattimore is, without question, the most highly-touted recruit of the Spurrier era at South Carolina.
Consequently, Spurrier is treating the commitment with the gravity it deserves. He's respecting the family's wishes to minimize media contact, and he deftly scheduled an in-home visit for this Saturday—two days after Gene Chizik's vist on Thursday.
He'll get the last word in on Lattimore's decision, which should be enough to seal the deal.
Keep Reading

South Carolina Football: Like this team?