Seantrel Henderson and Nine Other Recruiting Prospects Who Could Be Busts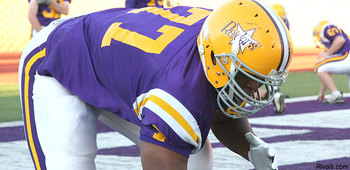 In college we can cite examples of the many species of recruiting bust.
There's the player who rides in on a wave of hype, yet never sees the field because of character issues or a conflict with his own ego.
There's the prospect whose talents don't get utilized to their fullest extent by a less-than-venturesome coaching staff.
There are too-small corners and too-tall defensive ends; linebackers who never learn to fill gaps and wrap up; quarterbacks who slung the ball in high school but can't see over their linemen in college.
Hopefully, none of the following 10 players are busts at the next level. Their success would keep the game exciting; their failures would indict both themselves, their coaches and their schools of choice.
But just in case, here are 10 recruits I think could fall victim to the Bust.
Robert Bolden, QB, Penn State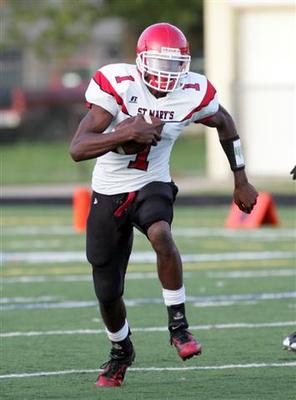 The 6'4", 195-pound Bolden could really use a year to redshirt and study the Nittany Lions' Spread HD playbook.
But that luxury might not be possible with Penn State's depth chart at QB so untested. Dual-threat QB Kevin Newsome's play in mop up duty was alarmingly one-dimensional.
Nor, with all due respect to Jay Paterno, has the quarterback coaching at PSU been jaw-dropping of late.
Bolden's game was similarly one-dimensional in high school—he threw for barely over 1000 yards in a system that was dinged enormously for not developing his talents.
The smarter money is on PSU's other QB commit, Paul Jones, a pro-style passer who enrolled early and will play in the Blue and White spring game. Between the depth chart and Newsome's evolution, Bolden could be out of the limelight for a while, and with time slipping away, a messy transfer isn't out of the question.
Seantrel Henderson, OL, Undecided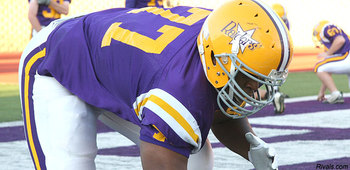 It's absurd to say Henderson might bust at the next level, right? He's got the physical tools and the intangibles to succeed practically without trying.
The problem is, sometimes he really doesn't try. Reports were that Henderson was getting owned in practice by his colleagues at defensive end, and his performance in the game reflected that lack of effort. He was sloppy in run blocking and his pad level was way too high in pass protection.
If he's allowed to redshirt at a school that needs him less urgently, a year of discipline, training, and technique in a conditioning program at the college level could make a world of difference.
Throw him out there too soon, and you could have an ego battle on your hands.
Lache Seastrunk, RB, Undecided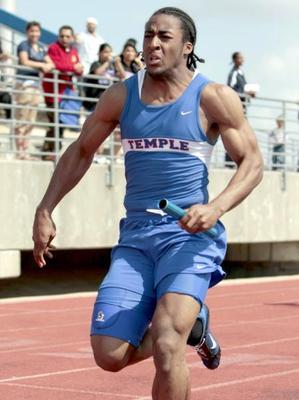 Of the four or five top running backs in the class—Dillon Baxter, Michael Dyer, Marcus Lattimore and Lache Seastrunk—I think Seastrunk is at the greatest risk of busting in college.
There were whispers that he had inappropriate contact with a manager during his recruitment, leading to rumors that the interest from Auburn and LSU has dried up to close his recruitment.
And his game relies on speed, which is never as sure a bet as breaking tackles, particularly as a smaller, less durable back.
Finally, his reputed silent commitment to the Oregon Ducks puts him in competition with one of the most dynamic backs of 2009, speedster LaMichael James. Their attacks are similar, so Seastrunk might struggle to crack the depth chart and get carries until well into his career.
Am I rooting against him? No. But there are already warning signs that he could be trouble. Memphis may not be such a bad idea after all.
Cameron Newton, QB, Auburn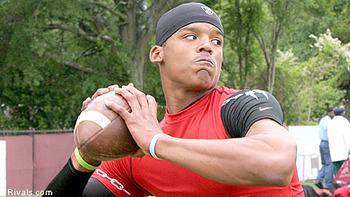 Newton, a highly-regarded recruit out of high school and the top JUCO talent in the country has the talent both within and around him to be one of the greatest Auburn has ever fielded.
But considering the shady circumstances of his arrest and dismissal from the Florida Gators in 2007, we won't know if he is ready to be a successful D-I quarterback until he proves it on the field.
It's possible that the time away led to the kind of maturity that is the groundwork of a great quarterback. It's equally possible the weight of all this expectation exacerbates a deeper problem. We'll know once fall rolls around.
Kadron Boone, WR, Texas Tech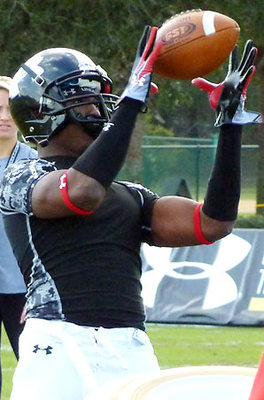 Quick: Name the last great wide receiver Tommy Tuberville coached at Auburn.
Still racking that brain? Don't bother—there really haven't been any. Tuberville's ultra-conservative, run-and-play-sound-defense approach will be the single most dramatic overhaul of a team's roster leading into 2010 (yes, more than Brian Kelly's at Notre Dame).
I know Tuberville promised to air it out, but that was before he fired most of the offensive staff that had led Leach's Airraid attack, including inside receivers coach Lincoln Riley, who took over playcalling duties for Leach in the Raiders' Alamo Bowl win.
That leaves wavering WR Kadron Boone a choice—stick it out with the university to which you'd pledged a commitment, albeit under a different coach; or read the writing on the wall—you'd probably catch more touchdowns at Georgia Tech, son.
If he stays, it could be an alarming waste of talent.
Dior Mathis, CB, Oregon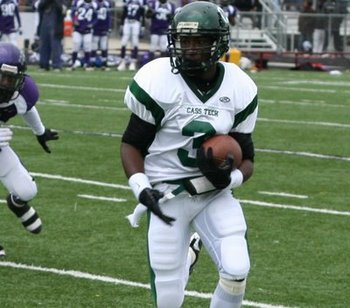 Maybe I just have an unhealthy skepticism of undersized corners from Detroit Cass Tech (Boubacar Cissoko, Mathis' physical twin and former Cass Tech teammate, was a total bust for the Wolverines both on and off the field).
But I don't know whether Mathis can make up for his lack of stature with technique against those beastly large wide receivers in the Pac-10. A matchup of Ronald Johnson or Kyle Prater, both 6'4", against the 5'9" Mathis just doesn't compute.
Oregon's secondary was probably its strongest unit on defense (at least, until the Rose Bowl), and will return all four of its starters, so Mathis has time to get stronger and maybe sub in at the nickel position.
Latwan Anderson, S, West Virginia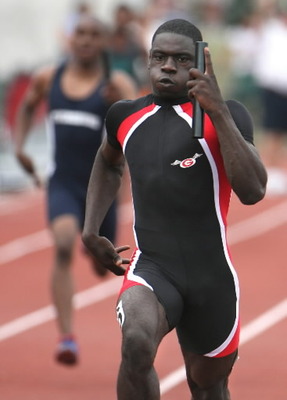 Latwan's up-and-down recruitment was indicative of his shifting sympathies both with schools and with where he wanted to play on the football field.
He's one of the more talented two-way players in the class, so much so that it will be painful to utilize only his coverage skills at safety knowing how explosive he can be out of the backfield, and vice versa.
To my knowledge, West Virginia's coaches were recruiting Latwan at defensive back. But considering his boundless talent, it would be an injustice to not try him out in the backfield.
However, the Mountaineers' offensive staff has shown a lack of imagination since RichRod and co. left town which suggests that possibility is slim.
If he could relieve the pressure on Noel Devine while providing a different kind of rushing attack, wouldn't everyone win?
I'm not saying make him the next Charles Woodson, but something along those lines would help WVU get the most out of its most intriguing commitment.
Philip Sims, QB, Alabama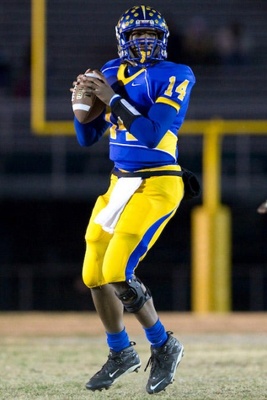 The smallest of the highly touted incoming quarterbacks, Alabama's Philip Sims stands 6'1" in the most generous estimate, though he weighs in at a hefty 218.
He doesn't boast the zone-read knowledge or athleticism that can expand the game of shorter, shiftier quarterbacks. Thus, I don't see how he'll be able to overcome the deficiency in stature without some serious preparation.
Sitting for at least a year behind Greg McElroy gives him that luxury, but a spotty performance in the Under Armour All-American game I think indicates he might be all hype and no bag.
Cullen Christian, DB, Michigan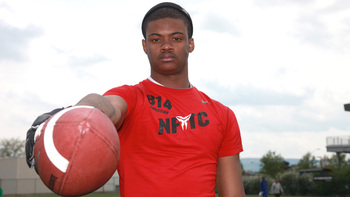 I'm probably hard on the kid because he's committing to my team, but CB Cullen Christian is facing a lot of pressure to have an immediate impact at corner for the Wolverines next year, and I don't know if he has the talent to match it all.
It didn't help that my limited exposure to Christian's play was seeing him give up one of the few big plays in the US Army All-American Bowl, getting beat on a fly route down the right side.
Considering how awful Michigan's secondary was in 2009, it's amazing there was any NFL talent at all in the defensive backfield. But once All-Big Ten CB Donovan Warren departed early for the draft, all eyes turned to Christian, Michigan's best commitment at true CB.
Playing as a true freshman in a lockdown position will be asking a lot. I hope he's up to the challenge, and that the vitriol ready to pour forth at any moment towards RichRod doesn't impede his development as a player.
Anthony Barr, ATH, UCLA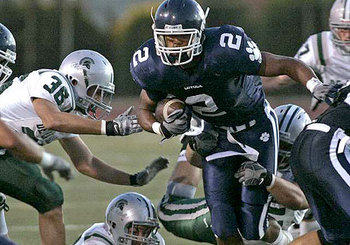 I can't believe Anthony Barr chose UCLA over Notre Dame.
There's been no indication throughout Rick Neuheisel's return to his alma mater that he can get the most out of his playmakers, and his line development has been terrible. Worse, next year should be a regression in terms of total starts.
Contrast that with Brian Kelly, who turned former two-star RB Mardy Gilyard and former two-star WR Armon Binns into All-American and All-Conference talents, respectively.
Optimists would say that an explosive athlete like Barr is what the Bruins have been missing, but I lean more towards believing UCLA and Slick Rick just compile talent without coaching it to succeed. If that's true, we won't hear Barr's name called nearly as much as we ought to.
Keep Reading