Philadelphia Eagles: The Top 10 Second Day Draft Picks of the Decade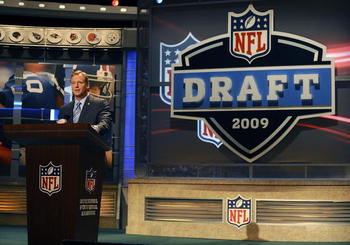 Throughout his tenure in Philadelphia, Andy Reid has had a lot of knocks on him about everything from play calling, to personnel decisions, and his weight.
But amidst that ruckus, he has often been deservedly praised for one thing: his drafting ability, specifically in the later rounds.
Reid is notorious for finding gems in the later rounds; players that may not be great overall talents, but flourish in the systems that he, Jim Johnson, and Marty Mornhinweg have installed.
Sure, there are some that don't pan out; what are CJ Gaddis, Jeremy Bloom and Thomas Hamner doing now? But roughly half of the gentlemen drafted in rounds four through seven over the last 10 years have had some sort of impact on the team.
These 10 are the best of the bunch.
Honorable Mention: Those Who Could've Been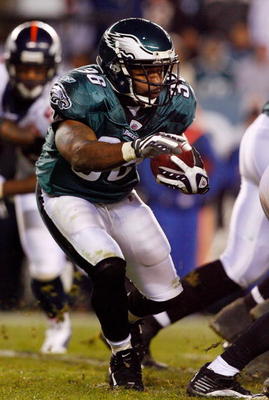 I feel that I must include this because of recent NFL Draft Changes.
Last year, the draft was rearranged so Round three was part of the second day, and going forward, it will be a three-day event, with the first round in Friday night prime-time and the other six split over the weekend.
Luckily for me, the Birds didn't have a third rounder last year, so I avoided controversy there.
But had the 2009 draft structure been in place for the whole decade, the following guys would have been considered "second-day" picks:
-MLB Stewart Bradley (2007)
-SLB Chris Gocong (2006)
-RB Ryan Moats (2005)
-CB Matt Ware (2004)
-WR Billy McMullen (2003)
-RB Brian Westbrook (2002)
-DE Derrick Burgess (2001)
That's quite an impressive list right there. Three of those players were listed as starters entering the 2009 season, while three saw significant time on other squads.
In addition, three, if not four, depending on how you feel about Burgess, would have made this list if the draft were structured differently.
But it wasn't, so they aren't.
No. 10: WR Brandon Gibson (Round six, 2009)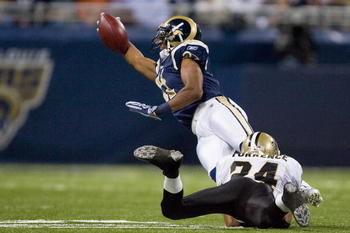 Kicking off this list is a guy who is important to Eagles' history not for his own contribution, but that of something he brought in exchange.
Already considered "deep" at receiver, the Birds plucked Washington State's Gibson in the sixth round last year. WSU stunk in 2008 and he had a rough season, but he was the school's all-time leader in receiving yards.
He impressed enough in training camp that the Birds kept seven receivers, and when someone had to go to make room for Jeff Garcia, it was Hank Baskett who got sent packing.
Alas, Gibson only saw action in one game before being traded to the Rams for LB Will Witherspoon, who had an amazing first game as an Eagle, played well at both the WILL and MIKE spots in the second half of 2009, and ended up third on the team in solo tackles.
Witherspoon is still under contract and will likely be the starting WILL in 2010, so Gibson did turn out to be useful to the Birds after all.
He turned out to be a decent receiver too, hauling in seven balls for 93 yards in his Rams debut.
No. 9: CB/S Victor 'Macho' Harris (Round five, 2009)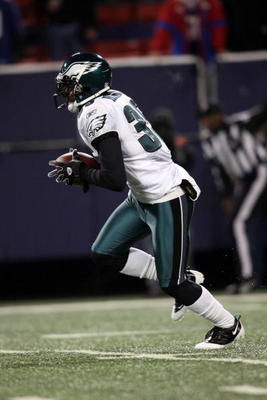 The second of the Birds' triad of fifth-round selections, Victor Harris was heralded coming out of Virginia Tech as a versatile weapon who could make tackles and play against the run, but potentially lacked the skill to excel in man coverage on the corner.
Good thing the Eagles were pretty set at corner.
Looking at his first two attributes, as well as his success as a kick returner, the Birds snagged Harris in the fifth round with the intention of moving him to safety.
Initially it worked out well, as Harris began the year No. 1 on the depth chart at free safety, the first time in 15 years someone other than Brian Dawkins was listed there.
Harris struggled at times with injuries and inconsistency, but showed flashes of brilliance and recorded 41 tackles as a rookie. He also returned 19 kickoffs and lined up a bit at CB during a period where injuries and suspensions had the Eagles signing people off the street to play on the corner.
While it's tough to truly judge how good he will be, he earns a spot on this list for at least making somewhat of an impact in 2009.
No. 8: CB Dexter Wynn (Round six, 2004)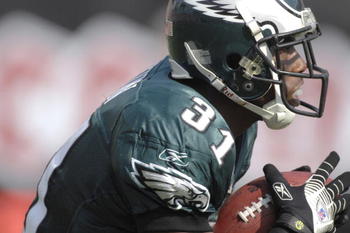 The Eagles' drafting of Dexter Wynn was the very definition of finding depth in a good system player.
The secondary was very young, and Wynn was taken to complement that youth. Three-quarters of the 2004 starters—Lito Sheppard, Sheldon Brown, and SS Michael Lewis, had been taken in 2002, Ware and safety JR Reed were selected earlier in the 2004 draft, and Quintin Mikell was later signed as a rookie free agent.
Ware was never a superstar, and never really challenged Brown and Sheppard for a starting role. But he was a very serviceable nickel corner who played in 28 games as an Eagle before being cut halfway through the 2006 campaign. He also split time with Reno Mahe in 2004 and 2005 as the Eagles' punt returner, adding kick returns to that repertoire in the second season.
After being cut, he moved on to Houston and then the Lions, where he spent 2009 on injured reserve.
He wasn't the greatest player in the world, but he served a useful role in both Jim Johnson and John Harbaugh's schemes, and because he has more experience than Harris, he gets the higher nod.
No. 7: LB Omar Gaither (Round five, 2006)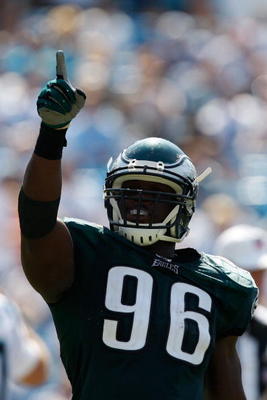 Top to bottom, the Eagles' 2006 draft class might be the most talented of the decade.
Six of the eight players selected that year are still with the team, and all of them were starters at some point this season. That's staying power.
Gaither, the penultimate pick in 2006, was a two-time All-SEC pick and perhaps the poster boy for versatility in the Reid system.
A SAM in college, Gaither was a special teams beast as a rookie and ended up supplanting Matt McCoy as the starting WILL in the second half of the season, tallying 58 tackles and a sack.
In '07, he moved to the middle to replace Jeremiah Trotter and led the team in tackles with 170 and QB hurries with 14.
He then moved back to WILL in 2008, starting 10 games before being replaced by Akeem Jordan.
So it only figures that when Stewart Bradley got hurt this past preseason, Gaither moved back to the middle and started three games before a foot injury landed him on injured reserve.
While his position on the team is tenuous heading into 2010, the Eagles know what they have if he stays: a capable backer who can play at a high level in two of the three positions and make contributions on special teams if asked.
No. 6: WR Jason Avant (Round four, 2006)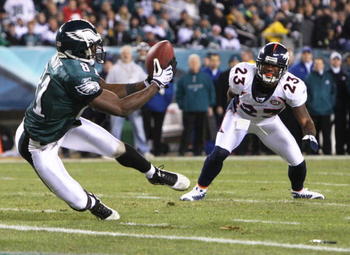 Also part of that vaunted 2006 draft, Avant was snatched with the Birds' second fourth-round selection. He was heralded as a great possession receiver with great hands and intelligence coming out of Michigan—where he played with Braylon Edwards, Steve Breaston and Mario Manningham among others.
Avant played sparingly as a rookie, but over the last three years he has developed into a viable target, especially on third downs. 2009 was Avant's breakout season, as he started nine games and put up career highs of 41 catches, 587 yards and three touchdowns.
While he will never be the "star" with DeSean Jackson, Jeremy Maclin and even Kevin Curtis on the squad, he's a very good No. 2/3 type receiver who always seems to be there when Donovan McNabb needs him—which means he could have a very important role for years to come.
No. 5: RB Correll Buckhalter (Round four, 2001)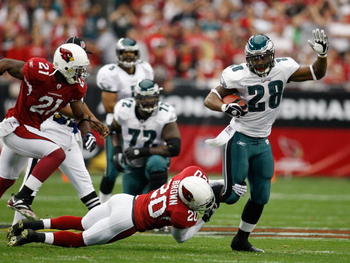 Rookies never get much playing time in Andy Reid's system, as it is very difficult to adjust to. So when Buckhalter was drafted out of vaunted rushing power Nebraska in 2001, he was expected to back up Duce Staley and eventually become part of the West Coast juggernaut.
He ended up setting the franchise's rookie rushing record.
That's reason enough to be in the Top five right there.
But after that rookie year, Buckhalter missed three of the next four full seasons due to injury.
While he had eight touchdowns in 2003, a season that saw the Eagles put up 23 on the ground, he never again reached his rookie totals of 716 rushing yards and 713 total from scrimmage.
He instead became more of a short-yardage and third-down back who was a capable fill in when Brian Westbrook was out of the lineup.
While no one knows what could've been if not for injuries nearly derailing his career, Buckhalter will always have 2001. He enjoyed a career renaissance in Denver this past season, setting career highs in rushing yards and yards from scrimmage, but at age 31, his career may be in its twilight.
Still, he did until this year hold a significant place in team history.
No. 4: QB AJ Feeley (Round five, 2001)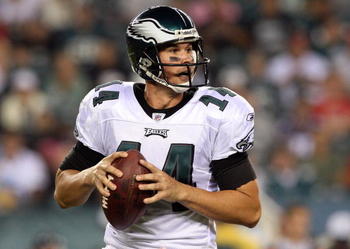 Drafted out of Oregon with the final pick in the 2001 draft, AJ Feeley wasn't really expected to be much. He had spent most of his career backing up Akili Smith or Joey Harrington, and since the Birds had Donovan McNabb and former starter Koy Detmer aboard, Feeley's selection was doubly puzzling.
Instead, again, he became a poster child for Reid's systemic drafting.
In his first appearance in the 2001 season finale, he went 10-of-14 for 143 yards and a pair of touchdowns, leading the Birds to a comeback win over a Tampa Bay team they would end up seeing again the following week in the playoffs.
In 2002, injuries to McNabb and Detmer gave Feeley a chance to shine. The Eagles hoped they would be able to sneak into the playoffs, but Feeley went 4-1 as the starter and led the team to the top record in the NFC.
Then, after never seeing a snap in 2003, he was gone, traded to the Dolphins.
But three years later he returned to be McNabb's backup again, and again fate gave him a chance. In 2007, another injury took out McNabb and Feeley got extended action.
However, this time he threw seven picks in two starts, somehow still nearly leading upsets of the Ravens and then undefeated Patriots, before heading back to the bench.
Now he's in Carolina, where he backed up Jake Delhomme and Matt Moore after being released by the Birds just before the season opener.
While he never did "amount to much" per say, his contributions in 2002 led to a feeling of security among Eagles' fans. Even though he struggled in 2007 and was a third-stringer most of the rest of his time, fans felt comfortable knowing Feeley would come into a game if needed.
Could he be the best backup QB in team history?
No. 3: OL Todd Herremans (Round four, 2005)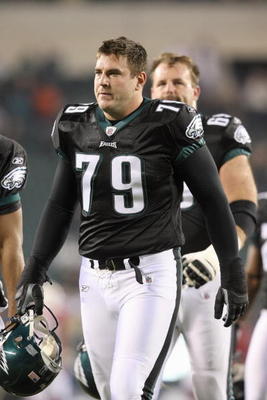 If the 2006 draft isn't the best top to bottom, it's definitely 2005.
Herremans was a virtual unknown to casual fans, and was taken out of Division II Saginaw Valley State with the second of two fourth-round picks.
After starting four games as a rookie, Herremans took over as the starting left guard in 2006 and proceeded to become one of the most versatile interior linemen in the game.
He's swung out to tackle at times, including in spots this seaso), has only missed five games, all this year after a summer foot injury, and even has a touchdown catch on his resume.
He's never made the Pro Bowl, but he became an integral part of an impenetrable unit that has made Brian Westbrook one of the top backs of the decade.
While he may not have great "stats" to trot out there, anyone on the Eagles will tell you how valuable Herremans' talent and versatility are to the offense.
No. 2: TE Brent Celek (Round five, 2007)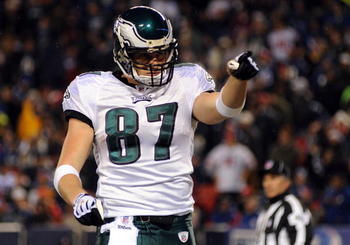 With the tight end position in flux behind LJ Smith, the Eagles drafted Celek out of Cincinnati in 2007.
Sort of how they drafted Cornelius Ingram this season after Smith was jettisoned.
Celek made an impact right away, contributing 16 catches and starting four games due to various injuries to Smith. 2008 was a similar story, as injury put Celek into the lineup for seven games where he recorded 27 grabs.
Then came the 2008 NFC Championship Game, and the Celek legend was born.
He had 10 catches for 83 yards and two touchdowns in that loss to Arizona, and the Birds felt comfortable enough to let Smith walk and give Celek the starting job.
He responded with a breakout season that saw him record 76 catches for 971 yards and eight touchdowns and nearly earn a Pro Bowl berth.
That progress netted him a six-year, $33 million contract extension that will keep him in Eagle green until 2016.

Celek has quickly emerged as a huge threat, and the Birds hope he will be in the top echelon of tight ends in the league for a long time.
No. 1: DE Trent Cole (Round five, 2005)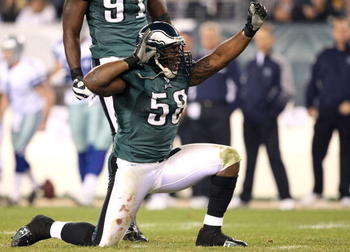 The first five rounds of the 2005 draft netted four guys who spent significant time as defensive starters, but none of them, not Matt McCoy, Sean Considine, or even top pick Mike Patterson, have been as big as Trent Cole.
Originally a DT at Cincinnati, Cole moved to defensive end midway through his college career and finished with 19 sacks and 44 tackles for loss.
He was chosen with the pick the Eagles got for trading James Thrash to Washington, and boy was that a great move.
Cole took over his starting RDE spot about two-thirds of the way through his rookie season, recording five sacks and 38 tackles.
He was then set to be just a pass rusher in 2006, but when Jevon Kearse went down, he took over the spot he has yet to relinquish.
He recorded eight sacks in 2006 and beefed that total up to 12.5 in 2007, earning himself his first of two Pro Bowl berths. He matched that total this past season, and was voted to the Pro Bowl once again.
Overall, Cole has 47 sacks in five seasons and has become one of the most disruptive speed ends in the NFL. His ability is one of the keys to Jim Johnson's and now Sean McDermott's, defensive schemes, as he always finds a way to the quarterback, but can hold his own in run defense as well.
In Cole, fellow 2005 pick Patterson and Brodrick Bunkley, the Eagles have a defensive line that has been together for four seasons now and reminds people of the Simmons/White/Brown glory years of two decades ago.
And in Cole himself, they have the best late-round pick of the decade.
Keep Reading

Philadelphia Eagles: Like this team?