Fans' Blunder and Players' Beef as United Prepare for Decisive Week of Football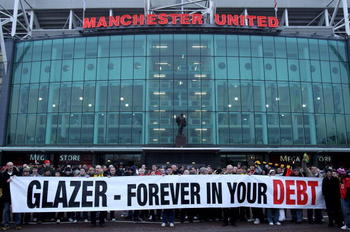 After a streak of media coups and positive headlines, did the anti-Glazer fans movement blunder in its finest hour?
There is little doubt that action groups such as MUST and IMUSA have done sterling work in steering United fans anger against the Glazer family's plunder of the club.
They must redouble their efforts now that the Glazer £500M bond issue has been fully subscribed.
Fortunately, the Red protest movement is a slick media machine with a reach long enough to capture the attention of leading journalists of Her Majesty's Fourth Estate.
It helps, of course, that the subject matter is compelling. Some £717 million of needless debt and astronomical annual interest repayments plaguing Britain's top club is hardly a subject to ignore.
Several Guardian newspaper writers have taken particular interest in the story with the talented David Conn time and time again, ripping away the fig leaf of respectability from the Glazer family's financial stewardship of the club.
Fellow hack Daniel Taylor summed up the general mood when he described the Glazer family as "an orchestra of geeks."
Over at the Times, it was noted that "the world's biggest football brand" might now be "a ticking time bomb of debt just waiting to explode?"
Even the Financial Times weighed in with a damning indictment of the Glazer financial model. "The more that Manchester United's £500M senior notes offering is picked over, the less appealing it looks."
Faced with such withering contempt, United's spin machine deployed its biggest guns. Both Sir Alex and Gary Neville sought to allay the fears of the Red fan base, the majority of whom remains baffled by on-field success and financial practice off the field which can lead only to ruin.
Having engineered the blanket negative coverage of United's owners, the anti-Glazer protesters could have retired to the sidelines and allowed the media to keep attention focused on United's sorry financial prospects.
Instead, campaigners overplayed their hand in the sulphurous atmosphere of a Stretford pub's meeting room before the home match against Burnley.
The Guardian newspaper's splash told the full story.
"Supporters fighting the Glazer family's ownership of the club are contemplating asking Sir Alex Ferguson to make the ultimate sacrifice and resign in protest," the newspaper thundered.
The article then quoted Johnny Flacks, a founding member and former chairman of the Independent Manchester United Supporters' Association.
"This is not intended as an Alex Ferguson rant," Flacks began unconvincingly. "But he claims to be a socialist, a former shop steward and a man of the people, so he must be horrified by what is going on."
"It would work only if thousands of people sent a copy of this letter to Ferguson letting him know that our fear, if the Glazers stay in control, is that his legacy is going to be destroyed. We wouldn't want that, and I don't think he would either."
Flacks request to Ferguson, one of several measures considered by protesters, made headlines in the Guardian but was not given prominence elsewhere. This was because the proposal is daft.
Ferguson has moved from an ardent critic of the takeover to a Glazer cheerleader; his on the record statements have been supportive of the owners even as they have deprived him of the funds he clearly needs to strengthen his squad.
But as Guardian football writer Kevin McCarra noted, "It would take a great deal more distress before Ferguson turned into some rogue manager who gave a coded endorsement to would-be insurrectionists."
Fans, out of respect and self-interest, generally forgive the manager his flip-flop. What they appear to want is for Ferguson to remain at the helm for a good deal longer, to oversee a sticky transition period and the development of a new team.
Unsuprisingly, the only fans who would be keen for Ferguson to fall on his sword are those who do not carry United in their hearts.
The Daily Mail's waspish football writer Martin Samuel used his column to set down their standard.
Samuel discussed the "contradiction at the heart of the Glazer saga." He wrote of an "empathy for Manchester United supporters," experienced by the wider football community which nevertheless revels in "quietly relishing what is happening for the change it might bring to English football."
Be careful of what you wish for, some might say. If the game's undisputed giant can be pimped of its resources, what hope have the rest?
Fireworks In 'Gunchester'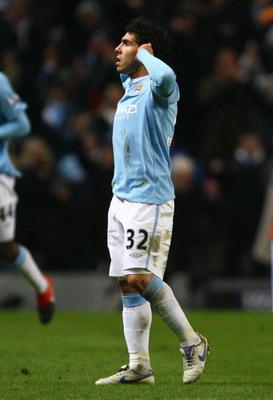 Will Carlos Tevez appoint himself choreographer in chief of the rival fans now preparing to dance on United's grave?
The ex-United forward was the Blue hero of City's comeback win in the league Cup semi-final, allowing his team to take a 2-1 lead to Old Trafford.
The Mirror newspaper, never slow to wield the dagger, went for Ferguson's jugular in the aftermath of a pulsating match.
"Tevez's emergence as the most prolific goalscorer in the Premier League on current form has served only to magnify Fergie's folly in letting him go, " the journal declared.
Sir Alex may well have the last laugh next Wednesday in what is expected to be a fraught occasion. Certainly, the eruption of a public row between Tevez and United skipper Gary Neville was an early sign of a night of fireworks.
Indisputably, it was Neville who cast the first stone. In his column for the Times of Malta, Neville endorsed Sir Alex's decision not to spend £25 million on Tevez.
"I can't disagree with his decision on Tevez," Neville opined. "He was a good player for us, but if the financial demands are too big, then that's just the way it goes."
A peeved Tevez responded with a double strike against his old side and a mocking goal salute.
Round Three saw an aggrieved Red Nev give the Argentine the finger in disgust.
The players' beef occupied the media for a full two days before Tevez upped the ante still further with an insult-strewn rant on Argentine radio.
The press gleefully repeated the City striker's spleen.
Tevez said: "My celebration was directed at Gary Neville. He acted like a complete sock-sucker [boot-licker] when he said I wasn't worth £25M, just to suck up to the manager. I don't know what the hell that idiot is talking about me for. I never said anything about him."
'Real' In Rooney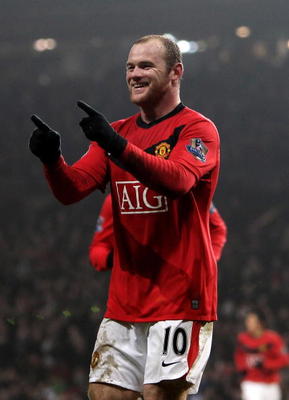 As Tevez and Neville prepare to choose their weapons, United get ready for a decisive week of football.
The home holing of Hull will be followed by the midweek Cup tussle for local bragging rights and by a tumultuous weekend six-pointer against Arsenal.
Sir Alex will look to Wayne Rooney, magnificent against City and Hull, to play a starring role at the Emirates.
"He has always been a main player for us, from the moment he came to the club," Ferguson said after United's four-goal Rooney rout of Hull.
But for how long? If press gossip is to be believed, Real Madrid scouts are also monitoring the striker's fine performances, as they get ready for an annual tussle to lure a top player from their favourite English feeder club.
"This coming summer will see two more of United's most important players, Wayne Rooney and Nemanja Vidic, on Real's radar as the Spanish giants prepare for another summer of massive spending in the transfer market," the Mail newspaper revealed breathlessly.
"Madrid acknowledge that tempting Rooney away from a club at which he could see out his career would be more problematic, and United remain confident that the England striker will renew his contract at the club, which ends in 2012, later this year."
That confidence will be borne out if United give Rooney a whopping £170,000 weekly stipend.
But how will United find the money for a £9 million a year star-salary plus bonuses when the club's owning family is now licensed to take £160M from the Old Trafford coffers in "dividends and management fees" over the next seven years?
That's the result of the over-subscribed £500 million bond issue, according to the Guardian.
The newspaper, United's house journal this week, uncovered the reasons which had persuaded City suits of the Glazer arithmetic.
"The club's argument that they could continue to grow revenues, invest in the squad, and meet debt repayments was accepted by investors," the newspaper claimed,
Would you believe it!
Keep Reading

Manchester United: Like this team?