Best of 2009 SEC Football by Jay Holgate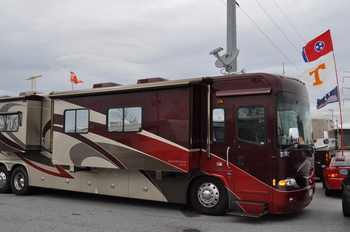 This is my journey following SEC football in 2009.
I took all the pictures and experienced many awesome things on the field, in the press box and just being with SEC fans. I love SEC football.
As a sports writer and motivational speaker, following SEC football is a pure joy. My dream started with a plan to figure out a way to get on the sidelines of an SEC football game. Three years later, I've lived that dream plus so much more.
Now I want to help others go after their dreams. It takes a commitment, a lot of hard work, and a belief that you will prevail, but in the end it is all worth it because you are doing what you love.
For more information about my journey, check out my videos.
I hope you enjoy.
Jay Holgate—Talking SEC Football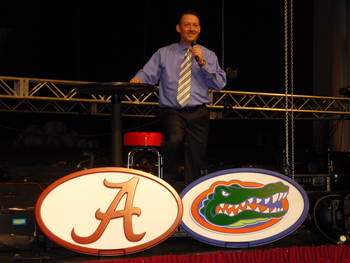 This is my journey. Covering SEC Football is what I do.
I travel around the country giving motivational speeches about leadership, team work, and lessons mastered in SEC football.
Jay Holgate—Talking SEC Football on Sports Radio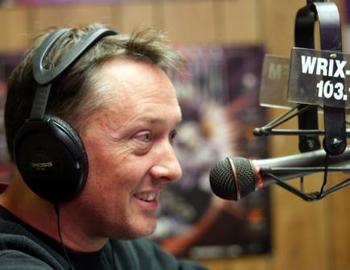 I'm also a weekly guest on sports radio stations around the south, just talking about SEC football and basketball.
SEC Sports Report Office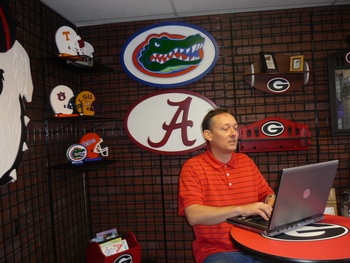 Here is my office just North of Atlanta, GA.
As a sports writer, my job is to cut out the fluff and get to the real story.
I'm a member of the National Football Writers Association.
Jay is a Certified Life Coach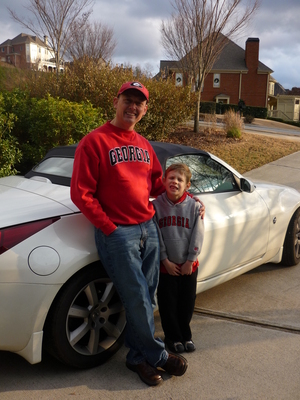 My other passion is coaching people to go after their passion like I have. I'm a certified life coach.
Here is my 30-second commercial for life coaching.
http://www.youtube.com/watch?v=kVNOHbxYYuU
Life is short, go after your dream!
The Media Boxes are the Best Offices in the Country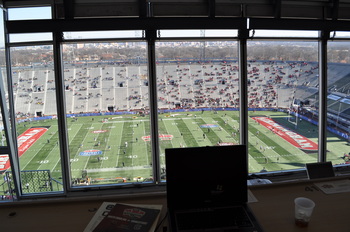 I've been in a lot of nice offices in Atlanta but by far the view from the press box is one of the greatest I've experienced.
Meeting with Coach Spurrier in Atlanta, GA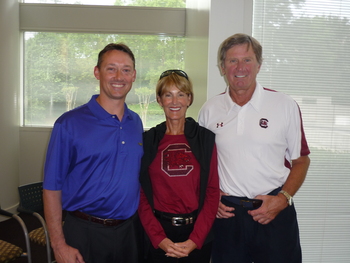 Got to spend an hour with coach Spurrier and his wife when they were visiting Atlanta. He is probably the most competitive person I have ever met.
Met with Eric Berry in Birmingham, AL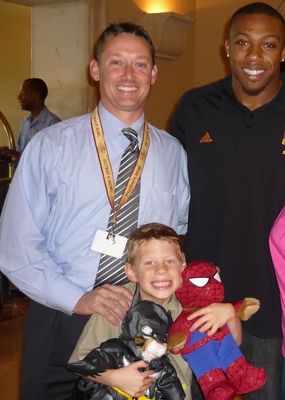 Met with Eric Berry at SEC Media Days. What a great guy and a superbly talented athlete.
Best safety in the SEC in 2009. Hope he gets picked first in the NFL draft.
Tim Tebow at SEC Media Days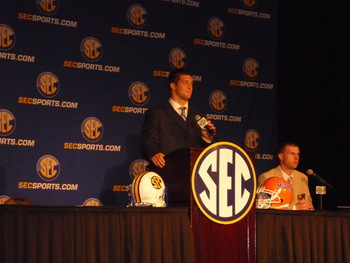 This is Tebow at SEC Media Days. Class act all the way.
You can't talk about SEC football without including his name. I was on the front row when he spoke to the sports writers and loved every minute of it.
His walk of faith is inspiring.
Coach Les Miles, David Pollock, and Mike Bell in Birmingham, AL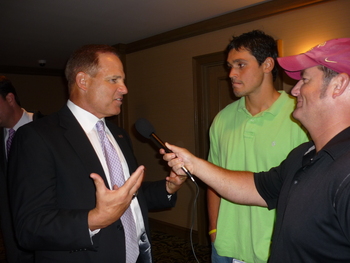 Enjoyed meeting LSU coach Les Miles at Birmingham. Love his optimism and the positive way he talks about his players.
In this interview, Mike Bell and David Pollock (who are radio show co-hosts on Sports Radio 790AM the Zone in Atlanta) are giving Les some curve ball questions.
David Pollock has got a bright future in sports. Very likable, great analyst, and a lot of fun to hang out with.
Miss State coach Dan Mullen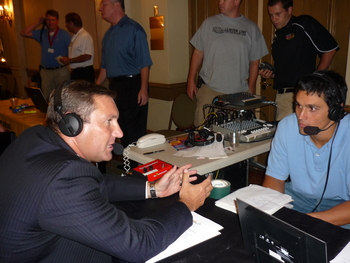 I was surprisingly impressed with Dan Mullen. Energetic, positive, and knows the right elements for a winning program.
Give him a couple of years and the Bulldogs will compete for the SEC West top spot.
Ole Miss coach Houston Nutt at Media Days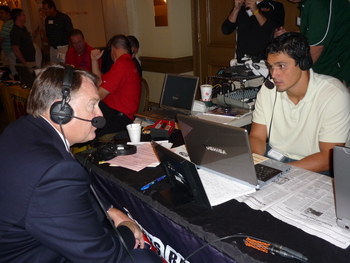 Met coach Nutt and he is a very likable and optimistic guy.
Coach Nutt probably would have done better in 2009 if the Rebels would have predicted to be third in the West. The No. 1 ranking was too much, too fast for this program.
Jonathon Crompton Was the Biggest Turnaround of 2009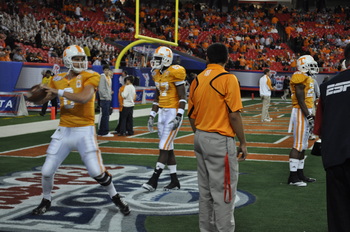 I got a good look at Jonathon Crompton on the field at the Chick-fil-A Bowl.
What a great story of a guy that against all odds and a lot of fans, turned it around and won some big games. Go Vols!
Georgia-Auburn Game: Oldest Rivalry in the South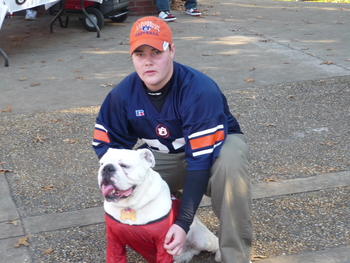 At the Georgia-Auburn game, the mood was apprehensive for both sides. Great game as always.
Georgia won the game for the fourth straight year, 31-24.
Rocky Top in Tennessee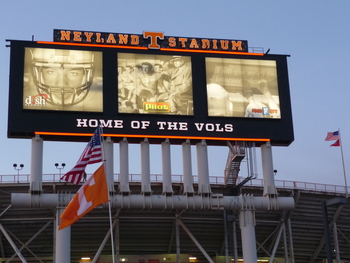 Neyland Stadium is impressive. I got to see coach Lane Kiffin for his last home game in Orange.
Tennessee beat Vanderbilt, 31-16.
Bama-LSU Game 2009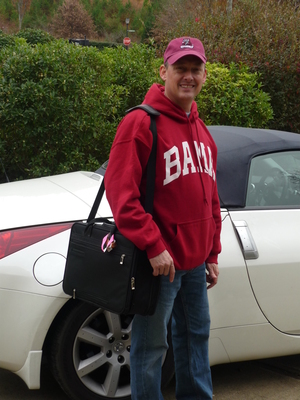 The Alabama-LSU game met all the requirements of great football. Two top 10 teams in the SEC fighting until the end. Roll Tide!
Alabama-LSU Game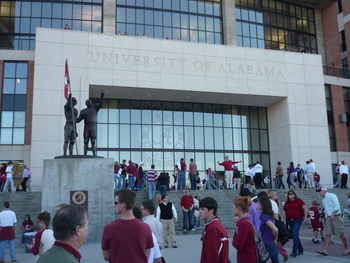 LSU (7-1) traveled in to play an undefeated Alabama (8-0) team in Tuscaloosa. What an environment!
One of the most exciting days I spent following SEC football. Alabama won in a nail biter, 24-15.
Auburn- Tennessee Game in Knoxville, TN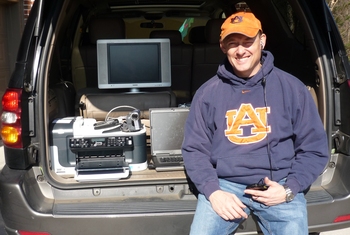 Odds makers had Vols a four-point favorite in Knoxville. I predicted Auburn to win this game and it was my upset of the week in my column.
Auburn 26, Tennessee 22.
War Eagle!
South Carolina/Kentucky Game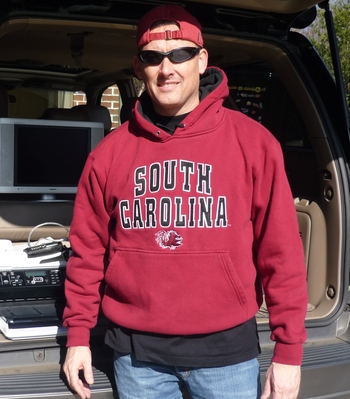 This game was awesome. Great sunny day for SEC football.
Kentucky had a chance at the end but the South Carolina defense was too tough. Columbia is a great atmosphere for college football.
South Carolina 28, Kentucky 26.
The Kiffin's Last Game as Vols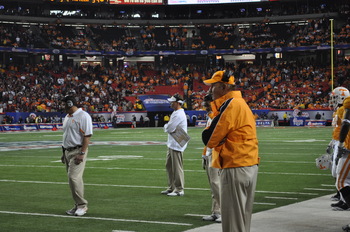 Here's Lane and Monte Kiffin working the sidelines at the Georgia Dome.
I met Monte before the game and he seemed like a great guy.
Lane Kiffin during the Pregame of the Chick-fil-A Bowl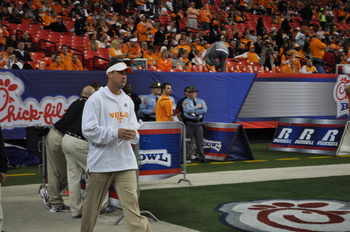 It isn't easy getting a good picture of Lane Kiffin. This guy is on the move all the time.
In this picture, I didn't see him coming. I just picked up the camera and started shooting.
Eric Berry Decides He Will Play in NFL in 2010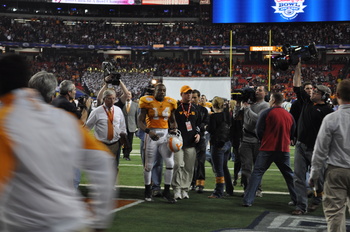 This was Tennessee Vols Safety Eric Berry when he determined he would leave early for the NFL.
Jay Holgate on the Field of the Papa Johns Bowl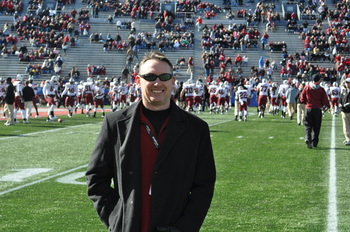 I spent the entire day on the field to see South Carolina get outplayed by UConn.
Most of the day, I was right by the Gamecock bench and those players were freezing and not really communicating.
YOU CAN'T WIN WITHOUT GOOD COMMUNICATION! I've got a speech on that one too.
20 degrees and a strong wind. Go Cocks!
Coach Steve Spurrier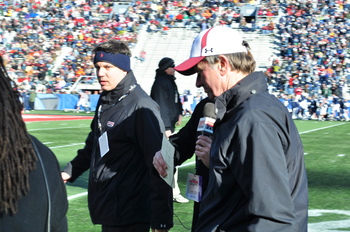 I was about six feet from Spurrier when I got this picture.
Great coach and I think he has finally got the players to compete for the SEC East in 2010.
Closing Prayer at End of South Carolina Game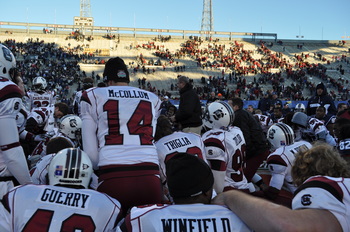 I actually got into the prayer group at the end of the game which was pretty cool.
God Bless America.
SEC Championship Game 2009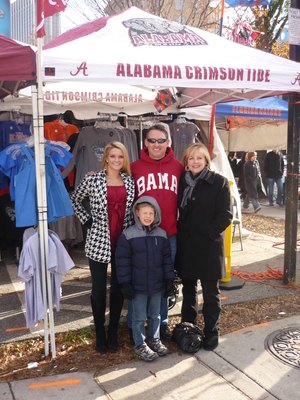 I predicted Alabama would pull the upset and beat Florida both on the radio and in my column. I actually guaranteed a Tide victory.
I've done a speech about the events leading up to the game on YouTube which lead me to pick the Tide.
What a great game. Alabama 32, Florida 13.
FootballSpeakers.com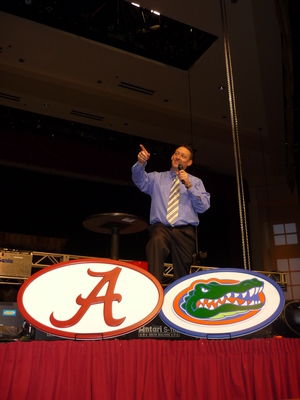 Thanks for letting me share a little piece of my SEC world with you. It was an awesome football season.
For more information on my Talking SEC Football speaking engagements, call FootballSpeakers.com
Keep Reading

Alabama Crimson Tide Football: Like this team?