Falling Star Tracy McGrady Fades from Rockets, but Where Will He Land? The Five Most Likely Teams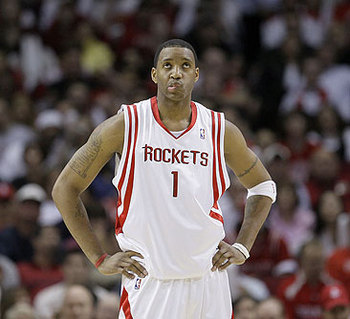 While many circumstances are unknown surrounding Tracy McGrady, one thing is for sure; he will no longer going to play for the Houston Rockets, the team he's been with for the last six years.
Jonathan Feigen of the Houston Chronicle reported on Dec. 28 that McGrady and the Rockets are seeking a trade after "mutually agreeing" to part ways, and many rumors have surfaced in recent weeks as to which teams are in the hunt for this aging and surgically repaired superstar.
Houston has to move him before the Feb. 18 trade deadline or be forced to pay the money they owe for a player who will sit the rest of the season.
While it will be difficult to move McGrady because of his massive $23 million contract, many teams have been mentioned in the McGrady race, from the Knicks and the Wizards to the Jazz and the Sixers. And while it looks like New York will be unable to acquire T-Mac, other teams may see his expiring contract as a chance to clear up cap space for next year's huge free agent class (LeBron James, Dwayne Wade, Chris Bosh, etc.).
Whichever team ends up offering McGrady his next contract, it's likely the older star will have to take a pay cut, as the NBA's salary cap is expected to drop by $4 million to around $53 million per team for the 2010-11 season.
In any case, McGrady is too good not to be in the NBA next year and he said after last February's microfracture surgery that, "I rededicated myself, refocused…I'm not even supposed to be playing right now, so that really tells you how hard I've been working."
He also said that whoever signs him will be getting a "hungry player," so let's take a look at the teams that are most likely to land the 30-year-old guard/forward.
Houston Rockets
Sure, it's very unlikely that T-Mac will ever suit up in the Rockets red ever again, but stranger things have happened.
As was mentioned before, he will be extremely tough to move due to his maximum contract, and he might realize that Houston is still the best fit.
Then again, it seems head coach Rick Adelman is through with trying to fit the egocentric star into his system.
Adelman told Yahoo Sports' Adrian Wojnarowski, "I've got to be careful because our team is on kind of a bubble. If we start changing the rotation, we start changing the way we play, it changes the whole chemistry of the team."
The Rockets have made it clear that they don't need McGrady when they only played him 7.7 minutes in eight games this season, and McGrady will find a spot on some NBA team to be sure.
Grade: F
Philadelphia 76ers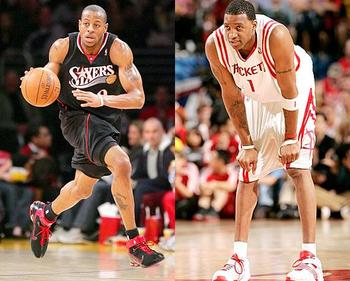 The Sixers are the team that has expressed the most interest about McGrady, and they may land the versatile veteran.
Tom Moore of The Intelligencer cited an ESPN.com story that said, "Houston is going through the league" seeking the best offer.
One of the best they've received is a potential McGrady for Andre Iguodala and Samuel Dalembert deal. Both Iguodala and Dalembert would have to be included, as their combined $23.7 million salary is within the allowable 25 percent trade differential.
Two major road blocks stand in the way of this deal going through though; the Rockets would have to agree to pay the $68.5 million owed to Iguodala and Dalembert after 2010, and Houston has already said they don't want Dalembert.
An Iverson/McGrady backcourt would at the very least be attractive to fans and at best could help Philadelphia turn their season around. Plus, Houston would be set at the guard/forward position for the near future, as Iguodala is a growing star (18 pts. 6.8 rbs. 5.8 ast.).
Grade: C+
The likelihood that this deal goes through is a C+, and that grade would increase to an A if the Sixers could package someone more suitable with Iguodala.
Washington Wizards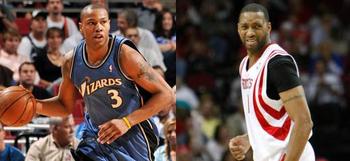 ESPN's Chris Broussard broke news that the Wizards' Caron Butler is on the Rockets' wish list, and they would like to exchange him for McGrady.
The deal makes sense for both teams, as Washington is in "salary-dump mode" after the Gilbert Arenas fiasco, and they would likely package Butler with at least one expiring contract.
That contract(s) would be Randy Foye and Mike Miller in all probability, and the Wizards would be in a prime spot to make a bid on a huge name this coming summer.
The Rockets would be set at the forward position for the near future, as Butler is in his seventh year and averages 17 points and 6.8 rebounds per game this season.
He would likely gel with Houston's team because he hustles and can play both ways. Plus the Rockets would be hands-down the deepest team at forward with Butler.
Grade: B+
This move is graded a B+ overall for probability and fit for both teams. Plus, this seems the most feasible of any of these five deals.
Chicago Bulls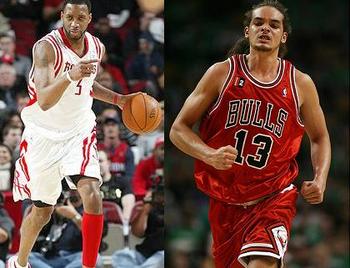 Broussard also wrote that, "Chicago, which has definite interest in McGrady, also has the combination of young talent and expiring contracts the Rockets are looking for."
Reportedly, the Rockets are interested in young forward/center Joakim Noah, and the Bulls could package the expiring contracts of Jerome James and Brad Miller in order to follow the 25 percent trade rule. The only problem is the Bulls do not want to part ways with Noah.
Chicago is in the midst of shopping Kirk Hinrich and Tyrus Thomas, but it is not likely that Houston would accept those two for McGrady.
Grade: D
This deal's grade is a D because Chicago wants to have its cake (McGrady) and eat it too (Noah), which the Rockets will not let happen.
Utah Jazz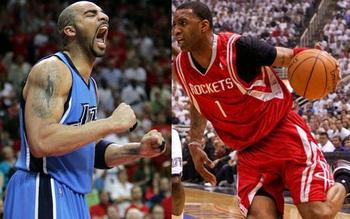 The Jazz are a squad full of young talent, and after Carlos Boozer was shopped all of last summer to no avail, this time the Jazz are looking for a possible suitor for him in Houston.
Boozer is a legitimate star who still has room to grow, and he has wanted out of Utah for almost a year now.
Salt Lake City Tribune columnist Gordon Monson believes Boozer makes too much money and at times makes the Jazz a worse team because he detracts from other players' production.
Boozer, though, is a gold medal winning Olympian and is one of the best power forwards in the NBA.
The deal would be good for the Rockets, as they would add an athletic, young talent, and it would benefit the Jazz as well.
While Utah's coach, Jerry Sloan, has been the Jazz' head man for 22 years and runs the same ancient offense, the players that employ his system are young.
The Jazz are talented, but they are almost young to a fault, as they don't have any veteran leaders. McGrady could act as both a veteran and as a scoring compliment to Deron Williams.
Grade: B
This last option is a solid B because both sides are willing, but can Utah find some expiring contracts to package with Boozer? If so, this deal should go through well before the deadline.
Update: Phoenix Suns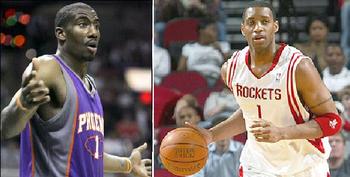 Just in on this early Jan. 24 morning, Yahoo Sports' Adrian Wojnarowski is reporting that the Suns are looking to trade Amar'e Stoudemire before the trade deadline, just like the Rockets with McGrady.
While neither McGrady nor the Rockets were brought up in Wojnarowski's piece, the trade could potentially go down.
Stoudemire would be a huge upgrade at the center position for Houston and Phoenix would get another scorer to add to their litany of bucket-droppers.
Plus, Stoudemire is in the last year of his deal and his $17.7 million price tag puts him just into the 25 percent of McGrady's $23.2 million deal.
Who knows Houston? The Rockets could be immediate contenders with the addition of Aramar'e Stoudemire.
Follow Rich on twitter: www.twitter.com/richkurt
Keep Reading

Houston Rockets: Like this team?