The Top Ten Reasons the SEC Hates USC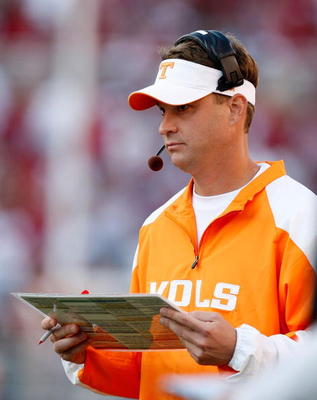 Why Does the SEC Hate USC?
I would like to thank you the readers for elevating my writing to Featured Columnist status for USC Football. The primary reason I believe this has happened so quickly (30 days) is that I have been able to to elicit a lot of emotion and subsequent discussion on the Tennessee and SEC's outright hate of Lane Kiffin and his desertion of the football team at such a critical time in recruiting.
However, along with the Kiffin hate has come unbridled vitriol towards USC, Los Angeles, and anything left coast. Your humble correspondent has been called about every name in the book, as I have attempted to look at the issues in an honest way.
With that in mind, these are the questions that have arisen in our spirited debate over Lane Kiffin and whether he is indeed the anti-christ and whether USC in all its "lies and recruiting violations" deserves this "scum."
Here are some questions that have arisen in the last few weeks...
Question No. 1: Why is it there had been so much hate for new USC coach Lane Kiffin?
Question No. 2: Why is is that so many people are giddy about the possibility of sanctions for the USC football program?
Question No. 3: Why is it that the SEC "gang" generally discounts USC's football history as being a result of a weak conference and soft out of conference schedule?
Question No. 4: Why is it that so many people are thrilled to see USC and Lane Kiffin married so they can revel in the hopeful destruction of both?
I believe there are at least 10 reasons that can be pointed to which can explain why this school and the subsequent coaching transition that has elevated yours truly from unknown to less unknown has also pitted toe to toe the SEC/Tennessee and the Pac 10/USC.
My thanks to loyal reader Mark Kinsbury for coming up with this idea.
10. USC's Horse Is Cooler Than Your Horse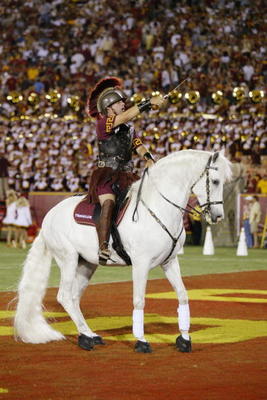 Traveler, the noble white horse that appears at all USC home football games with a Trojan warrior astride, is one of the most famous college mascots.
Traveler first made an appearance at USC football games in 1961 during the home opener versus Georgia Tech. Bob Jani, USC's director of special events, and Eddie Tannenbaum, a junior at USC, had spotted Richard Saukko riding his white horse, Traveler I, in the 1961 Rose Parade.
They persuaded Saukko to ride his white horse around the Coliseum during USC games, serving as a mascot. Ever since, whenever USC scores, the band plays "Conquest", and Traveler gallops around the Coliseum.
And...shall we say, the rest is history!
I believe one of the primary reasons Lane Kiffin left Tennessee for USC is that he missed that horse running around the Coliseum floor after the frequent USC touchdowns in the earlier part of the last decade.
9. USC Is Closer to the Greatest Beach Volleyball in the World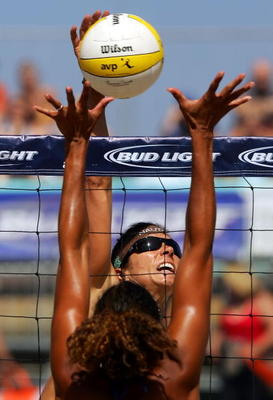 Face it...USC is just closer (18.8 miles) to the Pacific Ocean and the beautiful Southern California beaches and professional beach volleyball than any school in the SEC. I know that's obvious, but I've been to many of your beaches, and Southern California beaches are just better any way you slice it, no matter the distance. The volleyball is great too!
Besides, when was the last time you saw a T.V. show shot from any beaches reasonably close to an SEC school? How about a televised pro volleyball match? Oh well, one of you will probably let me know about it!
Many SEC fans travel to L.A. for that beach vacation and stop at Universal studios in Hollywood, Disneyland, Staples Center, and even an early fall game at the Coliseum.
Could it be that Lane Kiffin will make his home right on the beach as former coach Pete Caroll did? He's crazy if he doesn't!
8. USC's Band Is All Hollywood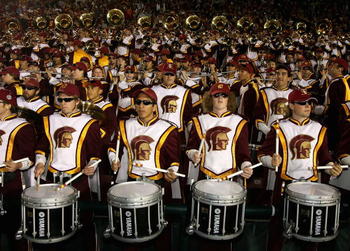 When Was the Last Time Your Band Was in a Movie?
Because of its frequent exposure on the small and silver screens, the TMB has become known as "Hollywood's Band." The Spirit of Troy can be seen in such films as The Naked Gun and the Academy Award-winning Forrest Gump.
Indeed, the Academy Awards telecast itself has featured the band three times: in 1976, 2000, and 2009. At the 81st Annual Academy Awards, the drumline – in top hats and tuxes – accompanied Beyoncé Knowles and Hugh Jackman in a Baz Luhrmann-produced salute to the Hollywood musical.
Earlier this year, the band appeared at the 51st Annual Grammy Awards, collaborating with British alternative rock group Radiohead on one of the most acclaimed performances of the night. This was The Spirit of Troy's second performance at the Grammy Awards.
Among the TMB's other television appearances were guest spots on American Idol, Scrubs, How I Met Your Mother, Last Comic Standing, and The ESPY Awards. In 2007, the band broke into the world of major print media with an appearance in the prestigious Sports Illustrated Swimsuit Issue.
The TMB was one of two college marching bands chosen for this first-of-its-kind pictorial, which featured thirteen pages of supermodels posed with band members. The issue reached over 60 million readers in the United States alone.
During its summer vacations, the band stays busy traveling the world as goodwill ambassadors for the university. The Spirit of Troy performed at the 50th Anniversary of D-Day in Normandy, France, at a private reception in 2002 for First Lady Laura Bush in Prague, on the Great Wall of China in 2004, in front of the Roman Colosseum in 2006, and on Rio de Janeiro's Ipanema Beach in 2008.
The band has also had the privilege of performing at four World Expositions in the last twenty years, including Australia 1988, Spain 1992, Portugal 1998, and most recently Japan 2005, where the band was the featured entertainer at the EXPO's United States Day.
Another great reason for the SEC to hate USC.
This national and international exposure speaks for itself and is the No. 8 reason the SEC hates USC!
7. USC Alone Has Won Three Fewer Heismans Than the Entire SEC Conference!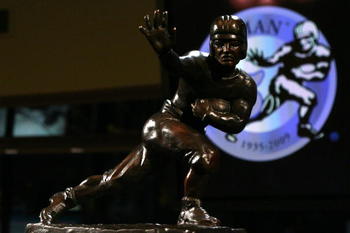 The SEC has been represented by Heismann Trophy winners 10 times throughout its history. However, USC HAS WON SEVEN HEISMANS ITSELF!

SEC Winners
1) 1942 - Frank Sinkwich, Georgia
2) 1959 - Billy Cannon, LSU
3) 1966 - Steve Spurrier, Florida
4) 1971 - Pat Sullivan, Auburn
5) 1980 - George Rogers, South Carolina
6) 1982 - Herschel Walker, Georgia
7) 1985 - Bo Jackson, Auburn
8) 1996 - Danny Wuerffel, Florida
9) 2007 - Tim Tebow, Florida
10) 2009 - Mark Ingram, Alabama
USC alone has seven Heisman Trophy Winners and three in the last decade alone to the SEC's two. What is that about SEC dominance in College Football?
1) 1965 - TB Mike Garrett, USC
2) 1968 - TB O.J. Simpson, USC
3) 1979 - TB Charles White, USC
4) 1981 - TB Marcus Allen, USC
5) 2002- QB Carson Palmer, USC
6) 2004 - QB Matt Leinart, USC
7) 2005 - TB Reggie Bush, USC
One more tangible reason for the SEC to hate USC.
6. USC Has More NFL Hall of Fame Inductees Than Any Other School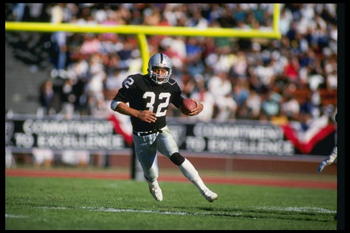 Pictured: Marcus Allen - Heisman Trophy Winner and NFL Hall of Fame Inductee
USC leads the NFL with 11 Hall of Fame Players. Notre Dame comes in second with 10. Alabama is the only SEC team with more than five NFL hall of Fame Inductees.
The best of the rest......
Michigan (8)
Alabama (7)
Illinois (6)
Minnesota (6)
Ohio State (6)
Oregon (6)
Syracuse (6)
Penn State (5)
Another great reason for the SEC to hate USC!
5. USC Has 38 College Football Hall of Fame Inductees, Way More Than Any Other SEC School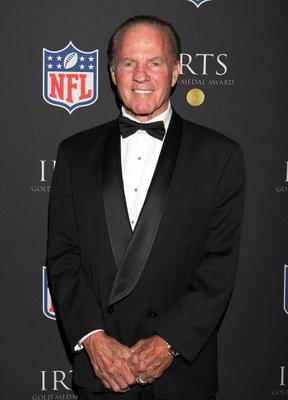 Pictured Frank Gifford - College Football Hall of Fame
USC has 38 College Football Hall of Fame Inductees. By comparison Alabama has 20 Hall of Fame inductees and Tennessee has 27 Hall of Fame Inductees.
USC Hall of Fame Inductees
Howard Jones, Head Coach (1951)
Morley Drury, B (1954)
Mel Hein, Assistant Coach (1954)
Harry Smith, G (1955)
Erny Pinckert, B (1957)
Aaron Rosenberg, G (1966)
Ernie Smith, T (1970)
Dan McMillan, T (1971)
Mort Kaer, B (1972)
Aubrey Devine, Assistant Coach (1973)
John Ferraro, T (1974)
Frank Gifford, B (1975)
Cotton Warburton, B (1975)
Tay Brown, T (1980)
Johnny Baker, G (1983)
O.J. Simpson, TB (1983)
Mike Garrett, B (1985)
Bob Blackman, Assistant Coach (1987)
Mike McKeever, G (1987)
Ron Yary, T (1987)
John McKay, Head Coach (1988)
Paul Cleary, E (1989)
Mike McGee, Athletic Director (1990)
Lynn Swann, FL (1993)
Marvin Powell, T (1994)
Charles White, TB (1996)
Homer Griffith, QB (inducted 1997)
Ricky Hunley, Assistant Coach (1997)
Ken O'Brien, Assistant Coach (1997)
Brad Budde, G (1998)
Don Coryell, Assistant Coach (1999)
Marcus Allen, TB (2000)
Jon Arnett, HB (2001)
Ronnie Lott, S (2002)
Ricky Bell, TB (2003)
Charles Young, TE (2004)
Anthony Davis, TB (2005)
Richard Wood, LB (2007)

Sustained excellence over the decades. Just another reason for the SEC to hate USC.
4. USC's Cheerleaders Are More Famous Than Any SEC School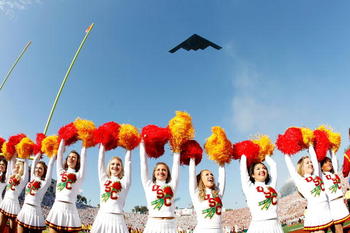 The most beautiful cheerleaders in college football have been around since the 1960s. One of the things that make them special (besides the sweaters) is that they only dance to the live music of the band over and over and over and over again!
Another reason for the SEC to hate USC, and this is a big one!
3. According to Wikipedia (Why not they are the source of truth on everything else!) USC Has Won 17 College Football National Championships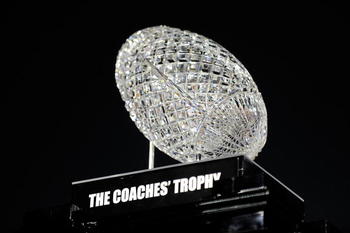 USC is tied with Alabama for 17 National Championships that they could claim if they wanted. It's a wacky system, but somebody has got to win it.
For the record, below are the official claimed National Championships. Alabama has decided to claim two more for a total of 13. Rumor has it that USC will claim three more to pass Alabama next week.
Year Coach Selector Record Bowl
1928 Howard Jones Dickinson System 9-0-1
1931 Howard Jones Helms, CFRA, NCF 10-1 Won Rose
1932 Howard Jones Helms, CFRA, NCF 10-0 Won Rose
1939 Howard Jones Dickinson System 8-0-2 Won Rose
1962 John McKay AP, FWAA, NFF, UPI 11-0 Won Rose
1967 John McKay AP, FWAA, NFF, UPI 10-1 Won Rose
1972 John McKay AP, FWAA, NFF, UPI 12-0 Won Rose
1974 John McKay FWAA, NFF, UPI 10-1-1 Won Rose
1978 John Robinson UPI 12-1 Won Rose
2003 Pete Carroll AP, FWAA 12-1 Won Rose
2004 Pete Carroll AP, BCS, FWAA, NFF, USAT/ESPN 13-0 Won Orange
National Championships 11
2. Sam Cunningham and USC Show Paul Bryant That Integration is Cool!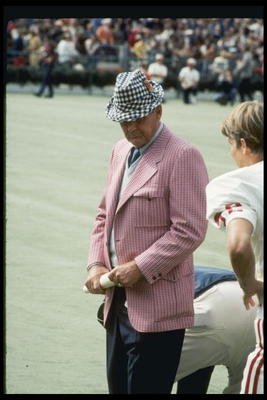 Pictured: Paul Bear Bryant - The leader in Southern Football Integration
The only thing the SEC hated about this event is that they didn't integrate 20 years earlier!
In a 1972 game in Alabama, Sam Cunningham had a notable performance (135 yards, two touchdowns) against an all-white University of Alabama football team, as USC beat Alabama 42-21 in Birmingham on September 12, 1970.
His performance in the game was reportedly a factor in convincing the University of Alabama and its fans to let Coach Bear Bryant integrate Southern football. Jerry Claiborne, a Bryant assistant, said, "Sam Cunningham did more to integrate Alabama in 60 minutes than Martin Luther King did in 20 years."
Despite the legend surrounding the story, Bryant had already taken a step toward integrating his team.
Another reason for the SEC to hate USC, but this one is because they didn't do it first!
1. Pete Carroll Builds USC Into the Team of the Decade!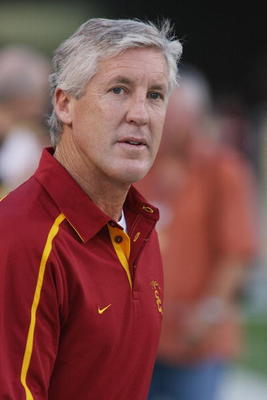 All right SEC fans, you can now go to Wikipedia and let me know if any of your schools come close to this excellence. Nobody comes close to the sustained excellence of Trojan football.
No wonder the SEC is praying for sanctions and the complete failure of Lane Kiffin. It's the only shot they have.
NCAA, conference, and school records

Consecutive Wins vs. Notre Dame: Eight, school record
Consecutive Conference Championships: Seven, Pac-10 record (Note: the 2002, 2006, and 2007 titles were shared.)
Consecutive BCS bowl appearances: Seven, FBS (I-A) record
BCS bowl wins: Six, FBS (I-A) record
Consecutive 11 win seasons: Seven, FBS (I-A) record
Weeks at No. 1 in AP poll: 33, NCAA record
Consecutive Rose Bowl Championships: Three, All-time record
Keep Reading

USC Football: Like this team?