Reversing Misfortune Clock Is Ticking On 'Same Old Jets'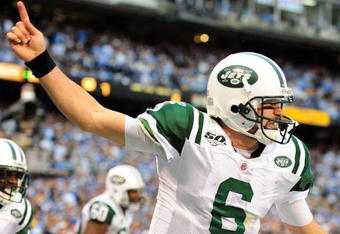 Robert Laberge/Getty Images
Tick, tock. Tick, tock.
60 minutes until a team wins tickets to the promised land.
Tick, tock. Tick, tock.
Within the space of 60 minutes, the New York Jets can change 41 years of painful history stretching from January 1969. For 41 years, the Jets have been the NFL's version of the Chicago Cubs and the pre-2004 Boston Red Sox.
No matter how many games the Jets would win in any given season since '69, no matter how many good players on the roster such as Joe Klecko, Mark Gastenau, Freeman McNiel, Curtis Martin, and Wayne Chrebet to name but a few, the Jets would always find ways to lose in the most excruciating fashion possible.
They would torture their fanbase with losses like the one to Denver in the 1998 AFC Championship game when a Jet team holding a 10-0 lead lost control of the ball, the game, and their path to Super Bowl paradise in a 23-10 loss.
They tormented their fans with a muddy but typically Richard Todd meltdown against the hated Miami Dolphins in the 1982 AFC title game, afflicting their fans with painful coulda, shoulda, woulda games in regular season and postseason, combined.
They put their fans on the rack with disappointing coaches like Herman Edwards and Eric Mangini, who failed to fulfill the promises they brought to the Meadowlands when hired and coaches who had no clue: Richard Kotite anyone?
They wounded their fans with injury: Chad Pennington and his various arm traumas that made a weak arm into jelly, and Vinny Testaverde clutching his Achillies tendon while roiling helplessly on the Meadowlands turf on opening day in 1999.
They played their home games since 1984 in GIANTS Stadium, a venue that was more pit stop than home for a team that once called Queens, New York and Long Island their turf.
However, if the Jets can win this week in Indianapolis, they will begin to exorcise the demons that have bedeviled them for decades.
Beating a Colts team that will be playing at full strength is no easy task, and a loss on Sunday does not necessarily mean that the Jets will quickly revert to the torturous days of "Same Old Jets" come next fall; instead, it ought to signify that better days lay ahead for Gang Green.
Do the Jets have a legitimate shot at derailing the Colts a second time? The answer is in the affirmative, but, in reality, Gang Green may be in over their heads if they think they can outsmart the smartest quarterback in football for all 60 minutes.
For the past week, New York and New Jersey have gone Jets crazy, crowing about how great this Jets team is, how great it can be, but, in the final analysis, who knows.
The Jets are a 9-7 football team, mediocre by most standards; we all know about the dreadful losses to the Dolphins, Bills, Jaguars, and Falcons. We all know that Mark Sanchez played like a typical rookie for a better part of 16 regular season games, throwing 20 interceptions; even Rex Ryan received a lot of heat for his boastful proclamations throughout the season.
All that has changed over the past three weeks. Impressive victories over the Bengals and Chargers began this new trend for the Jets; a win this week will change the course of history for a franchise that has been star-crossed for far too long.
This article is
What is the duplicate article?
Why is this article offensive?
Where is this article plagiarized from?
Why is this article poorly edited?

New York Jets: Like this team?