Texas A&M Football: Four Recruits make Texas 5A All-State Team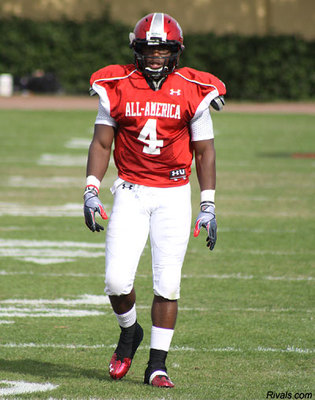 Texas A&M Announced yet another breakthrough in recruiting as Toney Hurd Jr. committed a couple of weeks ago.
Hurd is added to an already impressive list of 11 four-star recruits, according to Rivals.com. That group also included four ESPNU Top 150 players.
Be sure to check in on National Signing Day, which is Feb. 3, to see an in-depth look at the top recruits and what they will do for the Ags.
The Aggies are looking to rebound from a disappointing season that ended in blow-out fashion. Fitting, considered they were blown out by 24 or more points in four games this year.
Hopefully recent hire Tim DeRuyter will be able to come in and work with the great defensive additions that will hopefully be signed on Feb. 3.
All that being said, this slide show will showcase players that A&M received verbals from that made the Texas High School All-State team.
Luke Joeckel (OL): Class 5A All-State, First Team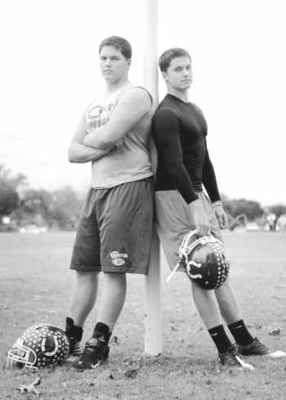 (No. 83 ESPN, No. 39 Rivals)
Luke Joeckel is part of a package deal that includes twin brother Matt. Both have enrolled in classes at A&M already and will be participating in Spring practice, as well as the Maroon and White game.
I love it when top recruits get a chance to enroll in the Spring, and with Joeckel, it probably means the opportunity to snatch up an starting position.
The offensive line was awful this year, but the coaching staff will have made up for that with this year's class.
Luke was a first team All-State choice in Texas, so you know he is going to be a great talent.
He is 6'6", 280 lbs with room for growth. Many have speculated that he could add up to 30 pounds of muscle before the 2010 season starts. This is a scary thought for opposing defensive linemen.
Many have also said that the best part about Joeckel is that he plays with a mean streak. He is a great run-blocker and should provide gaping holes for Cyrus Gray and Christine Michael.
Jake Matthews (OL): Class 5A All-State, Second Team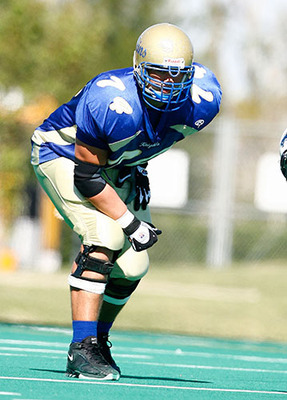 (ESPNU No. 90, Rivals No. 48)
Jake Matthews is the son of NFL Hall of Fame offensive lineman Bruce Matthews. Along with Clay Matthews of the Green Bay Packers being his cousin, it seems obvious that the Matthews family has some good genes.
Matthews was invited to the U.S. Army All America Game along with Cedric Ogbuehi and Wide Receiver Nate Askew. Matthews was awarded the "quickest feet" award at the festivities. He displayed the best feet at the individual workouts and it is believed he can play every one of the offensive line positions.
This is good news considering five of the 20 commits for the Aggies are offensive lineman.
In ESPN Billy Tucker's breakdown of the Big 12 South, he mentions he wouldn't be surprised if both Joeckel and Matthews end up starting somewhere on the offensive line.
I would imagine that Matthews ends up at one of the tackle positions, because of his quick feet noted earlier, as well as the fact that scouts recognize pass blocking is his strength.
Maybe I'll get to meet Bruce at a game this year? We'll find out Feb. 3.
Cedric Ogbuehi (OL): Class 5A All-State, Second Team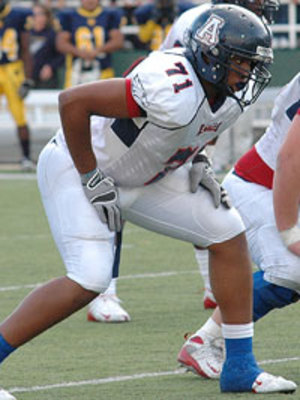 (No. 82 Rivals)
Cedric Ogbuehi has only been playing offensive line for two years, but he made the All-State team both times.
He is very raw and will need some tutelage, but if he can succeed anywhere, it will be at A&M. Many of the coaches have had experience in the NFL, and Mike Sherman was the offensive line coach for the Aggies before transitioning to the NFL.
I wouldn't expect Ogbuehi to get much playing time in his first year since he needs to bulk up and work on his strength. Not to mention he is third on the list when it comes to A&M's OL recruits.
I could see him eventually taking on the right tackle position if he redshirts or if they move Luke Joeckel to the guard position. Ogbuehi has very quick feet and excels as a pass blocker, so his best fit is probably at tackle. He is too small to play guard at this point.
It will be interesting to watch the progress of all of these lineman, and if there are some position changes or redshirting.
Corey Nelson (OLB): Class 5A Defensive MVP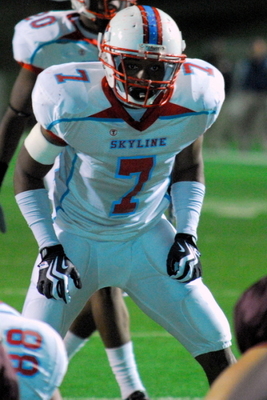 (ESPNU No. 62, Rivals No. 159)
While Corey Nelson did not actually make the team, he was named the Defensive MVP in the state of Texas.
To me, that sounds better than actually making the team.
He has the size and speed to play safety, but can hit and move sideline to sideline like a linebacker.
He may be the key to stopping the likes of Oklahoma and Texas, who both run the spread offense.
Nelson is the top rated player A&M has according to ESPN, and is the No. 3 outside linebacker. The Aggies were inept on defense this year, ranking in the triple digits in terms of yards per game and points allowed.
His best asset is pass rushing, which is good because he will be able to learn even more from the NCAA sack leader, Von Miller, who decided to stay on for his senior season.
Nelson should be able to come in and prove that he deserves a spot in the starting lineup right away.
Keep Reading

Texas A&M Football: Like this team?