College Basketball Bombshells: 25 Hot Cheerleader Pics Sweeping the Web
It's great to have college hoops back, isn't it? Not only do we get to see our favorite teams in action, we also get to see our favorite cheerleaders in action.
Campuses around the nation are stacked (no pun intended) with smoking hot cheerleaders patrolling the sidelines of college basketball games.
Even if your team comes out a loser, these girls make us all feel like winners!
I present to you 25 of the hottest cheerleader pics the Web has to offer!
Begin Slideshow

»
That jersey looks better on her than any player actually in the game. That is for certain.
UConn is one talented team! Its cheerleaders aren't bad, either.
Something so wrong about this camera angle!
This is his first threesome of the season!
I'd say that guy doesn't have the worst gig in the world.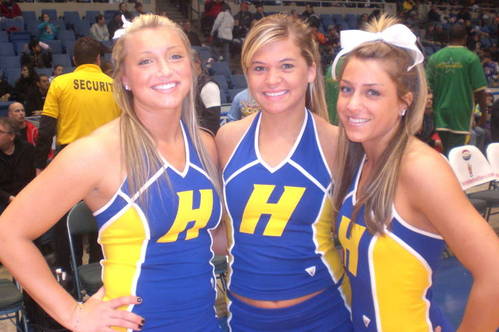 Photo from http://www.gohofstra.com/
You have to like the flexibility on that Hofstra squad.
Demonstrating some Howard University swagger right here.
I'm sure he is just making sure his hands have a good grip on that foot.
You have to love that Oklahoma spirit.
One of the best looking Ducks I have ever seen.
The fans and cheerleaders are head over heels for that Kentucky squad.
The ladies at Oregon fall into line.
Just one of several blondes that make up the UCLA squad.
Single file everyone, single file.
North Carolina rises to the occasion.
Perhaps a dress code violation here?
"I Believe I Can Fly" was playing during this routine.
USC really knows how to let its hair down.
The UNLV squad all got an ab cruncher for Christmas.
The USC squad takes a knee.
The UNLV squad looks impressive from both the front and back.
I'm pretty sure he caught her.
Put your hands in the air, and wave them around like you just don't care.
A country line dance routine, maybe?
Stop looking at her socks! Those are still in. Aren't they?