The 10 Hottest MILFs in Sports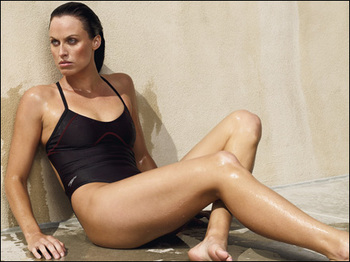 Let's face it, guys—sometimes there is just something hot about moms. Not every mom, but that older lady who still has got it going on. That phenomenon also extends to sports.
There are plenty of athletes out there, former and current, who have pumped out a kid and still look just as good as before. Being a sexy athlete isn't enough for these women. They are sexy moms now.
Here are the 10 Hottest Moms I'd Like to Friend-request in Sports. (What did you think MILF meant, perv?)
No. 10: Mia Hamm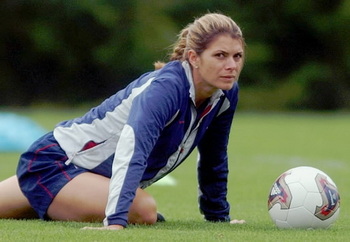 In the '90s, Mia Hamm was soccer. She wasn't too bad to look at either. While maybe not your textbook definition of hot, Nomar said she was beautiful, so who were we to argue?
Mia's not just any mom; she had twins, which is no joke. And she still looks good. Besides, any woman that can take on Michael Jordan is hot in my book.
No. 9: Lisa Leslie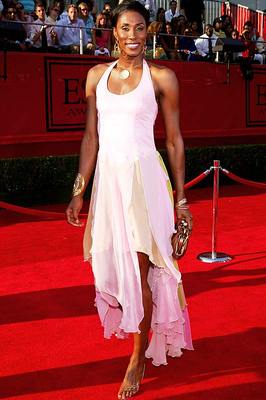 How many 35-year-olds can get in shape enough to play professional basketball? Okay, now how many can do that after they just had a kid?
That's where Lisa Leslie stands out. Of course, she stands out in more ways that that, being 6'5" of elegant beauty. I'd battle in the post with her.
No. 8: Summer Sanders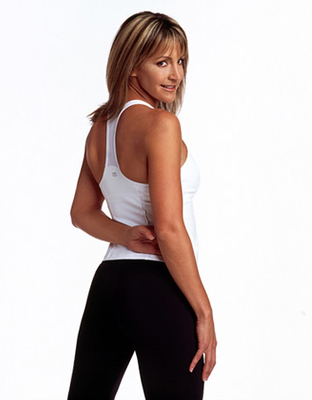 Remember Summer Sanders? Sure, she technically hasn't been an athlete since 1992, but she's been a figure in the sports world ever since, hosting various shows.
And, come on, you're telling me you still don't find Summer Sanders hot, even after having two kids? You're lying.
No. 7: Brandi Chastain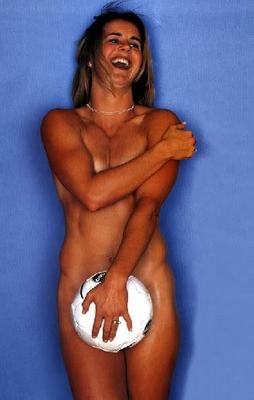 Who could forget watching the US Women's Soccer team win the World Cup on Brandi Chastain's shootout goal, then watching her rip off her shirt to reveal possibly the sexiest sports bra we had ever seen?
Afterward, Chastain took full advantage of her newfound fame, and the fame of her body, by posing nude. She had her first kid in 2006, but you can bet she has kept that body in perfect shape.
No. 6: Dara Torres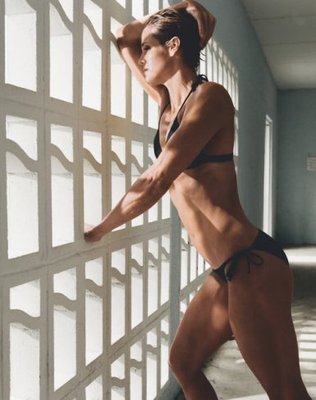 You know what's hot to me? Excellence. That's why I find Dara Torres so attractive (well, and that body—I mean, come on).
Get this: At 34 years old, just a little over a year after having her first child, Torres won a gold medal at the US Nationals. Then a few months later she set a new US record in the 50 m freestyle twice, and 26 years after she set the same record as a 15-year-old.
That's hot.
No. 5: Candace Parker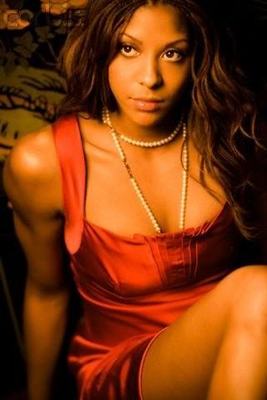 Taking a cue from her teammate Lisa Leslie, Candace Parker took a break in her WNBA career to have her first kid, then returned. Only she didn't wait til she was 35. Parker returned to make the Second Team All-WNBA.
Chances are, Parker could have a few different kids and still make comebacks each time and be at the top of the league talent-wise. All I hope is that the kids have her forehead.
No. 4: Carrie Smalls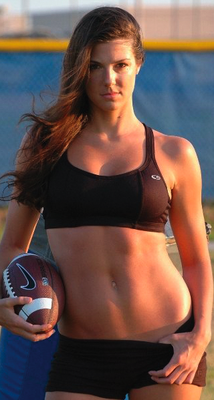 Carrie Smalls is a player in the very prestigious Lingerie Football League. While I haven't personally seen her play, Busted Coverage recently called her the hottest mom of the LFL, and that's good enough for me.
Smalls has a nine-year-old kid, which would be an understatement to say is an anomaly in the LFL. Even still, she works through bumps and bruises in order to wear lingerie and play football. I think that makes her a bit of an American hero. Her son should be proud.
No. 3: Gabrielle Reece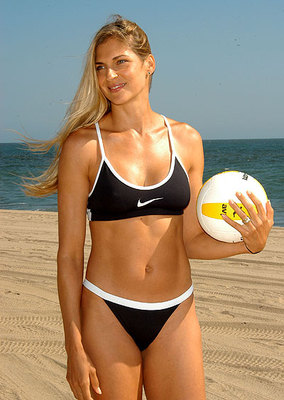 One of the original hot athlete of the '90s, Gabrielle Reece is now 40years old and still looks like she just stepped off the beach.
She now has two daughters, one named Reece and the other one Brody. That's right, Brody the girl. I'm glad she's a lot better at looking fine than she is thinking up names.
No. 2: Jennie Finch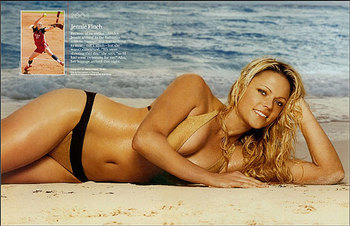 Speaking of naming kids, you have to give Jennie Finch and her husband credit. Both pitchers, one a superb, once in a lifetime talent, the other (hint: the husband) a borderline washout.
Still, instead of doing something weak like Roger Clemens and have their kid's name start with a K, they called him Ace. Cool name. Which is nice, because that kid's going to have a hard life with all of his friends hitting on his mom once they come of age.
No. 1: Amanda Beard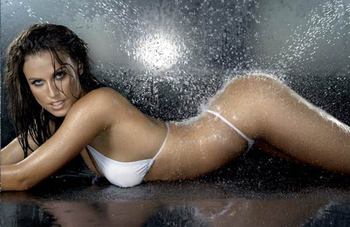 Seriously, though, who else could you put at the top of this list than the woman who appeared in Playboy? Amanda Beard has the No. 1 spot nailed down, and she came in right under deadline too. She had her first child last September.
While all of the other women on this list are certifiably fine, Beard is definitely the one that inspires the most naughty thoughts with her sexy photo shoots.
So until Kristy Leskinen starts having kids, Beard is safe at the top. Whoa mama!
Keep Reading