The 10 Best Young PGs In the NBA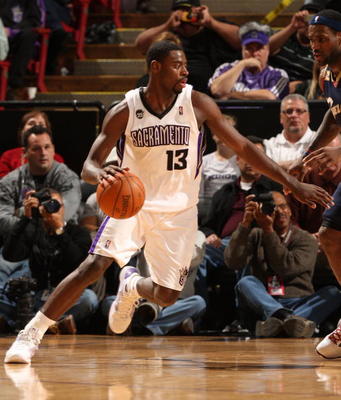 This is arguably the start of the best generation of point guards in the history of the league. All across the league the talent pool is extremely deep and the potential is sky high.
It comes as no shock that many rookie point guards are already making an impact on their selected teams.
I have ranked the top 10 best point guards at the age of 25 or younger based off their performances and how valuable they are this season.
Let's take a look.
10. Jonny Flynn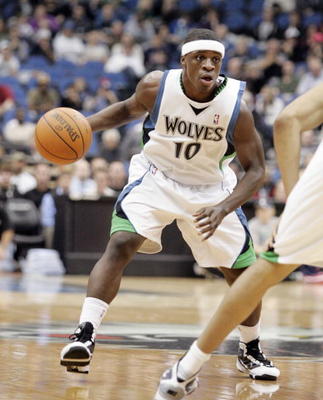 Even though it has taken him half a season to get adjusted to the unique triangle offense, Jonny Flynn is starting to break out of his shell and show the talent that he has.
His speed is comparable to that of Aaron Brooks or Russell Westbrook.
His only drawback as of now is he doesn't look for his team mates enough and forces way too many bad shots. Plus, his defense is sub-par right now and can get lazy at times. Also, his in game knowledge is lacking because of his inexperience in the offense.
9. Rodney Stuckey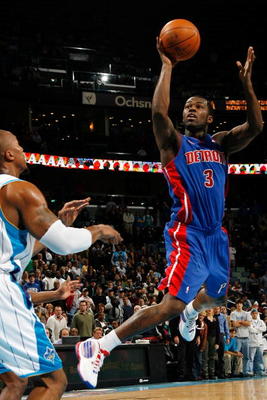 Rodney Stuckey is finally starting to become a quality player.
He is scoring more, grabbing more rebounds, and handing out more assists.
His stock will sky rocket when he can cut down on the turnovers and learn to be a leader and guide his team to a win late in games.
Once he learns learns to tame his game and keep everything simple, he will become a huge threat with his speed. Also being a big match up problem against the slower point guards in the league.
8. Brandon Jennings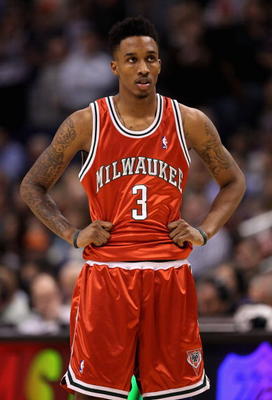 Everyone knows how hot Brandon Jennings was at the beginning of the season including his remarkable 55 point game as a rookie.
Although, his game as of late has taken a dip and is finally starting to look his age. Still, he still has a sweet stroke, and can get hot at any given time.
His drawback is his inexperience. He is an average passer, but forces too many turnovers that are unnecessary. Once his on-the-court vision improves, his overall game will take a huge leap.
7. Aaron Brooks
Aaron Brooks is arguably one of the fastest players in the league. If your name is not Monte Ellis, Devin Harris, or Russell Westbrook, good luck trying to catch him.
His strength is his ability to drive to the basket using his speed is unbelievable. Plus, his mid range jumper is well above average and can take over a game with his explosiveness.
His drawback is his inconsistency and lack of size when trying to shoot in the paint or get to the basket. One he can develop more of a shot beyond the arch, he could become a game changing threat, if he not already is.
6. Tyreke Evans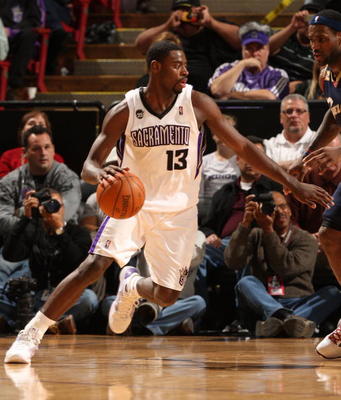 Tyreke Evans is the clear leader for Rookie of the Year half way through the season and you don't have to watch him very long to understand why.
His ability to get to the basket is unmatched and has a very high ceiling. He plays tough defense and hardly ever gives up on a play.
The only thing Evans needs to work on is trying to find his team mates more and creating more shots for them. Besides that, he'll only get better with time.
5. Russell Westbrook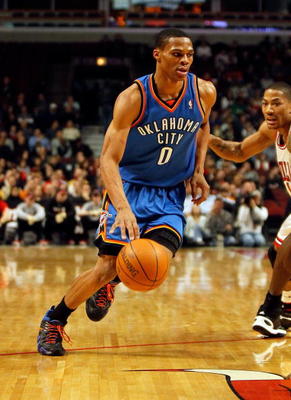 Russell Westbrook has been extremely impressive since Christmas. He has drastically cut down on turnovers and is looking for his team mates more than ever.
His defensive game is the most improved out of everything involving his game because of his increased focus and has quit playing lazy when his man doesn't have the ball.
Once Westbrook has consistently forces less turnovers, conversation about him being an elite point guard will increase as much as his game will.
4. Derrick Rose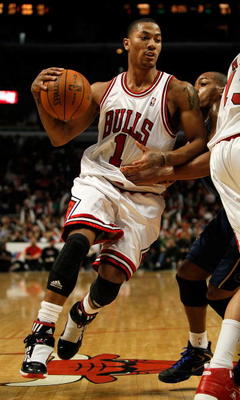 Derrick Rose is arguably the best slasher in the league, always finding his way to the basket. His ability to lead his team has gone way up since his rookie year and is getting a lot better at finding passing lanes.
Rose is growing as a player and seems to be learning something new every game. He has probably more potential as a guard than anyone on this list.
Obviously the only real drawback to Rose is his lack of a real shot. Once he develops a consistent mid range jumper, he will be considered in the top tier as a guard in the league.
3. Rajon Rondo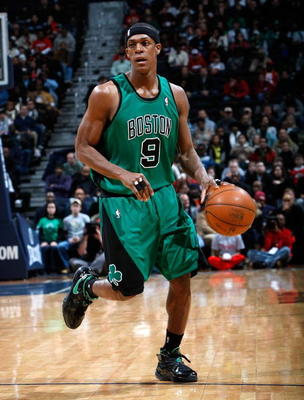 Rajon Rondo is excellent at everything that doesn't involve shooting. His ability to rebound as a point guard is unbelievable. He has tremendous on-court vision and can set up his players with ease.
He is growing as a leader and creating game winning plays for his team mates. He has it perfect right now because of his surrounding cast that he can learn from.
Rondo can already be considered one of the better point guards in the league, but once he can develop a consistent jumper, he can potentially become one of the elite.
2. Deron Williams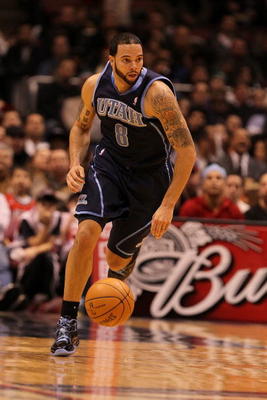 What can't Deron Williams do? His ability to shoot from just about anywhere is unmatched to most guards in the league.
Williams' size at 6'3" is great as a guard and creates a lot of match up problems. He is also a very savvy player that can create many shots for his team mates. He can do just about anything he wants on the floor.
If you had to say anything bad about Williams, it would probably be his lack of foot speed. He has a tough time getting by opponents and creating his own shot. However, he counters that will nifty dribbling and shot fakes.
He's only 25 years old and is already considered an elite player in the league.
1. Chris Paul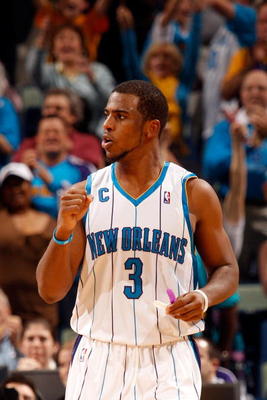 Surprise, surprise.
Chris Paul is lightning quick and is almost impossible to stay in front of. His ability to pass the ball is arguably the best in the league. He is one of the best floor generals in the league. He is an expert at the pick-and-roll and creates unlimited amount of shots for his team mates.
His only weakness is his inconsistency in his defense. He has unreal potential considering his quickness. Although he is great at creating steals, he is not always aggressive and does not lock down players like he is capable of doing.
Even so, Chris Paul is the best point guard in league, regardless of age.
Keep Reading

Oklahoma City Thunder: Like this team?