Who Steps Into The NFL Playoffs in 2010?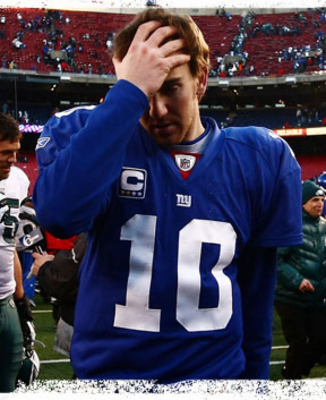 After taking a look at the 'bottom-rung' of the league ( http://bleacherreport.com/articles/326309-rising-from-the-ashes-which-cellar-dweller-takes-the-next-step ), it begged the question: if some of these teams can step up from poor seasons to at least flirt with .500, what teams already around that mark can find their way to the 2 or 3 wins necessary to take themselves into the playoffs. This mid-range covers all 7-9 and 8-8 teams, as well as the 9-7 teams that didn't secure wild card berths.
Chicago Bears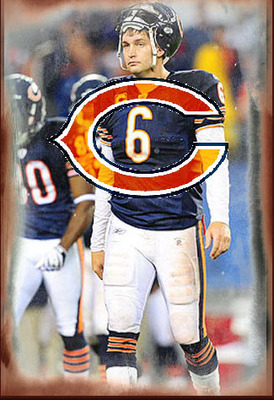 The Bear narrowly avoided entrance to the first list by way of back to back wins to close out the year. A preseason darling for a deep postseason run, Chicago lands itself as one of the biggest disappointments of the year.
Why They Can: Defensive emotional leader Brian Urlacher was gone for the year. With him back the team will have more fire and swagger. Jay Cutler may be turnover prone, but he can air the ball out, and if they can secure him a true No. 1 receiver to work with, then the Bears offense should be much more effective.
With all of the extra time on the field, the defense still posted a middle of the road 17th-overall rating. The return of Urlacher and any semblance of improved ball control on offense should see that naturally rise a few spots with the same personnel.
Why They Won't: Urlacher is not getting any healthier, having spent the last few years slowed by various injuries before losing the entire 2009 season to a dislocated wrist. They will be working to overcome the sudden emotional loss of in-season acquisition Gaines Adams as well.
They will also have little rebuilding material to work with, having traded away top draft picks to bring in Jay Cutler, eliminating leverage for an Anquan Boldin/Brandon Marshall type trade and preventing them from snagging one in the first round.
Coupled with this is a fairly solid rebuilding need around the offensive line. They allowed 35 sacks to Cutler while failing to get any push for a 29th-ranked rushing attack a year after Matt Forte impressed out of the backfield.
Final Verdict: The team has too many holes and not enough to fill them with. They have enough talent, and Urlacher's return should prevent a backslide, however crawling up to the 10-6 record likely needed for an NFC wildcard is highly unlikely.
8-8 is best guess.
Jacksonville Jaguars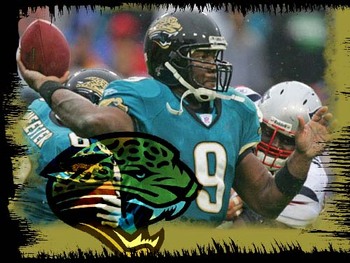 Jacksonville held a wild card berth for a long stretch across the middle of the season. At one point (7-5), the Jaguars lost four straight to finish the year and drop out of playoff contention.
Why They Can: They have a marquee player to build around in Maurice Jones-Drew, leading the team to the 10th-ranked rushing attack in the NFL, despite being the defensive focus of any team facing him.
Quarterback David Garrad put up respectable numbers considering the receiving cast given him. If a solid starting receiver can be found to pair with Mike Sims-Walker and push Torry Holt to third, the team should have a very solid offense to build around.
Why they Won't: The team has no real revenue stream to land a big-ticket guy, that means they will need to find pieces almost entirely by way of the draft, and may forgo needs like defense or a wide receiver in favor of fan-favorite Tim Tebow in the first.
Garrard put up OK numbers, but at 31 he should be a year or more into his prime, not someone that is still fighting to prove he can be the guy.
The defense is a lot further away than the offense. They ranked 19th against the run and 27th against the pass.
That 23rd-overall defense in the NFL is going to face two Pro Bowl quarterbacks four times a year for the foreseeable future.
Final Verdict: Jacksonville will field a respectable team, but it can't overcome the division it's trapped in, especially with its present fan-base/revenue stream.
Tennessee isn't likely to be an early-season doormat next year and Houston may eventually figure out how to win in its division. The Jaguars could very well put a better team on the field in 2010 and come away with lower record. The offense is on its way, the defense needs a few more years.
Miami Dolphins
Miami had a roller-coaster 2009. It started 0-3 behind 2008 hero Chad Pennington. Then when he went down with an injury the team rallied behind Chad Henne. They looked as though they might be able to even get past the season-ending loss of starting running back (and wildcat captain) Ronnie Brown as the team churned its way to a 7-6 record after week 14.
Ultimately they had too many missing pieces to overcome as they dropped three straight to finish the year.
Why They Can: The odds of losing a starting quarterback and starting running back in the same year are slim, back-to-back are nearly nil. Chad Henne had his share of first-year moments looked like he should develop into a solid starter (finishing the year with three games of 322 yards or better in the final five). When a tandem again Brown/Williams will be a dangerous pairing.
Why They Won't: Henne will still be taking lumps as a young quarterback. The Dolphins find themselves in the same predicament as the two prior teams; they need a go-to receiver after Ginn's stone hands cost him the role.
The defense took a major downward turn this year, and some key pieces may be slowing down (Porter/Taylor). With the Jets looking dangerous for 2010 and the Patriots seeking to avenge a down year, they will have a tough division to fight through.
Final Verdict: They will again be the team no one wants to face. Tough, well coached/managed, and plucky. If Henne shows progress and they find him a wideout, 9-10 wins is quite likely. Another 13 win year won't happen in that division however. Whether that is enough to snag a wild card will depend as much on other teams as themselves.
Carolina Panthers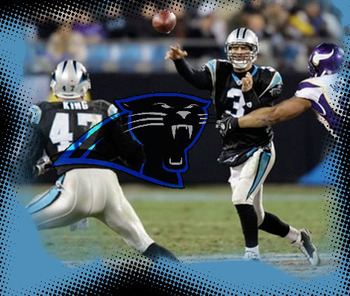 After a great 2008, marred by a drastic playoff slip-up, hopes were high for 2009. It began with an 0-3 start that stumbled its way to a 4-7 record after 11 games. The team ultimately found itself late in the year, going 4-1 to finish once they were out of any contention.
Why they Can: They finished the year beating the Giants, Vikings, and Saints. Three strong teams. Matt Moore came out of nowhere to recharge the team, going 4-1 as a starter while posting an excellent 98.5 QB rating.
The Carolina defense was still potent, ranking 8th in the NFL and 3rd in the NFC. They paired that defense with the 3rd best rushing attack in the NFL behind only New York (Jets) and Tennesee. With Steve Smith and Muhsin Muhammad they have the best starting wideouts among teams mentioned so far.
Why They Won't: Jake Delhomme's massive contract is still a burden that the team isn't likely to cut loose. If he is given the reigns to start 2010, a tough start to the year could be in the works.
Even if Moore starts from day one, he has an unproven resume that may not transfer to a full season's success. On defense, Julius Peppers will once again try to bellyache his way out, a perennial distraction. John Fox, being tied to Jake Delhomme, will spend the entire year on the hot seat as well, further distracting the team.
Final Verdict: Carolina is a tough, strong, talented team. If Delhomme can find himself or Moore can snag the starter's spot and maintain his 2009 form, this team should once again be fighting for a playoff berth. With the Saints and Falcons ahead of them, that will likely be a wild card instead of a division title this time around.
Ultimately, however, in 2010 they lead with Delhomme, who puts them into a hole early in the year that they can't quite dig out of, going 9-7 and missing the playoffs.
Denver Broncos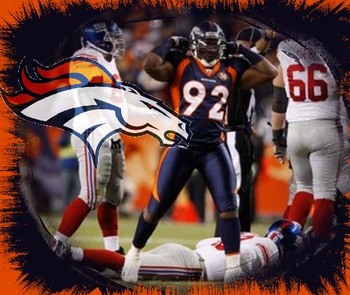 After a tumultuous off-season that saw starting quarterback Jay Cutler traded to Chicago and star wideout Brandon Marshall doing all he could to get traded, the Denver Broncos started the year, temporarily silencing critics, with a 6-0 start fueled by an unexpectedly solid defense and steady play by new quarterback Kyle Orton.
Ultimately that fell apart as Denver went 2-8 to close the year with a second straight 8-8 disappointment.
Why They Can: Orton proved he can be a steady team leader while the league's 18th-ranked rushing game should improve as Knowshon Moreno matures. The defense finished a strong seventh in the league despite the turmoil and low expectations.
They hold the 10th-overall pick in the first round thanks to Cutler's departure, while proving the young Pro Bowler was not an indispensable player after posting the same record with as without him.
Why They Won't: The Broncos' defensive numbers are somewhat misleading, being buffered by a tremendous start to the year. Across the second half of the season it looked far more ordinary. Brandon Marshall may finally get his wish and leave Denver after the Broncos benched him in the season's final game (despite the possibility of a wild card), a move that is not only harbinger, but also something other team's can use to drop the asking price on Marshall.

The chance at dual first-round picks in back-to-back years was lost as they traded their own (14th-overall) to Seattle for the 37-overall pick that landed Alphonso Smith, who did little in his first year with the team.
Defensive leaders Brian Dawkins and Champ Bailey aren't getting any younger and Elvis Dumervil is a free agent. With a career year, Dumervil will be expensive to retain, cutting into the team's flexibility to go after other help (and if he signs with another team will leave a gaping hole in an otherwise pedestrian pass rush—22 sacks by players not named Elvis).
Final Verdict: Not incredibly Rosy. Dumervil's status will affect them whether it be by way of a big contract or a departed standout. Dawkins will still be a heart and soul guy, but slow down as his age advances.
On offense, the team's running game will bump up a few steps as the passing game steps back a couple as Marshall is unloaded. Last year was supposed to be a rebuilding year around a new staff, this year they realize that process with a 6-10 record.
New York Giants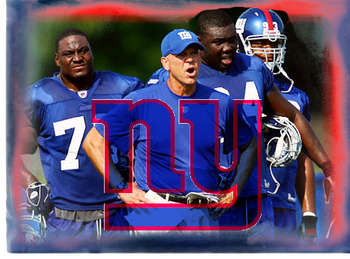 An early favorite for a deep playoff run, New York started the year 5-0, feasting on a lighter early schedule to appear to make good on the early hype.
That fell apart as the Giants stumbled behind four straight losses to fall back in a tightly contested NFC East. They showed some signs of life by topping the Falcons and Cowboys in a span of three weeks, before thudding hard with two blowout losses to end the year.
Why They Can: They have a Super Bowl winning quarterback, have shored up a receiving corps thought to be nonexistent with the departures of Plaxico Burress and Amani Toomer, and employ a solid running back tandem.
Eli Manning dealt with Plantar Fasciitis for a large portion of the season, a nagging issue that should not be a factor in 2010. The young trio of wideouts (22, 23, and 24 years of age) should only improve.
On defense, the line underperformed, which means that despite the results it does have plenty of talent. The 13th-ranked defense in the NFL should improve with safety Kenny Phillips' return and a better scheme to utilize their talented defensive line.
Why they Won't: The team quit as the year ended. That is a sour note to go into an off-season with. The running tandem of Jacobs and Bradshaw underwhelmed, ranking 17th in the NFL. Manning is still a hard player to pin down, able to look great or very average on any given night. They will still be spending the year fighting through one of the NFL's toughest divisions.
Final Verdict: The team has the talent to achieve success, what it seems to lack is heart. Coughlin found the right formula for success before, dialing back his stern nature and finding results. Now it seems he will need to bring back a little of that drill sergeant to shape the team back into a well-executing unit. This will be the year to prove how much of 2007 was Coughlin, how much Spagnuolo. The Giants will be much closer in the playoff hunt in 2010, but not challenge for the division.
Tennessee Titans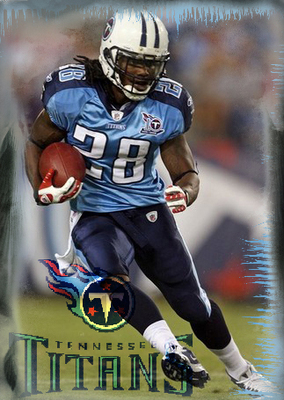 The Titans went into 2009 coming off a 13-3 season where they were the league's dominant force for much of the year.
Questions surrounded the departure of Pro Bowl defensive tackle Albert Haynesworth, but the team was confident that they could overcome it. Instead, they began the year with six straight losses as the team's vaunted defense suffered and its powerhouse running game could not do anything by itself.
A switch from Kerry Collins to Vince Young seemed to ignite the team, and they ran off five straight wins before running into the undefeated Colts. They finished the year 8-8, a mixed result that provides optimism for a team that finished the year 8-2.
Why They Can: They had by far the best running back in football in Chris Johnson. He is young enough that the heavy miles shouldn't be a factor for a few years, and is backed up by starter material in LenDale White.
The team rallied behind Vince Young, who appears to have matured in his time on the bench. The defense also showed much greater life after the changeover, giving up nearly two touchdowns a game fewer in the final ten games.
Why They Won't: Vince Young's evolution is not as complete as the 8-2 turnaround would depict. Young finished the year with a very average 82.8 quarterback rating as the Titans turned in the NFL's 28th-ranked passing game.
On defense the team still gave up 20.3 points per game across the final ten games, which would have put them tied for 14th in the league across a full season.
They lack a go-to receiving threat, with no wideout posting more than 47 catches or 701 yards. Six of their eight wins were against .500 or worse teams, while the second-half Titans went 1-2 against playoff teams (that win against the Jekyll and Hyde Cardinals).
Final Verdict: Is 0-6 or 8-2 the real Titans? The answer is neither. They have a dominant running attack, but are question marks elsewhere.
The defense still gave up a lot of points in the second half, overall, and failed to impress when up against stronger teams. If Young can be a steady game manager with a little added spice, then the team should leap-frog over Jacksonville but won't catch Houston or Indianapolis.
San Francisco 49ers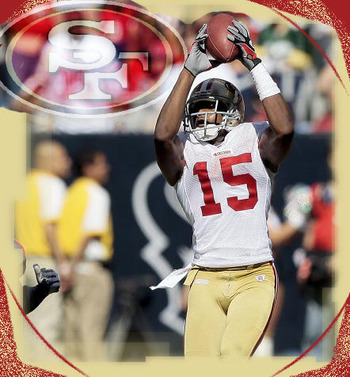 The season started with both a 3-1 record and a holdout of their number-one draft pick in wideout Michael Crabtree. As they were forced to venture outside the NFC West, that record slipped behind four straight losses. Eventually, as Crabtree signed and Alex Smith showed signs of development (posting four games with a QB rating over 95 in the final six), the team ended 8-8 behind a 5-3 second half.
Why They Can: The 49ers are a team on the rise. The end of 2009 hopefully put an end to the quarterback carousel between Shaun Hill and Alex Smith.
Once signed, Crabtree showed the potential to be a lead wideout with 48 catches for 625 yards despite a lengthy holdout that kept him out of training camp and five games. That tandem should help open space for Frank Gore, who posted 1120 yards and 4.9 yards per carry despite missing three games to injury. On defense the team was great about bending without breaking, going 18th in yards given up but fourth in points allowed per game.
Why They Won't: Smith has yet to put together a consistent season. His end of the year performance still only yielded a pedestrian 81.5 QB rating across his 2009 year. Now that they have Crabtree, they still only have one starting-caliber receiver. Gore is an injury risk, never missing a significant block of games, but only playing a complete 16 games once. On defense, it would be a lot to ask for a team to have that same variance in points vs. yards allowed again.
The 8-8 also may be deceptive; they achieved it partly as benefactors of a lukewarm division, going 5-1 inside the NFC West but 3-7 outside.
Final Verdict: They are on their way. With Warner mulling retirement and the Seahawks and Rams rebuilding, San Francisco could sneak away with the division. If the Cardinals can stay at least a 10-6 team then the 49ers should still be one more year away from truly fighting for a playoff berth. Two if Smith can't pick up where he left off. 2010 brings 8-8 again.
Atlanta Falcons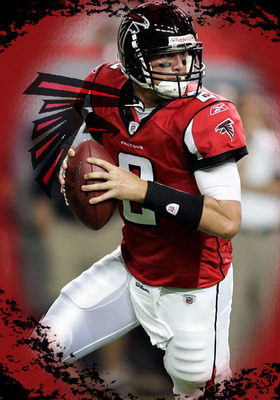 The team started the year with high hopes. Free agent Michael Turner had paid big dividends while an extra year of development for Matt Ryan and another weapon in TE Tony Gonzalez gave the Falcons the pieces for a dominating offense.
They looked strong at the outset, going 4-1 to start the year before struggling with four losses in the next five games. By late in the year, both Turner and Ryan were injured, hurting any hope of a late surge.
Despite a few spot-carries in two games, Turner was effectively out for the final six, the team still managed to end the year with three straight victories following Ryan's return for a 9-7 record.
Why they Can: They posted the NFC's best non-playoff record despite losing their starting running back for essentially six games and starting quarterback for three. They will return a potent offense that
is dangerous in the air and on the ground, making it hard for defenses to cheat into focusing on one element.
On defense they ranked a solid 10th against the run, allowing 106.9 yards per game.
Why they Won't: Ryan's sophomore year was a bit of a step back, posting more interceptions and taking more sacks in fewer games than his rookie campaign.
He also averaged 1.4 fewer yards per attempt and had a nearly 3 percent lower completion percentage despite the addition of a Pro Bowl talent. The defense sorely missed Keith Brooking's leadership and was downright awful against the pass, ranking 28th in the league. For all the touting of Atlanta's offense, they ranked 16th in total yardage.
Final Verdict: That 16th ranked offense should go up with a healthier unit. Ryan should progress back to around his rookie form, and the team will put up about 400 points. The defense will be tougher to shore up. They are exploitable in the passing game and lack a solid pass rusher as John Abraham disappointed with a meager 5.5 sacks. They should have enough offensive firepower to make a run at the wild card, but need several teams to falter to secure it.
Houston Texans
The Texans began the year as another trendy pick. They were looking to post a powerhouse offense and secure the team its first playoff berth as a franchise.
Ultimately, the team's inter-divisional woes once more cost them. They finished 1-5 in the AFC South, gaining their first season over .500 but missing the playoffs by way of tie-breaking procedure.
Why They Can: They held the same record as the two current wild cards. If they can find a way to go .500 in the division they should be able to easily obtain double-digit wins.
The passing attack is downright scary, putting up eight yards a game more than the second-ranked passing offense (Indianapolis).
If Steve Slaton can return to 2008 form or they can find a new lead running back, the team should boast one of the NFL's most explosive offenses in 2010.
On the other side of the ball they were solid as well, ranking 13th in the league in total yards allowed. They have a great foundation with Mario Williams and Brian Cushing leading the front seven. If they can find a player or two to solidify the secondary then Houston can be an all around force.
Why they Won't: They are trapped in the AFC South. Playing behind Indianapolis, Tennessee, and Jacksonville they have never been able to fare well in interdivision play.
On offense they held one of the NFL's worst running attacks with none of the team's four backs able to distinguish themselves.
They ranked 18th against the pass despite playing the ground-first Tennessee Titans and Jacksonville Jaguars four times, as well as the Bengals, 49ers, Rams, Dolphins, Jets, Raiders, and Bills.
The storyline in the past had been that the team was a full season of Matt Schaub away from the playoffs. They had Schaub the whole year in a season where the wildcard was its most accessible in years, yet still failed to get into postseason play.
Final Verdict: They have the elements to contend. On paper they should be a double digit win team. Paper doesn't always translate however, and Houston needs to figure out how to take three out of four against the Titans and Jaguars (or sneak a win against the Colts) before they will ever see a postseason.
Pittsburgh Steelers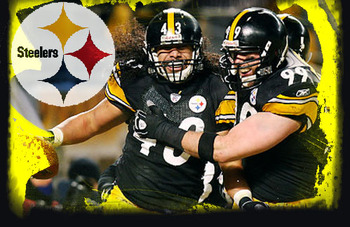 The Steelers were looking to defend their Super Bowl title as the season started. An early 6-2 record and the expected return of injured Troy Polamalu had the team's expectations high.
Ultimately the team wavered, dropping five straight, including three to top-ten drafting teams to fall to 6-7. They pulled out of their slump, ending the year with three straights wins to pull back over .500, but ranked last in just about every tie-breaking scenario.
Why they Can: They are returning the bulk of their Superbowl winning team, with a few exceptions. Mike Wallace emerged to give the passing game an additional receiving threat as a rookie posting 19 yards per catch.
The running game replaced Willie Parker with Rashard Mendenhall, trading some quickness for added power and consistency. Ben Roethlisberger also emerged from a series of solid regular seasons to post his best year as a quarterback by over 800 yards, putting up 4300.
On defense they managed to rank fifth in the NFL despite missing Polamalu for the bulk of the year. Harrison followed up an MVP 2008 with another double digit sack year and five forced fumbles. The excelled against the run, and the team's 16th rated pass defense should be much improved with a healthy safety.
Cincinnati looked far more ordinary in the second half, which makes the AFC North wide open and Pittsburgh's for the taking.
Why They Won't: Tight losses to Baltimore (once) and Cincinnati (twice) can be attributed to Polamalu's loss. Dropped games to Cleveland, Kansas City, and Oakland are harder to explain with one player.
It may not be as steady of a locker room as it once was, and Harrison's solid year was still a production drop from 2008. Casey Hampton is a free agent and will either depart (unlikely) or eat up a bigger piece of the salary pie (more likely).
Baltimore will be eager to prove they can win the division after back to back sixth seeds followed by playoff wins. If Cincinnati can return to its early form then the division will be a tough powerhouse to fight through.
The offensive line gave up a ton of sacks to big Ben once again, making the total 195 sacks against since the 2006 season (or 48.8 sacks per season). Even with his size and strength that will eventually catch up to him, concussions especially are a concern.
Final Verdict: Barring something major (something lingering with Polamalu's knee, another Big Ben concussion) they should be able to supplant Cincinnati and hold off Baltimore's aging defense to snag back the division. They have the motivation after a disappointing year, and the talent that earned them a ring in 2008.
Keep Reading

Chicago Bears: Like this team?