Houston Rockets Midseason Awards Show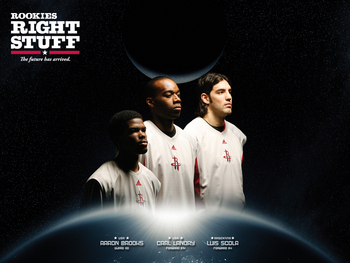 At the beginning of the season, the Rockets looked like a team that had no shot at coming anywhere near the playoffs, and they were on their way to a lottery pick. All this talk came about when Yao Ming went down with a season-ending foot injury, and Tracy McGrady was lost for most of the season.
Well...
The Rockets have taken that criticism and built a tremendous season to the half-way point. Many of the players in this awards show were looked at as guys who would not be starting on many other teams in the league. Except for Luis Scola and Shane Battier, the rest of the team looked like overachievers, but at the moment our guys have become true players that have broken out for huge seasons.
Aaron Brooks, Trevor Ariza, and Carl Landry have become the core of this team for years to come and should be ideal in the leading this team to many successful seasons.
So far, the Rockets have managed to reach the half-way point with a 23-18 record and only 4.5 games out of the division lead. While we are on the outside looking in into the playoff picture, if the Rockets can keep playing the way they have been making the playoffs looks like a real possibility and will cause many fans to call the year a great success.
Team MVP: Aaron Brooks, PG—18.6 ppg, 5.1 apg, 2.4 rpg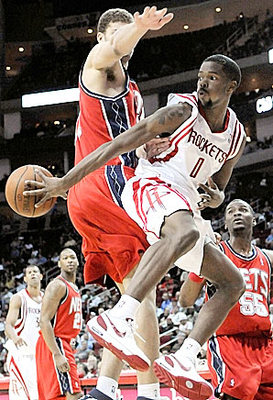 The Duck has really made a name for himself this season for the Rockets and has made the first half his own coming out party to the masses. Brooks started his run to taking this spot last season in the playoffs where he proved he could play with the likes of anyone helping lead the Rockets to the brink of a Conference finals birth.
At first, I was skeptical that Brooks could handle the duties of a full-time point but he has sure proved me and I can only say countless others wrong. Not only is he a great shooter, but he has become a gifted passer, strong defender, and is turning into a natural leader for the surprise club...not to mention a closer in the fourth quarter.
In a season that looked to be doomed from the start and a surefire time that we would get a lottery pick and possibly needing a point guard Brooks has become one of the best in the league at doing what he has to do to help this team win. With averages of 18.6 ppg (team leader), 5.1 apg (team leader), and 2.4 rpg, Brooks truly has become our MVP this season and may even garner a ton of most improved player votes at the end of the year. +14.80
Runner-up: Carl Landry
Rookie of the Year: Chase Budinger, F--8.2 ppg, 2.8 rpg, 1.2 apg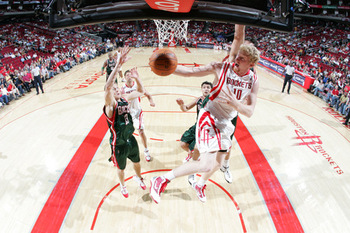 The Rockets did not bring in any rookies this season to fill up roster space. Instead, they went out and got two guys that could help with the offense and in Budinger they found a good spark off the bench and a very versatile player. Chase was looked at as a potential lottery pick at one point in his Arizona career but fell out with many because his production slipped a little and he was seen as soft.
One man's loss is another's treasure and Budinger has been a big part of the Rockets second unit. With Taylor not playing at the moment, Budinger was the only legitimate contender for this award. His stats and play have been great for a rookie coming off the bench to fill multiple roles, and in the years to come he should be a stalwart either off the bench or in the starting lineup.
Runner-up: Jermaine Taylor
6th Man: Carl Landry, F—16.2 ppg, 5.6 rpg, +16.68 eff
The picture pretty much says it all...Carl Landry is burning up the NBA right now and it all happens off the bench. Not only is Carl Landry our 6th man of the year, I have him penciled in as my early favorite for the 6th man of the year in the NBA. Landry does not have all the flash as many players in the league, but is just a basketball player that should be recognized.
At this moment, he is getting a lot of press for his exploits off the bench (and for losing most of his teeth), and for the fact that he is one of the highest scorers in the fourth quarter giving us another guy to close out the game. Coming out of college Landry was very underrated and thought to be too small to play the power forward position, but I loved Landry since his days at Purdue and was happy the Rockets scooped him up late in the draft.
He has transformed from a little known hype guy off the bench to one of the best in the league. He makes his free throws at a clip that many big men do not, he scores from all over the court, he is relentless at every facet of the game, and he is transforming into the premier guy off a bench that has been key to our winning ways this season.
Runners-up: Kyle Lowery and Chase Budinger
Offseason Move: Trevor Ariza, SF--15.9 ppg, 5.6 rpg, 3.7 apg, 1.75 spg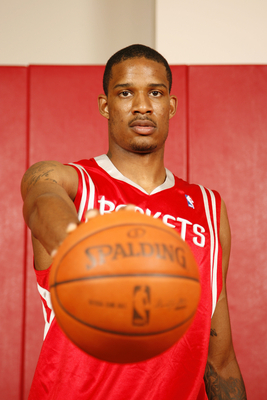 Swapping Ron Artest for Trevor Ariza in free agency was the biggest splash the Rockets made this past summer, and it was a great move. For many reasons Ariza is going to be a better player for us than Artest would have been.
1. He is much younger making it evident that he will be able to be around much longer.
2. He has not reached his potential yet prompting me to believe that Ariza will continue to become better and better while Artest may have reached his peak.
3. I do think that Ariza is a better defender than Ron at the moment, and finally:
4. He is being given a chance to learn to be a leader and with full time minutes, he is showing the promise everyone thought he had when he was drafted. The move did not garner the most attention from the media but for the Rockets it has helped greatly in making this season a success and possibly having a playoff run.
Runner-up: Drafting Chase Budinger
Glue Guy/Defender: Shane Battier, F—8.4 ppg, 3.8 rpg, 2.5 apg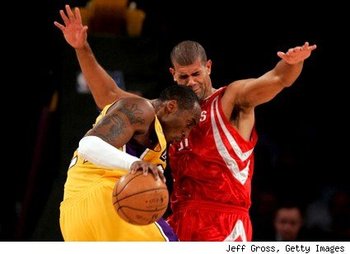 The most talented player? No. The best shooter? No. The most athletic? No.
Shane Battier is none of these things but he is the guy that every team needs and the one that keeps the team together by doing everything that needs to be done. Battier has always been called the glue guy of a team and every year he lives up to that billing. Battier does not lead the team in any category but he does fill up the stat sheet in every which way possible.
Another added benefit he gives us is a defender who can shut down the opponents best player every game. What makes Battier such a great defender and glue guy is that when he is on the other teams best player he cares for nothing else but shutting down his man and taking whatever else comes his way. Battier may never get the recognition he deserves, but he is the backbone that keeps the Houston Rockets together and moving forward.
Runner-up(glue guy): Luis Scola,
Runner-up (defender): Chuck Hayes
Foreign Import: Luis Scola, PF/C—15 ppg, 8.8 rpg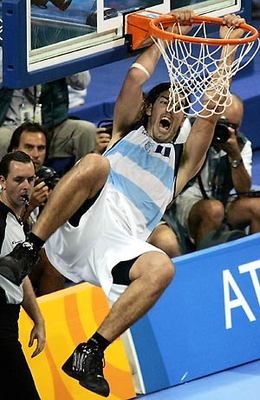 Okay, so really, there are only three guys in the running for this, and one of them is out for the season, but I had to get Scola in here somehow and could not think of any other way. I guess I could have done something like "the hound" or "the one no one likes" but I figured this fits. Scola makes a legitimate case for team MVP and he has filled in quite well for Yao Ming at his unnatural position of center. His averages are not anything to write home about, but he leads the team in rebounds, and you know you can always count on him to give you at least that. He is on the cusp of averaging a double-double every night and that is big for us since we are undersized.
Even though Scola is out of position, he makes up for it with this intensity and want of the ball. You cannot really ask him to do much more for the team, as he can shoot the ball, play defense, rebound, lead, and his fan base is mighty large. Let's face it Scola is the type of player we love to have yet does not get the recognition he deserves unless he is taking a flop on a charging call. Anyway our foreign import is not the best one out there but Luis Scola is one of the hearts of this team.
Runner-up: David Anderson of Australia
Dissappointment: Tracy McGrady Leaving the Team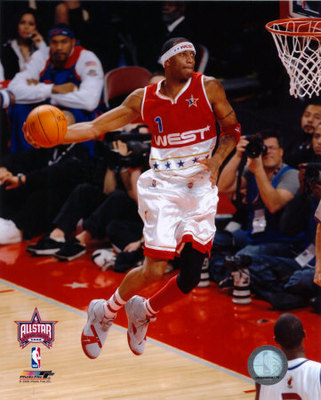 Don't we all wish that we could have the Tracy McGrady of this time that could do basically anything he wanted with the ball? It would be nice, but those stinking injuries keep getting in the way. The face of the franchise the past few years is my biggest disappointment of the season...not because his play was down, but because he decided to leave the team and demand a trade. McGrady has been the face of this franchise and the one who's has carried us for so many years, but as can happen in sports, the injuries have gotten the best of him.
He no longer has the extreme explosiveness he once had, the keen passing eye, or the defense that he did just a few seasons ago. With everything gone, he was still a mighty good player and a good person to have around the team. I was sad to see him go, but the team has moved on and hopefully he can get his game back and either return or find another home.
Runner-up: Yao Ming foot injury.
D-League Player: Michael Harris, F—27.1 ppg, 8.9 rpg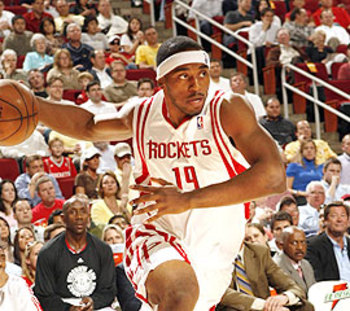 Michael Harris is tearing up the D-league at the moment and could be in line for a call up at some point in the second half of the season. He has been a huge rebounder and one of the leading scorers in the league.
I think we could use him as a scorer on our offense and someone who can eat up time at the end of the season to give rest to our guys if we get to the playoffs. Don't know too much about Harris, but he has looked good for Rio, so far this season and has me thinking we have some good players down there.
Runner-up: Antonio Anderson
Keep Reading

Houston Rockets: Like this team?