The 20 Greatest Erin Andrews Pictures on the Internet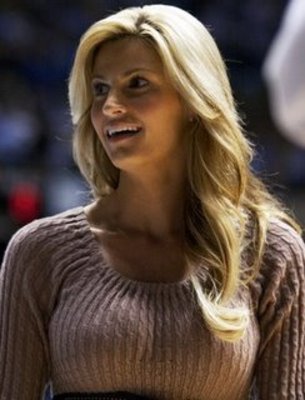 I can't get enough of Erin Andrews. She brightens my day just a little bit more each time I run across a game she's covering. And she's all over the internet too.
However, there are hundreds of pictures of EA to look through, so I took the liberty of picking out the 20 best so you didn't have to dig yourself.
In this one she's somehow back-lit like an angel. You may search for the next Erin Andrews all you want, but as you'll see, there can only be one EA.
Rockin' That Black Dress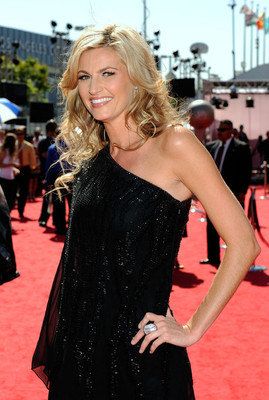 Let's start this thing off with a bang. Erin Andrews is nailing that black dress. Simple, sophisticated, and perfect. Is there a dress she doesn't look good in? We'll investigate further...
Disctracting the Cubs?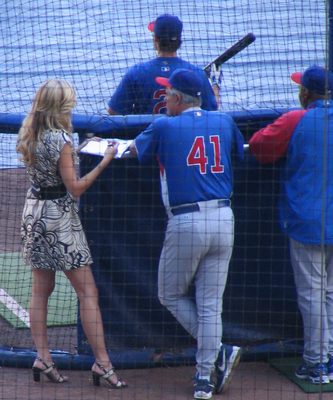 While this may look like your average harmless photo, this dress contributed to one columnist asking if Erin Andrews was a distraction to the Cubs.
It's kind of a crappy stance to take, but I admit I might be distracted too if she was interviewing me looking like that.
Natural Beauty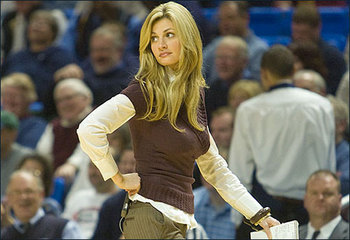 The great thing about this photo is that she's not posed or anything, just a candid moment where she looks gorgeous. This is the ultimate girl-next-door picture.
Yellow Dress Brightens My Day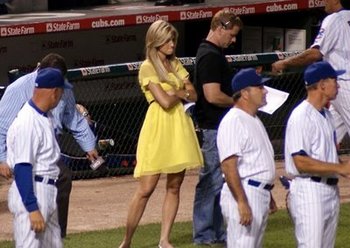 It's not the greatest photo in the world, but just the thought of Erin Andrews in a hot yellow sundress is enough for me. For some reason that's just way hotter than a regular sundress. She definitely needs to wear that more often.
Erin Doesn't Like The Call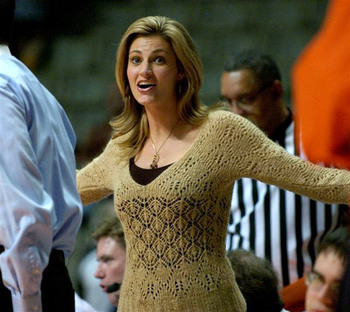 I'm not sure what's happening here, but I like a little emotion from EA. She's obviously irritated at something, which is odd because she's supposed to be an impartial observer at these games. But I admit that a little pissed off looks good on her.
ESPY Dress No. 1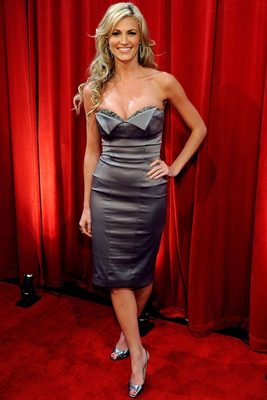 For her first dress of the evening, Erin broke out a super sexy silver dress that left everyone with their jaw's dropped. But it was nothing compared to the near riot she almost caused with her second dress...
ESPY Dress No. 2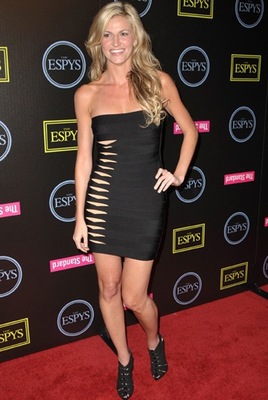 You know you have some clout in the world when all these other women wear the same dress, but it becomes known as "The Erin Andrews Dress."
Scared Erin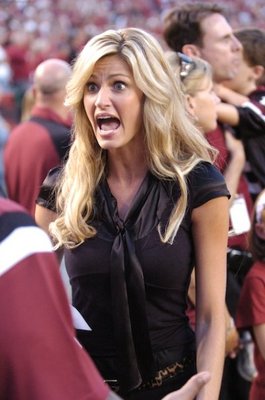 I'm not there, so I can only speculate, but my guess is this picture was taken the moment after Erin Andrews just watched Mark Mangino devour one of his assistants.
And, damn, she still looks fine even when making that face.
More Erin Photo Shoots Please
I don't even need to say it. The more Erin Andrews photo shoots that are in the world, the better the world becomes.
Erin + Wind Machine = Goodness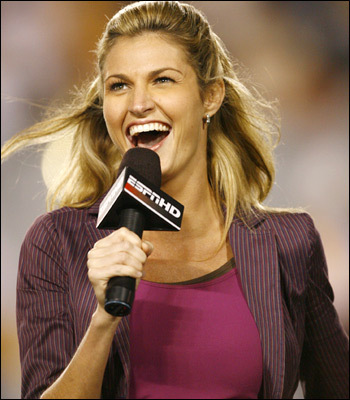 You know how whenever they introduce a hot character on TV shows and they'll give them the ol' wind machine treatment? That's how they should do each Erin Andrews appearance. Maybe some better lighting too.
Granted, there may be actual wind going on there, but who's to say stepping it up a notch wouldn't do wonders?
Rockin' That White Dress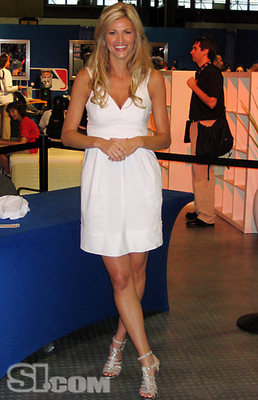 Some people think that women automatically get hotter when they dress up. But for someone who's reputation was made on being the girl-next-door that we can relate to, it's not a given that dressing up will be an improvement.
Thankfully, Erin pulls it off with the ease with which she she interviews a coach...except for Bruce Pearl, of course.
Erin's Wild Side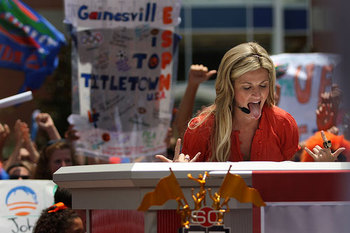 She doesn't let it out that often, but when she's covering her alma mater Florida, Erin let's herself get a little crazy.
Whether it's doing the Gator chomp with Tim Tebow or playing to the crowd, it's fun to see her get all riled up.
The Hot Sasquatch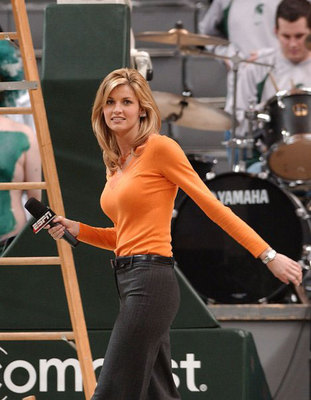 I call this picture "The Hot Sasquatch" since her gait here makes her look like that blurry picture of Sasquatch. But at the same time it's one of her hotter pictures taken. It perfectly shows off everything that we love about EA. Just look at her!
Rockin' That Purple Dress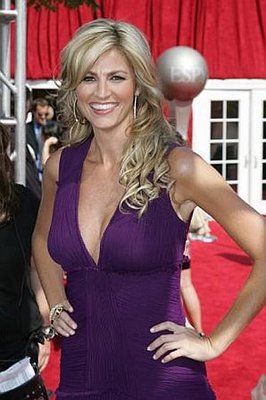 It's getting to the point where Erin Andrews could wear a dress made from my mothers drapes and it would look amazing. I vote for her to start hosting the ESPY's. You can't tell me ratings wouldn't fly through the roof.
Pouty Erin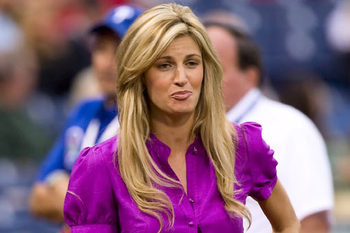 I have yet to find an emotion where Erin Andrews does not look hot. Even when she's pouting about something all it makes me want to do is make it all better.
The GQ Shoot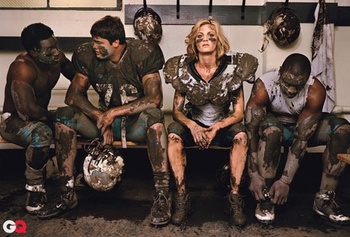 When someone said "dirty Erin Andrews GQ shoot," this wasn't exactly what I had in mind. But it really does capture what makes EA so great. While she can get dressed up and look hot, like we've seen, she's really the most comfortable down in the trenches with the guys.
Um...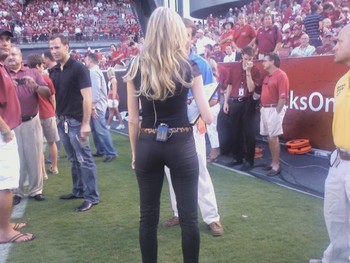 Look, she's got a great behind. It's just the facts. Don't shoot the messenger.
Iowa An Apology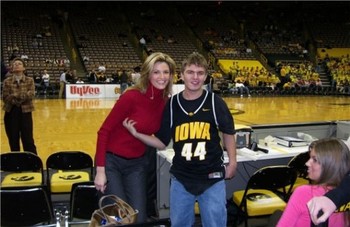 This picture became about 100 times less funny after the peeper incident, but still you can't deny the guts on this frickin' kid. Even if he is a little shit for pulling that on one of sports most cherished figures.
Erin Hungry!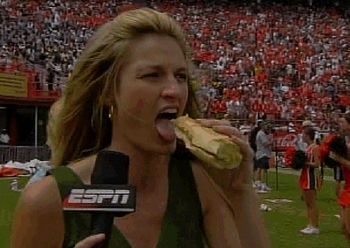 Nobody seems to give a crap when there are pictures of me eating a sandwich. But Erin Andrews does it and all of a sudden it's noteworthy. Okay, there is something cute about a hot girl chowing down on some food like that.
Bye Erin!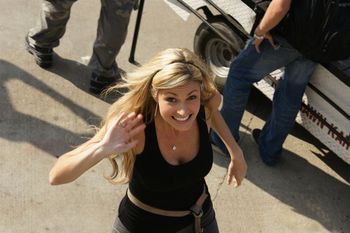 Thankfully this is only bye for now. Erin Andrews is always just a game away. She's the reason I'll watch some crappy college basketball game where I have nothing invested in either team, just to watch her get some info out of the coach at halftime.
She is truly the Sideline Princess.
Keep Reading